1998 SUZUKI 500 QUADRUNNER | Suzuki comes back in a big way with an all-new quad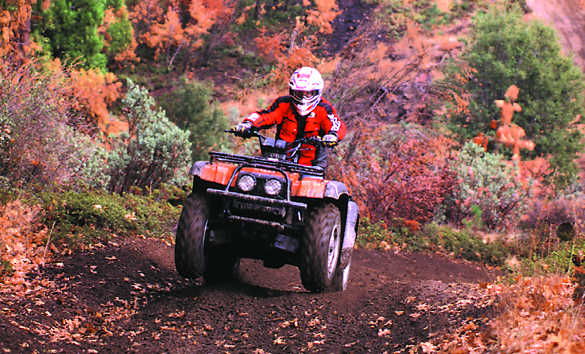 **Editors Note-Suzuki's 1998 LT-F500F 4×4 test.
With the trend towards bigger and better 4x4s, Suzuki has finally stepped up to the plate and hit a hom­er. Unlike the Simpson variety, this one is a winner all the way. The '98 LT-F500F 4×4 is a certifiable 4×4 Fun Machine! This vehicle marks a revitalized e­ffort from the company that invented the QuadRacer and King Quad to re­capture lost market share in the highly competitive monster class of 4×4 quads.
First of all, as the demand for larger and even sportier utility models has increased, so has the supply. Ya­ma­ha has its Grizzly 600, Polaris a Sportsman 500, Arctic Cat a 454 and Ka­wasaki a Prairie 400. Suzuki had to settle for a King Quad 4WD that was not exactly royal in displacement, com­ing in at a paltry 280cc. While it had several unique design features, it was sadly lacking in power in comparison to the newest behemoths in the 4×4 class.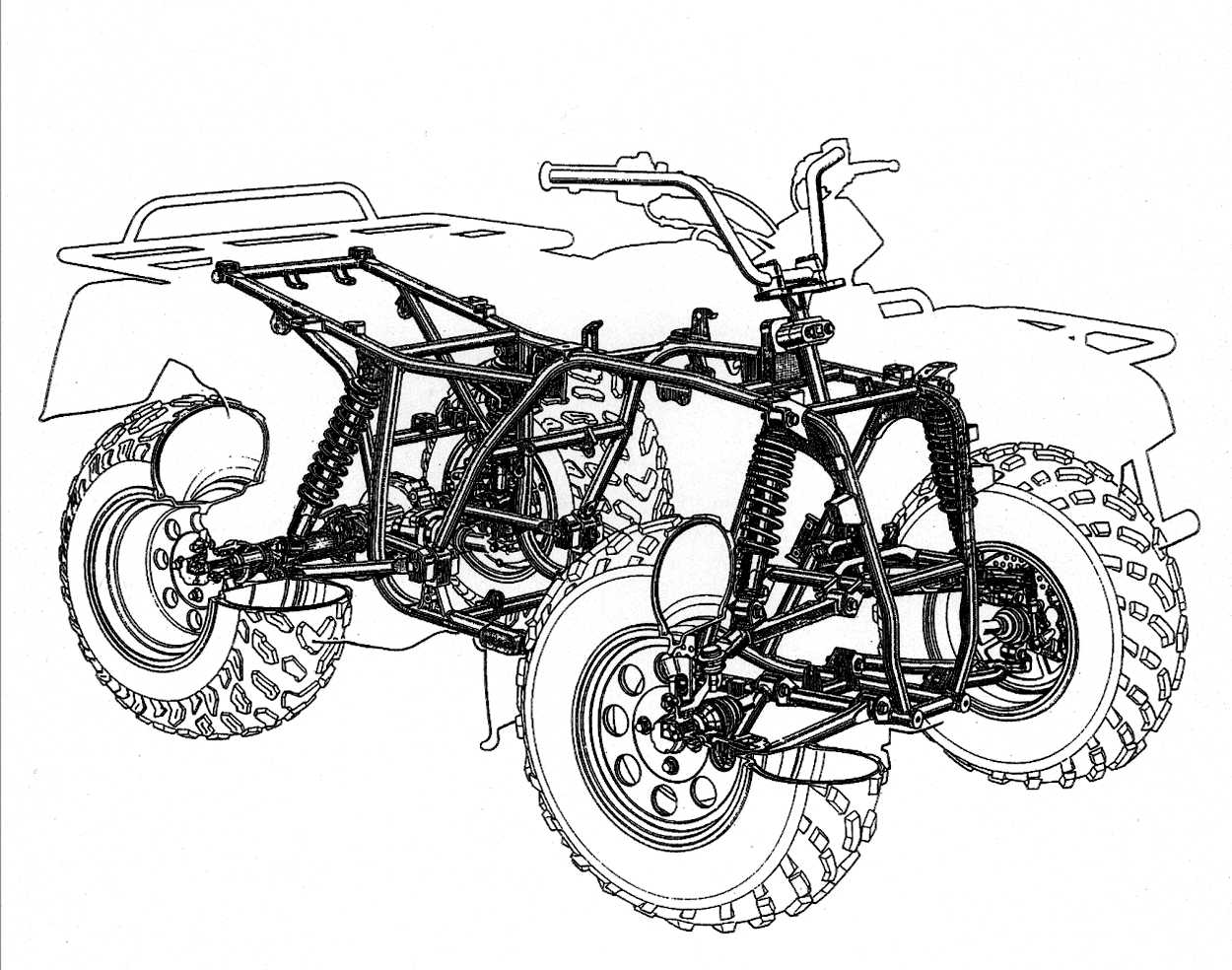 Take heart, Suzuki fans. That has now changed with the introduction of the '98 LT-F500FW QuadRunner. Thanks to its massive, liquid-cooled, 493cc engine, Suzuki now has the cu­bic muscle it needs to go to battle against the big boys for the sport/utility crown.
COMEBACK KID
It has been a few years since Su­zu­ki had anything new or exciting in the ATV world. After discontinuing their QuadRacer and most of their Quad­­Sport ATV line several years back, the company had focused on oth­er areas of motorsports. Road­rac­ing, motocross and enduro bike sales were its primary areas of concern. In the meantime, most of Suzuki's competitors revamped their ATV product lines and capitalized on the growing ATV market, where new unit sales were skyrocketing.
There were howls of protest from Su­zuki's dealer network when Arctic Cat showed up with a 454cc quad in '97—especially since it used a new 454cc Suzuki engine while the Suzuki dealers had to settle for the 280cc-equipped King Quad. Something had to be done, they demanded, and quick.
Finally, Suzuki saw the light. If it was to remain competitive in the ATV world, it needed a new quad, something even better than what it was sell­ing to a rival company.
MASTER OF HIS DOMAIN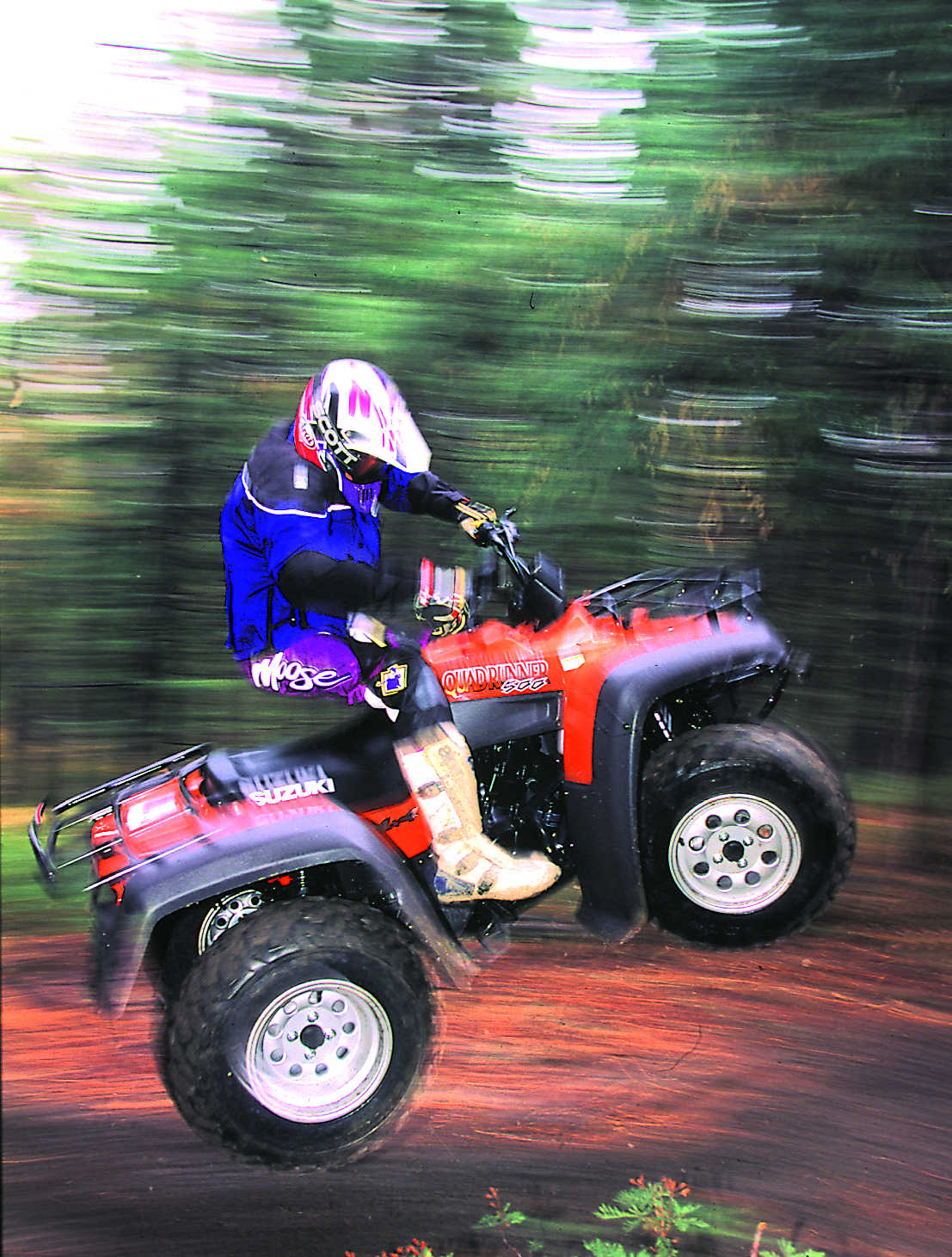 4×4 Fun Machine
Dirt Wheels was invited to try out Su­zuki's all-new LT-F500FW 4×4 and see for ourselves if this beast was com­­petitive against the monster quads in the sport/utility class. We headed up to the Miami OHV area, lo­cated near Bass Lake, a scant 15 miles from world-famous Yosemite National Park in Central California.
Thanks to El Niño, we were blessed with a deluge of rain the day before we arrived that gave the trails a perfect blend of no dust and perfect traction. Conditions would be as good as it gets for riding. We were pumped.
First of all, let's take a closer look at this all-new machine. The LT-F500FW is powered by a liquid-cooled, 493cc, four-valve, SOHC engine that is tuned to have good torque and pow­er even at low rpm. The engine features a 34mm CV-type carburetor, gear-driven counterbalancer, and electric and recoil starters with an au­tomatic decompression system mounted on the camshaft.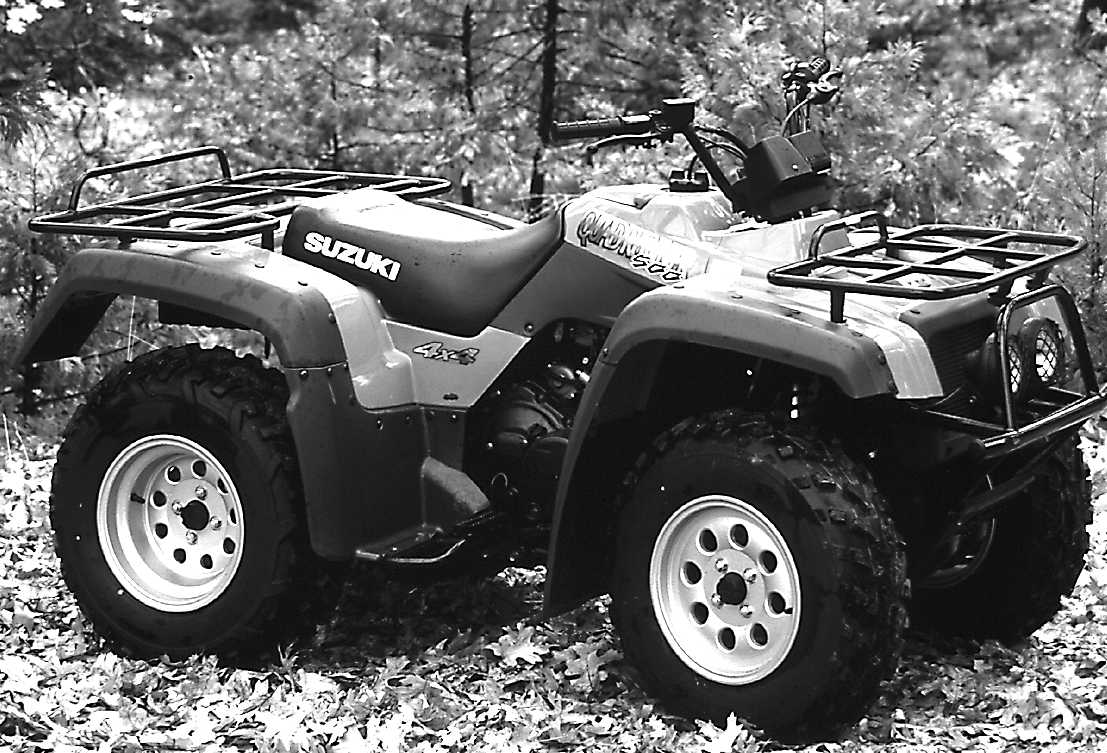 Power is transmitted through a con­ventional auto-clutch, five-speed transmission with a high/low range selector and reverse gear. A shaft drive system transfers power to both ends with a limited-slip, full-time 4WD differential in the front.
The new frame, designed to house this monster powerplant, is a remarkable four pounds lighter than the King Quad frame. Steel skid plates at­tach to the bottom of the frame to pro­tect the crankcase and front differential. The front bumper has even been set up at the factory for the installation of a winch.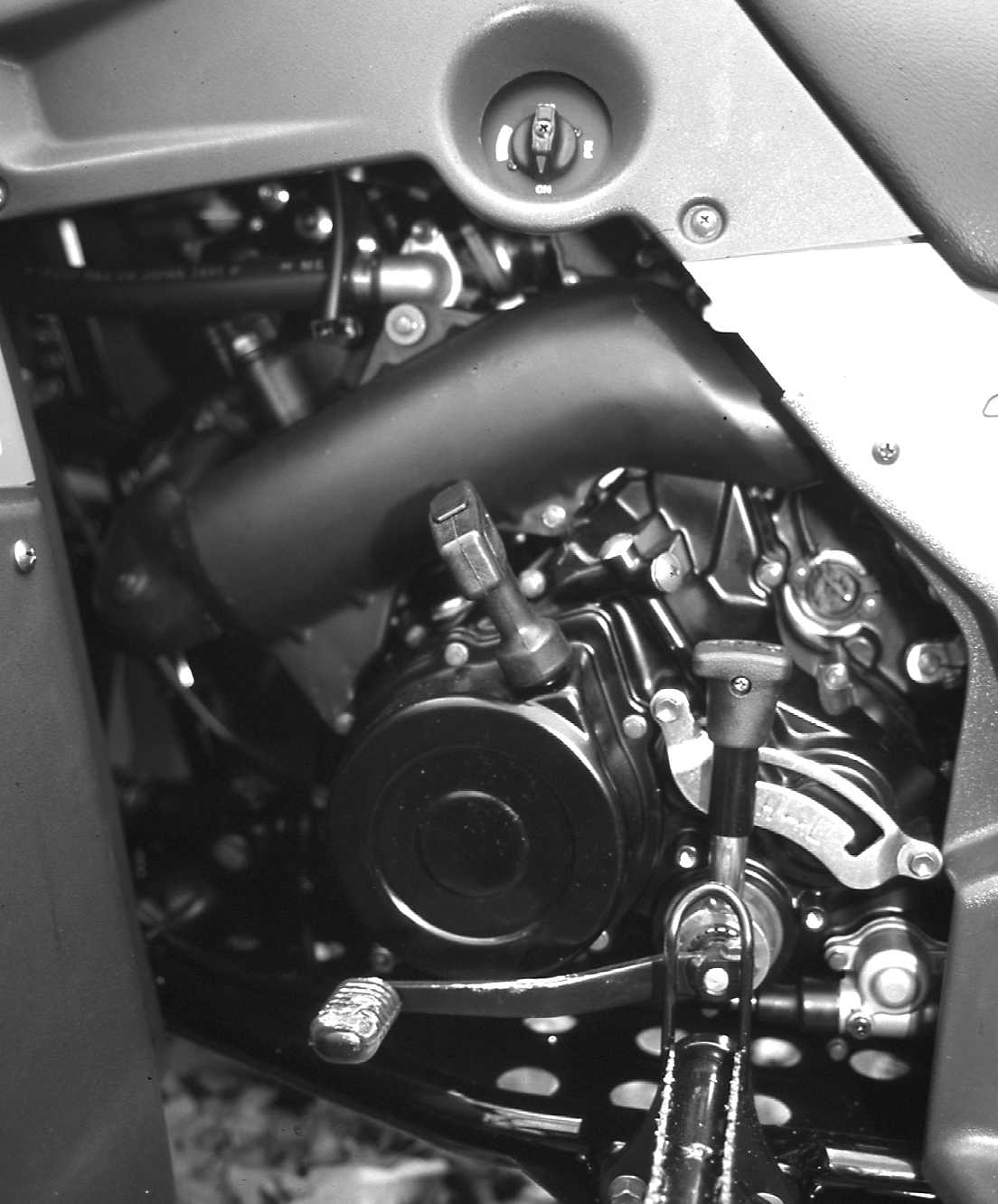 In keeping with the trend toward sportier-handling 4x4s, Suzuki incorporated longer-travel suspension on the new 500 with 5.1 inches of travel at both ends. The front system uses double A-arms with independent trav­el dual shocks. On the back end a straight­-axle, semi-independent, twin shock suspension system handles the bumps. Both use five-way preload ad­justments on the shocks.
MOTOR MAGIC
The liquid-cooled thumper engine uses a cylinder plated with a layer of nickel-silicon instead of a conventional iron liner. This allows it to dissipate heat better and weigh less. A unique feature on the LT500 engine is the additional cooling to the piston provided by an oil jet that sprays oil un­der the piston. This was derived from Suzuki's GSXR street bike line and has proven highly successful for the company in the past.
The 34mm constant velocity Mikuni carb connects to a snorkel-type airbox with a large foam filter. A large-ca­pacity radiator is assisted by a thermo-switch-controlled cooling fan.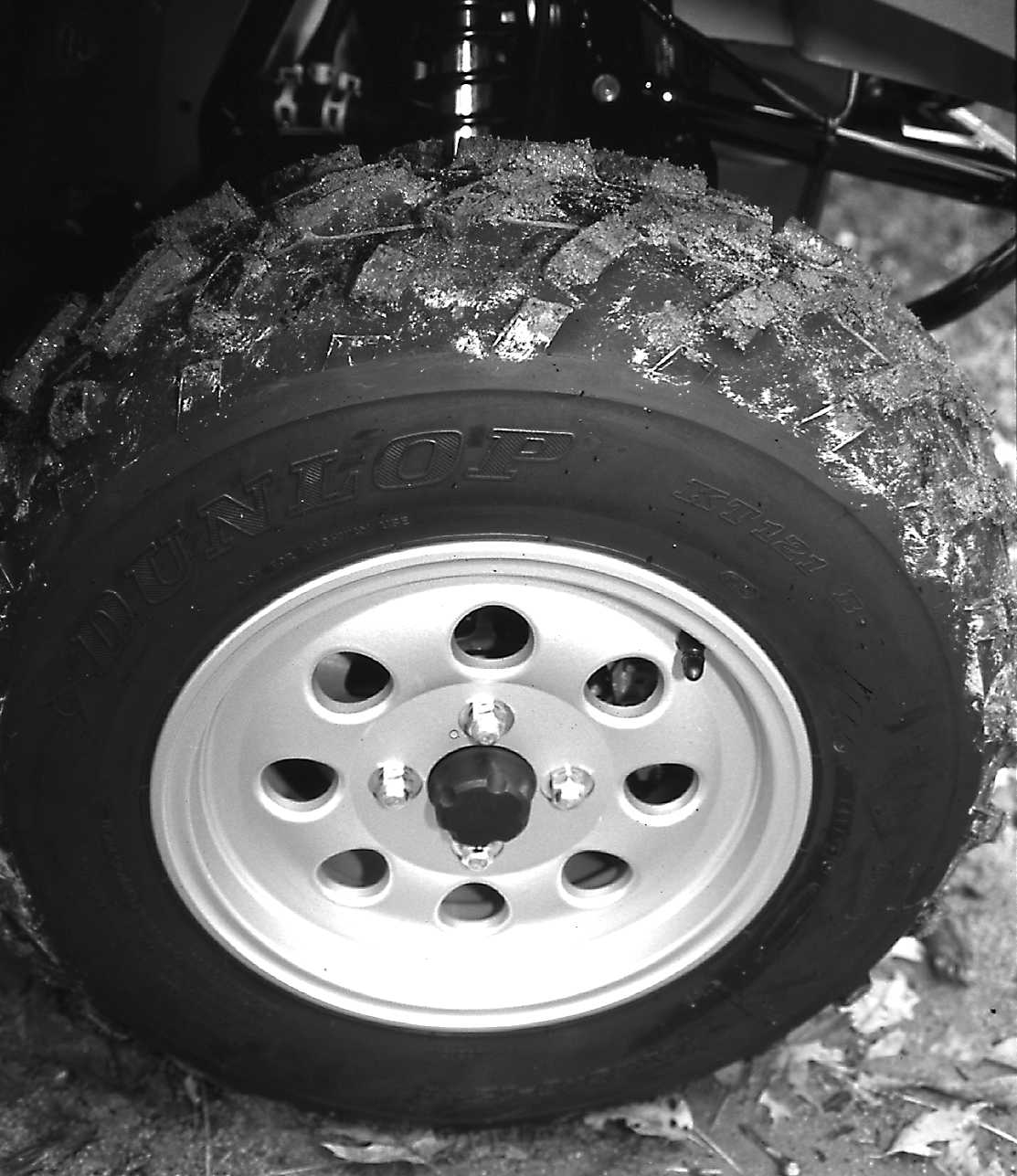 A silent-type cam chain and automatic cam chain tensioner are used to minimize engine noise and maintenance. A spin-on oil filter also helps simplify engine chores.
The charging system output has been increased over the King Quad's (from 231 to 325 watts). This was done to handle the demands of additional electrical accessories. The LT-F500F is equipped with two electrical accessory hookups; one located at the rear un­der the right taillight and fender, and the other located on the right side under the fuel tank cover.
FULL-TIME 4WD
Full-time 4WD operation is handled by the shaft final drive system. Su­zuki's unique limited-slip front differential is a torque-sensing, limited-slip design called SureTrac. Com­pared to conventional limited-slip systems, the SureTrac is a relatively sim­ple and compact design. Suzuki claims it offers better performance on un­equal traction surfaces along with light steering effort.
Here is roughly how it works. A system of cams allow the LT's differential to transfer torque from the drive gears to the axle shafts when driving straight ahead. When making a turn, or when one wheel slips, the cams are forced to turn at different speeds, restraining the slipping act­­ion until equal torque is applied to both axle shafts.
There is no provision for changing from 4WD to 2WD operation on the Quad­Runner 500, but it does have a two-speed sub-transmission with a high and low range. You control it by a lever located on the left side of the en­gine, just above the footpeg.
We found that we could reach down and shift it from high to low or low to high while slowly riding, but since you have to take one hand off the handlebar, Suzuki's lawyers do not recommend you do that. It is possible, though.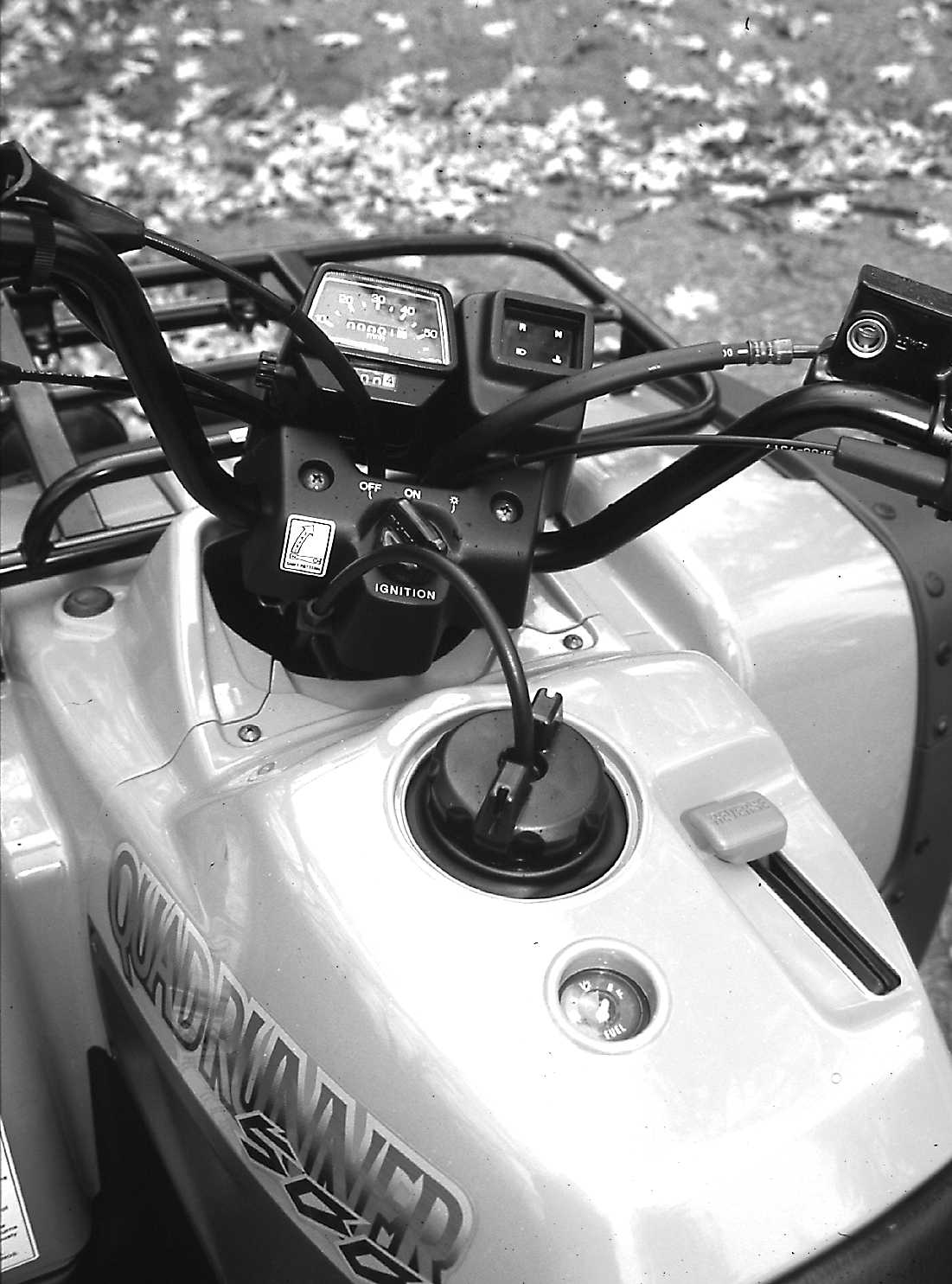 4×4 Fun Machine
This is engaged by downshifting to neutral and then operating a control lever on the top of the fuel tank. A reverse gear indicator will light up on the instrument panel. Speak­ing of the instrument panel, the 500 QuadRunner has a good one. It features both a speedo, resettable odometer, fuel gauge, and neutral, reverse and engine temperature lights.
BITS & PIECES
The LT-F500FW is the first quad we know of to come equipped with cast alu­minum wheels. They look great and are lighter and stronger than most conventional stamped steel wheels. The front tires are Dunlop KT121 AT25x8-12s, while the rear uses Dunlop KT405 AT25x10-12s. These are all-around, general-purpose tires that work well in a wide variety of conditions.
For braking the 500 has separate front and rear systems that consist of dual hydraulic disc brakes up front and a single drum on the rear. That, along with engine compression braking, is more than enough stopping power for any circumstance.
With a claimed dry weight of 606 pounds, the Suzuki does have a big feel to it. The wheelbase is 47.2 inches and it measures out to 46 inches in width, so it does have box-like dimensions. The 31.5-inch seat height helps keep your center of gravity low. Fuel tank capacity is a hearty 3.3 gallons and the load towing capacity of the machine is rated at 904 pounds on lev­el ground. Ample rack space is provided up front, with a capacity of 66 pounds, and the rear rack is rated at 132 pounds.
START & GO
A handlebar-mounted choke lever makes starting the Suzuki quick and easy. A back-up pull-starter is provided should the electric starter ever suffer a dead battery. There is even a built-in compression release that au­to­matically engages when you pull the recoil handle. That way you don't have to be Superman to pull-start the mighty 500 up.
4×4 Fun Machine
First gear in the low range is very low and we found ourselves shifting in­to second almost immediately. It is pri­marily a "granny" gear intended for heavy towing purposes.
Acceleration was brisk in the low range and we found that we could top out the five-speed auto-clutch trans­mission fairly quickly on the trails. Using the high range gave us a chance to see how quick the LT-F500FW really was.
ENGINE & TRANSMISSION
The liquid-cooled, 500cc, four-stroke engine on the Suzuki is impressive, to say the least. It pulls from the very bottom of the powerband and has lots of torque throughout the spread. We were amazed at how low we could let the engine rpm drop and still be able to idle up inclines. Gear ra­tios are closely spaced, as you would expect in the low range. It feels like you could tow just about anything in first gear in low range.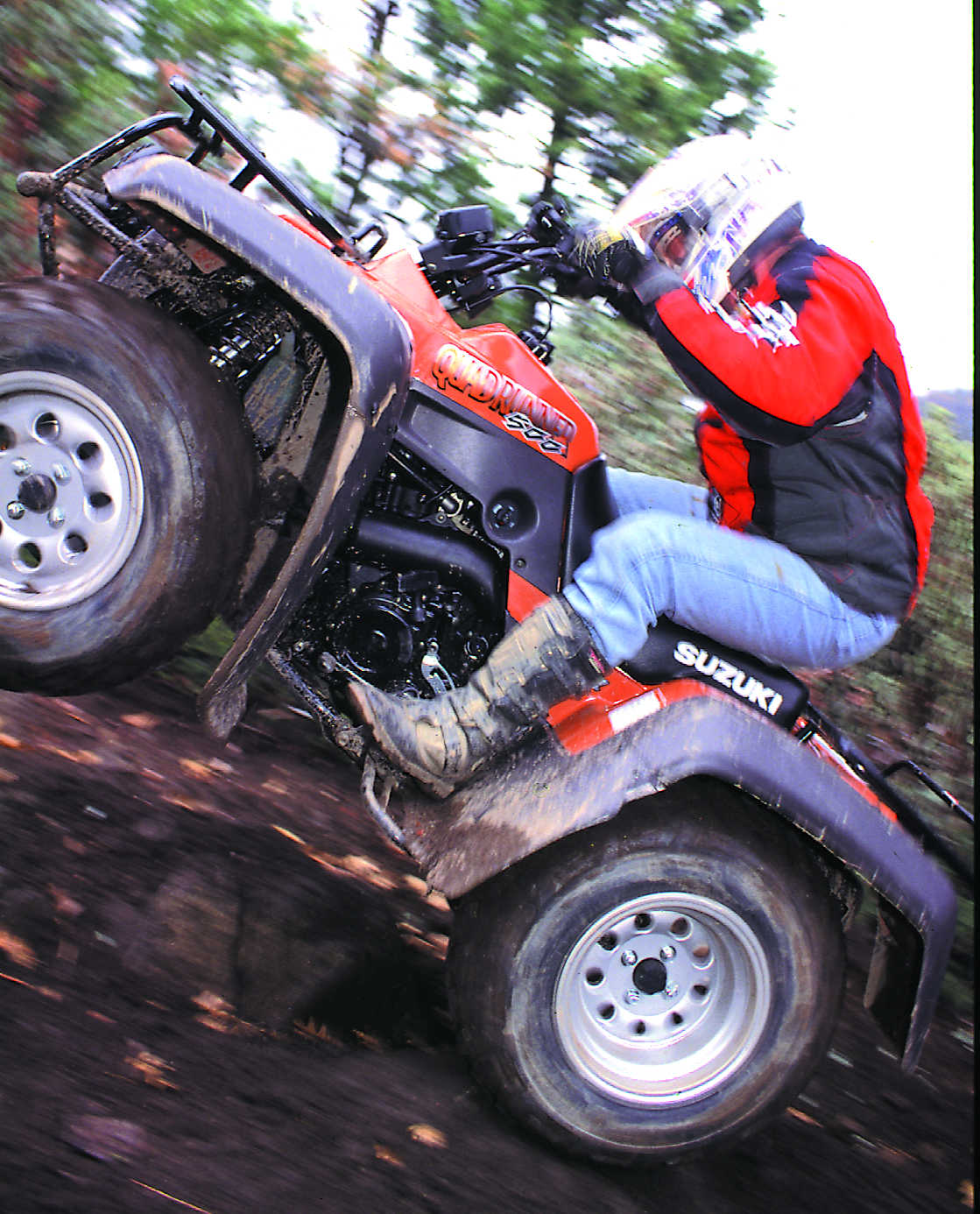 In high range, this engine has a broad, easy-to-ride powerband that pulls hard everywhere. We soon found ourselves nailing the thumb throttle and blazing down the trails like a couple of junior NASCAR racers. Even though the engine is tuned for low-rpm power, it has plenty of juice on the top-end. We were able to get the speedo to register slightly over 50 mph on some of the faster roads and trails we were on.
To test the Sure Trac limited-slip differential, we searched out the nastiest off-camber ruts we could find to see how well the power transfers to the front wheels. We dropped one side of the machine into the rut, with the other front wheel clawing the air.
The SureTrac limited-slip did its job and got the power to the wheel on the ground instead of uselessly spinning the wheel in the air. We soon pulled our­selves up and out of the rut. Com­pared to other limited-slip differentials we have tested, the Suzuki feels superior.
HANDLING
4×4 Fun Machine
"Confidence-inspiring" best de­scribes the new Suzuki's chassis. We have to admit that we were a bit leery of the big machine when we first started out. Anytime you start pushing the envelope on a 600-plus-pound projectile, you are a bit apprehensive.
It turns out we had nothing to wor­ry about. The engineers at Suzuki did their homework and the machine han­dles beautifully. It has a very light feel to the steering and is extremely stable and predictable in the air and through the turns.
As a matter of fact, we were astonished at how fast we could launch this vehicle off of the many water-bar jumps we encountered on our trail rides. The big Suzuki likes to jump and flies straight, and true through the air. However, there is a limit and a bottoming front end tells you that you have jumped too high.
Like most full-time 4WDs, though, the LT-F500FW doesn't like to kick the rear end out in the corners. It prefers to stick to a line and hold it, but it did corner and turn very precisely and predictably.
SUSPENSION
To some skeptics, 5.1 inches of suspension travel does not sound like all that much. Like a lot of things in life, though, it isn't how much of something you have, it's how well you use it. The 500 uses its travel to great ef­fect. We were amazed at how well the front and rear shocks worked on this particular quad. The front independent double A-arm shocks are first rate. They were soft and supple at low speeds yet became firm and steady at high speeds or off steep jumps.
Although not independent like the King Quad or the Polaris Sportsman's suspension, the LT-F500FWs rear shocks get the job done. It works especially well on uneven, off-camber situations and has plenty of ground clearance for hopping over obstacles.
CONCLUSIONS
Since we were expecting a more utility-oriented machine, we were struck at how well the Suzuki LT-F500FW actually performs on the trails. It could torque up a steep hillside at barely above idle and still pick up the pace and reach up to 50 mph on wide-open areas.
The motor is amazing with its broad range of torque and smoothness. It is plenty fast and should be competitive against anything out there in the 4×4 class. The liquid-cooled engine means that it will not be prone to overheating un­der a heavy load, even when the speeds slow down for work-related chores.
It is also one of the easiest-steering 4×4 quads we have ridden. Your mom or sister would not have any problems driving it around. The big 500 has a tight turning radius and ex­hibits excellent handling manners at all speeds. Its SureTrac limited-slip differential is one of the best on the mar­ket and gives it first-class mud-riding capabilities.
4×4 Fun Machine
For a big 4×4, the 500 is actually kind of fun to jump, and all of our test riders felt the suspension and handling was top-notch. The new 500 fits a wide variety of rider sizes and shapes and is comfortable to spend a full day on.
With a retail price of $6299, the QuadRunner 500 is several hundred dollars less than its counterparts, the Grizzly 600 and Polaris Sports­man 500.
Like Suzuki says in its print ads, "It's a world with 300 television channels. Get as far away from it as you can." The new Suzuki QuadRunner 500 will allow you to do just that.
To subscribe to Dirt Wheels Magazine in print or digital form click here https://hi-torque.com/product/dirt-wheels.