JEREMY MCGRATH: THE KING ON YAMAHA'S 2000 BANSHEE
The Two-wheeled champ takes our Banshee for a spin
JEREMY MCGRATH: THE KING ON YAMAHA'S 2000 BANSHEE
Jeremy McGrath IS the winningest SuperCross rider in motorsports history. He has won more SuperCross races, more titles, and more purse money than any other motocross rider on the planet. Jeremy earns up to $2,000,000 a year, racing dirt bikes around jump-filled Supercross tracks all over the world on his Team Chaparral YZ250.
But there is another Jeremy McGrath that few people have seen. To clear out the high-pressure stress of his job and have some fun, he and his girlfriend load up a pair of Banshees and head east on Highway 10. Where are they going? To their favorite ride spot. Glamis. Yep, this multi-millionaire moto-jockey likes to get his kicks and goof off by riding quads in the world's biggest sandbox!
You might have even noticed that he's the guy pitching the Banshee sideways in Yamaha's series of print ads. Jeremy came out on a photoshoot with Dirt Wheels as we took delivery of our 2000 model Yamaha Banshee. He did some test riding and gave us some feedback on ATVs, three-wheelers, Glamis, factory rides, and what he likes most (and least) about All-Terrain Vehicles. But first, let's take a closer look at Yamaha's top high-performance quad.
2000 YAMAHA BANSHEE
Yamaha's liquid-cooled, twin-cylinder, 347cc two-stroke screamer is well-known for its high-speed thrills and high pitched wail when pegged full throttle. It has basically remained unchanged, except for the J-arm/A-arm switch in the early nineties. Only its plastic color combinations have been reworked from year to year. 
For 2000, the factory keeps its Team Yamaha blue look and adds a new two-tone seat for the next millennium. The Banshee has always been a no-compromise high-performance ma­chine. It requires a deft hand on the clutch and a machine gun-like rattling of the close-ratio six-speed transmission to get it up to speed. It doesn't have any creature comforts like an electric starter, racks, or even a reverse gear.
A Banshee requires that you know how to slip the clutch and spin the motor to get it up and moving. But a competent rider, male or female, can learn to ride it relatively quickly, as Jeremy McGrath noted. "One of the great things about quads is that almost anyone can ride one," says McGrath. "If I were to take my practice motocross bikes out to Glamis, my girlfriend would have a hard time keeping up. When we're on our Banshees she can have a blast and ride with me in the dunes,"
As McGrath stated, once you master the art of clutching and shifting a Banshee, almost anyone can have fun on one. It is an exhilarating rush, even for the top motocross rider in the world, to blast across the dunes aboard this roost rocketship. It is a thrill that few modern-day high-performance ATVs can match.
2000 YAMAHA BANSHEE
NEEDED FIXIN'
Of course that does not mean that there are not a few things that could stand some improvement on this 12-year-old design. While the Banshee is blessed with fairly long travel (9.1 inches front, 8.7 rear) the action of the shocks is on the stiff side. The rear shock has a tendency to pack under hard acceleration. Even with compression, rebound and preload adjustments, the rear shock could stand to be updated with a smoother stroke and a tad more travel.
The Banshee powerband is also not exactly well-suited to woods-style, low-speed trail riding situations. Low-speed torque is virtually non-existent, so a trail rider would have to keep his hand on the clutch to slip it and get more rpm when it drops off the powerband.
It has a tendency to overheat when ridden slowly. You'll notice this right away when the coolant starts to boil over into the coolant recovery chamber. We feel it's high time Yamaha's engineers increased the cooling capacity of the cylinder heads and water jackets, or installed a larger radiator.
We've also had a long-standing feud with the factory over the junky airbox. The rider has no visual way of confirming whether it is properly sealed. Please change it, Yamaha. Put a simple bolt-on filter that you can SEE is firmly attached to the carb. 
While we're at it, how about a new shift lever? The stocker can (and does) break off at the base of the lever. Usually when you least expect it. Replace it with a solid aluminum billet one like Pro Design offers. As a matter of fact, check out the long line of products that Pro Design makes for the Banshee (Pro Flow air boot, Pro Design shift lever, Pro Design Cool Heads, etc.).
One other item we don't care for on the Banshee is the time-consuming chain adjustment. How about a cam-type chain adjustment like the Honda 400EX uses?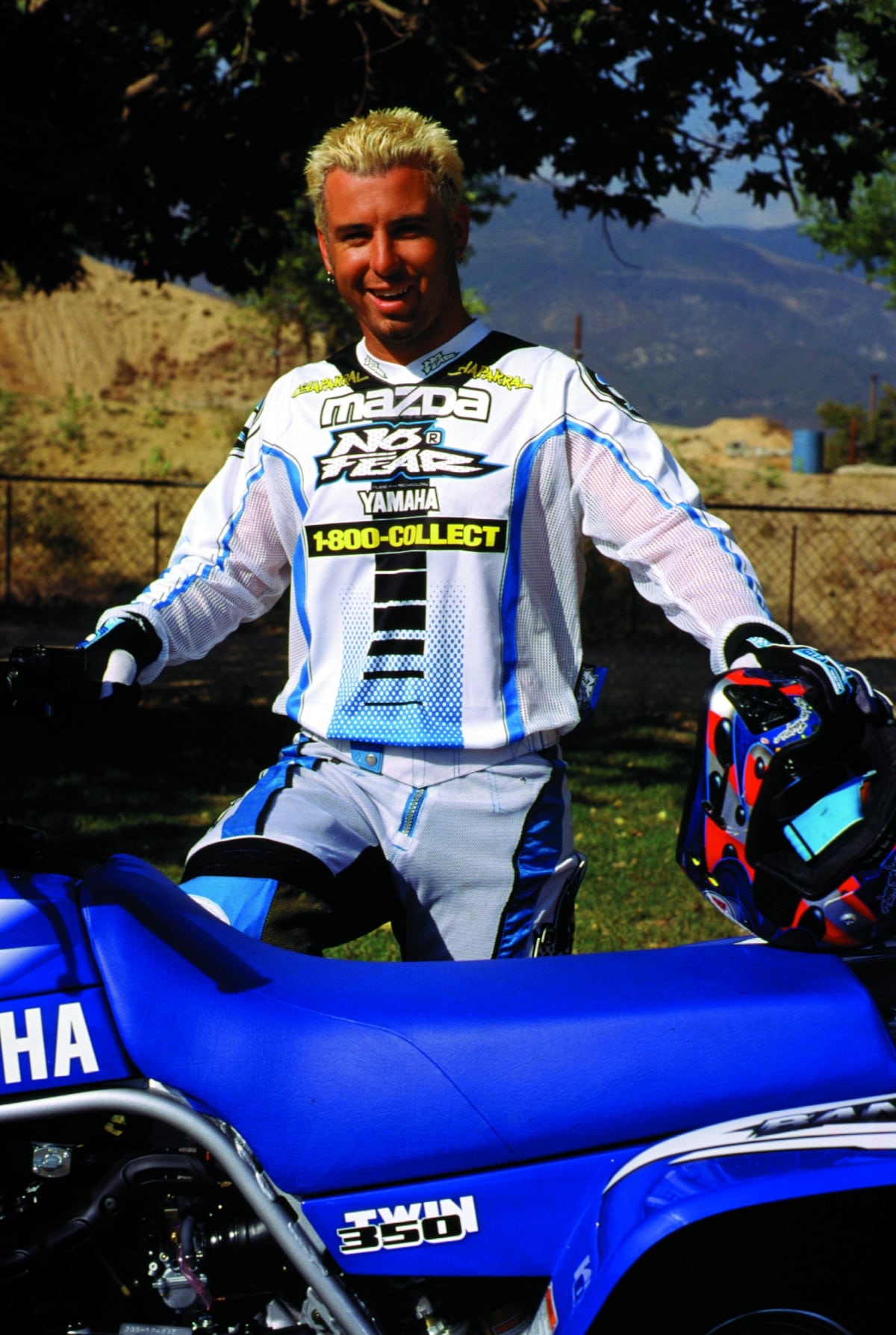 2000 YAMAHA BANSHEE
OUCH!
Are we complaining too much? Maybe, but we feel that while the Banshee remains one of the most fun-to-ride high performance quads ever made, it could use some serious refurbishing after 12 years. 
Still, once you get the machine in the zone, it shreds, pure and simple. Just ask Jeremy. How do you like the Banshee's powerband, Jeremy? "It's got good power, a decent hit in the middle, with a rush at the top. Sure, there isn't much low-end on tap but it's not as hard to keep on the pipe as some 125's I've ridden," said the Supercross champ.
2000 YAMAHA BANSHEE
ZONE SYSTEM
The zone that the twin-cylinder howl-master works best at is from around 5200 rpm up to 9500 rpm, where the power radically drops off. On our Dynojet dyno, our Banshee made peak power at 6700 rpm, which turned out to be 39.8 h.p. It hits with a firecracker-like adrenaline rush right in the middle of the mid-range. From there on it's "hang on and shift." Banshees love rpm and you can tell by the steady rise in staccato and the sweet sound of its high pitched and distinctive whine that it's got a potent top-end.
Shift and rev, shift and rev. All the way until you reach sixth gear. The Banshee also loves a good, smooth, fast dirt road or trail. That is where it handles best. The overall handling is on the fast—some say twitchy—side. It is still as predictable and smooth handling as they come when the road or trail has lots of switchbacks, long straights, or corner carving S-bends. 
A truism about the Banshee is that the faster you ride it, the better it works. Its temperament, demeanor, and high-speed performance make it particularly suitable for riding in sand. This is where it shines. There is a good reason you see so many Banshees in the dunes.
2000 YAMAHA BANSHEE
SUMMING UP
The Banshee used to be the fastest four-wheeler you could buy off the dealer's showroom floor. But with the arrival of the new Bombardier DS650, it has lost its king-of-the-hill status to this upstart four-stroke. It still remains one of the most thrilling rides in the world of high-performance ATVing. The question is, will Yamaha be content to bequeath its throne to the newcomer from Canada? Or are they finally ready to undertake some serious changes to make it more competitive after so many years on top? We have to wait and see how they respond to the new challenger.
To subscribe to Dirt Wheels Magazine in print or digital form click here https://hi-torque.com/product/dirt-wheels.  
2000 YAMAHA BANSHEE
Engine type Twin-cylinder,
liquid-cooled, reed-
valve, 2-stroke
Displacement 347cc
Bore and stroke 64mm x 54mm
Carburetion Dual 26mm Mikuni
Start Primary kick
Transmission Six-speed, manual
clutch, no reverse
Final drive 520 O-ring chain
Fuel capacity 3.2 gal.
Wheelbase 50.4″
Overall height/length/
 width 42.5″/73″/43.3″
Seat height 31.5″
Ground clearance 5.3″
Claimed dry weight 386 lb.
Suspension:
 Front Dual A-arm w/9.1″ travel
 RearSingle shock swingarm
w/8.7″ travel
Tires:
 Front Dunlop AT21 x 7-10
 Rear Dunlop AT20 x 10-9
Brakes:
 Front Dual hydraulic discs
 Rear Single hydraulic disc
Colors Blue, red/white
Suggested retail $5999
Mfr./Distr.:
Yamaha Motor Corp.
6555 Katella Ave.
Cypress, CA 90630