2010 Polaris Sportsman 850 XP
2010 POLARIS SPORTSMAN 850XP
For 2010, the Sportsman 850 with power steering is the flagship ATV for  Polaris. It's also one of the most expensive utility ATVs on the market, with a retail price of $9999. Competing 700-800s sell for $9300 (Yamaha), $8699 (Suzuki) and $10,749 (Can-Am). This four-wheel-drive platform was recently upgraded from a chassis Polaris used for well over a decade. The major changes took place in the suspension department. A MacPherson strut front end was replaced with a more common dual A-arms setup matching the double A-arms in the rear.
Suspension travel up front is a very respectable nine inches and 10.25 inches out back. Those A-arms allow for an incredible 12 inches of stump and rock clearing space between the skid plates and the Earth.
Recent changes were found in the engine compartment as well. Most notably, Polaris engineers found a way to rotate the twin cylinder engine 90 degrees, allowing for a more narrow rider position. The old chassis did seem a little hefty in the mid-section. This change did improve rider comfort, but it made accessing the CVT system a bit more difficult. On the good side, Polaris has made huge strides in increasing reliability on high-wear components like the CVT belt.
­­Aesthetically, the new Sportsman platform has also been improved. More aggressive bodywork has been incorporated, and bright color choices are offered along with cast aluminum wheels. Unfortunately, the new looks caused one of our favorite items, the front storage box, to be eliminated. It is now only an option.
BY THE NUMBERS
The Sportsman is a heavy machine, tipping the scales at over 800 pounds full of fuel and ready to ride. Some of that weight comes from the 4.5 gallons of gas that the machine holds. The model without power steering holds even more fuel, courtesy of a 5.25-gallon tank. The power steering system does add $1100 to the price tag of the standard XP and nine pounds to the dry weight figure of the 850XP-EPS.
Those weight numbers do translate into a tough machine. The Sportsman has an incredible front rack capacity of 120 pounds and a rear rack capacity of 240 pounds.
That's a lot of cargo. And on the trail, a full load doesn't translate into a ill-handling ride. The Sportsman is one of the best-handling machines when fully loaded down.
Towing figures are just as impressive with a 1500-pound rating from the standard truck-type, two-inch receiver hitch.
Another large number comes from tire and wheel sizes on this machine. The Sportsman is equipped with tall 26-inch tires mounted on large, 14-inch wheels. The 26-inch tire helps contribute to the 12 inches of ground clearance the machine offers, and the 14-inch wheel helps combat tire roll and improves handling.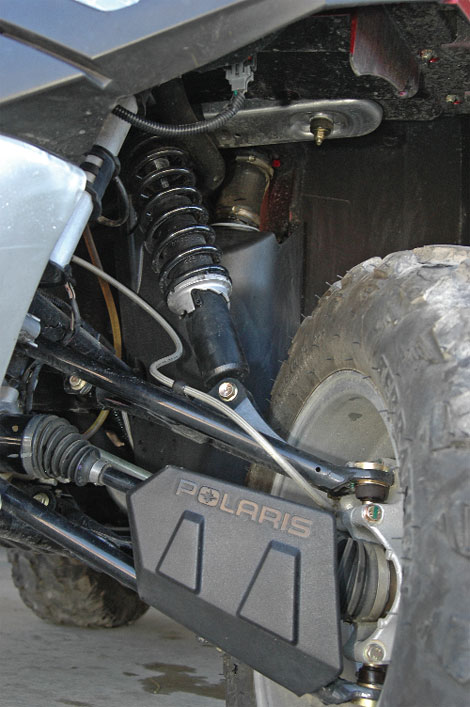 POWER UP
The 850cc mill is a liquid-cooled, parallel, twin-cylinder design with a single overhead cam and four valves per cylinder. This is the most modern and powerful engine found in any Polaris vehicle. It's even bigger than the engines found in the much heavier Ranger HD and RZR UTVs.
Polaris claims this motor pumps out an impressive 70 horsepower in stock trim. All that power is muffled quite well with a mechanical, maintenance-free muffler. Electronic fuel injection feeds the big mill through twin throttle bodies sucking gas from a tank placed below the rider's seat. Gas flow can be monitored by looking at a nice digital instrument gauge placed in the center headlight pod sitting in the middle of the handlebars. That gauge also reads speed, distance traveled, gear selection, hours on the engine and the time, while housing temperature and battery warning lights along with a DC outlet. 
A keyed ignition brings things to life instantly with help from the EFI system. One thing that is noticeable before you start the engine is that the power steering system works before the engine is running or the machine is even moving. Most other power steering systems don't provide any assistance until it senses wheel speed.
The gear selector has a positive feel and is not confusing. Just push the drum-style selector forward to go and pull back to select reverse. Park is found beyond reverse and the low gear is in front of it.
TRAIL RIDE
You need a pretty wide open trail to reveal the potential of this machine. Stab the throttle and it launches forward. Power is strong yet smooth. And when you need to back off the gas for a corner, you can rest assured that power is ready to spool back up in a hurry.
Does this machine have too much power? Maybe. Hitting a top speed of over 70 mph on an 800-pound machine is pushing the limits. Mounting a set of 28-inch mud tires and running through three feet of muck might have you looking for more power.
Even if you were loaded down with 300 pounds of fresh deer meat, you could probably make it up any normal hill climb without even putting the transmission in low range. In fact, we found ourselves preferring low range in some of the tighter sections of our woods test loop. It gives more bottom-end power and still doesn't even top out until over 30 mph. That's fast in the woods.

OBSTACLE COURSE
We took this machine over the roughest terrain we could find and really put it to its limits. The new front A-arm suspension system works as well as the old MacPherson setup, all while providing much less feedback to the handlebars. And even if it didn't, the electric power steering system would soak that up.
We liked having steering assistance even at idle. It helps you make line selections in rough terrain even before you start moving. And at speed, the steering effort doesn't feel too light like it does on many other machines.
Back in the rough stuff, we pounded the suspension and never felt a bottoming-out sensation, nor did we get hung up in the rocks.
The 12 inches of ground clearance was more than enough to get us through the trickiest of situations. The cockpit and rider's position is one of the most comfortable offered.
Handlebar position is at a good reach, and the narrowed saddle was a welcomed addition to the upgraded machine.
Although the machine is heavy, you don't feel like you have to muscle it around, and it still stops on a dime.
The single-lever braking, although not our favorite design, works well and slows the machine down quickly without any heavy body roll. Body roll in the corners is also kept to a minimum thanks to a swaybar, the low-profile tires and stiff spring rate on the shocks.


CONCLUSION
The revamping of Polaris' flagship 4×4 has been a long time coming—and for good reason. The old one was a good machine and drew very few complaints from us. While they didn't address the complaints we had in the past—like weight—they did make a better machine. It has better suspension, fuel injection, a cool new look and way more power than before.
Shelling out $9999 for an ATV sounds like a hard pill to swallow. It's one thing if you are getting the best machine for your money. It would be different if you were not. For that price, the Polaris Sportsman 850XP with EPS does give you the performance you pay for and is a great machine to own. Is it the best ATV you can buy? You will have to wait for next month's big-bore 4×4 shootout, and we will give you the answer to that question. Stay tuned.