Yamaha's Raptor 250 has continued to be a top-selling sport ATV since its introduction a few years back. Its exquisite engineering takes it to the top of its class in handling and performance. More importantly, its low $4500 price tag makes it a hit, even in this ragged economy. In an industry of speed junkies, this 249cc, air-cooled Raptor is surprisingly impressive. It has bridged the gap for mini ATVers not ready for a larger class, and new riders have praised its easy operation.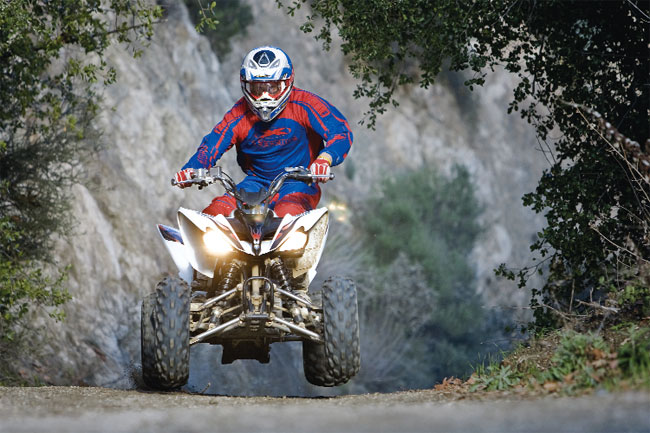 Yamaha's Raptor 250 is flickable and fun from the track to the trail.
MEDIUM PERFORMANCE
At first glance, Yamaha's Raptor 250 will not attract much attention. It's small. However, its 330-pound wet weight makes it the lightest in its class by almost 50 pounds. Its 249cc, air-cooled, SOHC, four-stroke mill sits at the top of its class as well.
An electric starter gets it going, and fuel is fed from a large 2.4-gallon fuel tank via a 29mm Mikuni carburetor. The Raptor 250 idles quietly, but features a light thumb throttle with a snappy response. We'd like to see Yamaha give its YFZs this soft of a throttle.
Power is not overwhelming, but it is fun for riders at any skill level. There are also many aftermarket companies building motor build kits and performance exhaust systems. Check out www.ctracing.com, for videos on a few of their Raptor 250 builds. You can also check out www.duncanracing.com for their complete motor mod and suspension packages for Yamaha's Raptor 250.
The five-speed manual transmission is flawless and allows you to use the motor to its full potential. Other 250 sport ATVs with automatic transmissions limit your control in a sense. They are gas-it-and-go, while the manual Raptor 250 adds another fun dimension to the ride of clicking off gears and gaining speed.
Learning to use a manual clutch might be tough for some, but it will only make you a more complete rider. If you or your child isn't ready for this type of transmission, there are other options. Honda's competing TRX250X is known for its Sport Clutch. This is a system that works much like the Raptor's manual five-speed, but it will not stall in, or out, of gear. Unlike the Raptor 250, the TRX250X also features reverse. It runs for a lower $4300 price, but offers a smaller 229cc powerplant, two inches fewer wheel travel, front and rear, and is heavier at 379 pounds. Can-Am's DS250 is the only liquid-cooled, four-stroke powered ATV in this class. It's also the most affordable at $3699. It features a double A-arm front suspension and reverse. Also competing is Suzuki's QuadSport 250 at $4199. It features an easy-to-operate, five-speed automatic with reverse. For around $800 more, you can make a jump up in class. Honda's TRX300X costs $5299, and has a 282cc powerplant with a five-speed manual transmission with reverse. Yamaha's Raptor 350 is a hundred bucks more at $5399. It has almost 100cc more than the Raptor 250, but we feel overall, it is an inferior machine to the newer 250 model.
Cooled by air, the Raptor 250 showed no signs of overheating. It even stayed cool being lugged around tight, technical trails. An attached oil cooler helps in this area as well.

The Raptor 250 features an air-cooled, SOHC, two-valve, four-stroke power plant.
SUSPENSION & MORE
The Raptor 250's lightweight chassis is smooth and predictable on the track or trail. Larger 450 sport quads are much heavier, and their arm jerking power makes arm pump a more familiar occurrence. While lap times will never be close to a 450's, our test riders were able to ride twice as long on the Raptor 250. The tighter the terrain, the more impressed we were with the Raptor. But track straightaways and fast trail rides proved to be the Raptor 250's weakness.
The front end is equipped with a double A-arm suspension with five-way, preload-adjustable shocks. This setup offers 7.5 inches of wheel travel. A standard swingarm on the rear end is controlled by a shock with adjustable preload, and offers 7.9 inches of wheel travel.
The Raptor 250 rides plush on most terrain. There were few instances where the suspension would bottom out on jump landings. Keep in mind this was with larger 170- to 190-pound test riders. Smaller 120- to 160-pound riders never bottomed out.
When our test track whooped out and when we rode through rutted trails, the Raptor would bounce around. We improved this on last year's Project Raptor 250 with both Works and Motowoz shocks (www.worksperformance.com/ www.motowoz.com). Installing aftermarket shocks will still have the overall cost of the Raptor 250 a couple grand below the retail of a 450.
Dunlop's 20×7-10 (front) and 19×10-9 (rear) tires are mounted to lightweight aluminum wheels. These meats provided plenty of traction and offered excellent handling characteristics on the track and trail.
Bringing the Raptor 250 to a standstill are triple hydraulic disc brakes. These brakes stop the Raptor on a dime. Its lightweight chassis, along with the awesome brakes, even allow for nose wheelies on a flat, tacky surface. The Raptor 250 also features the YFZ and Raptor 700-designed flip-type, handlebar-mounted parking brake. This is the best-working, easiest-to-use parking brake we have tested.


The standard rear swingarm is matched with a five-way, preload-adjustable shock. It provides 7.5 inches of wheel travel out back.

SPECIAL FEATURES
Yamaha is not known for decking its ATVs out with many special features. They do, however, design their machines for easy maintenance. The Raptor 250's airbox features no-tools air filter access, an easy-to-use eccentric chain adjustment, grease fittings on the A-arms and swingarm, and the bodywork comes off without having to disassemble electrical parts, airbox or wiring harness.
The front of the Raptor 250 is equipped with dual, 30-watt, multi-reflector Krypton headlights, which were styled after the YFZ450. The tail light has an incorporated brakelight as well.
Unfortunately, Yamaha will not be offering the Raptor 250 in Yamaha blue for 2010. It is available in a white plastic with an option of red or pink graphics. It still looks cool, but we already miss the Yamaha blue.

The front end is equipped with a double A-arm setup, which offers five-way, preload-adjustable shocks and provides 7.5 inches of wheel travel.
MOST FUN FOR THE MONEY
The $4500 price tag is exceptional, but not best in class. What sets the Raptor 250 apart from the other 250s is that you could head right off the showroom to the motocross track and start honing your MX skills. We realize not everyone is an MX rider, but an ATV that can tackle tight corners, whoops and jumps will tackle any trail you put in front of it. Plus, its peppy motor matched with a lightweight and easy-to-ride chassis will satisfy the needs of all different types of riders, from young to old and beginner to pro.