When Polaris introduced the first RZR 800 back in 2007, we were apprehensive, to say the least. It was the first 50-inch-wide UTV ever built. It was designed to be driven on official ATV trails that are in some places only 50 inches wide. We were used to driving wider Polaris Rangers, Yamaha Rhinos, Arctic Cat Prowlers and Kawasaki Teryxs and just avoided those tighter trails.
The RZR looked like a toy when it was unveiled. However, after feeling its incredible acceleration and forgiving suspension, we were hooked, and the appearance grew on us, as it did the rest of the world.
Aftermarket companies have made a killing in the past few years building long-travel suspension systems, engine hop-up kits and all matters of accessories for the RZR, just like they did with the Yamaha Rhino in the years before. Thanks to this machine, Polaris has a strong hold on the UTV market. But, don't give up on Yamaha; we know they are working on exciting new machines—as is Kawasaki.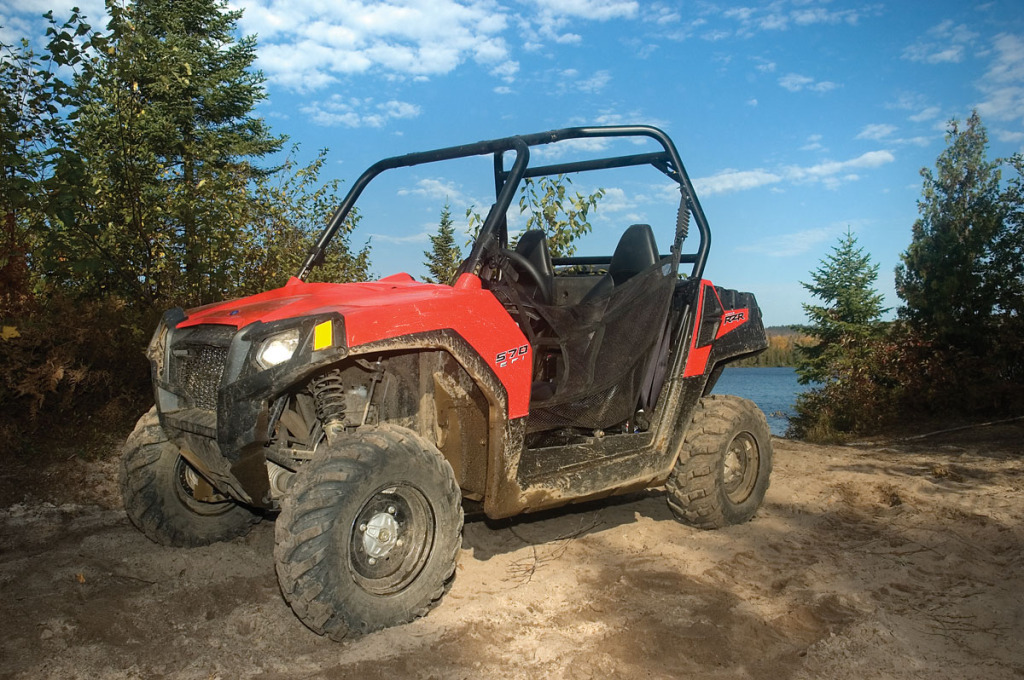 If you look at the machine for its intended use, Polaris missed the mark with the original RZR 800, although the number of complaints is very few. Its engine was actually too aggressive and the suspension too stiff. Most 50-inch-wide trails, especially east of the Mississippi, are tight, bumpy, with cliffs on one side or another, and need to be driven at more of a conservative pace. The original RZR wanted to be driven with the gas pedal to the floor, and it did this very well. At slower speeds, acceleration was jerky, and its suspension gave it a rough ride—especially to its passenger. Polaris wants to address this issue and is doing so by introducing the RZR 570. The RZR 570 should not only give the narrow-trail seekers a machine they are looking for, but it is one of the lowest-priced UTVs you can buy at $9999—and at that price, it still has four-wheel drive. Power steering is only available as an upgrade kit for a little over a $1000.
The only cost-cutting measure Polaris took was to remove the glovebox, and the headlights only have one setting. The high- or low-beam option switch has been eliminated. The rear cargo bed has also been changed for the better. The side-rail tie-down points are stronger, and there is now an engine-access panel in the floor of the cargo area. Under it you will find a big, pleated, square air filter that is easy to access.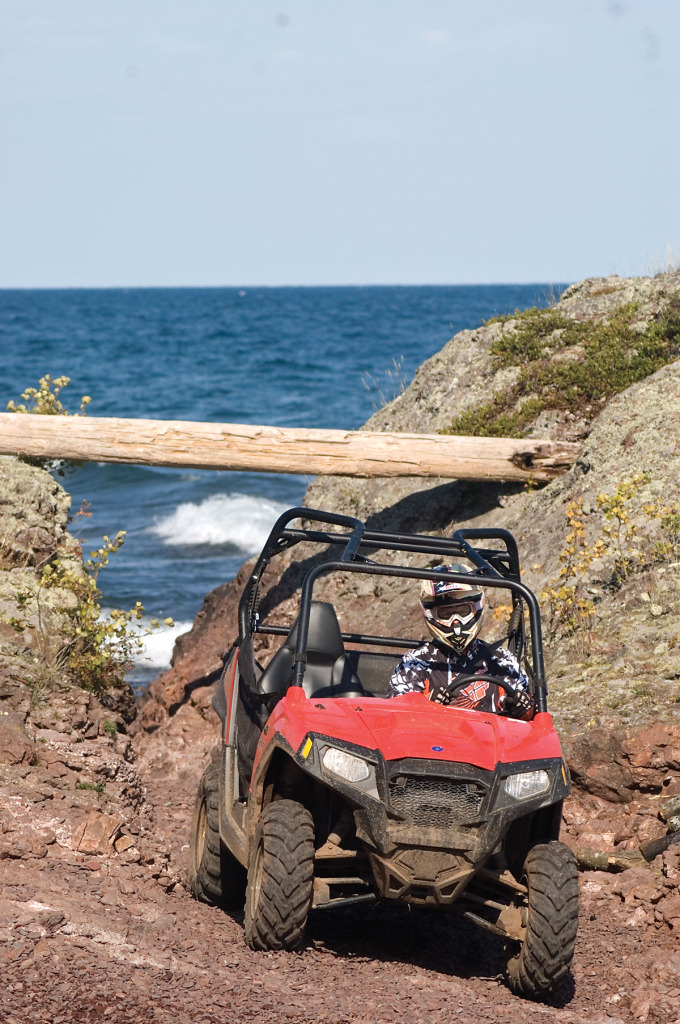 BRAND-NEW RZR
Polaris did not just sleeve-down the 800 engine, they built a brand-new one. While the 570 engine has less displacement, it is better in every way. The old twin-cylinder engine had a slow-revving pushrod and a rocker-arm valve train with only two valves per cylinder. It was a pain to work on and even harder to modify.
The new engine is a single-cylinder, liquid-cooled four-stroke with dual overhead cams, four valves, and a single throttle-body, electronic fuel-injection system. It's basically as high tech as a modern-day 450cc sport quad engine, but is built for the torque demands of a heavier UTV. Horsepower numbers are impressive at 45, where the 800 only had 53 ponies. This new powerplant is coupled to a RZR XP 900 transmission with a slightly different gear ratio. CVT clutching was also adjusted to be efficient with less horsepower. In fact, Polaris claims that the new engine will give the new RZR a 150-mile range while using the same 7.25-gallon gas tank. Overall weight was also reduced over the RZR 800 by a claimed 8 pounds down to an even 970 pounds.
Revisions to the new Polaris did not stop in the engine compartment. Polaris actually created an entirely new back half of the machine. The new drivetrain is placed lower and further back than before. Even further back, a new double A-arm suspension system was built. The old 800 used a lower A-arm setup and a channel-beam upper arm—now it's a true double A-arm setup. Wheel-travel numbers are the same as before, with 9.5 inches of movement in the back and 9 inches out of the front dual A-arm setup. The coil shocks on all four corners are preload adjustable only. CST's 25-inch, directional, Ancla tires are used on all four corners  and mounted on stamped-steel wheels.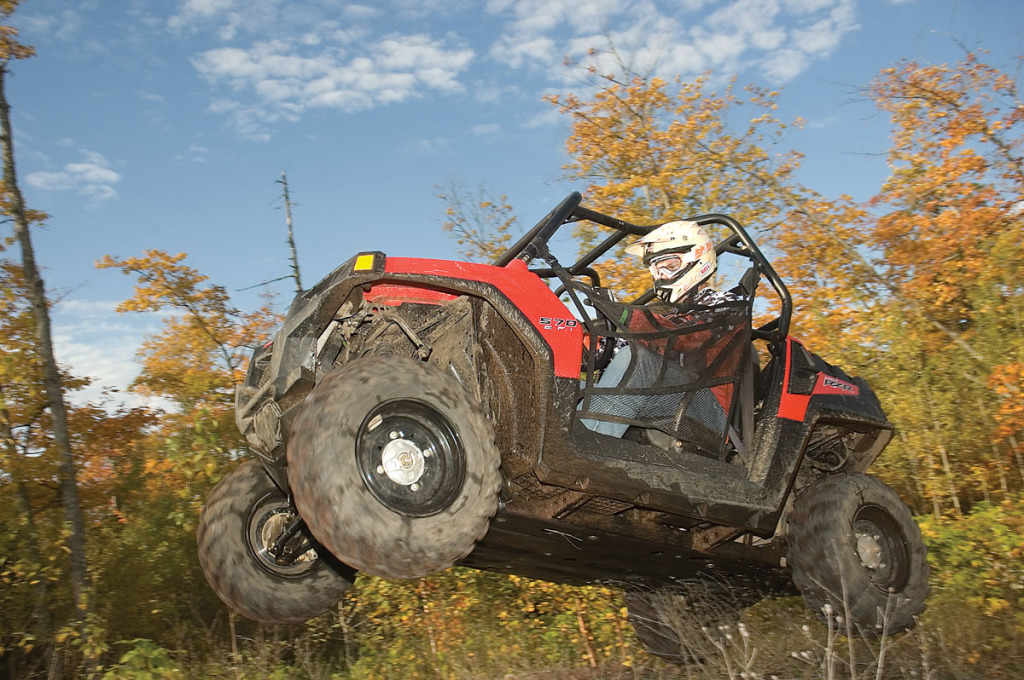 ALL-NEW RIDE
Before even setting foot in this machine, we knew we weren't going to be disappointed with the power. Not only were we right, but this new powerplant rips. Acceleration is impressive. It's not pin-your-back-to-the-seat fast, but rather it's hold-on-tight-and-let's-have-fun fast. The engine and CVT calibration was spot-on for tight trail driving. You could roll on the throttle and creep along smoothly, or mash the pedal and fishtail the back end if you had the need.
Another perk of the new engine design and placement is noise reduction. During a full day of testing, we could carry on a conversation with helmets on and running quickly down the trail—try that in a Rhino or Teryx. It wasn't whisper-quiet; it was just better, and you still heard a throaty roar out of the exhaust under acceleration.
Midrange power was equally as impressive on the RZR 570. You could roll the throttle on and off and pick up speed whenever you desired. When we were on true 50-inch trails, we were never higher than half-throttle, and things felt fast. When things opened up, we did, however, find its limits and were not disappointed here, either.
Top speed is actually governed at 55 mph, but the engine is capable of hitting that mark easily. With the limit restrictions removed, we are confident the machine would easily top 60 mph or more. Our RZR S 800 tops out at 63 mph, so the power difference, believe it or not, is minimal. At the end of our first 75-mile ride, the fuel gauge read more than half a tank. So the claimed 150-mile range is possible, especially if you are conservative with the throttle pedal. During this test, we were not.
HANDLING
The first RZR 800 was a little tippy. For that reason, the aftermarket got involved and started producing long-travel suspension systems for guys riding wider trails—especially the duners. Polaris quickly bounced back with their own long-travel version for the RZR S and sold thousands. However, according to Polaris, the 50-inch-wide RZR 800 is still their best-selling model in the entire RZR lineup.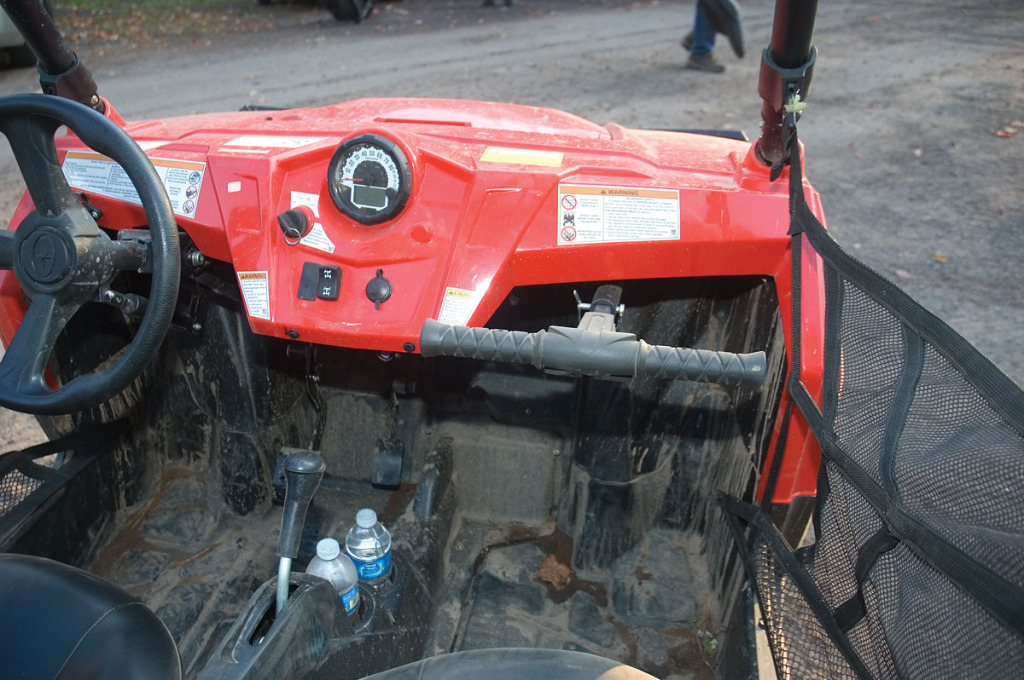 With its lower center of gravity and improved rear-suspension system, the RZR 570 is stable. In our test, we never felt the new RZR wanting to two-wheel or tip over. You are not going to want to do doughnuts in this machine, but even going over off-camber trails, the driver will feel confident he will stay on four wheels. Our right-seat testers were a little nervous around some high-speed left-hand corners, but that's to be expected when you are not in control. In two- or four-wheel drive, the RZR cornered better than expected. Like with the RZR S or the XP 900, you can drive it in four-wheel drive to help pull you out of corners more precisely, or leave it in two-wheel drive and slide the rear end around. In either setting, neither of our testers ever requested power steering. The steering effort is not as light as the RZR S, but it's much lighter than it is on the RZR XP 900.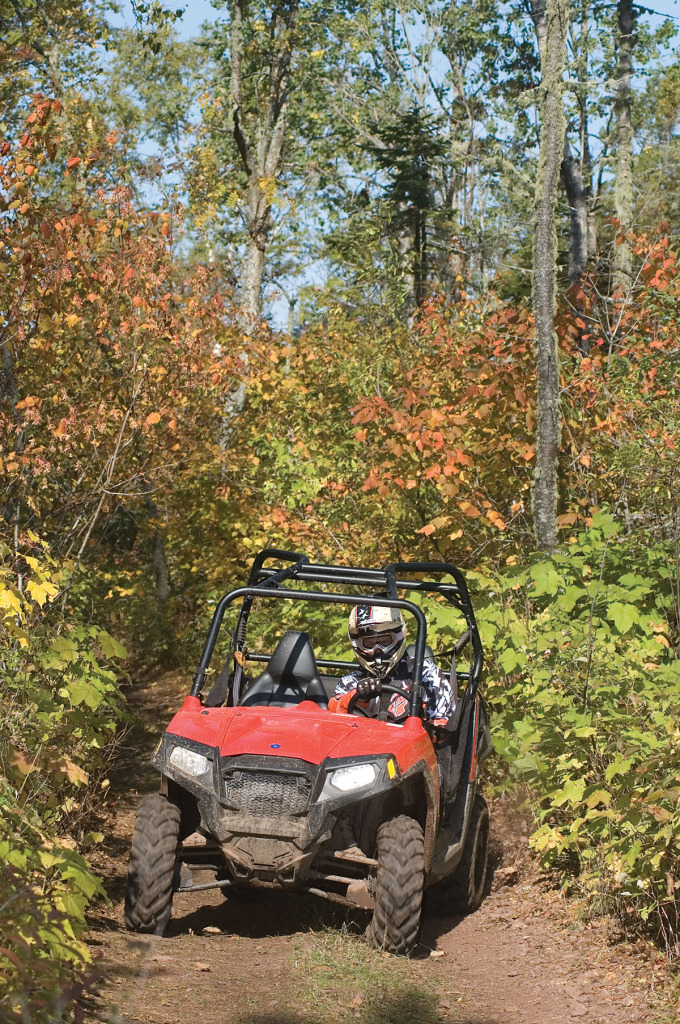 On one of our trails, we scraped the new, thicker, 1/4-inch skid plate quite a bit. We didn't bottom the machine out, but trail obstacles smaller than 10 inches would occasionally let you know they were there. With two 200-pound occupants, the RZR tends to noticeably squat on the factory-set softest preload setting. When we rotated the preload to the stiffest setting, the ride height noticeably improved and the rock-bashing stopped. The slow-speed ride comfort did suffer slightly, but not enough to complain about.
CONCLUSION
If Polaris had introduced the RZR 570 instead of the 800 back in 2007, the sport UTV market may be a totally different scene. The 50-inch trail rider would have been super happy with the machine, and the wide trail rider or duner may have never tried it because of the low displacement number. So for excitement's sake, we are glad things turned out like they did.
The fact is that the RZR 570 might just be even better than the RZR 800. And around $2000 less, we can almost say for sure it is. But we will still get them both together for a comparison soon and let you know that answer. If you can't wait that long, go check out the 570; you will be pleasantly surprised. We sure are.
SPECS
Engine    Single cylinder, liquid-cooled,
DOHC, 4-valve 4-stroke
Displacement    567cc
Transmission    Fully auto CVT w/
H, L, N, R
Final drive    4-wheel shaft
Fuel system    EFI
Fuel capacity    7.25 gal.
Length/width/height    ..107.5″/50.0″/69.0″
Wheelbase    77″
Ground clearance    10″
Claimed dry weight    970 lb.
Suspension/wheel travel:
Front    Dual A-arms; 9″ travel
Rear    Dual A-arms; 9.5″ travel
Tires:
Front    25×8-12/stamped steel
Rear    25×10-12/stamped steel
Brakes:
Front    Dual hydraulic discs
Rear    Dual hydraulic discs
Cargo box capacity    300 lb.
Claimed towing capacity    1500 lb.
Colors    Red
Price    $9999
Manufacturer    Polaris
www.polarisindustries.com
LIKES
• Smooth overall power
• Great handling for a narrow machine
• Price
DISLIKES
• No standard glovebox
• Low ground clearance
• Weak seat foam