Dealers are running out of space. Each year the list of UTV models grows longer and more complicated. It's gotten to the point that a retailer can't hope to display all the UTV offerings available to him; the showroom floor just isn't big enough. So, where do you go to see the width and breadth of today's UTV market? Right here. This is Dirt Wheel's annual roundup of the most significant UTVs on the market. Included are sport models, utility offerings and multipassenger vehicles. The good news is that the market is growing at both ends. The high end is higher than ever with a number of units busting past the $20,000 mark. But, there are more low-cost machines available too. Today's UTVs make for an incredibly wide variety. Enjoy.


ARCTIC CAT WILDCAT 4 ($19,599)
Arctic Cat's four-seat Wildcat is
29 inches longer and has room for
four, but otherwise has the same features
as the standard Wildcat. That
includes the 951cc V-twin motor,
power steering and five-link rear suspension
with 18 inches of travel.
There's an LE that sells for $20,299
and has upgraded styling, seats, tires
and wheels. The Wildcat 4X sells for
$20,999 and has further upgrades,
including an engine package.
ARCTIC CAT WILDCAT ($16,999)
This Wildcat is a legitimate counterattack
to the Polaris RZR 900 and
1000, with comparable Fox suspension
and 18 inches of rear suspension
travel. Ground clearance is 13
inches, and power steering is standard
equipment. The Limited is
$17,699 and gets upgraded seats and
bumpers. The X is $18,499 and has
upscale styling, color and Maxxis
tires, plus an X engine package.
ARCTIC CAT PROWLER 1000 XTZ ($14,999)
The 1000 XTZ comes with a long
list of premium features as standard
equipment, like power steering, aluminum
wheels, automotive paint and
Maxxis Bighorn tires. Under it all is
the original Thundercat V-twin motor
displacing 951cc. The Prowler has
excellent work credentials, with front
and rear hitches, 600 pounds of bed
capacity and a large enclosed storage
space under the hood.
ARCTIC CAT PROWLER 700XTX ($13,299)
The 700 Prowler has the same
chassis as the big 1000XTZ, but with
a single-cylinder, 695cc, liquid-cooled
motor. Like the 1000, it comes decked
out with power steering, real paint,
aluminum wheels and 26-inch tires.
The Prowler can tow 1500 pounds
with either its front or rear hitch
receiver, and the tilting bed is big
enough for 600 pounds. There's a
camo version for $13,599.
ARCTIC CAT 700HDX LIMITED ($13,699)
This is the more utility-oriented
'Cat, but it still features the 695cc
motor, 10 inches of suspension travel
and 10 inches of ground clearance.
The 700XDX has seating for
three across the front bench seat with
headrests for everyone, more storage
space, and a larger tilting bed
that holds 1000 pounds and easily
converts to a flatbed. Power steering,
paint and aluminum rims are
all standard. A camo version is $300
more.


ARCTIC CAT PROWLER 550XT
($10,999)
With a 543cc H.O. motor, the 550XT
is part sport, part utility. It has bucket
seating for two people and a longer
wheelbase than the more work-oriented
HDX series. It still has 10 inches
of ground clearance, 10 inches of suspension
travel and double A-arms
all the way around. Four-wheel drive
and front diff-lock are available with
the push of a button. Available in any
color as long as it's green.
ARCTIC CAT PROWLER 500 HDX
($10,999)
Arctic Cat's counteroffensive to the
Polaris 570 is the 500HDX. This has
a 443cc, single-cylinder motor, but
has seating for three and excellent
hauling credentials with a large tilting
box that converts to flatbed and
dual hitch receivers. The word on the
street is that there's a 50-inch-wide
version coming with a lower price.
The XT is $11,699 with power steering
and more. The Limited is $12,399.
CAN-AM MAVERICK MAX ($18,299)
Can-Am tags all of its jumbo-size,
multi-passenger vehicles with the
"Max" suffix, which is quite appropriate
considering the Maverick Max is
20 inches longer than the standard
Mav and still a full 64 inches wide. It
comes standard with Fox shocks. The
basic Max does without power steering,
while the X rs DPS version gets
that and custom seats, colors and
cockpit trim for $20,799.
CAN-AM MAVERICK ($16,299)
At the core of the Maverick is the
976cc Rotax V-twin, which is said
to produce 101 horsepower. Around
that, Can-Am has a very sporty package
with Fox Podium shocks delivering
14 inches of suspension travel.
There are four different packages.
The X rs model ($17,799) gets you
beadlock wheels and sport trim. The
X rs DPS adds power steering at
$18,799. The 1000 X mr is $21,499 for
mud adventures.


CAN-AM COMMANDER MAX ($16,199)
For those who want to keep peace
in the family, you can take them
along without being tempted to scare
them silly with Maverick-level speed.
The Commander Max still has four
comfortable seats and is powered
by the same 101-horsepower Rotax
V-twin motor. But, the chassis has
less suspension travel and less sport
potential. The Commander Max
comes standard with power steering.
The XT is $17,799.
CAN-AM COMMANDER 1000 ($13,099)
It wouldn't be fair to call the Can-
Am Commanders "utility" vehicles,
but that's the role they play in the
very sport-oriented Can-Am line. The
Commander 1000 has a 101-horsepower
Rotax motor, which is clearly
more than you need around the farm.
A power-steering package is $1100
more. From there, you can step up
to the XT, which includes a winch or
the XT-P, which includes beadlocks
and more.
CAN-AM COMMANDER 800R ($11,799)
Can-Am made its debut in the sideby-
side world with this machine back
in 2010. Since then it's undergone
steady evolution, but it still has the
same basic credentials. It's powered
by a Rotax V-twin that is still the most
powerful in its class. Today's Can-
Ams are organized more by chassis
package than by displacement, so
the 800R motor is one option of many.
The XT is $14,499 and XT-P is $17,299.
CAN-AM COMMANDER E ($15,999)
At this point the electric
Commander is available in limited
quantities in the U.S. market. But, it
sounds impressive. The range is said
to be about 100 miles, and recharge
time is two hours. Top speed is a
modest 25 mph at this point. The
48-volt motor is housed in a chassis
that looks pretty much like any other
Commander. Currently, it's available
in white, yellow and camo.
CFMOTO ZFORCE 800 ($9999)
CFMoto is the best of the mainland
China manufacturers and is currently
making products for KTM, among
others. The ZForce 800 is a sporty
two-seater powered by a 62.5-horsepower,
liquid-cooled, V-twin motor,
which is very similar to a Rotax in
layout. The ZForce is 59.5 inches wide
and comes with aluminum rims and
stainless steel bumpers. There's an
optional configuration with a roof
and winch for $10,499.


CFMOTO UFORCE 800 ($9999)
This is CFMoto's more utility-oriented
UTV. It's powered by the same
liquid-cooled V-twin as the sport
version, but in a more business-like
chassis. The standard UForce comes
with many features that are generally
considered options, like 14-inch
aluminum wheels, a 3000-pound
winch and automotive paint. The
large hydraulic tilting bed and rear
hitch receiver make it a solid workhorse.


CFMOTO ZFORCE 600EX ($9229)
CFMoto puts its smallish, singlecylinder
motor in a 56-inch-wide,
sporty chassis with reservoir shocks
and decent suspension travel. The
result is a fun machine that's not
intimidating. The EX is a good-looking
UTV with fit and finish far better
than you would expect from a
Chinese product. Standard equipment
includes a winch and 14-inch
alloy wheels. A roof is optional.
CFMOTO ZFORCE 600 ($7999)
CFMoto got on the U.S. map with
this model two years ago. This is
a more price-driven version of the
600EX. It has the same 33-horsepower
motor, but the styling is more conservative,
the overall width is 51.9
inches and the suspension is more
basic. It still gives you cast-aluminum
wheels, and if you want the package
with a winch and roof, it can be had
for $8499.


HONDA PIONEER 700-4 ($11,699)
Honda is finally trying to shake off
the somewhat tractor-like image of
the Big Red with a new UTV called
the Pioneer. It's powered by the
same 675cc, pushrod single, but the
Pioneer is wider than its predecessor
and has beefed-up suspension with
more travel. The four-seat version is
built on the same chassis as the twoseater,
giving up some bed space to
make room for the extra passengers.
HONDA PIONEER 700 ($9999)
We would never use the word
"ugly" to describe the old Honda Big
Red, but many of our mean friends
would. The new Pioneer has a facelift
on the outside and 2 more inches of
suspension travel underneath. The
powertrain is the same—a longitudinal,
liquid-cooled, pushrod single
hooked up to an automotive-style
three-speed automatic transmission.
The best part is the price went down.


JOHN DEERE GATOR 850i ($15,499)
The boys at John Deere have been
in the dirt business for a long time.
The Gator 850i comes with an 839cc
V-twin motor. It's rated at 62 horsepower
and will push the Deere to
53 mph. The Sport package sells for
$15,499 and includes Fox shocks,
upgraded wheels and tires, plus
sporty seats and bumpers. The Trail is
$14,999 and has a Warn winch, tires,
wheels, seats and other upgrades.


JOHN DEERE UXV550 S4 ($9599)
The John Deere S4 is a multi-passenger
UTV with two large bench
seats. It's a wide, roomy vehicle, and
it has a modest OHV V-twin motor
that makes 16 horsepower and will
push the S4 to 28 mph. A camo version
sells for $10,149, and there are
over 70 attachments that can help
you write off the whole thing on your
business taxes. It's a Deere; who's
going to argue?
JOHN DEERE UXV550 ($8199)
This is what John Deere classifies as
a cross-over vehicle, splitting the difference
between the sporty 850i and
the extensive line of utility Gators. It
has a 570cc V-twin motor that produces
16 horsepower and will go 28
mph. Four-wheel drive is standard,
and it can drive a wide assortment of
attachments that can be purchased a
la carte. A Warn winch, for example,
is $880.61, and a pressure washer is
$524.95.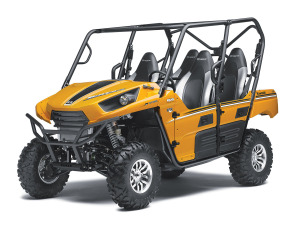 KAWASAKI TERYX4 ($15,799)
In 2013 Kawasaki released the
Teryx4, giving it a new version of the
V-twin motor with 783cc of displacement
that is claimed to produce 10
percent more torque and 8 percent
more power. It also got Fox Podium
shocks, electric power steering and
a new chassis. It's shorter than most
of the other four-seaters on the market,
making it easier to haul. The
camo version is $16,299 and the LE
is $16,999.
KAWASAKI TERYX ($12,999)
For 2014 Kawasaki updated the
standard Teryx with a bigger V-twin
motor and a new chassis, similar to
that of the Teryx4. It has a big cargo
compartment where the rear passengers
would normally sit. The Teryx
now has Fox Podium shocks and
power steering as standard equipment.
The camo edition is $14,299 and
the Limited Edition has upgraded
colors, wheels and tires for $14,999.


KAWASAKI MULE (FROM $6999)
The Kawasaki Mule line is extensive.
All are utility-oriented, but the
group includes 4x4s, four-seaters and
machines with dual-mode differentials
for grass and pavement use. The
base model is a 401cc 2WD two-seater
with a CV transmission and just
over 3 inches of suspension travel.
The top of the line is the Trans4x4
Camo with two bench seats and a
617cc liquid-cooled V-twin motor for
$11,649.


KUBOTA RTX (FROM $8499)
Kubota is a tractor company based
in Osaka, Japan, that has a full line of
utility UTVs, similar to the Kawasaki
Mule line. All are powered by diesel
motors, and the company claims to
be the sales leader in this segment.
The base model is the 2WD, 16-horsepower
RTX 400, but the line goes up
from there. At the top, Kubota has the
RTV-X1120D with 24.8 horsepower for
around $17,000.
KYMCO UXV700i ($10,099)
Kymco is based in Taiwan and has
a long history of supplying more wellknown
companies like Kawasaki,
Arctic Cat and BMW. The UXV700i is
powered by a single-cylinder, fuelinjected
single that is said to produce
45 horsepower. It's available in five
models, ranging from a Turf version
for $10,599 to a fully decked-out SP
with upgrades that include aluminum
wheels and cab enclosures for
$11,599.
KYMCO UXV500i ($8999)
This model has the same chassis
as the UXV700i, but is powered by a
499cc, double-overhead-cam motor
that is rated at 36 horsepower. It
still features fuel injection and pushbutton
4WD. There are five packages.
The top is the SP, which has
upgrades in suspension, wheels, tires
and racks. The SP also has a top, a
half windshield, a light bar, a spare
tire with a rack, bumpers and trim,
all for $10,499.


KYMCO UXV500 ($7999)
This model has an older body
style and a carbureted version of the
499cc motor, but Kymco has given
it an excellent price. The output of
the motor is rated at 36 horsepower,
just like the EFI version. In fact, virtually
all of the specs are identical to
those of the more expensive UXV500i,
including the 1200-pound towing
capacity, the 500-pound bed and the
overall weight.
PITSTER PRO DOUBLE X 200 ($3599)
Pitster Pro is a Utah-based company
that designs products over here
and manufactures them in Asia. For
2014, the UTV line is expanded and
upgraded. The star of the show is a
Youth-class two-seater designed to
go head to head with the Polaris RZR
170. The Double X 200 replaces the
older Pitster Pro Double X 150 and
has a bigger motor and more features,
including a roof, alloy wheels
and double-A-arm suspension in
front with 6 inches of travel. The
company also has a full-size 600
UTV in two-seat and four-seat configurations
priced at $7999 and $8699,
respectively.


POLARIS RZR XP 4 1000 ($21,999)
Polaris keeps pushing the bar
higher in the sport category. The fourseat
version of the RZR 1000 was just
announced. It has an all-new chassis
with a 117-inch wheelbase and room
to take your extended family. It has
the same performance credentials as
the 1000, including the 107-horsepower
twin, power steering, 18 inches of
rear suspension travel and 16 inches
in front.
POLARIS RZR XP 1000 ($19,999)
Even though the motor of the new
1000 is more powerful and has a longer
stroke than that of the 900, that's
not the real story. The chassis is much
beefier and more advanced, taking
its inspiration directly from Trophy
Trucks. The trailing-arm rear end has
Walker Evans shocks that deliver 18
inches of travel. Up front, there's 16
inches of travel from 2-inch Walker
Evans shocks. Power steering is standard
equipment.
POLARIS RZR 4 900 ($19,599)
Just a few weeks ago this was the
ultimate in multi-passenger performance
UTVs. Despite the arrival of
the 1000, the 900 is still incredible and
is capable of winning races with the
whole family on board. The 900 motor
produces a claimed 88 horsepower
and has 14 inches of rear suspension
travel with 13.5 inches up front.
Power steering is standard, as are
premium tires and wheels.
POLARIS RZR 4 800 ($15,999)
This is the original RZR four-seater,
and it's still near the top of the class,
but now its price seems much more
reasonable by comparison to its two
big brothers. The original RZR 760cc
twin-cylinder motor is said to carry
four passengers from 0 to 35 mph in
about 4.4 seconds. Power steering,
cast-aluminum wheels and 27 inches
Maxxis Bighorn tires come as standard
equipment.


POLARIS RZR 900 ($15,999)
If you go to a WORCS race, the
UTV class is wall-to-wall RZR 900s.
Never before has one model so completely
defined a form of racing. The
RZR 900 is a complete package, with
88 horsepower and Fox suspension
as standard equipment. Stepping up
to the 900 EPS Orange Madness LE
gives you power steering, as well as
Maxxis tires, on 12-inch Crusher aluminum
rims for $17,799.
POLARIS RZR S 800 ($12,699)
By taking the original RZR 800
and giving it a wider stance and 12
inches of suspension travel all the
way around, Polaris opened up a
whole new market for the RZR in the
southwestern regions of the U.S. Its
12.5 inches of ground clearance and
60.5-inch track make it particularly
popular in the desert. The RZR S 800
EPS LE gives you power steering and
a cool look in Stealth Black or White
Lightning for $14,999.


POLARIS RZR 800 ($11,499)
Polaris became the biggest name
in the powersports industry largely
because of this machine. The original
RZR is still a mainstay in areas that
have trail networks limited to vehicles
with an overall width of 50 inches.
The 800 offers several packages,
ranging from the basic Indy Red
model to the LE versions, which get
power steering and other upgrades.
The XC is 55 inches wide and comes
with Walker Evans shocks.


POLARIS RZR 570 ($10,299)
Even though Polaris is pushing the
upper price boundary with the 1000,
the company hasn't entirely left the
working class behind. The 570 is a
price-point RZR that turned out better
than anyone expected. The singlecylinder
ProStar motor is more powerful
than the original Yamaha Rhino
660, and it's in a sporty trail-width
chassis. Available in a power-steering
LE version for $12,299.
POLARIS RANGER CREW 900 ($14,399)
Even with the frenzy of attention
and evolution in the RZR ranks,
Polaris didn't forget to share the technology
wealth with the Rangers. The
900 Crew got a new 60-horsepower
motor. This would have been considered
a race car by the standards of
just three years ago. Now it allows
you to carry four people in comfort.
Polaris has accessories that allow
you to enclose the cab. The EPS version
is $16,199.
POLARIS RANGER CREW DIESEL ($13,999)
So it's not enough to carry four people
to work. The Crew Diesel allows
you to carry six people to work and
back. The three-cylinder, 904cc diesel
motor gives this model 40 percent
more range than comparable gas
models, and its bench seat allows
you to carry the whole crew. The
diesel doesn't have much in the way
of frills; there are no power-steering
or LE options.
POLARIS RANGER XP 900 ($13,199)
The big Ranger has a new
60-horsepower ProStar motor that's
easy to access when you tilt up the
bed. If you don't trust the boys at the
worksite with all 60 horsepower, you
can give them the yellow key, which
limits the top speed to 25 mph or less.
For $14,199, you can get the 900 with
power steering. Then, for $800 more,
there's the LE configuration with
wheels, trim and color upgrades.
POLARIS RANGER DIESEL ($12,999)
Polaris kept last year's prices on
many of its models, including this
one. The Ranger Diesel is similar to
the other big Rangers, with the obvious
exception of its three-cylinder,
904cc Yanmar motor. This is especially
handy on real worksites where you
don't have regular gasoline available,
and it's said to be 40 percent
more frugal on fuel. There are no
dressed-up special editions here, just
business.


POLARIS RANGER 6X6 ($12,599)
There are vehicles that can offer
better traction than the 6×6; the
Abrams tank comes to mind. But
as far as vehicles with wheels, the
Ranger 6×6 is the traction king. It has
true six-wheel drive, the tilting rear
dump box has a 1250-pound capacity,
and it will tow a full ton. The
motor is a 760cc twin that produces 40
horsepower. No power steering or LE
options are listed.
POLARIS RANGER CREW 800 ($12,499)
Since each bench seat can hold
three, the Ranger Crew 800 is technically
a side-by-side-by-side—times
two. The Crew 800 is one of the
original multi-passenger UTVs and
remains one of the most useful. The
motor is the proven 760cc, fuel-injected
twin. Its peak power rating is 40,
which is the same as the 570, but the
800 produces more torque so it can
tow 2000 pounds without breaking a
sweat.


POLARIS RANGER CREW 570 ($10,499)
Within the Polaris family of RZRs
and Rangers, there are no less than
seven Crew models that can haul
four or more people, and that doesn't
include the Brutus line of commercial
side-by-sides. This is the latest addition
to the Ranger line and offers a
reasonably affordable way to get
into a multi-passenger side-by-side.
The 570 motor has been massaged
and is now said to produce 40 horsepower.
POLARIS RANGER 800 ($11,599)
This Ranger has a more modern
(and slightly larger) chassis than it
did when it first arrived years ago.
It has double A-arms in front and
the 760cc, liquid-cooled, twin-cylinder
motor in its High-Output version,
which has 10 horsepower more
than the original. In addition to the
base model, the 800 is available in
a Sunset Red LE version with power
steering for $13,299. Camo is $12,299.


POLARIS RANGER EV ($10,999)
Don't think this is a high-dollar
golf cart. The Ranger EV is a true allwheel-
drive vehicle, and when it's in
2WD mode, the differential unlocks
for a tighter-turning radius (so you
could take it on a golf course without
messing up the turf). The motor
is claimed to produce the electric
equivalent of 30 horsepower and
runs on AC current. The EV uses
MacPherson struts in the front and
double A-arms in the rear.
POLARIS RANGER 800 MID-SIZE ($10,499)
Polaris doesn't like to let go of anything.
The original Ranger 800 can
be had with the older, more compact
chassis. It has MacPherson struts in
front and has an overall weight that
is considerably less than the fullsize
800. But, the mid-size still gets
the high-output version of the 760cc
motor with a claimed 50 horsepower.
A Gold Mist LE version sells for
$12,199.


POLARIS RANGER 570 ($9499)
The 567cc ProStar single-cylinder
motor was such a hit that Polaris
wasted no time putting it into as
many models as it could. This is
the most affordable of them all. In
this configuration, the 40-horsepower
motor powers a MacPherson-strut
chassis, similar to the one used for
the mid-size 800 and the Ranger 400.
Unlike the others, power steering can
be had in the 570's LE configuration
for $11,199.
POLARIS RANGER 400 ($8299)
Polaris has held the price steady
on the 400 for several years, making
it one of the best deals in the UTV
world. The motor is a liquid-cooled
single that actually displaces 455cc
and produces 29 horsepower. The
chassis has MacPherson struts in
front, delivering 8 inches of travel
and twin A-arms in the rear for
9 inches. The bed can carry 500
pounds. At 56.5 inches wide, it can
barely fit in the back of a full-size
pick-up.


POLARIS RZR 170 ($4399)
The RZR 170 is nothing short of
brilliant. It's scaled to fit drivers who
are 10 years old, and we can't think
of a better way to teach a youngster
to drive safely. The parent can adjust
the RZR's throttle to walking speed
or unleash the full fury of the 169cc,
air-cooled motor. The transmission is
automatic and has reverse. Available
in Voodoo Blue or Indy Red.


YAMAHA VIKING ($11,499)
After leaving the Rhino on the vine
a little too long, Yamaha is finally
back in the new UTV business. The
Viking has more power, more suspension
and more room. The cab is
wide enough for three bucket seats,
with the center one slightly offset to
the rear. The engine is actually the
same 686cc single, but with revised
intake and exhaust. The MSRP is
unchanged. Power steering is $1000
extra.