2015 ARCTIC CAT WILDCAT SPORT
Arctic Cat has 16 models of UTVs to choose from for 2015. These options include Wildcat performance models.
The 1000cc line contains EPS, X EPS, X Limited EPS, four-seater EPS and four-seater Limited EPS. For the 700cc line AC has the Sport, Sport XT, Sport Limited EPS, Trail, Trail XT and Trail Limited EPS. Recreation Prowler models include 500 HDX, 550 XT, 700 XT EPS, 700 HDX XT EPS and 1000 XT EPS. The Sport Limited is all new for the Wildcat line and is based off the 50-inch Trail. Aside from the obvious wide stance at 60 inches, the Sport Limited model features Electronic Power Steering, Elka Stage 5 coil-over shocks, and a 60-plus horsepower engine.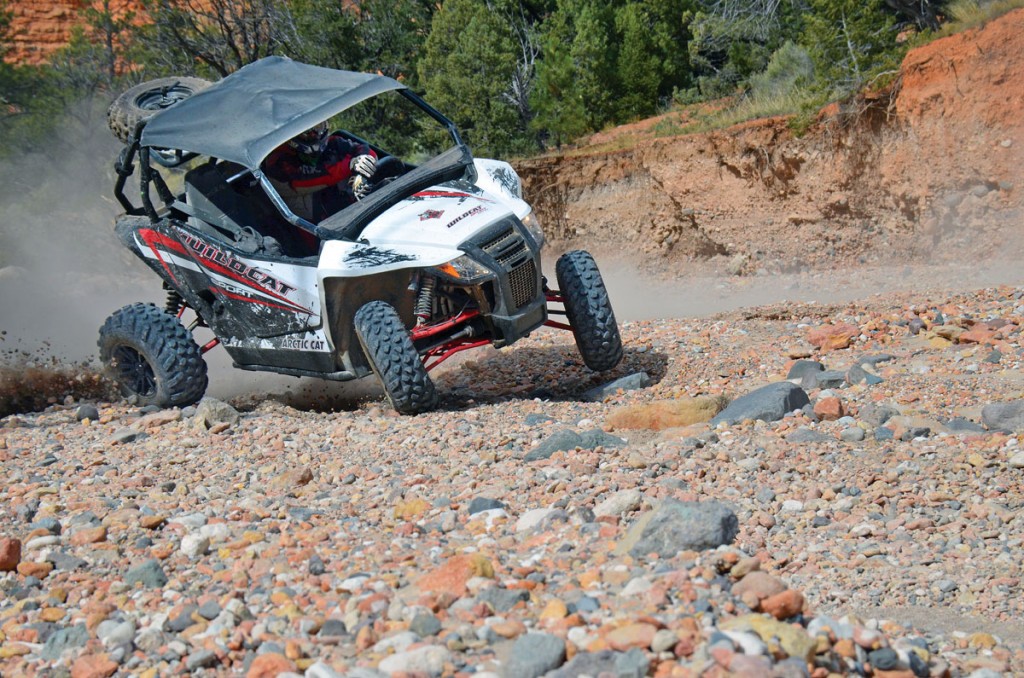 POWER PACKAGE
The Wildcat Sport Limited is powered by a 700cc inline twin, EFI and liquid-cooled powerplant. It cranks out 60-plus horsepower that pulls very well from bottom to top. It weighs in at 1074 pounds dry, which makes its power-to-weight ratio very impressive when compared to the 1380-pound, 1000cc Wildcat.
Arctic Cat's Sport has a two- and four-wheel drive, plus electronic front differential lock, rapid response clutch, park, reverse, and high/low range. The gear shifter is very smooth to operate, even when parking on hills. The clutch system is very responsive as soon as you squeeze the skinny pedal.
We found this machine cruises very nicely around the 45–50-mph range on windy trails, with a lot more to go in the motor. On more wide-open trails, the top speed of the Wildcat Sport is in the 70-mph range. It manages to fly over rough terrain and still be able to powerslide around high-speed corners. The switch with 4WD and the 4WD diff-lock is a great feature. It is very capable in standard 4WD through rocks, mud, loose gravel and sand. When in diff-lock, you have all four wheels locked and turning together; it is only truly needed when in very technical/difficult terrain. Standard 4WD works very well at higher speeds, and the steering still feels nice and smooth, as the diff-lock has more of a firmer/twitchy feel through the steering wheel, thanks to the electronic power steering.
In 2WD you have more than enough power to break the tires loose in a high-speed corner and still have enough traction at the rear end to climb hills without switching into 4WD. When descending hills, the engine braking is very strong in both two- and four-wheel drive and high and low range.
SUSPENSION & MORE
The Wildcat Sport is 10 inches wider than the Trail model, sitting at 60 inches wide. Along with the added width, it also has just over 2 inches of increased suspension travel, with 12.2 inches up front and 12.6 inches of travel in the rear, both being controlled by double A-arms front and rear. To help control damping, one Elka Stage 5 coil-over shock is at each corner. These shocks have low- and high-speed compression adjustments, as well as rebound and preload adjustment.
The ride is very plush thanks to the Stage 5 Elka's over all types of terrain we tested on—from gravel roads, rain ruts, rocky riverbeds to whoops in the desert. Handling is improved with the help of a rear sway bar. Front sway bars are not factory installed like on the Trail version, but the chassis has all the mounts to install one. With 13 inches of ground clearance, you can have confidence when traversing over rocky terrain. The 26×8-12 front and 26×10-12 rear Carlisle Trail Pro tires are mounted on aluminum wheels. From hardpacked, mud, sand and rocky terrain, these tires hooked up just right all the time.
For stopping power, you have hydraulic disc brakes on all four corners with dual-piston calipers. We felt this is just enough stopping power to bring you to a halt quickly and smoothly from a high-speed run. The steering is very smooth and requires minimal effort at all speeds. This EPS system also performs as if you had a steering damper installed, reducing steering-wheel feedback during rough impacts.


BODY FEATURES
The bodywork resembles its bigger brother, the 1000, so it still has that aggressive look. Paint is an automotive- style paint, and color is matched through to the suspension arms. Full aluminum doors come standard and have a great look and function. Two non-adjustable bucket seats, adjustable tilt steering and an under-hood storage box are all factory-installed additional features. The digital gauge offers speedometer, tachometer, hour meter, odometer, trip meter, gear indicator, fuel gauge, engine temp, air-intake temp, digital clock and volts.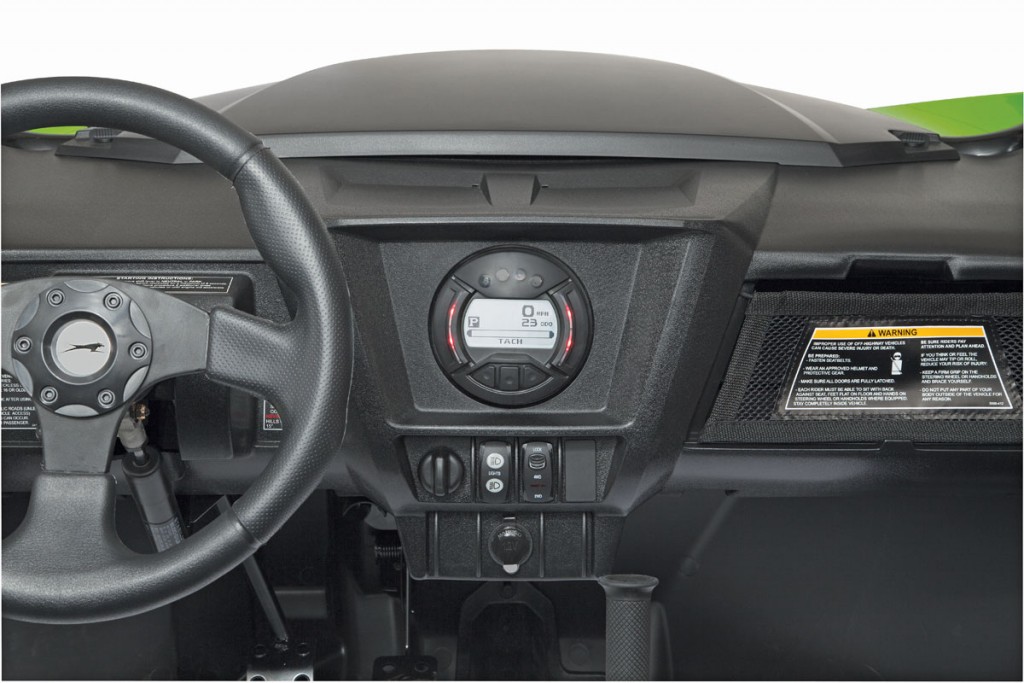 You also have two drink holders that we found to work very well and hold your beverages in place, and a shoebox-sized glove compartment with an elastic mesh keeper is found instead of a door. The cargo bed is not very big at 36 1/2 by 15 1/2 inches, but has a capacity of 300 pounds, which is perfect for a cooler, tent and other small items you might need out on the trail. There is a rear 2-inch receiver with a towing capacity of 1500 pounds.
Arctic Cat has many options to outfit your Wildcat, including an aluminum roof, Bimini top, bumpers, spare tire mount, windshields, storage containers and graphic kits. Check out www.arcticcat.com for the full line of accessories.
CONCLUSION
At $15,699, the 2015 Arctic Cat Wildcat Sport Limited is not badly priced, considering it is $800 less than the Polaris RZR S 900 EPS. Arctic Cat really did their homework on this machine. Everything works the way it should without any flaws, all the way from steering and handling to power delivery and suspension plushness. The Wildcat Sport Limited handled everything we put in front of it. It's super fun to drive, comfortable for both passenger and driver, and can be transported in the back of most full-size pick-up trucks. That fact alone will ensure that we will spend a lot more time this year enjoying the Arctic Cat Wildcat 700 Sport.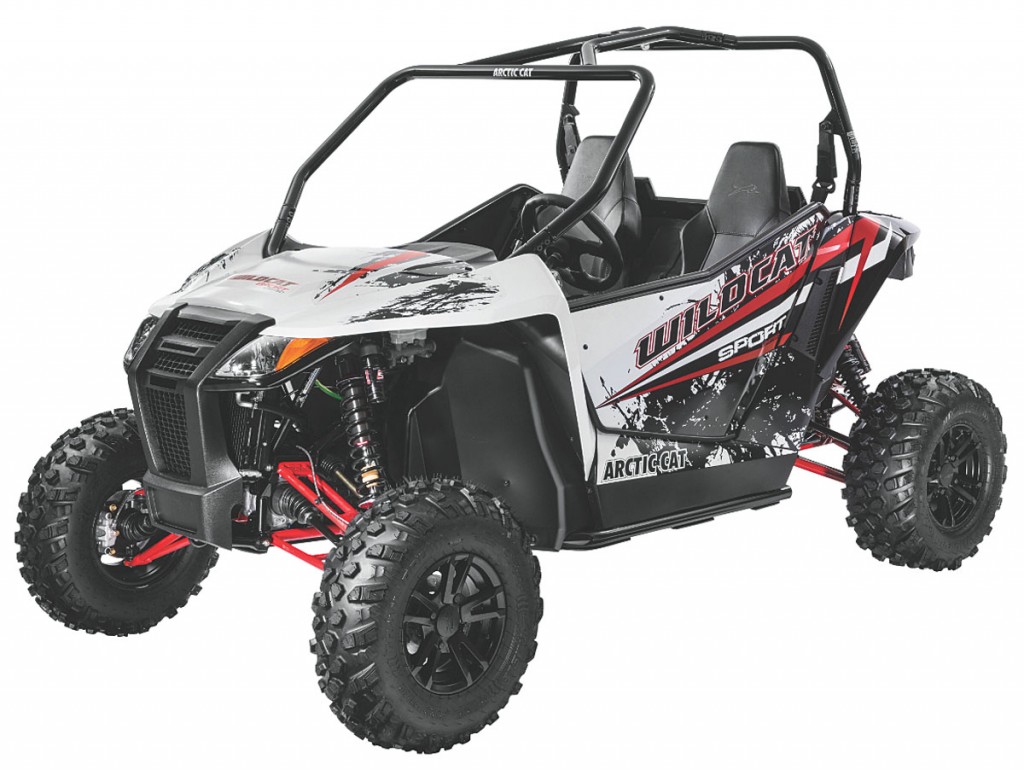 2015 ARCTIC CAT WILDCAT SPORT
Engine……………………..Liquid-cooled, 4-stroke twin cylinder DOHC
Displacement…………..700cc
Bore x stroke…………….76.9mm x 75.3mm
Fuel system………………EFI
Fuel capacity…………..7.4 gal
Starting system………..Electric
Final drive……………….Automatic CVT P/R/N/L/H
Suspension/wheel travel:
Front……………………….Double A-arm/12.2″
Rear……………………….Double A-arm/12.6″
Tires:
Front……………………….26×8-12
Rear……………………….26×10-12
Brakes:
Front……………………….Hydraulic disc
Rear……………………….Hydraulic disc
Wheelbase……………….84.6″
Length/width/height..110.5″/60″/64.3″
Ground clearance……13″
Total rack capacity….300 lb
Towing capacity………1500 lb
Curb weight…………….1074 lb
Colors……………………….White Metallic Paint
MSRP……………………….$15,699