This will be remembered as the time when the UTV world grew up. Until now, manufacturers have been searching, experimenting and exploring new places in the market. We not only get new products each year, but we get new types of products. Two-seaters expanded into four-seaters, then six-seaters. Sport models became competition models, and UTVs are becoming more specialized all the time. What all this means to you is more choices. There are more offerings that do more things for more types of people than ever before. But, there are so many new machines that it's difficult to see the overall picture. That's where we come in. This is the most comprehensive guide to UTVs that exists. We have over 70 different models listed by manufacturer, complete with pricing and specifications. This can be your port of entry into the bigger-than-ever UTV world of 2015.
CONTACTS
Arctic Cat: (218) 681-9851, 
www.arcticcat.com
Can-Am: (715) 848-4957, 
www.can-am.brp.com
CFMoto: (888) 823-6686, 
www.cfmoto.com
Hisun: (972) 446-0760, 
www.hisunmotors.com
Honda: (310) 783-2000, 
www.powersports.honda.com
John Deere: www.deere.com
Kawasaki: (949) 770-0400, 
www.kawasaki.com
Kubota: (888) 465-8268, 
www.kubota.com
Kymco: (864) 327-4744, 
www.kymcousa.com
Massimo: (877) 881-6376, 
www.massimomotor.com
Pitster Pro: (801) 796-7416, 
www.pitsterpro.com
Polaris: (888) 704-5290, 
www.polarisindustries.com
SSR: (562) 926-2888, 
www.ssrmotorsports.com
Yamaha: (714) 761-7300, 
www.yamahamotor.com

ARCTIC CAT WILDCAT 4X ($20,999)
This is Arctic Cat's version of group therapy. You can load up your extended family and friends and let them (or make them) experience the 90-horspower X version of the 951cc H2 V-twin 'Cat motor and the new JRi ECX-1 piggyback gas shocks. In addition to the four bucket seats, the 4X has a bed that can carry 300 pounds of marriage-counseling books and CDs. The Limited EPS version sells for $23,999.

ARCTIC CAT WILDCAT EPS ($16,999)
The original Wildcat is a 64-inch-wide western-style sport two-seater that now comes in three different configurations. All have more refined power steering, new JRi EXC-1 shocks and an EFI system that is said to result in improved fuel economy and lower emissions. The X version has a higher-performance V-twin motor and sells for $18,799. The Limited is $20,699, with top-end wheels and trim.

ARCTIC CAT WILDCAT SPORT ($13,399)
The Wildcats are multiplying like wildcats. The Sport line is 4 inches narrower than the original Wildcat and is powered by a new 700cc in-line twin-cylinder motor that is rated at 60 horsepower. An MSRP of $13,999 will give you the Sport XT version with color-matched A-arms, automotive paint and cast wheels. The Sport Limited EPS price of $15,699 gives you power steering and different color options.

ARCTIC CAT WILDCAT TRAIL ($11,899)
Arctic Cat fans who prefer the narrower trails that are common in the east now have a Wildcat of their own. The Wildcat Trail is a 50-inch-wide sport two-seater. It features the new 700cc, inline twin-cylinder motor that is said to produce 60 horsepower. Arctic Cat says the seats in the Trail models are mounted 3 inches lower than others in the class. The XT and Limited EPS models sell for $12,899 and $13,799.

ARCTIC CAT PROWLER 1000 XT EPS ($14,999)
The Prowlers took a big leap forward in styling for 2015 with all-new bodywork made of DuPont Surlyn, a resin -based material that is scratch-resistant and needs no paint. The hood comes up to reveal a 22.4-gallon storage box. Under the new look is the 951cc V-twin motor that started the movement toward massive-displacement UTVs years ago. The XT has premium wheels, tires and trim with power steering.

ARCTIC CAT PROWLER 700 XT EPS ($13,599)
Arctic Cat's 700 Prowler was invited to the redesign party for 2015, just like the 1000. It has a new dash and a new look with bodywork. It also has plenty of internal storage space, starting with 22.4 gallons under the hood and including a new cubby under the seat. The 700 is powered by a single-cylinder, 695cc liquid-cooled motor and has power steering as standard equipment. Camo is only $350 extra.

ARCTIC CAT PROWLER 550 XT ($11,299)
Even the affordably priced Prowler 550 XT got a restyle for 2015. Like the 1000 and 700, it got new bodywork with storage areas under the hood and under the seat. The main differences are manual steering and the 545cc motor, which is built in the U.S. The 550 has the same exterior dimensions as its bigger kinfolk, but is only available in black.

ARCTIC CAT PROWLER 700 HDX EPS ($13,699)
If you were a big fan of the traditional Prowler look, you're in luck. It's still available in the more utility-oriented HDX line. The 700 HDX EPS has many of the premium features of the 700 XT, but at a lower price. The motor is the 695cc V-twin, suspension travel is 10 inches, and it has power steering. The HDX has a bench seat across the front with provisions for three adults.

ARCTIC CAT PROWLER 500 HDX ($10,999)
The 500 HDX is one of the best values available in a utility-oriented UTV. You don't get the new look of the XT line, but you have a longer wheelbase and a wide bench seat with room for three adults, including headrests for everyone. The bed has a capacity of 600 pounds, and tilts so you can get rid of dirt, gravel or your ex-girlfriend's crystal unicorn collection in a hurry.

CAN-AM MAVERICK X MR DPS ($20,799)
It seems a shame to take something as good-looking as the Maverick X mr and cover it in mud, but that's exactly what you're supposed to do. The X mr is a mud runner built on the Maverick chassis with its 101-hoursepower V-twin Rotax engine. This package adds power steering, auto-locking front diff, 30-inch Gorilla Silverback tires and 14-inch wheels. A Warn winch is standard. Digital camo is $900 more.

CAN-AM MAVERICK MAX X ds ($21,499)
The Maverick X ds is an upscale sport four-seater that allows you to arrive with the whole family in style, with Fox RC2 HPG shocks, 14-inch beadlock wheels and 28-inch Maxxis Bighorn tires. For another $2600, you can arrive in style very, very quickly. The optional turbo V-twin engine package bumps the output rating up to a stunning 121 horsepower. There's also a white, gray and green color option for $1000.

CAN-AM MAVERICK MAX X rs DPS ($20,799)
This package has turned out to be one of the most popular in the sporty Maverick line. It starts with the 101-horsepower V-twin Rotax motor in a four-seat chassis, then adds cosmetic and performance upgrades. The top item on the list is the Tri-Mode dynamic power steering. The X rs also has 12-inch aluminum beadlock wheels, Fox Podium X RC2.5 HPG shocks and cosmetic licks.

CAN-AM MAVERICK MAX ($18,299)
Even the most basic Maverick Max four-seater is fairly loaded. It comes with the big 976cc V-twin motor, which is rated at over 100 horsepower. The double-A-arm suspension has 15 inches of travel using Fox Podium X 2.0 HPG shocks. The 12-inch cast-aluminum wheels have 27-inch Maxxis Bighorn 2.0 tires. There are many accessories available, but if you want power steering or camo, you'll have to step up to the X rs DPS.

CAN-AM MAVERICK X ds ($19,499)
Can-Am's X ds package already included some premium features, like the Tri-Mode dynamic  power steering, the 14-inch beadlock wheels and Fox 2.5 Podium RC2 HPG shocks. But it's the turbo engine option that makes it really stand out. This kicks the V-twin motor up to 121 horsepower with its electronically controlled waste-gate and air-to-air intercooler. The turbo option adds $2600 to the price.

CAN-AM MAVERICK X xc DPS ($18,299)
Not everyone has a desert or the Great Plains at their doorstep. The X xc line is designed for trails and two-tracks that are a little tighter and narrower than the usual Maverick playgrounds. The width is 60 inches,  which is 4 inches narrower than a standard model. The package includes power steering, auto-lock front differential and upscale beadlock wheels. Only available with the 976cc motor.

CAN-AM MAVERICK X rs DPS ($18,799)
Can-Am took the standard Maverick sport two-seater and gave it the most commonly desired upgrades. The "DPS" in the X rs DPS package's name stands for Dynamic Power Steering. The  "X rs" means it has its own seat design and colors to match. It also gets upgraded instruments, wheels, tires and Fox Podium X RC2.5 piggyback shocks. Like all the Mavericks, it comes with the 976cc 1000R V-twin.

CAN-AM MAVERICK ($16,299)
If your destination is a sport side-by-side with more than 100 horsepower, the base-model Can-Am Maverick is the most affordable way to get there. It comes with the 976cc 1000R Rotax V-twin motor. Even though it's a base model, it has a number of premium features, like the 12-inch cast-aluminum wheels with Maxxis bighorn tires and Fox piggyback shocks that provide 14 inches of wheel travel.

CAN-AM COMMANDER MAX LIMITED ($21,699)
This is the new flagship of the sport/utility Commander line. This comes with all the features of the Max  DPS, including the 85-horsepower V-twin Rotax motor and power steering, but also includes a Garmin Montana GPS, a sound system with integrated speakers, a 4500-pound Warn winch, a one-piece roof, a half windshield, painted plastic and a long list of other upgrades.

CAN-AM COMMANDER MAX DPS ($16,299)
For muscling around you and your three passengers, Can-Am decided to provide power steering as standard equipment on even the most basic Commander Max. It comes with the 976cc Rotax 1000 V-twin motor, which has a rated output of 85 horsepower.  The Commander Max XT gives you all that and a little extra with bumpers and a 4500-pound Warn winch for $17,899.

CAN-AM COMMANDER XT-P ($17,399)
Can-Am knows how to make a UTV stand out visually. The XT-P package starts off with a 976cc Rotax V-twin motor that produces a claimed 85 horsepower. The premium features include 12-inch beadlock wheels, a 4500-pound Warn Winch, bed rails, bumpers, painted plastic, seat trim, mud guards, rock sliders, a custom steering wheel, a front sway bar and Fox Podium X RC2.0 shocks.

CAN-AM COMMANDER DPS ($12,999)
The Commander family is very much like products in the automotive world with a long list of options. The Commander DPS comes with the 800R motor, but the 976cc Rotax V-twin 1000 motor is an option, bringing the price to $14,299. The Commander XT package gives you a 4500-pound Warn winch and bumpers, among other items for $14,599 with the 800R motor and $15,899 with the 1000.

CAN-AM COMMANDER ($11,899)
The Commander is still a fairly sporty UTV despite the fact that its Maverick kin are classified as the sport models in the Can-Am family. Front suspension is double A-arm with 10 inches of travel, while the rear is torsional trailing arm, also with 10 inches of wheel travel. The base-model Commander comes only with the 800R Rotax V-twin motor, which is rated at 71 horsepower, and the only color is red.

CAN-AM COMMANDER E ($16,099)
Electric vehicles don't have to be nerdy. The Commander E's 48-volt three-phase motor is said to have peak output of 30 horsepower. It looks almost the same as a gasoline-powered Commander and comes in four packages. The XT has 14-inch cast wheels, a front bumper, bed rails and mud guards. The SLV and SLV SE models have differing levels of DOT equipment to be street-legal in some areas.

CFMOTO ZFORCE 800EX ($10,499)
This is the sportiest UTV in CFMoto's line, but it also has some very practical features. The motor is a 63-horsepower V-twin with heavy-duty clutching. The EX version comes in a width of 59.4 inches and has 14-inch alloy wheels with 26-inch tires. The finish is very high end, and a winch with a remote controller comes as standard equipment A version with power steering is available for $11,299.

CFMOTO ZFORCE 800 ($9699)
In terms of quality, CFMoto is at the top of UTV makers from the interior of Asia. For 2015, the ZForce 800 now measures 51.5 inches in width, allowing it access to tight trails where other high-performance UTVs won't fit. It still come standard with a 63-horsepower V-twin motor, 14-inch alloy wheels and three-point safety belts. Now there's a power-steering version with a price of $10,499.

CFMOTO ZFORCE 600 ($8499)
CFMoto made a name for itself by loading up its offerings with special-edition features and not charging special-edition prices. The ZForce 600 has a single-cylinder 594cc motor with 33.5 horsepower. Standard equipment includes a 3000-pound winch, a contoured roof, three-point belts, a tilt steering wheel, cargo and side nets, and stainless steel bumpers. It comes in orange or blue.

CFMOTO UFORCE 800 ($9999)
This company offers a level of style and quality that you don't often see coming from the interior of Asia. The UForce 800 is a more utility-oriented UTV with an 800cc V-twin motor and a long list of standard features that normally cost extra.  It has 14-inch alloy wheels, a 3500-pound winch, LED projector beam headlights and a fairly upscale interior. The power-steering version is $10,799.

HISUN STRIKE 800 SPORT ($9999)
Hisun has long made UTVs for other names, and now has its own U.S. importer. The Strike 800 has a V-twin motor and suspension that is very advanced for an Asian manufacturer. Hisun also makes the multi-passenger Troop 800 ($11,999), and the more utility-oriented Vector and Sector models, which have motors ranging from 400cc to 700cc, and prices starting at $6999.

HONDA PIONEER 700-4 ($11,699)
Honda engineered a convertible rear seating design that allows you to reconfigure the Pioneer to accommodate two, three or four occupants. When in two-person mode, the rear box offers full storage and tilting capabilities. Under it all is the 675cc liquid-cooled engine with its automotive-style automatic transmission. The Pioneer is made in the U.S. from globally sourced parts.

HONDA PIONEER 700 ($9999)
The Pioneer is powered by the familiar Honda 675cc pushrod single that was found in Big Red. Honda's mistrust of belt and pulley transmissions led to the development of an automotive-style automatic transmission. Standard models come in red and green, and the Honda Phantom Camo model sells for $10,599. The Honda now has a front differential lock. The warranty is one-year limited.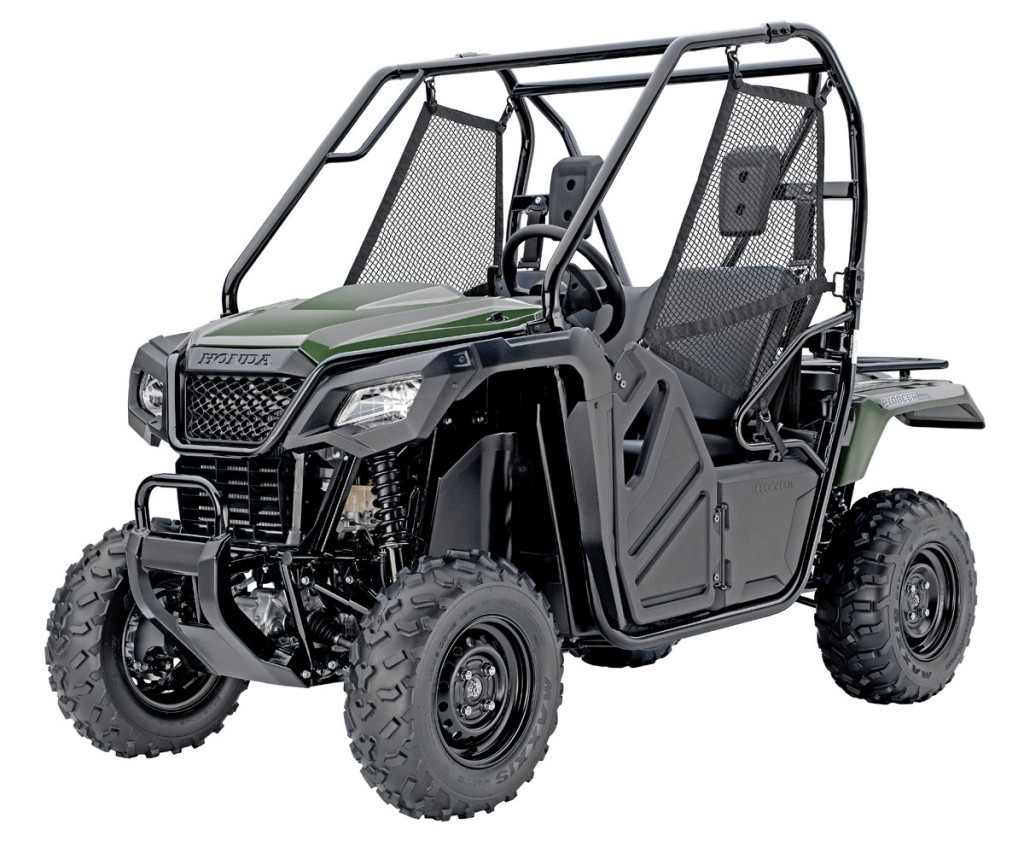 HONDA PIONEER 500 ($8499)
Honda is expanding its lineup of utility-oriented UTVs this year with an all-new model. The Pioneer 500 is a downsized version of the 700, smaller in every dimension. The width is 50 inches, so it can fit on most ATV trails. The motor is a 475cc four-stroke with a five-speed gearbox that features Honda's electronic shifting. Towing capacity is a cool half ton.

JOHN DEERE RSX850i ($12,999*)
John Deere isn't all about work. The RXS850i is a recreational utility vehicle with emphasis on recreation. It's powered by a 62-horsepower V-twin motor that came from the motorcycle world.
The Trail version sells for $14,999, and includes a winch plus more. The Sport has upgraded suspension, wheels, tires and bumpers for $15,499. There's also a Midnight Black Special Edition for $15,999.

JOHN DEERE XUV 855D ($12,999*)
This model is aimed at worksites populated by John Deere heavy equipment, where everything has to share the same fuel. The 855D is powered by a three-cylinder diesel engine that produces 36.9 foot-pounds of torque. It has a regulated top speed of 30 mph. The dump bed can carry 1000 pounds. Power steering adds $1000 to the price, and the four-seat version is $3000 over base price.

JOHN DEERE XUV 825i ($11,999*)
Deere classifies the 825i as a "utility crossover," meaning it can be called a work vehicle, but it's okay to have fun. It has an 812cc, inline three-cylinder gas engine with double overhead cams that makes 50 horsepower and is capable of 44 mph. Suspension travel is 8 inches via dual A-arms. An extra $1000 buys power steering, and there's a power-steering four-seater (shown) that sells for $2600 over base price.

JOHN DEERE XUV 550 ($8399)
The XUV550 is a price-point 4WD utility machine that has a little spring in its step. It has a sporty look and a decent amount of suspension travel—9 inches in the front and 8 inches in the rear. The motor is kind of like a little Harley. It's a 570cc, air-cooled, push-rod V-twin. It's not stressed very much, with a modest rating of  16 horsepower and a top speed of 28 mph. It costs $9999 in a four-seat version.

KAWASAKI TERYX4 ($15,799)
After a big redesign three years ago, Kawasaki's Teryx4 is back with few changes. Kawasaki's multi-passenger machine has the same wheelbase as the two-person Teryx. Back then, Kawasaki gave it a new version of the V-twin motor with a little more power. It also got Fox Podium shocks, electric power steering and a new chassis. The camo version is $16,299, and the LE is $16,999.

KAWASAKI TERYX ($12,999)
The Teryx was all new last year, built on the same chassis as the four-seat version, but with extra storage instead of extra seats. The motor is the same 783cc V-twin, making it the largest, most powerful UTV that Japan has to offer. The Kawasaki is situated halfway between sport and utility. The camo version sells for $14,299, and the Limited Edition model is $14,999

KAWASAKI MULE (from $6999)
Kawasaki has 12 Mule utility vehicles in its 2015 lineup. Some have four-wheel drive, some are made strictly for blacktop. The offerings range from the 2WD Mule 600 two-seater to the 812cc Mule Pro FXT LE. This is a high-end four-wheel-drive utility vehicle that can carry up to six people or can be converted to extra-cargo, three-man mode. It sells for $15,599 with all the bells and whistles.

KYMCO UXV 700i LE 50th ANNIVERSARY ($10,699)
Kymco has been selling products under other names for a very long time; those names include Kawasaki, Arctic Cat and BMW. In honor of its 50th birthday, Kymco is offering a special-edition line of UTVs. The extra features you get include metallic gold paint, a 3000-pound winch and 14-inch alloy rims with 26-inch tires. The 700i, 500i and 450i all come in the Anniversary Edition.

KYMCO UXV 700i ($10,099)
Kymco's top utility UTV compares well to premium products from North America and Japan. It should; many North American and Japanese companies buy their stuff from Kymco. The 700i has a 695cc fuel-injected motor with a single overhead cam. It is rated at 45 horsepower and hooked up to a CV transmission with push-button 4WD and diff-lock. The turf model is $10,399 and camo is $10,499.

KYMCO UXV 500i G ($12,999)
This is a model that has a combination of accessories unlike anything in the business. The 500i G comes with a 5 kW generator that has full-panel GFCI protection. It's fully OSHA and NEC 2011 compliant. The G also has a soft top, full windshield, a winch mounting plate and tilting cargo bed. It's powered by a DOHC, 499cc fuel-injected motor that is said to produce 36 horsepower.

KYMCO UXV 500i ($9499)
This is Kymco's fuel-injected 500 with its most modern chassis. The motor is fed by a Synerject throttle body. The 500i is also available in a Turf edition, which sells for $9799. The standard can also be had in camo for $500 more. And to make Kymco's 500-class offerings very full, there's also a 50th Anniversary Edition for $10,199, as well as the generator and carbureted versions, listed separately.

KYMCO UXV 500 ($7999)
This is a bargain among bargains. The UXV 500 has the DOHC 499cc motor, but in this version it has an old-fashioned carburetor instead of fuel injection. It still is rated at 36 horsepower, just like the EFI version, but the price is $1500 less. The UXV 500 has some cosmetic items that are different from the 500i and is only available in two colors: red or green.

KYMCO UXV 450i ($7999)
Kymco's smallest UTV is another great value. It has a 443cc, single-overhead-cam, fuel-injected motor that is rated at 33 horsepower. There are four versions of the 450i this year. There's a model decked out in camo trim for $8499. The turf model has an unlockable rear differential, so it doesn't tear up grass, and also sells for $8499. For 2015, there's a 50th Anniversary Limited Edition with power steering for $8699.

MASSIMO MOTORS (From $4599)
Massimo is a company that assembles a rather extensive line of UTVs in Irving, Texas. Many of its products are sold through Tractor Supply Co. outlets, but there is an increasing number of Massimo dealers appearing that have access to a bigger selection, starting from the  Gunner 250S for $4599. The top of the line is a six-passenger MSU1100, which makes 72 horsepower and sells for under $15,000.

POLARIS RZR XP 1000 DESERT EDITION ($29,999)
If you're a desert rat, you know who you are. The XP 1000 Desert Edition is a new model made for you. It starts with an XP 1000, complete with the 999cc ProStar motor, and is built up with more suspension, more ground clearance and more protection. The Desert Edition gets 30-inch Mongrel tires with a spare on the back. This model gets a new full-color Interactive Digital Display, which has Bluetooth connectivity.

POLARIS RZR 1000 HIGH LIFTER ($23,499)
Polaris took a hard look at the RZR products that owners modified for mud runs to create the RZR 1000 High Lifter Edition. It has a 110-horsepower ProStar motor that is geared lower and has a heavier reverse chain.  The intakes for the engine and clutch are raised, the axles are specially designed, the suspension is stiffer and the A-arms are shaped for more clearance. It also has a 4500-pound winch and 29.5-inch tires.

POLARIS RZR XP4 1000 EPS ($22,299)
Polaris upped the ante in the premium sport four-steater world by giving the one-year-old 999cc ProStar motor even more power for 2015. The output rating is now 110 horsepower, which will allow you to adequately impress/mortify your three passengers. They will be more comfortable in their newly designed seats, which have more hip cushioning and a cover designed to stay drier.

POLARIS RZR XP 1000 EPS ($20,299)
For UTV racers and highly competitive sport drivers, this is the side-by-side to have. Most racing venues are dominated by RZR 1000s, and that isn't likely to change. The 999cc ProStar motor found more power for 2015, and there's more ventilation in the clutch area to keep the belt alive longer. The 2015 model gets more legroom and foot space. The XP 1000 EPS comes with power steering and alloy wheels.

POLARIS RZR 900 XC ($17,299)
There are three RZR 900s in the line this year, and each has a different width and purpose. The 900XC is an upscale version that measures 55 inches wide, which is capable in both tight confines and wide-open spaces. It has power steering, Turf mode, a new Interactive Digital Display and 27-inch Dirt Commander tires on cast-aluminum wheels. The XC edition has Fox Series 2.0 Podium X shocks.

POLARIS RZR S 900 ($14,699)
The 900 that is dedicated to the American Southwest is the RZR S. It was originally introduced with the 800 motor, but now the S gets the newer 75-horsepower, 875cc  ProStar motor. The most significant aspects of the S are its 60-inch width and 78-inch wheelbase, which make it 5 inches wider and 2 inches longer than the XC. It has 12.25 inches of front suspension travel and 13.2 inches in the rear.

POLARIS RZR 900 ($12,799)
For 2015, Polaris is installing the 900 ProStar motor in most of the models that used to house the original RZR 800 motor. That includes the basic 50-inch-wide Polaris RZR, which at one time was the company's best-selling sport UTV. The RZR 900 will fit on many ATV and motorcycle trails. It has 10 inches of suspension travel and 11 inches of ground clearance. It easily fits in the bed of a standard pick-up truck.

POLARIS RZR 570 ($10,299)
The ProStar 570 motor has turned into a workhorse for Polaris. The 45-horspower motor powers the 50-inch-wide RZR chassis easily, and enables buyers to have a more affordable RZR. If you have a little cash left over, you can step up to the RZR 570 EPS Trail, which has power steering, an engine braking system, Maxxis tires on cast-aluminum wheels and upgraded lighting. The EPS Trail sells for $12,299.

POLARIS RZR 170 ($4599)
There's a whole generation of RZR 170 kids that has just come of driver's-license age. As you might have guessed, they are way ahead of their teenage peers who have no driving experience, and that will doubtlessly translate to a safer career behind the wheel. The RZR 170 is a kid-sized 2WD two-seater with a 169cc four-stroke motor.  For 2015, the little RZR gets fuel injection.

POLARIS RANGER CREW 900-6 EPS ($16,199)
The six-passenger Ranger Crew 900-6 EPS, as the name implies, is designed for six people, which means it can carry the L.A. Dodgers and only Puig; Ethier and Gonzales will have to walk, at least until they get their post-season act together. The 900-6 has the same chassis and suspension as the five-passenger version, but with different seats and provisions for three across each bench.

POLARIS RANGER DIESEL CREW ($14,999)
The new Crew Diesel is powered by a three-cylinder Kohler diesel engine. It displaces 1028cc and is compliant with CARB/EPA Tier 4 regulations. The motor features a massive 110-amp alternator that has more than twice the output of the previous diesel motor. Four-wheel drive is activated on demand, and when in 2WD a switch activates Turf mode, which won't tear up grass.

POLARIS RANGER CREW 900 ($14,399)
Polaris offers the Crew 900 with a long list of very practical features. It can carry five people with their heads comfortably cradled by the new Edgier headrests, it has an 875cc motor that produces 60 horsepower, and it has a Turf mode, in addition to on-demand 4WD. The 900 can tow 2000 pounds on its hitch and another 1000 in cargo. Plus, it has a long list of Pro-Fit accessories.

POLARIS RANGER DIESEL HST ($15,199)
The motor in the Ranger Diesel is new to Polaris, but it has been around long enough to prove itself. The Kohler three-cylinder OHC motor displaces 1028cc, makes 24 horsepower and complies with the latest, tightest emission requirements in the U.S. The motor is located under the box, so it makes less audible noise. The bed carries a half ton, the hitch will pull a full ton, and it sits three across.

POLARIS RANGER XP 900 ($13,399)
The engineers at Polaris squeezed more power out of the 875cc ProStar motor for 2015, pumping it up to 68 horsepower. There are three deluxe packages available now. The 900 EPS Silver Vogue ($16,999) has power steering, upgraded cosmetics and the new digital display. For hunters, there's the 900 EPS Hunter Deluxe Edition ($20,799) and there's the cold-climate 900 EPS NorthStar Edition for $21,299.

POLARIS RANGER CREW 570 FULL SIZE ($12,799)
The ProStar 570 motor has now superseded the older 550 motor in all models. That means that the 570 comes in two different chassis. The 570 Crew Full Size takes the place of the 550 Crew Full Size from two years ago in a chassis that has double A-arms all the way around. The big 570 has the same chassis as the 900. It has enough room for six people, and they don't have to be relatives. EPS is available.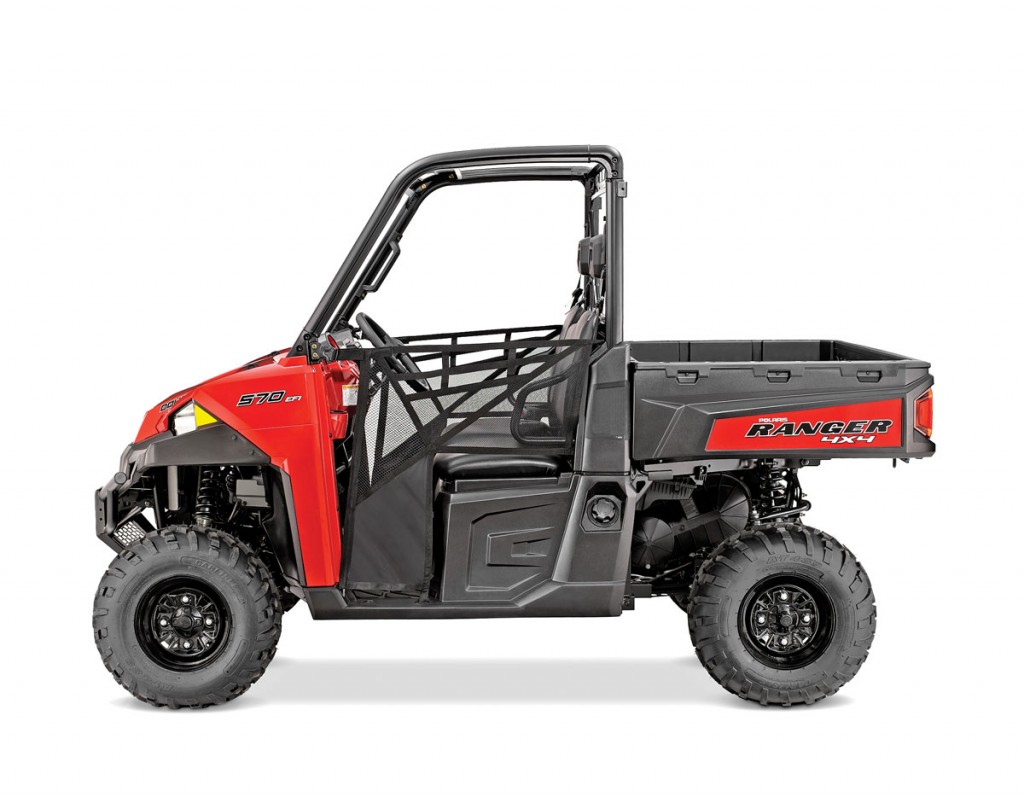 POLARIS RANGER 570 FULL SIZE ($11,299)
This is a new model made from familiar parts. The engine is the 40-horsepower 570 ProStar. It's mounted under the box of a chassis, very similar to that of the XP 900. It has on-demand 4WD with a switch-activated Turf mode. The payload is 1750 pounds, and the towing ability is 2000 pounds. It accepts all the Polaris add-ons, including Lock & Ride cargo and Pro-Fit cab systems.

POLARIS RANGER CREW 570 ($10,799)
The mid-sized version of the two 570 Crew models lucked out and got the newer 570 Prostar motor for 2015. Polaris massaged the intake and achieved a 10-percent output increase, bringing it to 44 horsepower. The towing capacity has been increased as well. The wheelbase is about 8 inches shorter than the full-size 570, but it's only one 1-inch narrower. Power steering isn't available on this model yet.

POLARIS RANGER 570 ($9799)
This is the Ranger that got the 570 ProStar engine first, and it remains an excellent value. For 2015 it got a 10-percent increase in power, as well as a 20-percent increase in towing ability. Under normal conditions, Polaris also says the new version will enjoy a big increase in fuel range. The two-passenger bench seat has been upgraded. It also has more storage cubbies and an improved tilt steering wheel.

POLARIS RANGER EV ($11,299)
Polaris paid attention to the electric Ranger EV this year, making it look more like the full-size Rangers. It has a 20-percent increase in towing ability and increased front suspension travel. The 48-volt AC motor is said to produce 30 horsepower and drive the vehicle to a top speed of 25 mph. The EV is built on a MacPherson-strut chassis, similar to that of the 570 mid-size.

POLARIS RANGER ETX ($8699)
Polaris took the motor that we first saw in the Ace single-seater and gave it a new home in a mid-size MacPherson-strut chassis. The fuel-injected motor has dual overhead cams, four valves and is rated at 31 horsepower, making it a big step up over the carbureted Ranger 400 motor it replaces. With this upgrade, the entire Ranger line is now fuel injected.

POLARIS ACE 570 ($8499)
The Ace has proven to be a big hit, so now there are two new versions of the single-seater. Polaris installed the 570 ProStar, which makes 45 horsepower in this incarnation. Now there's also an upscale Ace 570 for $9999 called the Ace 570 SP. This gives you five-layer Black Pearl Metallic paint that is scratch-resistant and 12-inch cast-aluminum wheels.

POLARIS ACE ($7499)
We still don't know if it's an ATV with a cage or a single-seat UTV. We definitely can't call it a side-by-side. The Ace has a MacPherson-strut chassis that carries one person who always seems to be smiling. This is the original version of the Ace, which has a 32-horsepower ProStar motor with double overhead cams and fuel injection. It has an 18-inch by 35-inch box that can carry 120 pounds.

SSR SRU600LT ($8599)
SSR is importing a number of Asian products at very good prices. The UTV line includes a 170cc Youth model that is similar to the RZR 170, but at a price of $3499. The top of the line is the SRU600LT, which has a number of premium features, like aluminum wheels. The 600 is rated at 37.5 horsepower and can go 55 mph. There's also a 300 and a sporty 500.

YAMAHA VIKING VI ($12,799)
Yamaha took the Viking, which already was big enough for three full-size people, stretched it and installed a second bench seat, which carries another three. The Viking VI has the longest wheelbase in the class at 115.6 inches, compared to 84.1 inches for the standard version. If you would like to impress your horde of passengers with your effortless driving skills, you can get the power-steering option for another $1000.

YAMAHA VIKING
The Yamaha Viking is a three-passenger UTV, with the center seat slightly offset to the rear. The motor is a fuel-injected SOHC single similar to the one in the Grizzly 700. For another $1000, you can get the power-steering version. A camo color scheme will cost another $600. If you want the SE, you'll get aluminum wheels, a special color and fender extensions for a total of $14,049. o