CAN-AM X3 TURBO R
Maverick X RS test
By the staff of Dirt Wheels
CAN-AM X3 TURBO R
When it comes to the Can-Am sport UTV line, the Can-Am Maverick X3 X rs Turbo R sits right at the top. 2019 is the third year for the long-travel, 72-inch-wide flagship. It was truly ground-breaking when it arrived in 2017.
It didn't just raise the bar for sport UTVs, it bent, spindled, folded, and mutilated the bar with more power, more suspension, and more high-performance features than any other machine. Those who love and crave horsepower numbers will remember Polaris. They immediately upped the power of the RZR Turbo, so Can-Am responded with an as-yet-unbeaten 172 standard horsepower for 2018.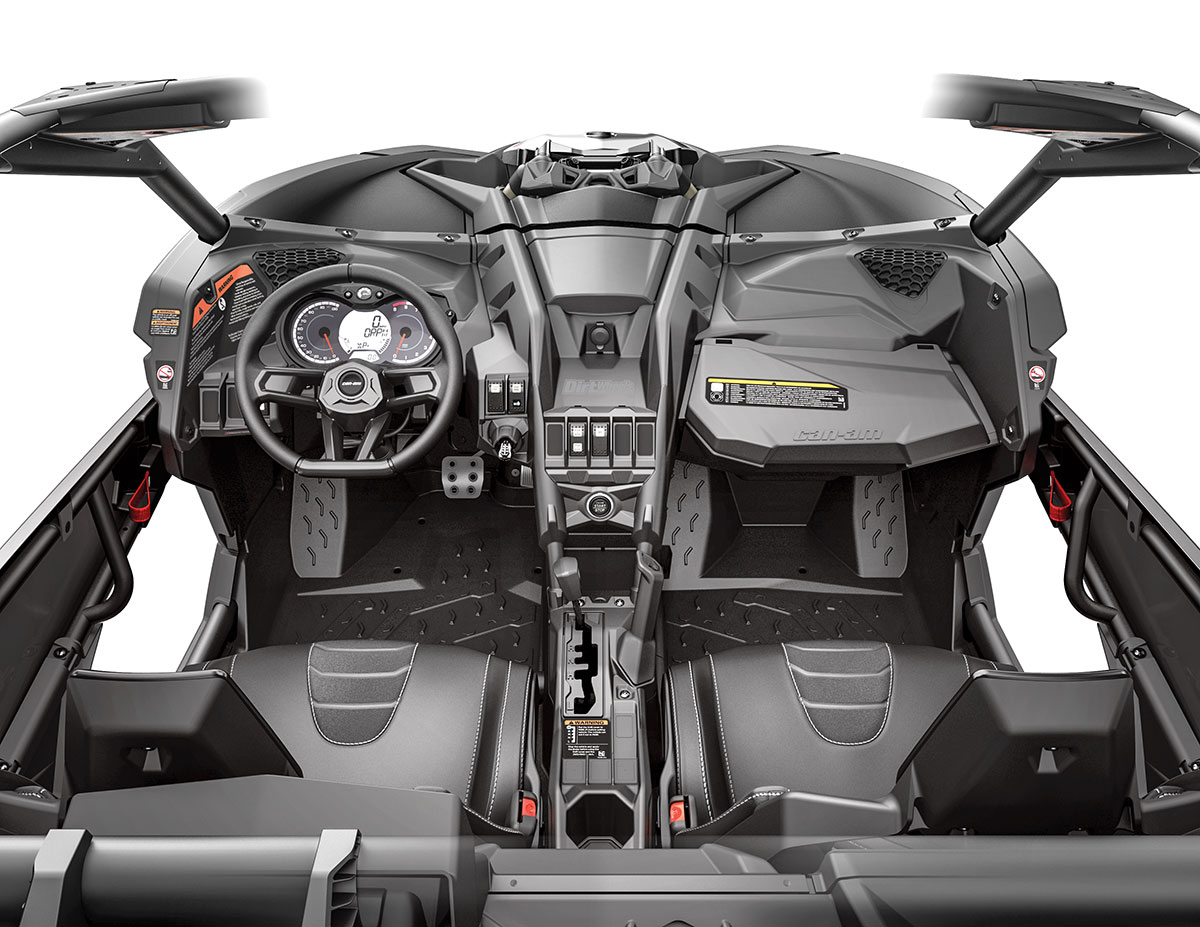 CAN-AM X3 TURBO R
For 2019 Can-Am blessed the X rs Turbo R with one very important update and small but important refinements. The big one is Smart-Lok, a fully lockable on-the-fly front differential with electronically-controlled automatic modes.
Can-Am originally worked with drivetrain specialists Team Industries to develop Smart-Loc for the late-release 2018 RC models. Smart-Loc more than cured one of the few less effective traits of the early X3 models.
After seeing the success of and the performance prowess of the 2018 X3 Rock Crawler special editions, Can-Am penciled in Smart-Loc for the whole 2019 performance line.
Normally, when you have a locked front differential, traction and climbing are vastly enhanced. You have non-interrupted power to both front wheels guaranteed, whether or not all of the tires are on the ground. Steering accuracy and effort usually suffer. That same tire squeal and spin you get from the rear of a quad or UTV is happening in the front with the diff locked.
Smart-Loc's modes maintain the traction but help the steering issues. We doubt that it is a coincidence that Can-Am paired Smart-Loc with a new high-torque, tri-mode Dynamic Power Steering (DPS) system to improve low-speed driving and allow the driver to get more feedback from the steering.
CAN-AM X3 TURBO R
The tri-mode DPS allows the driver to select from three levels of steering assist. We did not find that we routinely change the settings while driving, but different drivers preferred different settings. On a further note concerning the front-end feel, Can-Am redesigned the front sway bar link to be more durable, which also enhances cornering. It may be a small change, but a vital one: a new electrical cover better protects the engine control unit (ECU).
There was apparently no urgency to improve the X3's inter-cooled turbo three-cylinder engine. At 172 horses it maintains a small but real margin over the competition. That's especially true at high rpm. Polaris' turbo has more bottom so it is easier to steer with the throttle at slower speeds and in tight conditions, but once the engine starts to sing the X3 feels free and unfettered. It never seems to flatten off and run out of breath.
By any standard, the X rs Turbo R is nicely outfitted. It is 72 inches wide, with the low and sleek Can-Am X3 chassis, it feels even more planted and secure on cambers than you expect from a 72-inch car.
Great-looking 14-inch aluminum Beadlock wheels with 30-inch Maxxis Bighorn 2.0 tires are standard. The Bighorns aren't the toughest tire out there, but they remain the standard for all-purpose traction at a weight that allows suspension systems to shine. It also boasts 24 inches of rear suspension travel.
And that is good travel, controlled with top-of-the-line fully adjustable Fox 3.0 Podium RC2 remote reservoir shocks with bypass. The Fox bypass system gains additional damping control as the shocks get deeper into the stroke. Plus, those shocks are loaded with external adjusters including high- and–low-speed compression and high- and low-speed rebound damping in addition to fully adjustable spring preload.
Add in a standard full roof, heavy-duty HMW plastic skid plates, and awesome retractable 4-point harness-type seat belts with shoulder pads, and you have a nice package.
There are even three different painted color options. Our favorite is the multicolored version we tested with silver and Can-Am red with gold detailing.
CAN-AM X3 TURBO R
ONE MORE CHANGE
Arguably the biggest change for 2019 is that this pinnacle of Can-Am performance has competition. It can no longer sit comfortably at the top of the heap. It must go toe-to-toe with the Polaris Turbo S in a motorized version of King of the Hill. This isn't a head-to-head shootout, but we must consider the fact that the RZR S is a formidable competitor in the 72-inch-wide category.
GOING BIG
We've said before that no other sport UTV looks so much like an off-road race car. And in the third year of production, the X3 has proven worthy of the look. From the desert of the Western states, Baja, and international rally competition, the X3 has proven a winner. Naturally, for these sorts of wide-open racecourses, the best starting point for a racer is the 72-inch X rs.
We were confident that the 900cc Rotax Ace three-cylinder engine would easily live with the 2018 jump to 172 horsepower, and we were proven correct. Since then we have driven examples as pumped up as an Evo Powersports X3 with 380-horsepower. Suffice it to say, the X3 runs hard and can run much harder.
Now that Polaris has a long-travel, 72-inch-wide turbo model, the two cars look remarkably similar on the spec sheet, but you will never mistake them visually or while driving them. The experience is unique to each vehicle. You sit down in the X3 like a sports car, and the car has a long feel for a reason.
It has a wheelbase of 102 inches, while the RZR S is a mere 90 inches. A Polaris RZR four-seater is only 117 inches, so the two-seat X3 lands just about right in the middle of the two Polaris machines as far as wheelbase goes.
Ergonomically, the differences are as pronounced. You sit in the X3 with seats that are somewhat reclined and with your legs stretched out. Even though the RZR Turbo S has lower seating than previous RZRs, it feels much more upright than the Can-Am.
With a wheelbase 12 inches shorter, the front wheel wells cut into the legroom for the foot closest to the outside of the car more than happens with the X3. Even tall drivers and passengers will find the X3 is limited for vision directly in front of the machine.
You will find as much difference in the engine character as well. The X3 is smooth and refined at lower rpm. Power builds strongly but without sudden increases in acceleration. We mentioned that it truly sings on top. Polaris' turbo engine is quite the opposite.
It has loads of snap at low rpm, and it has a huge, meaty mid-range that allows you to steer with the throttle in tight going. The Can-Am's crazy-fast portion of the power arrives at high rpm. Frankly, when the engines are spinning hard the difference feels like more than the 4 horsepower that the specs sheets document.
CAN-AM X3 TURBO R
GOOD THINGS
Our time with the X3 was in the mud, sand, and rocks of California's Johnson Valley. It wasn't a pristine example, but a well-used unit with months in the demo fleet that had already seen four hard demo days since its last bath.
Demo cars run hard virtually non-stop for 8 to 10 hours a day. Despite being thrashed hard, put away muddy, and having many hard miles, the machine still felt tight and ready for anything. We found that very impressive. As we have come to expect, the interior surrounds you with comfort in the firm but well-mounted and supportive seats.
The first real impression you get driving the X3 X rs Turbo R is that the gearing feels taller than most UTVs leaving a stop, but that goes away as soon as you are moving. Acceleration is brisk at first and breathtaking as the speeds and rpm climb.
Your next impression will concern the turning. Like almost all wide cars we have driven, the Can-Am is reluctant for sharp turns at slow speeds, and it takes a fair amount of room to make a U-turn.
On the other hand, this car corners like crazy at speed, and it is amazingly happy flowing through left, right turn combos on flat dirt. The center of gravity feels low, and it encourages you to push the turns. The same is true when the terrain is rough and whooped.
Push the suspension hard and it rewards you. There is ample damping control, and the car feels well-connected to the earth. When you are creeping over rocks, choppy bumps, or roots the sporty suspension action is crisp and you feel a fair amount of the terrain surface.
We expect that Can-Am will make some changes here on future models. The RZR Turbo S with computerized suspension and 32-inch tires currently holds the advantage of suspension comfort.
MORE RIDE
Jumping the Can-Am is a pleasure. As we said, any time you are aggressive and driving hard, it works great. Suspension experts tell us that the X3s are delivered with the machine riding low. You could adjust the suspension to lift the car an inch even two. This situation will be compounded if you have added a lot of accessories.
Johnson Valley is famed (or infamous) for rock terrain, and we did spend time in the rocks. Having the Smart-Loc front differential made a huge difference over past models. It effortlessly crawled up and across rocks and ledges. With the long wheelbase and the standard suspension setting, we did put the skid plates to good use, but the car performed well.
CAN-AM X3 TURBO R
FINAL THOUGHTS
If you crave speed and like to drive hard and fast, you cannot go wrong with the Maverick X3 X rs Turbo R. It shreds flat and cambered turns with ease and confidence that makes you look for chances to pitch it into turns.
The same is true of the big, rough sections. It likes to hammer through fast rough. We feel safe in this machine, and it has our favorite four-point seat belts. As you are running the car hard, you can rest easy knowing that you have Beadlock rims that will let you get back to camp running a flat if needed. You get a six-month warranty extendable to 30 months, and the price has only gone up a few hundred dollars despite all the changes. This machine is still a winner.
To subscribe to Dirt Wheels Magazine in print or digital form click here https://hi-torque.com/product/dirtwheels.
CAN-AM MAVERICK X3 X rs TURBO R
SPECS:
Engine type Rotax ACE liquid-cooled 900cc triple with inter-cooled turbo
Displacement 900cc
Transmission Quick response system  X CVT
Final drive Shaft
Fuel system EFI
Fuel Capacity 10.5 gal.
Length/width/height 133"/72"/67"
Ground clearance 15.0"
Wheelbase 102"
Estimated dry weight 1589 lb.
Suspension/wheel travel:
Front Double A-arm with sway bar and Fox 2.5 Podium RC2 piggyback shocks with bypass, dual-speed compression, and rebound adjustments/22"
Rear 4-link trailing arm with sway bar and Fox 3.0 Podium RC2 remote reservoir shocks with bypass, dual-speed compression, and rebound adjustment/24"
Tires:
Front 30×10-14 Maxxis Bighorn 2.0
Rear 30×10-14 Maxxis Bighorn 2.0
Brakes:
Front Dual 262mm vented hydraulic disc with dual-piston calipers
Rear Dual 248mm vented hydraulic disc with dual-piston calipers
Bed capacity 200 lb.
Towing N/A
Colors Triple Black, Platinum Satin, Gold & Hyper Silver, and Can-Am Red
Price $27,299
Contact www.can-amoffroad.com