SUZUKI VANVAN
Return of the fat bikes?
Test impression by the staff of Dirt Wheels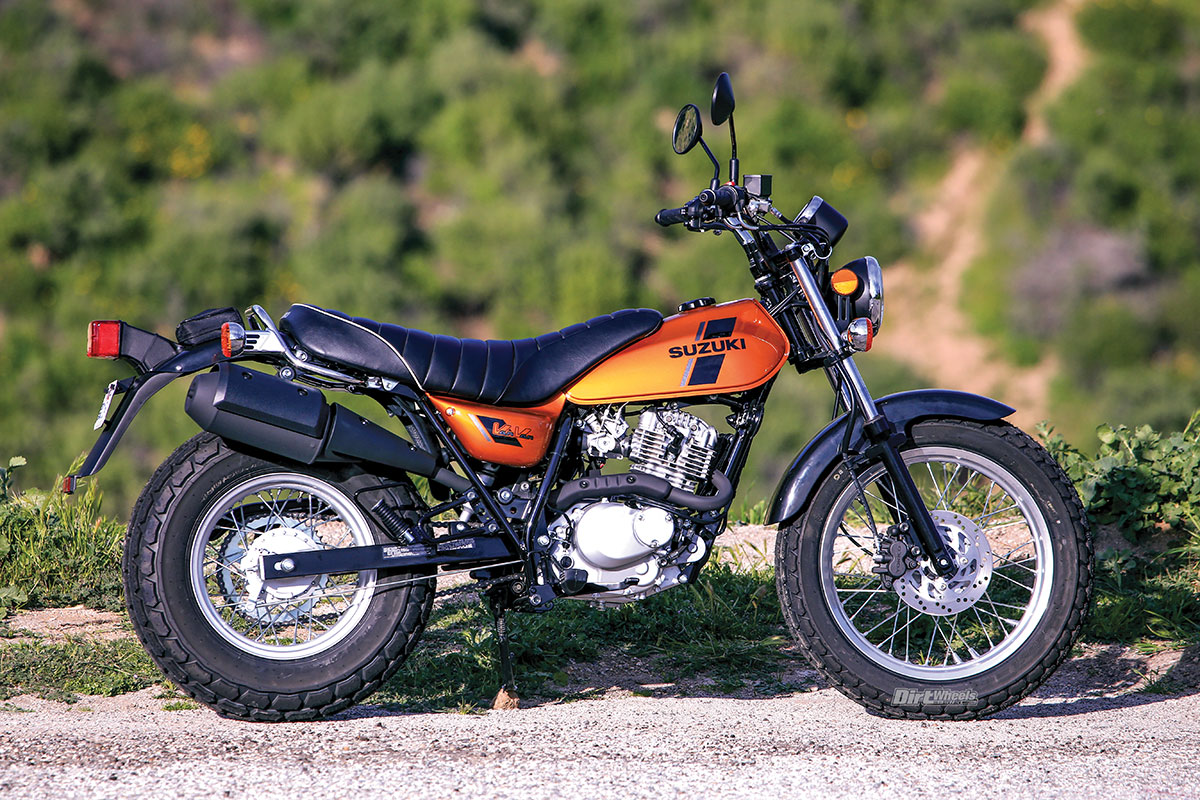 SUZUKI VANVAN
We recently did a short feature on the internet dealing with the short-lived, fat-tired Honda Fat Cat two-wheeler. The response was incredible! That response brought back memories of hitting the dunes and trails on the Honda Fat Cat and the Yamaha BW80, 200, and 350.
We had those machines in mind while returning our Suzuki KingQuads. We noticed a small fat-tired motorcycle that Suzuki says is an "extraordinarily retro, funky machine"—the VanVan. Even though the little 199cc four-stroke dual-sport bike is basic with modest features, it is nevertheless a modern bike despite the somewhat vintage look of it.
It's like the PT Cruiser of motorcycles. We love that Suzuki has a lot of the shape of the early Suzuki DR four-stroke off-road bikes in the VanVan's 1.7-gallon fuel tank. Whenever and wherever we rode it, people asked what year the bike was. We'd laugh and tell them, "2019."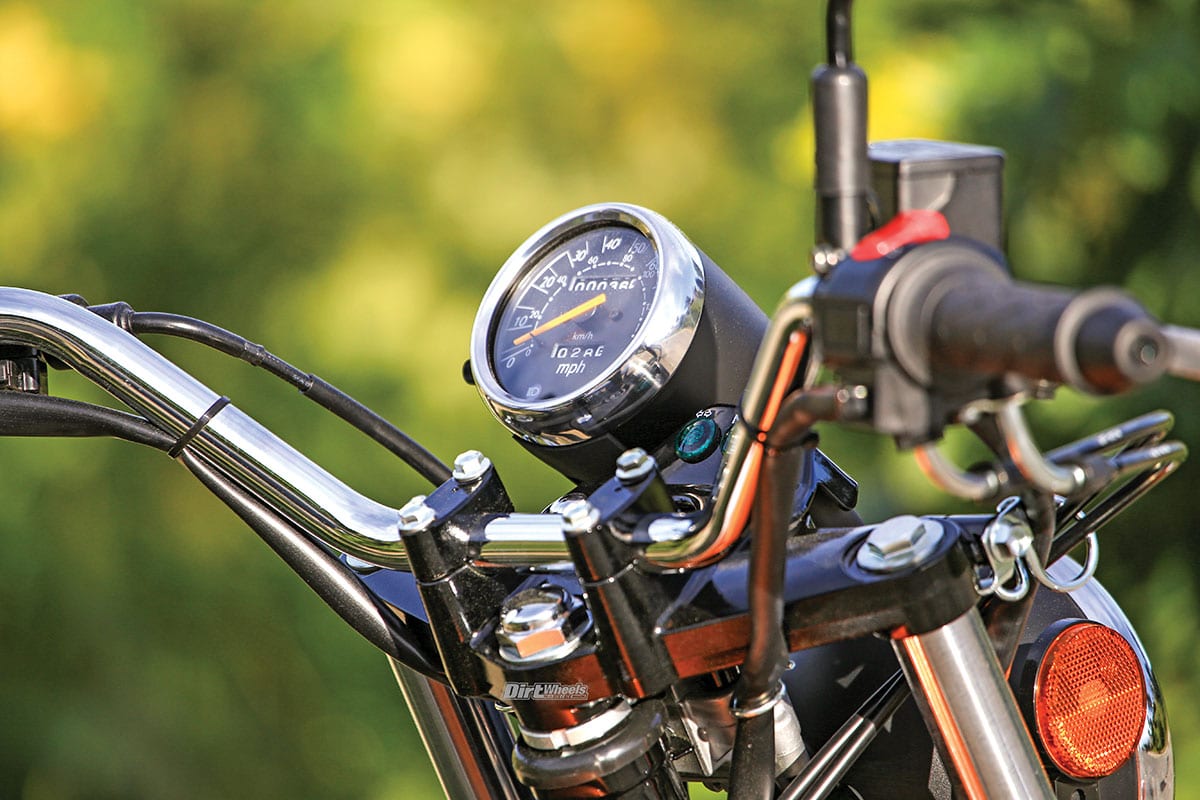 SUZUKI VANVAN
We couldn't help but wonder how dirt- and sand-worthy the little machine was, so we asked Suzuki to let us take one home. It uses a motor that has seen many iterations in Suzuki off-road and dual-sport machines.
It is largely the Suzuki SP200 dual-sport engine with fuel injection and an oil cooler. With EFI, a catalytic converter, and an ultra-quiet exhaust note, the VanVan, also known as the RV200L9, won't offend the public or the environment.
We aren't sure if our bike was fully topped off when we picked it up, but 72 miles later, the fuel light came on. It took 1.2 gallons to refill it. So we'd guess that 72 miles to the gallon is a minimum. We aren't great with decimals, but we can figure out that the VanVan has a half-gallon of fuel left when the fuel light comes on.
SUZUKI VANVAN
MEAN STREETS
On pavement, the smooth power, soft but supple suspension and the amazingly low seat height of just over 30 inches make the VanVan a pleasure to ride. We tried it on the freeway, and we survived for one exit, but we won't subject the VanVan or ourselves to that again.
A 25-mile commute to work on surface streets was a different story. That was a breeze and a lot of fun. With the wide 18-inch front tire and ultra-wide 14-inch rear tire, the VanVan shrugs off surface irregularities that might cause problems with skinny tires. It is really happy cruising at 45 mph but will zip along faster.
We were hoping it would be happy in the dirt. Suzuki must be eyeing the "on-the-motorhome campground market" that Honda abandoned when it discontinued the CT110 Trail. The bike needs to be more than a campground, race-pits cruiser, for Dirt Wheels editors.
Fortunately, the VanVan is more than happy in the dirt and rocks. It helps to keep the pace down to 'sightseeing speeds' though. The bike is super capable, with a single rider or with a passenger. The seat is wide and comfortable. We'd like as much padding in the front part of the seat as the rear has.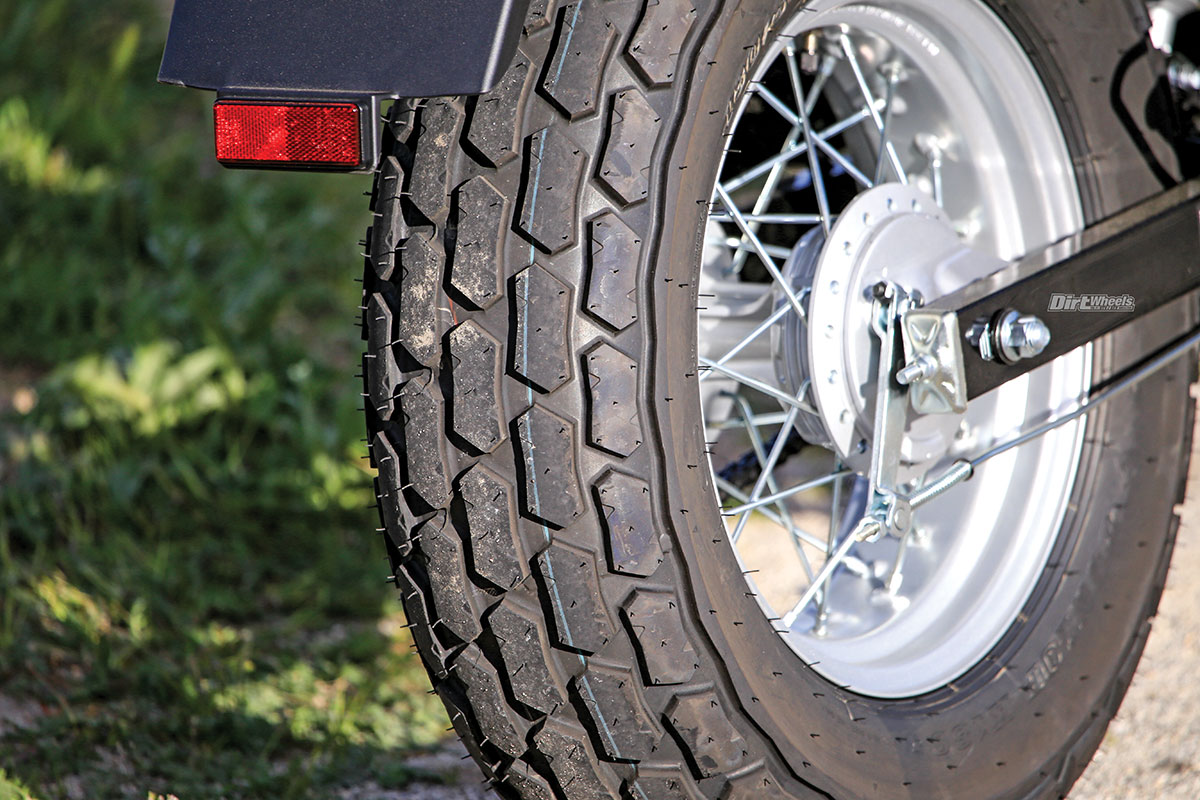 Our hopes were that the VanVan would be a natural in the sand, and it handled moderate sand, on trails and roads when the sand was over a hard base. When the granulated stuff got deep, though, the VanVan was not as happy. Oddly, we are pretty sure that we could ride it in the dunes, but in deep, loose sand washes it pushed the front more than we like.
IN CONCLUSION
It is obvious that this machine was built with less demanding dirt and street riding in mind. If you keep that in mind you can have a blast on it. It could easily handle mild adventure riding as well. We were more than happy to have it while camping and riding. We could run into town without disconnecting the truck. If you need a run-around machine with a license plate, the VanVan is a fun choice.
2019 SUZUKI VANVAN
SPECS:
Engine type Air-cooled four-stroke single with EFI
Displacement 199cc
Seat height 30.3"
Weight 282 lb.
Fuel Capacity 1.7 gal.
Ground clearance 8.7"
MSRP $4649
To subscribe to Dirt Wheels Magazine in print or digital form click here https://hi-torque.com/product/dirtwheels.