2019 TEXTRON HAVOC MODELS
Looking at the new machines
2019 TEXTRON HAVOC MODELS
KEY FEATURES
100-HP Twin Cylinder SOHC EFI Engine
• 67-ft.-lbs. of Torque
• FOX 2.5 Podium QS3 Shocks (X Model)
• On-Demand AWD
• Customizable Speed Controller
• Standard Electronic Power Steering
• Standard Full Doors
• Four-Wheel Double-A-Arm Suspension
• Front and Rear Sway Bars
• Class-Leading 24-cu.-ft. of Storage with Extended Cab
• 2,000-lb of Towing and a 600-lb Capacity Tilt Bed
• Best-in-Class 13 inches of Ground Clearance
• Fast-N-Latch Bed Storage System
• 28-in ITP Ultracross Tires (X and Backcountry)
• 14-in Cast Aluminum Wheels (X and Backcountry)
• 4,500-lb WARN Winch (X and Backcountry)
New for 2019
• New high-bolstered bench seats are reshaped to provide a more comfortable ride for the driver and passenger.
• Texture painted ROPS and front bumper provide a more durable and premium finish
• FOX 2.5 Podium QS3 gas shocks provide quick and simple compression adjustability between Soft, Medium and Firm settings via the QS3 dial, so owners can easily dial-in the performance to match the conditions and riding style. (X)
2019 TEXTRON HAVOC MODELS
More American Muscle in Side- By-Side Performance
The hardest working and playing side-by-side roosts into 2019 with more options in crossover performance and customization. The Havoc X is now joined by the all-new Havoc base and Havoc Backcountry Edition models from Textron Off Road, each blending class-leading suspension and ground clearance with maximum payload and the foot-stomping glory of 100-horsepower and 67-ft.- lbs. of torque. The result is a trio of all conquering crossovers ready to conquer everything from the back forty to the backcountry with precision performance and work-friendly dependability.
Havoc models tackle the crossover category with a class-leading double- A-arm suspension package delivering 12.8 and 12.9 inches of front and rear suspension travel. Front and rear sway bars reduce body roll and keep handling smooth and predictable, while the 13 inches of class leading ground clearance is enough to easily clear gnarly terrain.
When it's time to work, Havoc models feature their signature extended cab and 24-cu.-ft. of storage that's easily accessed and useful for most types of gear. The 600-lb. capacity rear dump bed is aided by the quick and simple Fast-N-Latch bed accessory storage system and matched by 2,000-lb. towing capacity for maximum versatility to handle any job.
Hit the gas on a Havoc side-by-side. With 100 horsepower with 67-ft.-lbs. of torque, it announces itself with full authority thanks to the 957cc SOHC twin-cylinder, liquid-cooled EFI engine that is designed and built by Textron Motors.
The selectable on-demand AWD system puts the power exactly where it's needed, while four-wheel hydraulic disc brakes with 9-in. rotors and dual piston calipers deliver enhanced braking performance. A programmable speed controller that allows the operator to set a maximum top speed from 26 to 55 mph (in 1-mph increments) to ensure that Havoc models are operated at the appropriate speed for the driver and task.
2019 TEXTRON HAVOC MODELS
Havoc models hit the highest marks in comfort and convenience. All-new high-bolstered bench seats offer more room and comfort for 2019, with 4 inches. of adjustability. The dash features an industryleading 5.25 x 3.25-in. LCD display with adjustable backlighting. And high power LED headlights deliver optimum visibility, with LED accent lights for a touch of custom style.
Additional features include Electronic Power Steering (EPS), 9.5 gallons of fuel capacity, standard 2-in. receiver hitch, 12v accessory outlet, passenger grab handle, glove box, steel front brush guard, and adjustable tilt steering.
Every Havoc side-by-side boasts a 12-month warranty. It's proudly built in Thief River Falls, Minn., and will be available at Textron Off Road dealerships beginning in December.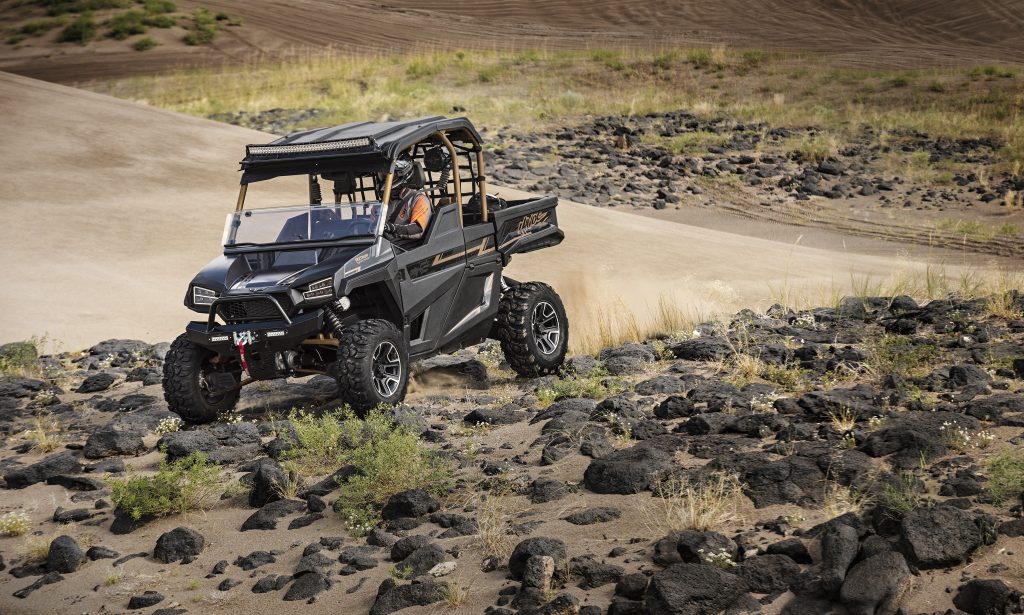 The base model Havoc comes with performance shocks, 14-in. steel wheels and 27-in. Duro Powergrip tires, and is available in Fire Red.
The Havoc X features the quick adjustability of premium FOX 2.5 PODIUM QS3 gas shocks, 14-in. cast aluminum wheels with 28-in. ITP Ultracross tires, premium bolstered seats, and a 4,500-lb. WARN winch. It comes in Ballistic Bronze with color matched A-arms, brush guard and ROPS.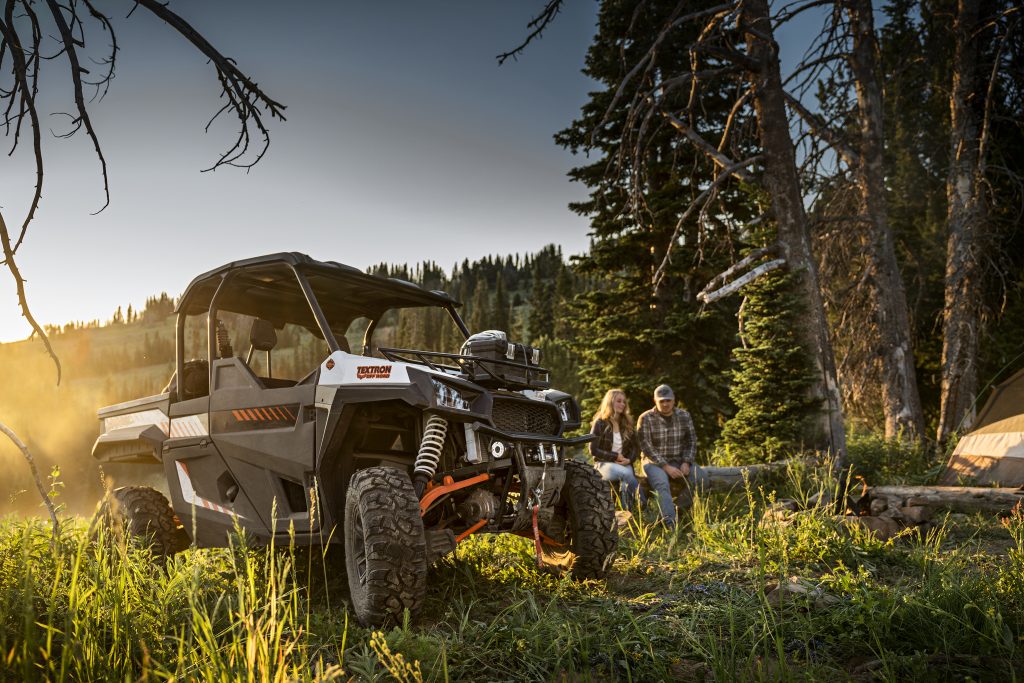 2019 TEXTRON HAVOC MODELS
The Havoc Backcountry Edition gets standard shocks with white accented springs, cast aluminum wheels with 28-in. ITP Ultracross tires, premium bolstered seats, 4,500-lb. WARN winch, front hood rack and a top. It comes in Bright White with Orange.
To subscribe to Dirt Wheels Magazine in print or digital form click here https://hi-torque.com/product/dirt-wheels.