2022 POLARIS SPORTSMAN 570
We try out Polaris Ride Command Edition with GPS for quads! 
By the staff of Dirt Wheels
2022 POLARIS SPORTSMAN 570
Polaris is one company that remains committed to regular updates for its 4×4 quad line. For example, Polaris' 2021 Sportsman 570 line got a completely new and upgraded rolling chassis and all bodywork, including racks and rack extenders. Now, here is the 2022 Sportsman 570 with modest mechanical upgrades and the biggie—Ride Command for handlebar machines. Of the various 2021 Sportsman 570s, the Ultimate Trail Edition (just Sportsman 570 Trail for 2022) was the best equipped of them all. In 2022, the Polaris Sportsman 570 Ride Command Edition takes king-of-the-hill position. It has every feature of the loaded 570 Trail, but adds the Ride Command pod in place of the normal handlebar pod.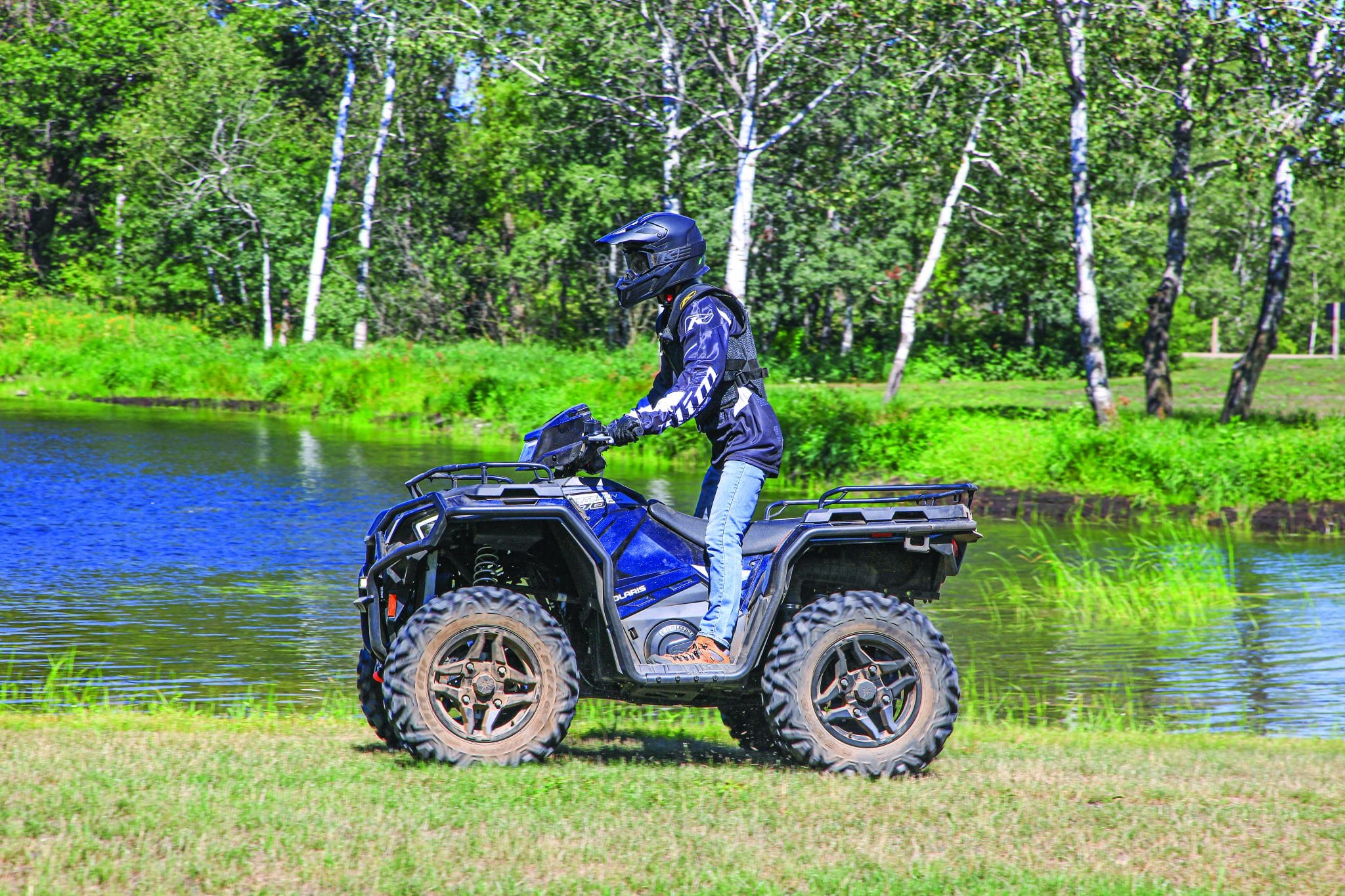 RIDE COMMAND
Ride Command's touchscreen instrument-pod headlight combination has all the features of the new-in-'21 headlight pod and screen but also much more. It is larger, has a bigger screen, and is pre-wired for electric grips and clothes. It has a 12-volt accessory socket, battery charge port, USB charger and a Pin-Activated Security System (P.A.S.S.).
The screen displays the all-digital gauge face, geo-fencing, speed limiter, speedometer, odometer, tachometer, two trip meters, engine hour meter, gear indicator, fuel gauge, AWD indicator, volt meter, coolant temperature, hi-temp light, clock, altitude, compass heading, and high- and low-beam indicators.
Ride Command's 7-inch glove-touch display screen is the same screen that shows the normal information. It also enables GPS navigation, Group Ride, Bluetooth and Plow mode. For 2022 there is only one 570 (and one 850) that comes with Ride Command. For all 2022 and forward Sportsman models, Ride Command is available as a $1499 kit. One part number includes everything needed, and installation is claimed to take around an hour!
If you want to use Plow mode with the Ride Command kit, you will need to install (or upgrade to) a Polaris 3500-pound Pro HD auto-stop winch to have full functionality. The 570 Ride Command comes with the new winch, as well as an upgraded winch hook and fairlead.
Ride Command's GPS is easy to use, and it is a great help for navigation in unfamiliar areas. It comes loaded with 750,000 miles of routes. You can plan a route at home, add waypoints, and then download it via a USB cable or air-drop it. All Ride Command-equipped machines in the area show up on screen.
You can also select a group using Group Ride. In Group Ride, all of the designated machines show up. For those who don't have Ride Command, it is possible for them to join with a smartphone. Ride Command itself does not require cell service, but you may link your phone to it.
The more members in a Group Ride group, the farther the reach. Members of the group can send text messages to the group, and they show up on the display. If someone misses a turn, don't chase them, just send a text!
2022 POLARIS SPORTSMAN 570 
MORE E-POWER
Some of the 2021 Sportsman's biggest news was a battery with 78 percent more cranking amps than before, and that powerful battery moved up under the front storage compartment lid. The storage compartment lid gets a new, less floppy hinge for 2022 and new over-center latches.
The 570 Ride Command comes with an LED pod and bumper-protected headlights with accent lights. The pod-light high beam is 1100 lumens, and the fender-mounted headlights are 700 lumens on low beam and 1000 lumens on high beam. With all three headlights, electric power steering, the winch and Ride Command on board, it is a good thing that the battery was upgraded in 2021.
MARKET FORCES
Mid-size quads drive 4×4 sales, so Polaris expected the redesigned 2021 570 would expand its number-one market share, but little did it know, COVID-raged and formerly screen- and party-obsessed folks suddenly wanted to recreate away from crowds and cities.
Polaris saw huge increases in demand, and a full 33 percent of its 4×4 quad sales were to customers new to powersports! Quads are generally easier to buy, store and transport than a UTV, and in much of the country, they offer more riding opportunities.
Those new customers found appeal in the less intimidating size of 4×4 quads. Polaris sales research with UTVs and snowmobiles have shown that buyers are increasingly ready to step up to Ride Command, and it expects those new customers will appreciate it as well. Other new-for-'22 items like the auto-stop function on the standard winch will help experienced riders and newbies alike. For 2022 all Sportsman models will have some sort of parking-brake warning. Another change for 2022 is multi-select EPS. The EPS used to change assist with speed and input, but now it has three settings to choose from.
AS A REMINDER,
Visually the 2021 Sportsman didn't change radically unless you looked close. As much as 30 percent of the chassis was new and stronger. Automotive-style, sealed rubber suspension pivot bushings were added to aid bottoming and be more water- and mud-resistant. Sportsman Ride Command gets those pivot bushings in arched, high-clearance A-arms. The body parts that cover the drivetrain look the same at a glance, but the front fascia, fenders, racks and rack extenders (standard on 570 models) were all new for the '21 redo.
A 2022 Sportsman 570 Premium went up $300 to $8699, and the winch-equipped, loaded Sportsman 570 Ride Command Edition starts at $10,899. Part of that price increase is Ride Command, but it also has premium features like painted plastics.
At the rear of the 570 is a molded part that holds the taillights. Before 2021 the lights were part of the fenders. That change to the rear end eliminated the rear storage compartment. Owners missed the storage, so high-end models like the Ride Command Edition have a new 2-gallon rear storage bag. The zippered opening is accessed under the quick-release seat. The bag is an option on models that don't have it.
There are two varieties of 44-horsepower 570 Sportsman 4x4s. Less expensive models feature MacPherson-strut front suspension with 8.2 inches of front-wheel travel, 25-inch tires and steel wheels. All 570s have double-A-arm rear suspension with 9.5 inches of wheel travel. Better-optioned 570s have cast-aluminum wheels, and the most exclusive models get double-A-arm front suspension with 8.9 inches of travel; 14-inch cast-aluminum wheels; and 26-inch, 6-ply Duro tires.
2022 POLARIS SPORTSMAN 570 
LOADED WITH TECH
In addition to the fancy electronics, the 570 Ride Command enjoys improved clutching and an integrated Engine Braking System (EBS). The last position on the 4×4 selector switch engages Active Descent Control (ADC). In concert with EBS, ADC utilizes all four wheels to slow the Sportsman down. The system really works, and you can feel the front wheels engage and slow you down. No matter how long you coast, the CVT doesn't release and freewheel.
A standard Sportsman 570 weighs 150 pounds less than the 570 Ride Command, but it doesn't have the larger GPS-enabled pod, front A-arms, winch, EPS, EBS or ADC.
The Sportsman 570 Ride Command also has Ride Control Technology's three-mode throttle. You can select between Standard, Work and Performance modes. Frankly, RCT is more important on the more powerful twin-cylinder Sportsman models. You can use GPS to set speed-limited areas. If you limit the speed, the thumb throttle acts normal until you hit the selected speed, then it does nothing. When you set a speed for plowing or spraying, you don't have to keep your thumb in one position to maintain the speed.
HOME ON THE RANGE
With dual-A-arm suspension front and rear, the Sportsman 570 has a smooth ride in chop or rocks while also being able to soak up hard hits, straddle or cross deep ruts, crawl over boulders, and avoid getting hung up on trail junk.
The rider position of the Sportsman 570 is upright, with a comfortable and roomy cockpit. Like most CVT-equipped machines, it is wide between your feet. You can ride standing when needed, but the riding position is more inclined to riding seated. The throttle lever is wide and easy to modulate.
Polaris has dual hydraulic disc brakes front and rear. Past specifications have claimed that all four brakes are controlled by the left handlebar lever, with a right-side rear brake pedal to add more rear wheel braking. The specs for the Ride Command say the hand lever engages three brakes, and the foot brake controls the fourth.
The handlebar-mounted lever is comfortable for your fingers and easy to use; we would like to use less hand effort. You have to lift your foot to depress the rear brake pedal, but it does offer plenty of power.
2022 POLARIS SPORTSMAN 570
THE RIGHT RIDE
Sportsman 4×4 quads have always been equipped for work and play. With the addition of Ride Command, the work/play ratio is leaning farther than ever towards recreation. Certainly Ride Command will help you work, but perhaps not as much as it will help you explore new riding areas or find new hunting, fishing or camping opportunities.
This proven 570 engine is equally outstanding for work or recreation. It makes ample speed and acceleration. It is nimble and changes direction easily so it feels lighter than it is.
There is a nice warranty, options for extended coverage, and maintenance intervals for all common tasks were increased in 2021.
FINAL THOUGHTS
We are huge fans of the Sportsman 570 and of Ride Command, and having it on a handlebar machine is very nice! It should help new riders feel more comfortable, while letting those more experienced face easier and safer exploration. All of the tech that Polaris includes with the Sportsman 570 Ride Command is impressive. That goes for the electronics, but also for that list of acronyms, too—ADC, EPS, EBS and RCT. Those aren't merely letters designating gimmicks, but genuine tech with real-world applications. The fenders do a great job at keeping mud off the rider. Cargo space is abundant, and the towing capacity exceeds what we would generally use the Polaris for. This is a flagship machine that Polaris can be proud of, and one we would like to own.
Check out Polaris' lineup of ATVs and UTVs at www.polaris.com or go to your local Polaris dealer.
2022 POLARIS SPORTSMAN 570 RIDE COMMAND EDITION
Engine Single-cylinder, DOHC, liquid-cooled, 4-stroke
Displacement 567cc
Starter Electric 
Fuel system EFI
Fuel capacity 4.5 gal.
Transmission Automatic CVT
Final drive Shaft
Suspension/wheel travel:
Front Sealed arched dual A-arm/8.9"
Rear Sealed arched dual A-arm IRS/9.5"
Brakes:
Front Dual hydraulic discs
Rear Dual hydraulic discs
Tires:
Front 26×8-14 Duro Powergrip
Rear 26×10-14 Duro Powergrip
Length/width/height 83"/48"/47"
Ground clearance 11.5"
Wheelbase 50.5"
Curb weight 860 lb.
Rack capacity:
Front 90 lb.
Rear 180 lb.
Towing capacity 1350 lb.
Colors Azure Crystal
Price $10,899
To subscribe to Dirt Wheels Magazine in print or digital form click here https://hi-torque.com/product/dirt-wheels.