2021 KAWASAKI BRUTE FORCE 300
Reliability and fun in a smaller package 
By the staff of Dirt Wheels
2021 KAWASAKI BRUTE FORCE 300
You could say that Kawasaki was stretching it a bit by calling their 271cc, liquid-cooled, four-stroke single by the unlikely moniker "Brute Force." That sort of displacement does not lend itself to the term exactly. But, the 2021 Kawasaki Brute Force 300 2WD quad is a vehicle that does make a strong case for itself, especially when it comes to the hard-fought battles of dependability, usefulness and a certain charm for getting the job done in the smaller-displacement work/play two-wheel-drive ATV battlefield. This machine is a force to be reckoned with.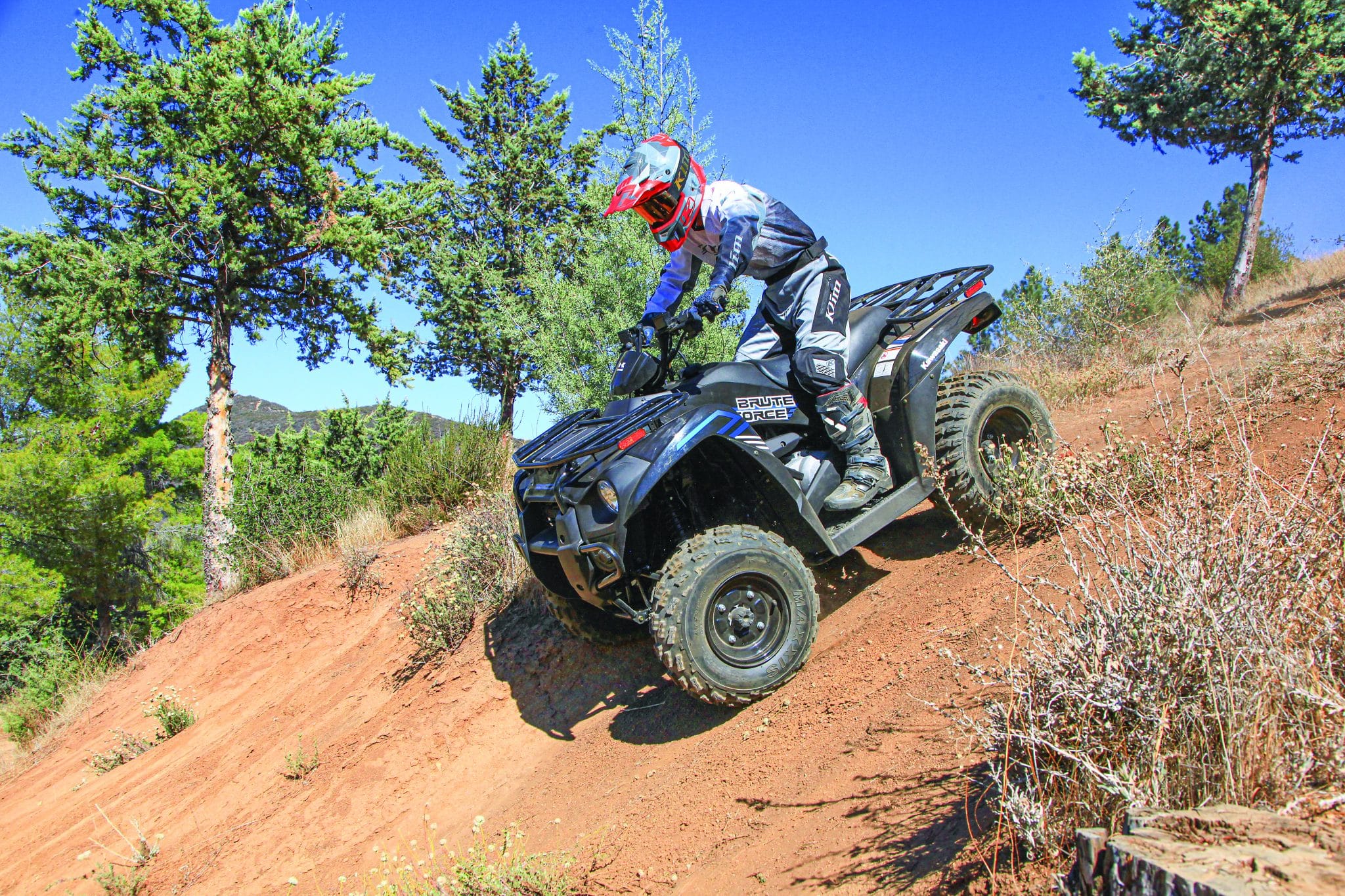 SKIP THE BRUTE, JUST GIVE US THE FORCE
The Kawasaki Brute Force 300 engine uses a SOHC, single-cylinder, four-stroke, liquid-cooled, 271cc displacement motor that, while not exactly a "brute," does provide plenty of get-up-and-go spunk. It uses a CVT automatic transmission with low, high and reverse gear ranges, and the CVT also incorporates a centrifugal-clutch hybrid, which helps the small engine accelerate quicker, smoother and easier. A Keihin CVK32 carb gets the juices flowing to the shaft final drive.
The power output is geared to provide a broader spread down low, with the high range giving the machine a top speed of 50-plus mph on the top. The low range on the CVT-equipped transmission is plenty good for climbing most hills we encountered, even in 2WD. 
We like the fact that both the air cleaner and the CVT vent have high air intakes, making the vehicle more watertight. Ease of maintenance chores are aided by a sight glass to check the oil level and easy access to the air filter. 
2021 KAWASAKI BRUTE FORCE 300
FIT & FEEL
We appreciated the Force's fit and feel, as it feels more like its bigger brothers, with a good relationship between the handlebars, footpads and overall stance. It is comfortable sitting or standing, and it comes with large front and rear fenders to keep muck away from the operator. The shifter uses a gate mechanism that requires you to pull the handle to the side to engage a different gear range—solid and dependable. Separate hand and foot levers for the front and rear brakes, and the parking brake is a simple flip lever mounted on the left-hand side of the bar. There is room for an accessory winch on the front grill as well. The floorboard and foot areas are roomy and provide good traction in the muck. The seat is comfy and roomy, and there is a storage area up front to keep documents and a water bottle or two. There is also a backup pull-starter should the electric starter ever fail. 
Maxxis tubeless tires come mounted up front and on the back end. They are a good choice for this vehicle and provide excellent traction and reasonable wear. We like the 6.10-inch ground clearance of the machine for picking our way through the rocks. The attached racks are roomy and can handle up to a 110-pound capacity total (front and rear). The curb weight is a bit high at 536 pounds, but the machine rides and handles like it weighs considerably less. 
2021 KAWASAKI BRUTE FORCE 300
SUSPENSION
The modest double-wishbone front suspension (5.2 inches) and single-shock swingarm on the rear (5.6") give the machine a solid feel out on the trail. It did feel a bit stiff initially, as Kawasaki has set up the suspension to be used for work purposes like towing (up to 500-pound loads) and other workmen-like duties, which makes it a plus for folks who want a good, hard-working quad, as well as a weekend fun machine. The suspension does have five-way preload adjustments on the dual front shocks and a single shock mounted on the back end. That way you can dial it in to your individual liking.
BRAKING
With triple disc brakes, the Force can be easily and quickly stopped. Operation of both the front and rear brakes is exceptional. Another nice touch is that the rear brake disc is shielded inside the wheel itself. Engine braking on this small-displacement motor is also quite good.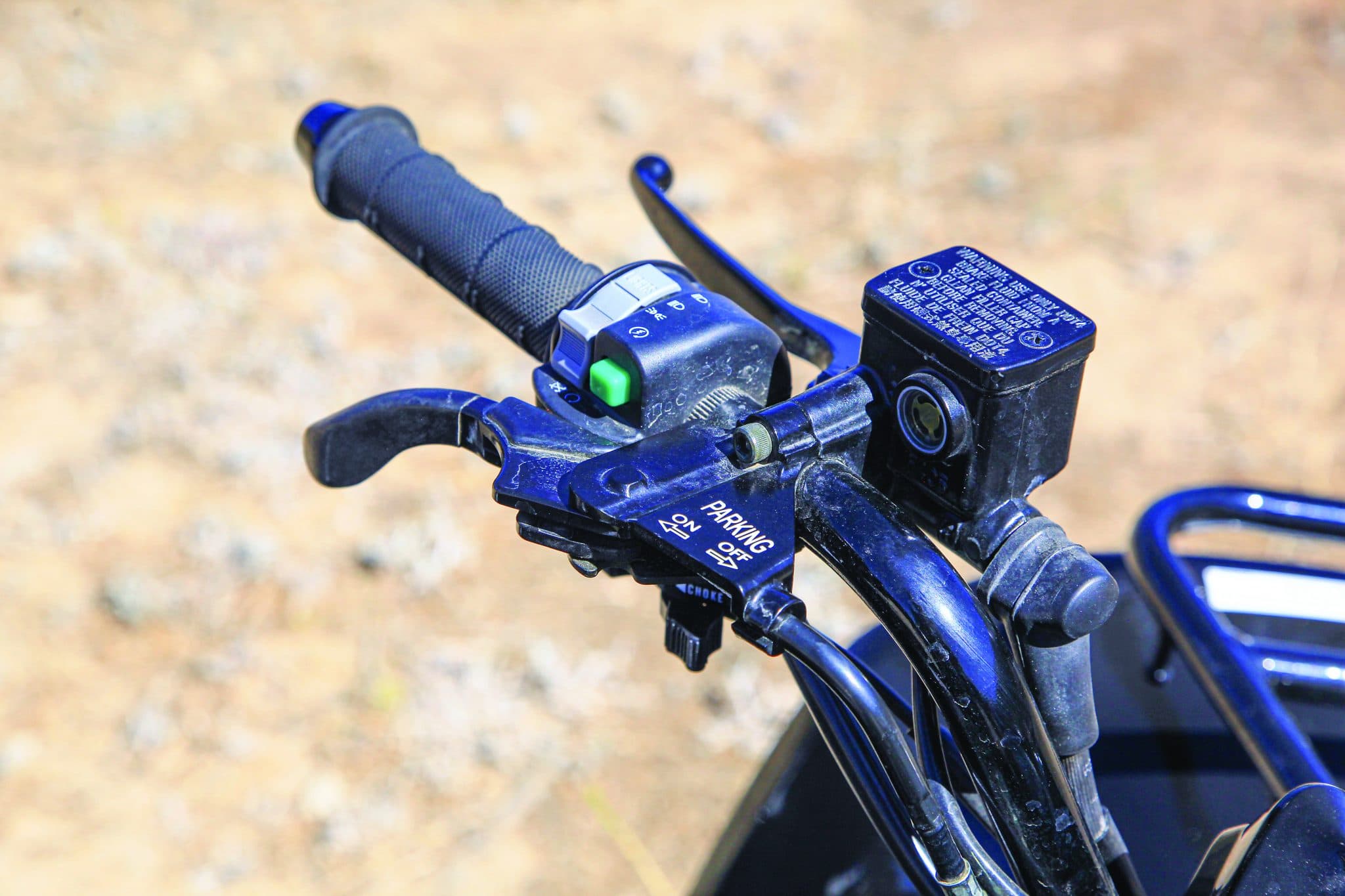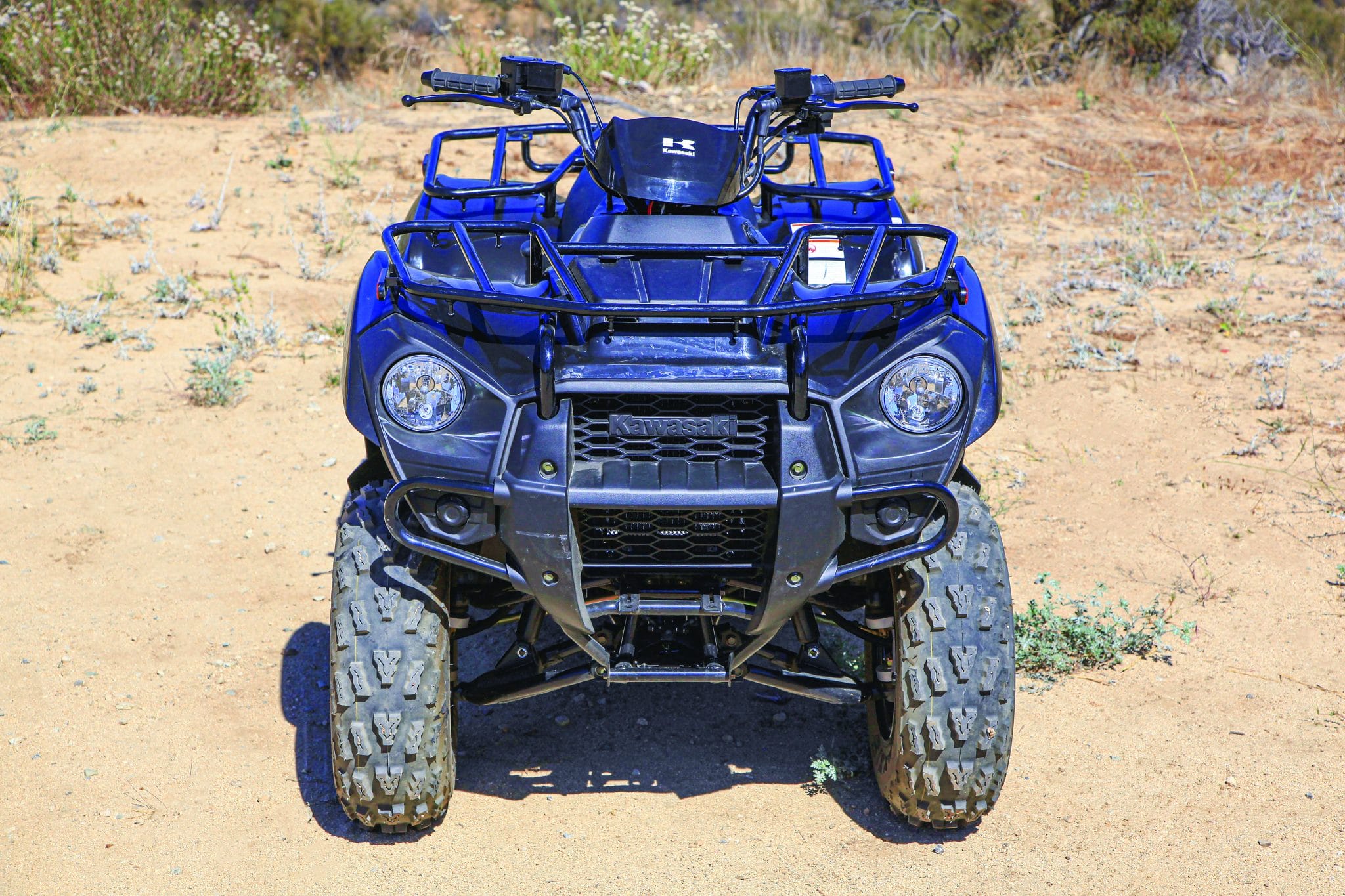 2021 KAWASAKI BRUTE FORCE 300
FINAL CONCLUSIONS
What we have here is a good example of a rugged, dependable, smaller-displacement, two-wheel-drive quad. Agile and nimble on the trail, the Kawasaki Brute Force 300 2WD gets the job done, working or playing. 
It is by no means, a example of "Brute Force". The fact is, it doesn't need to be a Brute. Maybe change the name to "Smooth Force". Whether you are working a job site, using it to recreate on the weekend or simply have a smaller-displacement ATV in mind, the 2021 Kawasaki Brute Force 300 is a good choice for both worlds. Either way, this rugged and dependable 2WD 300 is a gem, and the 2021 version sells for $4399.
2021 KAWASAKI BRUTE FORCE 300
Engine SOHC, single-cylinder, 4-stroke, liquid-cooled
Displacement 271cc
Bore x stroke 72.7mm x 65.2mm
Starter Electric w/ recoil pull-starter
Fuel system Keihin CVK32 carburetor
Fuel capacity 3.2 gal.
Transmission Auto, 2-speed + reverse
Final drive Shaft
Suspension/wheel travel:
Front Double wishbone/5.2"
Rear Swingarm/5.6"
Brakes:
Front Dual hydraulic discs
Rear Single hydraulic disc
Tires:
Front Maxxis 22×7-10 tubeless
Rear Maxxis 22×10-10 tubeless
Length/width/height 75.39"/42.52"/46.06"
Ground clearance 6.10"
Wheelbase 45.87 "
Curb weight 536 lb.
Total rack capacity 110 lb.
Towing capacity 500 lb.
Colors Super Black/Bright White
Price $4399
Contact www.kawasaki.com
To subscribe to Dirt Wheels Magazine in print or digital form click here https://hi-torque.com/product/dirt-wheels.