4×4 QUAD HOP-UP: MAKING A SPORT 4X4 READY TO RACE
A Scrambler XP 1000 that rips in the desert By Colt Brinkerhoff
We don't see very many 4×4 quads racing on the West Coast, but did you ever wonder how one would do in a competitive race setting? We happened to have a new 2017 Polaris Scrambler XP 1000 that I thought would be perfect to race in the desert. This bad boy has 89 horsepower stock, and compared to most new-age sport quads that have around 50 horsepower, it sounded like it could be a no-brainer. I mean, the people who race GNCC in the Pro 4×4 class take first overall in the morning class against the fastest amateur and women's pro racers. It's a valid thought, right? With Team Polaris UXC's team owner Don Higbee and his team taking second overall in the 2016 Best in the Desert Pro ATV championship against 450s aboard a Scrambler XP 1000, it piqued my interest even further.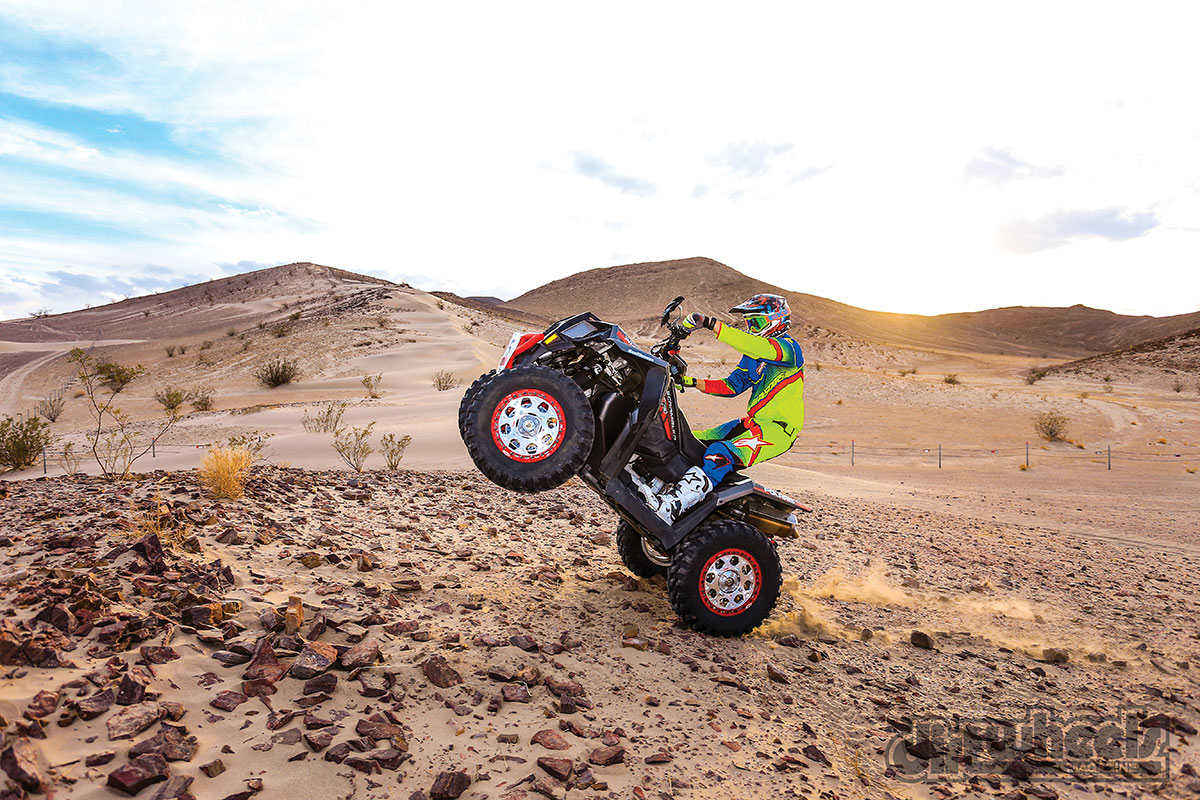 However, sport 4×4 quads are much heavier, have a taller seat height and can be more of a handful in some situations than a 450 or 700 sport quad. After riding the Scrambler for our first test in stock trim, I knew it had plenty of potential, especially if I installed a minimum of aftermarket parts that I felt it would need. I decided to race it in a local Southern California AMA District 37 race, and I needed to get it ready quick!
PARTS UPGRADES 
The Scrambler XP 1000 has pretty good Fox suspension from the factory, so I felt that I could get the shocks working great. I really didn't need to do any engine upgrades, as it already had 89 horsepower! Although I do love a nice-sounding exhaust system, especially from a twin cylinder, the stock exhaust has a throaty note that sounds great, and it comes with the spark arrestors required for the AMA desert race that I was going to be attending. I really wish sport quads had the Scrambler's standard power steering, as it makes a huge difference in rider fatigue.
The Southern California desert is very rough. Think of the rockiest and most whooped-out terrain you've ridden in your life. Use a thousand of your buddies to ride that same area for 60-plus years and you have the terrain where I would be racing this machine on. With all of that in mind, I knew the stock aluminum wheels and six-ply tires wouldn't make it through the race. I went with the AMS Pro Radial eight-ply tires and used the same size, which happened to be the front tire size, on all four corners. With the possibility of still getting flats in the sharp rocks, I added OMF beadlock wheels to be able to keep moving forward without the tire coming off of the bead. In my opinion, the stock steel handlebar is not comfortable at all, and it transfers a lot of vibration to your arms. By going with the Flexx handlebars and A'ME lock-on grips, it would make the suspension feel plusher to my upper body. Since I added the 1 1/8-inch Flexx handlebar, the stock handlebar cover wouldn't fit, which means the gauge cluster would need a place to go. I used the Rox Speed FX gauge mount for their risers, which worked extremely well. The stock plastic pegs on the foot wells are not the best, but luckily Rox Speed FX sent over some of their awesome bolt-on pegs that have a wider footprint and better traction for my boots. The last parts I used were the SealSavers shock covers and their CV boot covers to protect them from rocks.
THE SHOWDOWN
When I rolled up to the race line, of course it was full of 450s and a couple of Raptors. They were talking garbage by saying things like, "Nice farm implement," "Can you carry my beer cooler?" and "You should be racing in a 4×4-specific class so you can keep up." I just laughed and brushed it aside, because I knew something they didn't know—this quad rocks! They raised the banner, which means we had to shut off our quads for the dead-engine start. With my left hand on the key and my right hand on the throttle, I eagerly waited for the banner to drop. After a minute or so they dropped the flag, and with the twist of the key the Scrambler roared to life. I got a decent start, but I took a bad line and got pinched off by the other riders and was in dead last. I quickly started to pick the other riders off one by one. I had reached the faster riders about three miles into the race and was sitting in third.
We were in a sand wash filled with unforgiving rock piles, along with giant whoops. I made quick work of both of the other riders by making both passes in the rocks. I could hear the rocks hitting the bottom of the quad, but I could literally feel zero feedback in the suspension. However, in the big whoop sections it struggled. With the IRS suspension, the quad was dancing in the rear, and I could've ended up on my head if I wasn't careful. So, I started to double the whoops that I could, and it worked out better. Lap after lap I extended my lead, and, to be honest, I haven't had that much fun racing in a long time on my 450. The power steering and Flexx handlebars made it effortless to handle this big rig.
I could comfortably sit down (saving energy) in a lot of sections that I would be hesitant to on a stock sport quad. The best part of the quad was the all-wheel drive. It was great to have all of that forward momentum on sandy uphills and through the rocks. During the last lap I could feel something going on with the rear end, so I looked down and realized I had a rear left flat. A little while after that I also got a front left flat, but with the power, the OMF beadlocks and four-wheel drive, I was able to continue on and win the race by over two minutes. The AMS Radial Pro tires hooked up extremely well, and next time I will be using a flat-prevention system to handle the gnarly rocks.
WINNING 
Let's just say that the riders who were talking smack now had an impressed look on their faces when they arrived at the finish line.
I wore a heart rate monitor, and during the 1 1/2 hours that we raced, my heart rate only got to 167. On my TRX450R, my heart rate usually spikes at 180.
I have a lot of respect for this sport 4×4 and can conclude these new sport 4×4 quads are awesome! It held its own against some very capable and fast sport quads that are fully modified—and that's with minor bolt-on parts for the Scrambler, along with not having any motor or clutch work.
We made all of our crucial passes on the sport quads in the rocks. You can hear the rocks hitting the skid plates, but you cannot feel them on this Scrambler.
PARTS AND SUPPLIERS
A'ME: , 702-835-0681 ATV Tri 1.2 lock-on grips: $24.99 AMS: www.amstires.com Radial Pro tire (26x9x14): $128.95 each Fasst Co.: www.fasstco.com, 877-306-1801 Flexx handlebar 15-degree Quad Racer bend: $359.99 OMF: www.omfperformance.com, 951-354-8272 14-inch HPO beadlock wheels: $449.95 each Rox Speed FX: www.roxspeedfx.com, 218-326-1794 2-inch pivoting 1 1/8-inch risers: $89 Utility ATV footpegs: $79.95 Scrambler speedo relocate kit: $99.95 SealSavers: www.sealsavers.com, 951-244-6475 Coil Savers: $64.95 set of four CV Savers: $64.95 set of four, 702-835-0681
ATV Tri 1.2 lock-on grips: $24.99
AMS: www.amstires.com
Radial Pro tire (26x9x14): $128.95 each
Fasst Co.: www.fasstco.com, 877-306-1801
Flexx handlebar 15-degree Quad Racer bend: $359.99
OMF: www.omfperformance.com, 951-354-8272
14-inch HPO beadlock wheels: $449.95 each
Rox Speed FX: www.roxspeedfx.com, 218-326-1794
2-inch pivoting 1 1/8-inch risers: $89
Utility ATV footpegs: $79.95
Scrambler speedo relocate kit: $99.95
SealSavers: www.sealsavers.com, 951-244-6475
Coil Savers: $64.95 set of four
CV Savers: $64.95 set of four