50-Inch Can-Am Maverick Trail
Thin is in 
By the staff of Dirt Wheels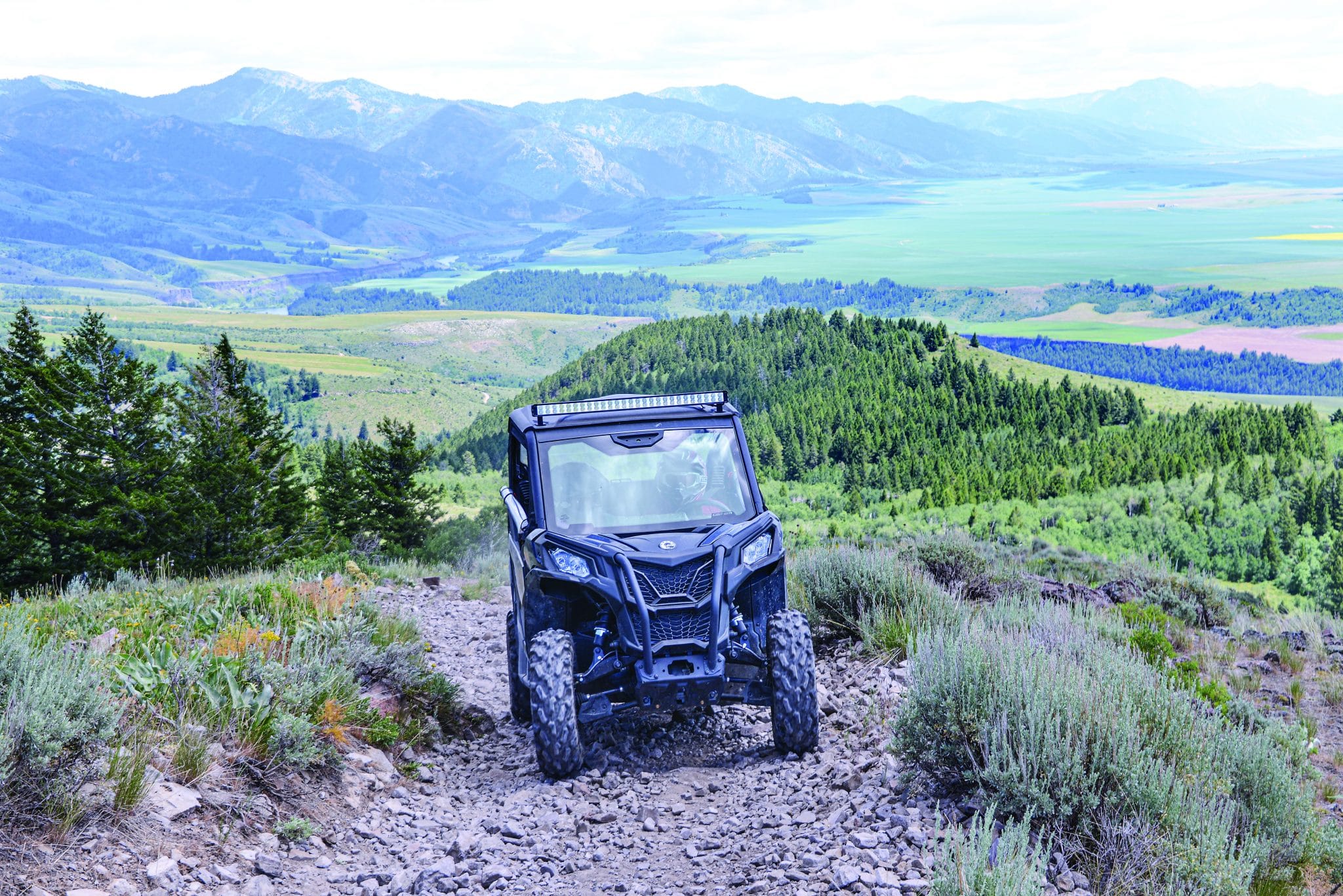 50-Inch Can-Am Maverick Trail
We knew back when the Maverick Trail was first introduced that it was a keeper. We got a nice exposure to the machine on normal and 50-inch-designated trails. We liked what we experienced when we drove the then-all-new 2018 Trail model when it was unveiled. 
And, we like the ride experience we're having now in our demo 2021 Trail. Can-Am's Maverick now comes in 50-, 60- and 64-inch track widths, and the Trail version is the 50-inch model. There are two variations of the Maverick Trail—the DPS (Dynamic Power Steering) and non-DPS. The base Trail is available with the proven Rotax 800, while the DPS version comes with either the Rotax 800 (51 horsepower) or Rotax 1000 (75 horsepower). All engine choices are V-twins.
50-Inch Can-Am Maverick Trail
GOOD MEMORIES
It didn't take too many miles in the 2021 Trail to remember what we liked so much about the 2018 model. We dialed up mile after mile in the brand-new narrow vehicle in the mountains of northeast Utah: great power and power delivery, a decent ride, a roomy cockpit and the ability to go and roam mountain trails you can't with wider side-by-sides.
You could say 50-inch-wide models are a bit of a niche in the side-by-side market, but as we previously said, this vehicle opens up riding opportunities that the larger (wider) vehicles miss out on. And, of course, the Maverick Trail can also take on those wider trails that bigger UTVs favor. The opposite can't be said.
Can-Am continues to raise consumers' expectations for its side-by-sides by staying on the cutting edge of powersports technology and decking its vehicles out in a vast array of features. The Trail does nothing to take away from those expectations.
ENGINE NEWS
There are four Maverick Trail DPS 1000 features that are standouts to us and worth noting. One of them might just surprise you.
First, the Rotax engine. The V-twin isn't new, but we've long liked the sound, power and power delivery of Rotax engines. The 75-horsepower 1000 very capably motivates the 1364-pound (dry weight) vehicle with two riders and some gear. There haven't been any riding situations where we were wanting for more power. And yes, we drove it more than just on relatively smooth and easy mountain trails. We clipped along at 60-plus mph on a handful of sandy trails and climbed a steep, rock-infested hill that gained 500 feet in a very short distance.
We had plenty of power for the hill-climb as we zipped up the mountain. We looked for the toughest lines up the hill as we were gaining elevation, and the power to get up and over the rocks was always right there. We may have "tested" the full skid plate a time or two (or three).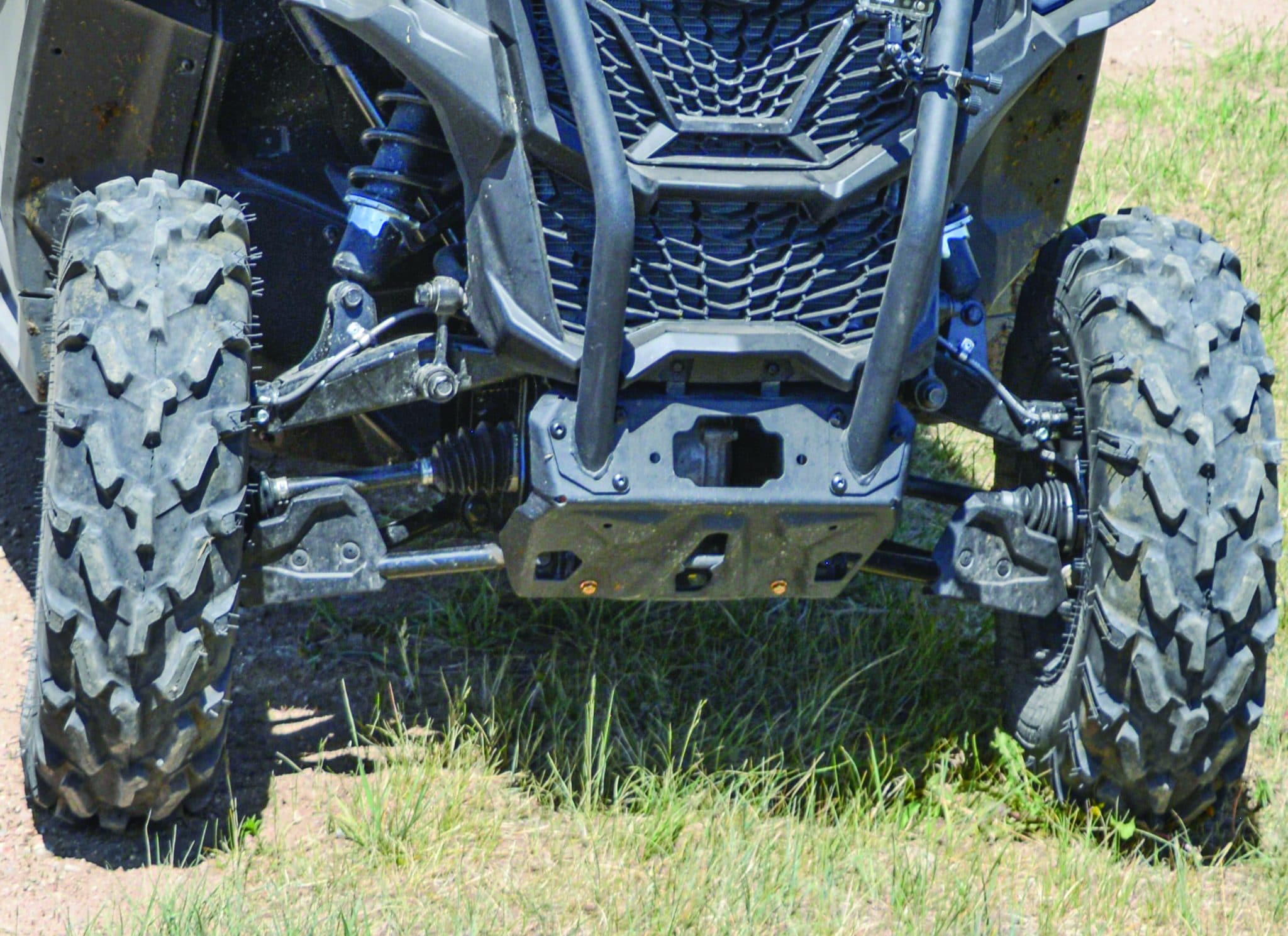 50-Inch Can-Am Maverick Trail
When we tested the very first Maverick Trail in the mountains of Utah, the 8000–10,000-foot elevations did tax the engine (as it would any manufacturer), but the 1000 did have more spunk and handled the elevation like a champ. On the 2021 version, the 1000 again showed its strength, even when we were riding at 7,555 feet. Climbing mountain trails means you eventually have to come back down, and the engine braking (officially called Electronic Hill Descent Control) is top notch on the Trail.
Our demo Maverick Trail also features Sport and Eco modes. The Eco mode offers smooth throttle response and, thus, the best fuel economy. The vehicle still gives you full power; it just takes a bit more throttle travel to get all it has to give. The Sport mode offers instantaneous throttle response and performance. We admit we left the vehicle in Sport mode because we just like the instant response when you mash the throttle.
CHASSIS TIME
Second, we've heard the claims that 50-inch side-by-sides are tippy in certain riding conditions. There is some merit to that, but we counter that claim by saying 64- or 72-inch side-by-sides can also feel tippy in certain kinds of terrain, especially if you don't respect the vehicle and its capabilities. It's up to the driver to know the vehicle's capabilities and then stay within those limits. Do that and you'll be fine.
We've driven the Maverick Trail in all sorts of conditions—from sandy trails to rutted (everything from shallow to touch-the-skid-plate deep) trails to snowy conditions to narrow trails to rocky trails and most everything in between. We never felt like it was tippy. We think one thing that helps give the 50-inch Maverick Trail solid footing is the 90.6-inch wheelbase. Compare that to the Polaris RZR Trail's 79-inch wheelbase or Honda 520/500's 73-inch wheelbase. How does longer make it feel more planted? It helps bridge the gap in areas where shorter wheelbases might be reaching for solid footing.
Also, the driver (and passenger) sits low in the cockpit, which lowers the center of gravity, and that means less of a feeling of the vehicle being tippy.
50-Inch Can-Am Maverick Trail
COMFORT
Third, there are several features that contribute to the comfort of the Maverick Trail. Those include good suspension front and rear, a comfortable and roomy cockpit, and a feeling of security while sitting in the cockpit. The high-back bucket seats are cushioned, supportive and adjustable (driver's seat only, up to 5 inches). The seats are four-point-harness-ready. Couple that with a 25-degree-adjustable tilt steering wheel and nice cockpit setup, and it all adds up to a great ride. The Maverick Trail DPS 1000 comes stock with doors, although the demo model we have is all decked out with a roof, zippered heavy-duty plastic windows, a full-glass front windshield, a rear windshield and a heater. More on all that in a bit.
The double-A-arm front suspension with sway bar (also contributing to the non-tippy feeling) has twin-tube gas-charged shocks with 10 inches of travel, while the rear suspension is the Can-Am exclusive TTA—again, with a sway bar and twin-tube gas-charged shocks. There is 10.5 inches of travel in the rear. The shocks are not damping adjustable, but there is a two-way spring you can adjust.
 If you do want to add electrical aftermarket or Can-Am's own PAC accessories, each Maverick Trail includes an integrated PAC-ready wiring harness mated to the on-board 650-watt magneto. 
THE SURPRISE
Number four might be one of the most underrated features on the Maverick Trail—iTC, or Intelligent Throttle Control. iTC was a rock star on the rocky and rutted trails. It flat out works in preventing the driver's bouncy foot from making the Maverick Trail a challenging on- and off-the-trail experience. iTC takes out a majority of all the jabbing of the gas pedal when bouncing over rocks or trying to navigate rutted or rough trails. When recently climbing the rock-strewn 50-inch Leaning Fir trail in eastern Idaho, the value of iTC shined again and again.
There were other impressive facts: The first 1800 miles of driving is intended to be maintenance-free and no break-in maintenance is required. Unlike many new machines, all of the suspension pivots have grease fittings. Can-Am claims that the airbox, radiator, oil, CVT, engine, battery and other essential maintenance components are easy to reach, but we merely checked the fluid levels and drove.
50-Inch Can-Am Maverick Trail
CONCLUSIONS
You'll notice from the photos that our demo Maverick Trail DPS 1000 is anything but stock. We've already listed the amenities the demo unit came with, all with the purpose of making this Trail ideally suited for cold-weather riding. Well, we didn't ride in any cold weather. In fact, we were riding around in the heat of the summer, and the enclosed cab, even with the windows neatly rolled down and snapped into place, was plenty warm. If you were riding in cold weather, you would be sitting warm and pretty. We may have tried a modification or two to increase the airflow, but didn't feel right about altering or changing a demo unit we had for a limited time.
The thing is, those are bolt-on parts from Can-Am, and while they weren't optimum for summer, we see their value. In no way do they diminish the appeal of the Maverick Trail. It is literally a freedom machine comfortable on any trail open to UTVs. It can handle the narrowest of designated trails, yet handles wide and open roads as well.
The Maverick Trail DPS 1000 was worth remembering and a blast to once again get some seat time in, and the MSRP won't break the bank. Starting at $13,399, we think there is a lot of bang for the buck on this side-by-side.
2021 CAN-AM MAVERICK TRAIL DPS 1000
Engine type Rotax liquid-cooled V-twin four-stroke
Displacement 976cc
Transmission Quick Response System (QRS) CVT with high-air flow ventilation and electronic drive belt protection, L/H/N/R/P
Final drive Shaft
Fuel system EFI with Intelligent 
Throttle Control (iTC)
Fuel capacity 10 gal.
Length/width/height 118"/50"/69"
Ground clearance 10"
Wheelbase 90.6"
Estimated dry weight 1364 lb.
Suspension/wheel travel:
Front Double A-arm with sway bar/10"
Rear TTA-T with sway bar/10.5"
Tires:
Front 26×8-12" Carlisle ACT
Rear 26×9-12" Carlisle ACT
Brakes:
Front Dual 220mm ventilated disc brakes with hydraulic twin-piston calipers
Rear Dual 220mm vented hydraulic disc with dual-piston calipers
Bed capacity 300 lb.
Towing 1,500 lb.
Colors Triple Black, Octane Blue, Mossy Oak Break-Up Country Camo
Price Starts at $13,399
To subscribe to Dirt Wheels Magazine in print or digital form click here https://hi-torque.com/product/dirt-wheels.
Contact www.can-amoffroad.com