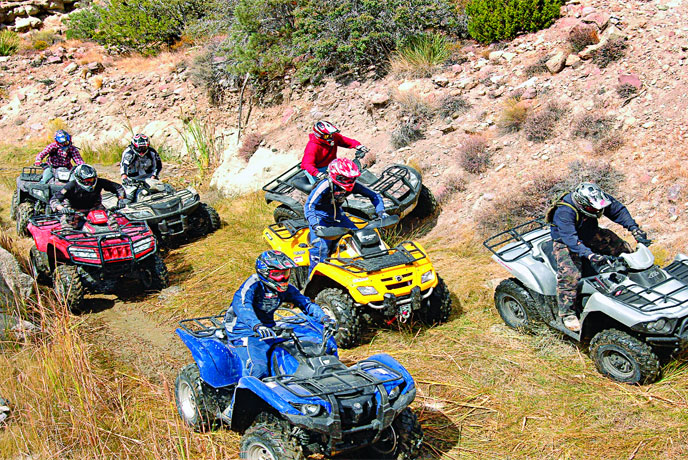 700 4×4 SHOOTOUT: AC700 vs. KingQuad 700 vs. Grizzly 700 vs. Sportsman 700 vs. Outlander 650 vs. Rincon 680 vs. Brute Force 650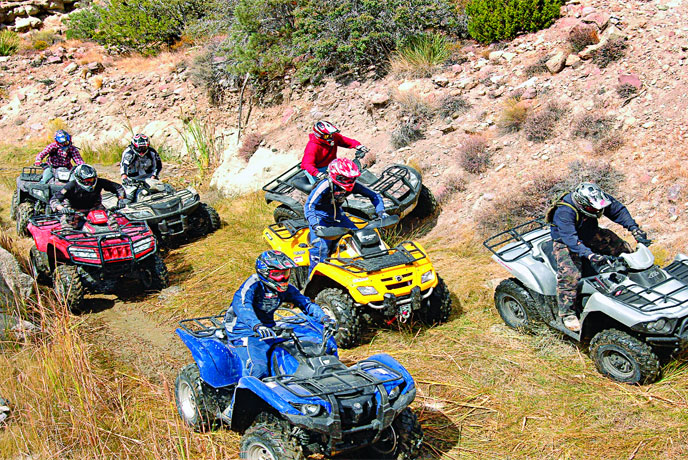 After Yamaha introduced their totally redesigned Grizzly 700, featuring electronic power steering, we started gathering up its competitors for a no-holds-barred shootout. The old Grizzly never fared too well in our previous shootouts due to its soft, unstable suspension, touchy brakes and not so powerful engine.
Turn the clock ahead to 2007, and not only has the Grizzly changed, but so have the top of the line quads from the other manufacturers. Honda added fuel-injection and a few cc to its Rincon, Arctic Cat now has a 700 fuel-injected model, and Kawasaki's Brute Force and Can Am's Outlanders come in more appropriate 650cc models now. The only top dog models that haven't changed lately are the Suzuki King Quad 700 and the Polaris Sportsman 700.
Kawasaki, Can-Am and Polaris have bigger machines available, but we feel this mix best depicts the biggest segment of the big-bore sport utility market.
PRICE WARS AND WEIGHT
Now that you know who is in the shootout, we'll compare a few important specifications of each model before we ride them. We'll start with the most important number of all, the price. The power-steering equipped Grizzly starts at an even $8000. It's the most expensive of the bunch. Next, the Honda Rincon received a larger price tag as well as a larger engine this year. It now starts at $7850. The Polaris Sportsman 700 is next, selling for $7700, with Arctic Cat's 700 going for $100 less. Need to save an additional $100?, then Suzuki's King Quad 700 will fit your budget. At the bottom of the price scale, the Kawasaki Brute Force 650I sells for $900 less than the Grizzly at $7100.
Weight is another number we like to consider. Sometimes lighter is better and sometimes it is not. When you load a machine in the back of your pickup or on a trailer, it's nice to go light. Plus if you get stuck or have a rollover, a light machine is better than a heavy one. However, in some types of mud or working applications, extra weight on your machine can be an advantage.
The four Japanese quads all have a claimed dry weight of right around 600 pounds. That's a recommended maximum weight for an ATV that the Japanese manufactures follow. The number in parentheses is their running weight with all fluids topped off and a full tank of fuel. Yamaha (635), Honda (650), Kawasaki (647), Suzuki (650).
Polaris claims their Sportsman weighs 748 pounds (805) while Arctic Cat says their 700 is only 713 pounds (760). Can Am's Outlander falls in the middle of these three at 649-pounds (690). Note: the scales we use are not for legal trade. However, even factoring the amount that fuel weighs (eight-pounds per gallon), you can see that some of the manufactures are skimping on some of their numbers.
ENGINE SPECS
Can Am and Kawasaki get their 650cc and 633cc respectively by using V-twin engines. The 650cc Outlander is fuel-injected while the Brute Force is still carbureted, using one for each cylinder. The Polaris Sportsman is powered by a parallel twin cylinder motor with fuel injection. Fuel injection systems and single cylinder engines are found on all of the remaining models in this test. Kawasaki's Brute Force is the smallest of the group with the suzuki's engine being the largest at (695ccs).
All seven engines are liquid-cooled and have electric starters. Some have backup recoil starters and some do not. Out of the ones that do (Honda Rincon, AC700, King Quad, Rincon, Brute Force) the Brute Force is the easiest to use and the Rincon is the most difficult.
Every contestant in this matchup is equipped with a fully automatic transmission. The Rincon's transmission is completely sealed from water or dirt and can be operated as a three-speed manual as well. The others are a typical belt-drive design. The Arctic Cat and Suzuki have dual overhead cam engines while all the other are of the single overhead cam CVT design except for the twin cylinder Polaris, which is a pushrod style engine.
In head-to-head drag races there was one clear-cut winner. The Can Am 650 flat out smoked the competition by several quad lengths. The Brute Force was an easy second and the Grizzly, King Quad and Sportsman tied for third. One thing we did notice is that while the King Quad is fast on flat roads and down hills, its clutching was not set up for climbing. It and the Arctic cat got smoked when it came to the hill climbs. The rest of the order was pretty much the same on the hills.
SPEED LIMITS
What we did learn riding all of these machines back to back is that they are all powerful enough. At around seventy miles per hour top speed, trail obstacles come up very quickly. We definitely feel that there is no need for utility machines to go any faster than this. In fact, if Polaris, Can-Am and Kawasaki removed their 800s and 750 from their lineups, they would not be missed nor needed.
Instead of making machines any faster, manufactures can put their development dollars into more reliability, longer lasting puncture-resistant tires, creature comfort features like storage compartments, and better fuel mileage.
Speaking of fuel mileage, in this test, the Can Am Outlander could go the farthest between fill-ups. Honda's Rincon was second with the Grizzly and Brute Force close behind. The Sportsman and Arctic Cat ran out five miles earlier. The first machine to go dry was the King Quad. Their individual fuel capacities almost mirror these findings, except for the Arctic Cat, which was leaking gas from time to time and ran out earlier than expected. It has the largest fuel tank at 6.5 gallons with the Sportsman having the smallest at 4.1 gallons.
SUSPENSION AND HANDLING
Even though all of our seven-shootout machines are equipped with fully independent suspension controlling each corner, they are not equal. The specification chart will give the exact wheel travel numbers and control arm types.
With machines of this size, our biggest complaint is usually with body roll. This class of quads has the most ground clearance and the most suspension travel of any utility machine. Finding the right balance between these two numbers is the obstacle that the manufactures have to deal with. Even with the lowest wheel travel numbers, Honda seems to have it worked it out the best. With very little body roll, the Rincon corners great, steers light and the suspension action is next to perfect. The Sportsman is a close second with virtually no body roll and shocks that soak up the bumps as good as anything. The Polaris just falls behind the Honda in the ergonomics department and overall fit and finish of the entire package. On the positive side, you hardly ever need to stand up over the bumps when riding the Polaris.
Next, the Grizzly is second on the comfort scale but could stand to be an inch or two lower. The same can be said about the Brute Force. The Brute Force needs wider bars offering less vibration to rate any better. Riding the Grizzly in the tight woods is where it shines over the competition. The bars require little effort with the power steering and you never get tired riding it. Suspension action is good on both the Grizzly and Brute Force, but not the best.
With so much power on tap, the Outlander 650 finds its suspension limits in a hurry. Under braking, it nosedives hard and then the front end rises just as fast under acceleration. Can-Am needs to spend more  time researching proper shock spring rate and dampening setting on this machine to make it handle any better. Steering is light but twitchy at times.
On the bottom of the list the Suzuki and Arctic Cat seeem to share the same front end geometry. They have light steering, but when you ride them down hill, the steering gets uncomfortably twitchy. The Suzuki has a hard seat and the AC has harder handle grips. Suspension action on the King Quad is decent but a little too stiff to give a comfortable ride. The Arctic Cat's weight makes it tough to have fun on and we experienced more front flat tires on this machine, and put the blame on cubic pounds.
THE GOOD AND BAD
Here are some more notes on what our test riders had to say about the machines in between rides. This is a reduced list. These are only the attributes that all of the riders and staffers agreed upon.
ARCTIC CAT 700
GOOD: Rough and tough appearance, nice orange color, good ground clearance, handy storage box behind bars.
BAD: Handling, handlebars too wide, grips too hard and small, heavy, twitchy steering, diff-lock not working at times, skidplates will not slide over rocks, gets hung up where others do not, got stuck in rough terrain too easy, had fuel leaking out of vent under the handlebars, extra weight was the cause of multiple flat tires, noticeable power loss at altitude, poor engine braking.
SUZUKI KING QUAD
GOOD: Felt light, good drag racing speed and acceleration on flat ground, compact, ample storage, good looks, solid footing.
BAD: Stiff seat, very twitchy steering going down hill, slow and sluggish going up hill, lost power at altitude, poor engine braking.
YAMAHA GRIZZLY
GOOD: Comfortable seat and pleasant ergonomics, good ground clearance front and rear, just enough power, great engine braking, ultra light steering in all drive settings.
BAD: Needs taller foot pegs (Arens Bros. sells them, (989) 640-2331), machine feels tall, body and seat could be placed lower on chassis, price.
POLARIS SPORTSMAN
GOOD: Mellow yet very usable power, tight turning radius even under power, very comfortable, can ride sitting down in most situations, tons of traction, lots of storage, splash protection, high handlebars and good ergonomics.
BAD: Steering ratio too large, heavy, squats under power and loses ground clearance; low radiator is vulnerable, poor engine braking.
CAN AM OUTLANDER
GOOD: Awesome power, leader in all drags, handguards on XT model a plus.
BAD: Weak frame and fender supports, lots of complaints about single lever brake, too much front-to-rear body roll, squats under power and looses ground clearance.
HONDA RINCON
GOOD: Perfect ergonomics and overall feel, three-speed shift option is fun, agile through tight terrain, compact solid package, just enough power.
BAD: Tires are loose at high speed, feels small for bigger riders, needs more storage.
KAWASAKI BRUTE FORCE
GOOD: Price, tons of power, lots of torque, diff-lock lever easiest to use, tight turning radius, handy storage pockets on front fenders, decent engine braking.
BAD: Feels too tall, wide chassis near rider's feet, bars too narrow, slight vibration through bars and gives heavy thumb feel, lack of watertight storage.
CONCLUSIONS
For this test, finding a clear-cut overall winner wasn't easy. Our younger, more aggressive testers preferred the power that both of the V-twin powered ATVs gave (Outlander/Brute Force). The seasoned riders were spilt between the Grizzly, the Sportsman and the Rincon. Although the Brute Force is the cheapest, the lack of fuel injection and some comfort issues kept it from being in the running for the win.
After our testing, the Outlander was in the worse shape due to a weak frame and soft aluminum fender braces. No one chose the Arctic Cat 700 as a good work or play machine. When asked what every rider's second or third choice would be, the Yamaha Grizzly was always in the top three. The least amount of complaints were registered against the Grizzly. No other ATV was favored as much in every category.
Even with the most expensive price tag, the Yamaha Grizzly 700 wins this shootout. However, if you want to save a couple of hundred bucks for fuel, the Polaris Sportsman 700 and Honda Rincon would make good alternate choices as well.