98 FOURTRAX HONDA 300EX | Track and trail testing Honda's performance quad
**Editors Note-A look back at Honda's popular 1998 Honda FourTrax 300EX.
Reliable & fun sport quad.
The thrill of the roost. The exhilaration of the jump. The fun of a wheelie. This is what sport ATVs are made for! Fortunately, Honda has always had at least one machine for those of us who ride simply for the joy of it. In '98, the FourTrax 300EX is its flagship performance quad, despite lots of ru­mors about an upcoming bigger-mo­tored version of this popular ma­chine. That could still happen, since we do know that a prototype was built and tested by Honda in the last year or two, but we'll have to wait and see if anything pops up this year.
On the other hand, the best news on the '98 300EX is that the manufacturer's suggested retail price of $4799 is exactly the same as last year's mod­el. Sure, there aren't a lot of chang­es from last year's edition, but price increases for no good reason have been a common practice in years past. Could it be that the sport and performance markets are so strong and competitive right now that consumers are actually getting a break in pricing?
TECH LOWDOWN
This year's FourTrax is powered by the same 282cc, air-cooled four-stroke that has been in the machine since its in­ception in '92. It features four valves and an overhead cam with a bore and stroke of 74mm x 65.5mm. The 300EX has a keyed electric start but no recoil or kickstart backup. To ease maintenance chores, the engine features an automatic cam chain tensioner, but the valves will need to be ad­justed occasionally. Carburetion is through a 32mm oval, round-slide Mikuni.
To keep things smooth on the trail, the suspension system is a conventional dual A-arm and single-shock rear swingarm setup. Total wheel trav­el through the dual five-way preload-adjustable front shocks is 6.7 inch­es. The rear shock has 7.9 inches of wheel travel and is attached to the swingarm with a variable-rate linkage. It is also five-way preload ad­justable.
The final drive is via a DID 520 O-ring chain. The transmission is a manual-clutch five-speed with reverse. The 300EX has a ground clearance of 4.9 inches at the rear skid plate and a turning radius of 10'2". Braking action is provided by dual discs up front (activated by a right-hand lever) and a single disc in the rear (activated by a right-foot pedal).
The claimed dry weight of the Four­Trax is 377 pounds (compared to Ya­maha's Warrior 350 [397 pounds] and Blaster 200 [320 pounds], Ka­wa­sa­ki's Mojave 250 [379 pounds] and the Polaris Sport 400L [479 pounds]). A single handlebar-mounted 55w/
60w headlight brightens up the night­time. The dash features neutral and reverse indicator lights. There is no fuel gauge or speedome­ter/odometer.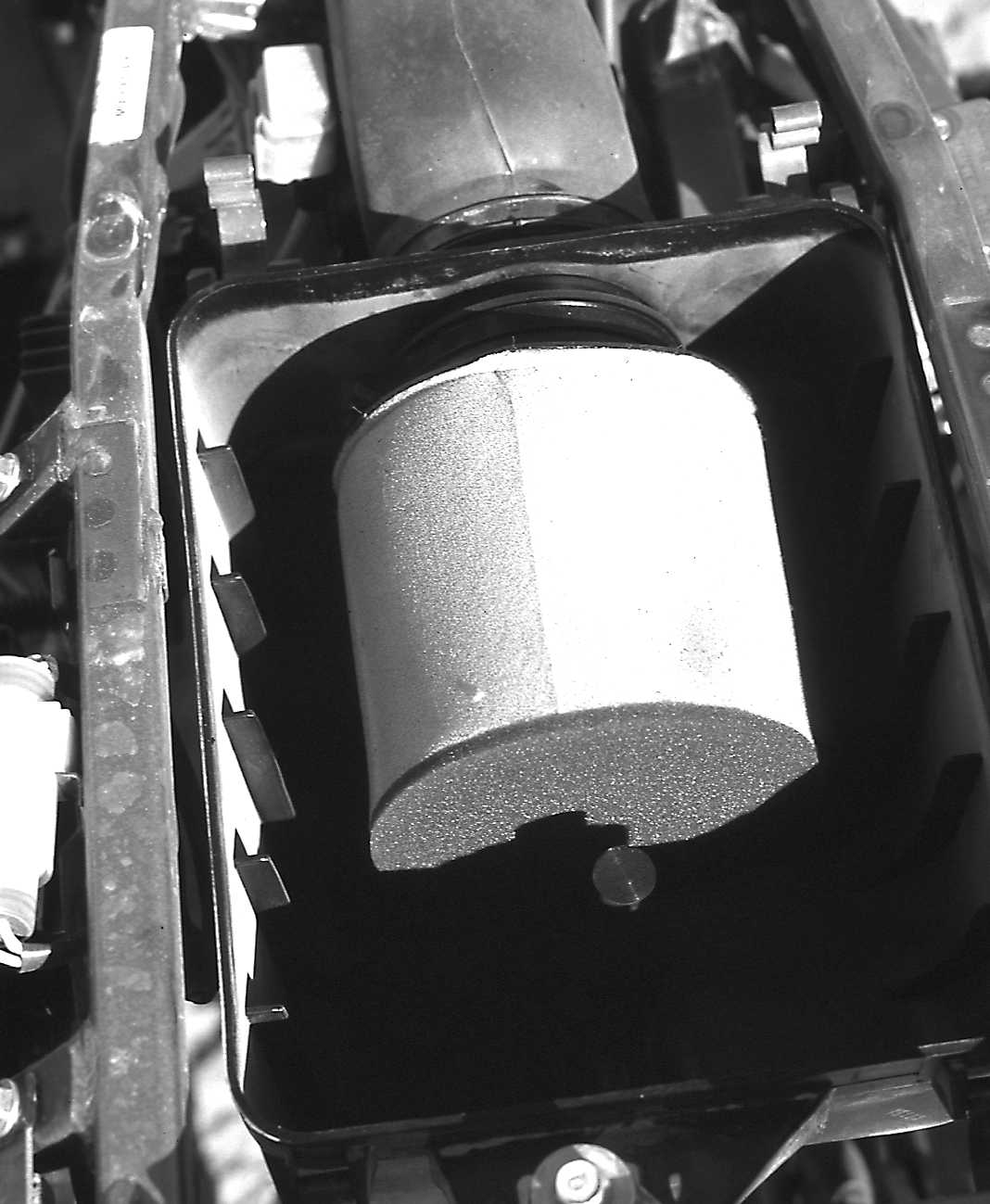 New for '98 is a red and black color scheme and redesigned graphics. There are also internationally ap­proved ISO graphic symbols for the handlebar switches, controls, and warn­ing labels (wow!). Finally, it has a thicker, stronger, crankcase-mounted chainguard (now that might actually make it a bet­ter machine!).
New FourTrax 300EXs that are sold in California come with some extra an­ti-smog modifications that add about one pound to the machine's weight, but otherwise don't affect the performance. Honda 300EX accessories include a flag kit, work stand, and ATV cover.
TRAIL TIME
Starting up the 300EX isn't as easy as it could be. The choke placement is one of the worst we have seen on any ATV. It's stuck way up on the carb un­der the left side of the gas tank. Even after riding the FourTrax for a week­end, it was still a hassle to try to find the choke lever. Once that is dealt with, the starting procedure is pretty simple—turn the key and push the handlebar-mounted start button. The FourTrax can be conveniently start­ed in any forward gear as long as the clutch is pulled in. Once it's fired up, there's no problem with any loud noises or excessive smoking.
The reverse procedure is just about as big a hassle as the choke knob. To get into reverse, one must push a button on the clutch lever, pull up a lever on the left side of the engine, and let out the clutch. You certainly have to stop and think about what you are do­ing, but Honda may have overdone the reverse procedure on purpose as some sort of safety deal. We think it would be just as safe if it was a little easier!
As we mentioned earlier, there's no backup kickstarter or recoil if the battery happens to go dead. You can, how­ever, fire it up by tow- or push-starting.
Enough of the nitpicking. Let's get right to the point and take this four-wheeler for a ride. It has been the general consensus at Dirt Wheels ev­er since this machine came out in '92 that the FourTrax 300EX is a total blast to ride on the trail, track, and dunes. That is when all the little complaints stop.
Throttle response is instantaneous, with no coughing or sputtering, and low-end torque is exceptional. Mid­range power is good for a 282cc four-stroke, but the top-end feels somewhat stifled due to a rev-limiter that kicks in too early for our tastes. An af­termarket pipe should bring it to life on the top end. It's not the slowest sport machine out there, but it's certainly not the quickest, either. It does, however, hit a top speed of around 60 mph in stock condition.
All of our test riders reported that the cornering and overall handling on this machine felt great. Going fast down tight, wooded trail is a real thrill on the EX. It feels stable and smooth as well as light and maneuverable. The machine also appears to fit a wide variety of body types and sizes, and there were no complaints about the location of the bars, seat, or pegs.
We found that the 300EX turns when you want it to with its excellent front-end geometry and suspension. There's no problem with a pushing front end and, it's a kick to get it sideways on loose-pack. However, sometimes in the corners, the tires tend to hook up on good traction-filled dirt and the machine will perform a little two-wheeling.
SMOOTH RIDER
The front and rear suspension systems are some of the best in the business. It's surprising the hard hits the front end can soak up during a spirited trail ride, and the rear end handles the bumps and ruts just fine. Even at slow speeds, the suspension still provides a pretty smooth ride.
In the air, the Honda has great balance and doesn't do anything weird. It takes quite a bit to get it to bottom out, and one can spend lots of time practicing his or her jumping skills. On the racetrack, the Honda even hammers through the deep whoops with style and doesn't feel too short or under suspended.
Quickly popping the front end over trail obstacles is one of the joys of a sport quad, and this one performs it well. If parking-lot wheelies and do­nuts are your thing, the 300EX can do them.
Shifting on the FourTrax is smooth, and we felt that the gears are well spaced. The clutch action is easy and the thumb throttle is not overly stiff. In fact, one of the things we really liked about this machine is the way all the controls work and feel. Those things can make all the difference on a long trail ride.
The braking action is superb and ac­tually adds to the performance on track and trail. Both the front and rear discs have a nice progressive feel and can get the EX stopped in a hurry.
TOOL TIME
Removing the seat is a no-tool job, and the entire rear fender assembly comes right off with it. The air filter pops out in less than a minute, and you can adjust the chain in under three minutes. During our test rides and past experiences on the Four­Trax, we could find no problems with an overheating engine.
When it comes to long-term testing, we have already done our homework on this machine. Loyal Dirt Wheels readers may recall our Baja 500 and 1000 and 24-hour endurance racing experiences with the FourTrax 300EX. During our travails, we found the durability of this machine to be phe­nomenal despite the wide-open throttle conditions and brutal, bump-filled courses. On top of that, we set some speed records and won several big races in our division. This is one ma­chine we can certainly say has a good reliability record.
CLOSING ARGUMENTS
Since we don't do a lot of utility work on the weekends, the sporty FourTrax 300EX has consistently been one of our favorite quads to grab from the Dirt Wheels garage. We always feel confident that we can give it our special brand of pounding and abuse on the track and trail without having a breakdown. It has a decent and easy-to-handle engine, excellent suspension, and great handling—this quad gives sport riders what they want! If blazing down trails at speed, jumping through the bumps, and railing around corners is your idea of a good time, the dependable Four­Trax 300EX would be a great choice.
Engine type Single-cylinder,
4-valve, SOHC, air-cooled 4-stroke Displacement 282cc
Carburetion 32mm oval venturi
Starting/back-up Electric push-button with keyed ignition/none
Transmission 5-speed, manual
clutch w/reverse
Final drive DID 520 O-ring chain
Fuel Capacity 2.2 gal.
Wheelbase 45.3"
Overall length/width/height
67.7"/43.5"/42.7"
Seat height 30.3"
Ground clearance 4.9"
(at rear skid plate)
Claimed turning radius 10'2"
Suspension/wheel travel:
Front Dual A-arms with twin 5-way preload-adjustable shocks/6.7"
Rear Swingarm with variable-rate linkage and single 5-way preload-adjustable shock/ 7.9"
Brakes/actuation:  Front Twin hydraulic discs/right-hand lever
Rear Single hydraulic disc/right foot pedal
Rims DID aluminum
Tires:
Front Ohtsu H-Trak 22×7-10
Rear Ohtsu H-Trak 20×10-9
Battery 12V, 8AH maintenance-free
Headlights Single 55/60W handlebar-mounted
Claimed dry weight 377 lb.
Suggested retail price $4799
Distributor/Manufacturer: American Honda Motor Corp.
To subscribe to Dirt Wheels Magazine in print or digital form click here https://hi-torque.com/product/dirt-wheels.