CUSTOM BANSHEE BUILD
A Work of Art: Appreciating the beautiful beast
CUSTOM BANSHEE BUILD
How many twin-cylinder, two-stroke quads has there ever been? The Banshee is the only one. Yamaha caught the world totally off-guard when they came out with this unique machine back in 1987. No other ATV manufacturer was willing to compete with Yamaha's Banshee, so it remained in a class by itself for 20 years.
You can no longer go to a dealer and buy a new one, and that's why it's important to keep the remaining Banshees in good running order. If you're going to put forth the effort to restore an old quad, the Banshee should be at the top of your list.
That was Kevin Steed's thinking when he picked up an old 1995 Banshee several years ago. It was in sad shape, so he went to work tearing it completely apart to start from scratch. For the heart of the beast, he didn't just rebuild it but rather took it many steps further to untap the two-stroke twin's hidden potential.
When he got through, the 410cc engine had a 4-mil stroker crank and custom-ported cylinders. With 38mm Keihin slide carburetors and CPI pipes, it cranked out 90 horsepower on the dyno. The custom-programmable CDI box allows for quick adjustments to alter the powerband for different terrain.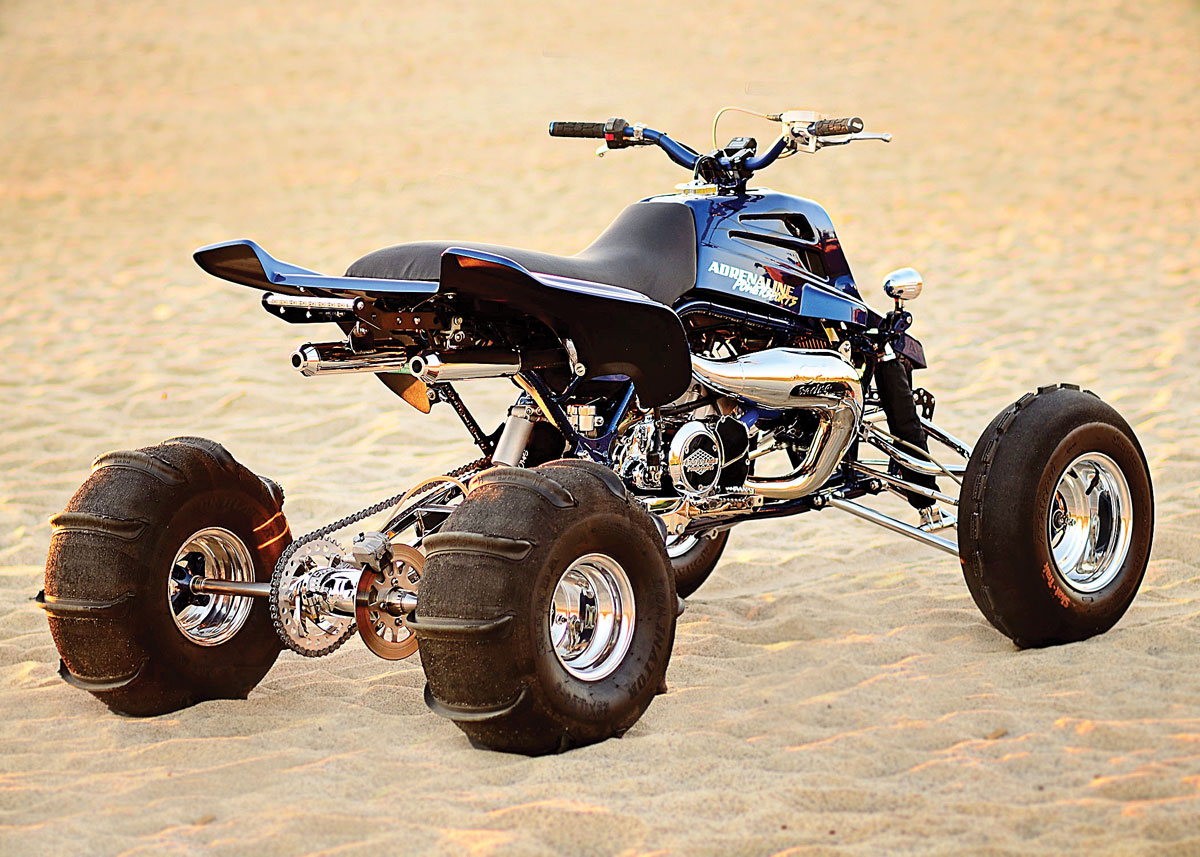 CUSTOM BANSHEE BUILD
Kevin knew his Banshee would be fast in a straight line, but he wanted it to handle in the same league as a modern 450. The first priority was suspension. He selected a combination of Lone Star Racing's +2-inch-wide, +1-inch-forward, long-travel A-arms, and Works dual-rate shocks upfront. On the rear, he's running a +6-inch arched JL Engineering swingarm and Axcaliber +2-inch axle.
With this much time and money invested, Kevin figured he should go all out and made sure his Banshee looked pleasing to the eye as well. He bought some buffing wheels and compounds and went to work hand-polishing every bit of exposed aluminum.
For the steel frame, he had it smoothed out and then powder-coated it in custom Yamaha blue. The Full Bore plastic was painted with blue and black ghost flames. To highlight the package, Kevin mounted custom LED lights with the wires discreetly hidden.
CUSTOM BANSHEE BUILD
The final version of Kevin's Banshee that you see here looks good enough to be a show quad, but he's quick to point out that it gets ridden hard on a regular basis. It's fun to look at, but even more, fun to ride. There's just something about a two-stroke twin coming on the pipe that a modern four-stroke 450 will never be able to duplicate.
To subscribe to Dirt Wheels Magazine in print or digital form click here https://hi-torque.com/product/dirtwheels
.
.