Adam McGill Looks to Secure Three-in-a-Row at Saturday's VP Racing Fuels Big Buck GNCC

XC1 Pro ATV Class Boasts a Highly Competitive Championship Battle Early in the Season
MORGANTOWN, W. Va. (April 8, 2015) –With a 20-point lead after the first three rounds, CST/PirateMX.com/LSR/DeRisi/Tireblocks/SG's Adam McGill carries all the momentum into this weekend's fourth round of the 2015 AMSOIL Grand National Cross Country Series presented by Maxxis, an AMA National Championship. The VP Racing Fuels Big Buck GNCC enters its 19th running at Big Buck Farm in Union, South Carolina, and this Saturday's XC1 Pro ATV battle could be the most exciting one yet.
The 2015 season has provided close racing action through the first three rounds, as the top ten riders in the XC1 Pro championship standings have switched up positions thus far. However, the most consistent finisher has been West Virginia's McGill, who currently holds the last two victories and a second place finish heading into round four. In fact, McGill is the only rider to finish atop the podium at the first three rounds.
Adam McGill heads to South Carolina looking to secure his third victory of the season
Photo: Ken Hill
N-Fab/AmPro Yamaha/Maxxis/Lonestar's Walker Fowler holds the only other victory thus far, where he captured the season-opening win in Florida. The 2014 runner-up experienced an issue at the last round that kept him outside the top five, but his previous consistency has allowed him to maintain the second place position early in the championship running.
Six-Time GNCC National Champion Chris Borich sits back in the sixth place position after a round two mechanical issue left him with zero points toward the championship. Aside from that, Borich has put his Factory Yamaha/SSi/Maxxis Tires machine on the podium at the other two rounds, creating a highly anticipated come-from-behind scenario for the first time in his six-year reign.
Jarrod McClure currently sits fifth in the championship standings, but is hoping to land on the podium this weekend at Big Buck
Photo: Ken Hill
Borich will have to make his way past many solid competitors, though, including Maxxis/B. Neal Motorsports' Brycen Neal, who sits third in the standings with an impressive start to the season. In just his second year of XC1 Pro competition, Neal has established himself as an early front-runner in the championship contention. Another sophomore in the XC1 Pro class, Jay Shadron, continues to make a name for himself in the class as he sits just six points behind Neal in the standings. Coastal/Waynesburg Yamaha's Shadron secured his first podium finish of the season at the last round, where he too, has established himself as a contender early on.
JMR/ATVRiders.com-backed Jarrod McClure has finished well inside the top ten through the first three rounds where he sits fifth place in the championship standings. GBC/Yamaha/HMF's Johnny Gallagher holds eighth place overall, with Bithell Racing/Maxxis/Precision-backed Chris Bithell in ninth and BNR/GBC's Kevin Yoho rounds out the top ten.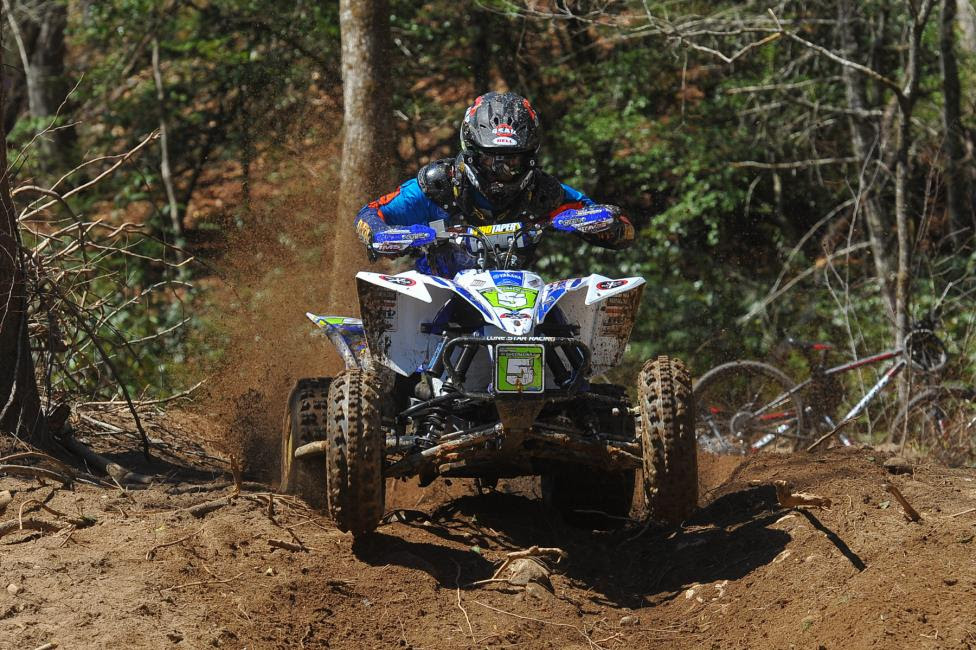 Cole Richardson continues to lead the XC2 Pro Am class, and looks to take
his fourth straight victory this Saturday
Photo: Ken Hill
N-Fab/AmPro Yamaha/Maxxis/Lonestar's Cole Richardson continues to lead the way in the XC2 Pro Am class with three victories through the first three rounds so far. Dillingers/Hygear's Marty Christofferson sits in the second place position, ten points ahead of RYCO Racing/Pierce Performance's Cody Collier in third.
Saturday's race schedule is as follows: Youth ATV racing begins at 8 a.m., followed by amateurs, 4×4 Pro and Women at 10 a.m., and the top amateurs and pros begin at 1 p.m. Following Saturday's afternoon race, Side-by-Side racing will take place at 4 p.m.
Adult (12+) gate admission is $20 for the full weekend and $10 for kids (6-11). Kids five and under are free. All admission includes pro pit access. Local racers are invited to compete at this event, as GNCC Racing offers classes for riders of all skill and experience levels. The amateur racer entry fee is $40 and riders can pre-register online or sign up at the track.
Tune into RacerTV.com on Saturday at 1 p.m. EST to catch LIVE coverage of the Pro ATV race. For more information on GNCC Live coverage, visit www.racertv.com.
The 2015 AMSOIL Grand National Cross Country Series heads to Union, South Carolina this weekend, April 11 and 12, for the VP Racing Fuels Big Buck GNCC. For more information on the series, please visit www.gnccracing.com.
Catch Saturday's ATV racing starting at 1 p.m. ET on RacerTV.com!
Photo: Ken Hill
Previous Round Results and Point Standings
FMF Steele Creek GNCC
Morganton, NC
Round 3 of 13
Saturday, March 28
XC1 Event Results:
Adam McGill (HON)
Chris Borich (YAM)
Jay Shadron (YAM)
Jarrod McClure (HON)
Brycen Neal (HON)
Walker Fowler (YAM)
Kevin Yoho (YAM)
Josh Merritt (YAM)
Marshal Goings (HON)
Johnny Gallagher (YAM)
*Overall National Championship Standings:
Adam McGill (85)
Walker Fowler (65)
Brycen Neal (58)
Jay Shadron (52)
Jarrod McClure (47)
Chris Borich (46)
Cole Richardson (43)
Johnny Gallagher (35)
Chris Bithell (32)
Kevin Yoho (24)
*Indicates that the Overall National Championship Standings will determine the 2015 National Champion.
XC2 Event Results:
Cole Richardson (YAM)
Kevin Cunningham (HON)
Cody Collier (YAM)
Martin Christofferson (HON)
Cameron Bruce (YAM)
Blake Tornes (YAM)
Randy Hamilton (HON)
James Green (HON)
Nathan Wallpe (HON)
Michael Lancaster (HON)
XC2 Series Standings:
Cole Richardson (90)
Martin Christofferson (68)
Cody Collier (58)
Randy Hamilton (53)
Blake Tornes (40)
Michael Lancaster (39)
Bryson Hoppes (37)
Jonathan Fugate (34)
Cameron Bruce (32)
Kevin Cunningham (25)
James Green (25)
About GNCC Racing
The AMSOIL Grand National Cross Country series presented by Maxxis is America's premier off-road racing series. Founded in 1975, the 13-round championship is produced exclusively by Racer Productions. Cross-country racing is one of the most physically demanding sports in the world. The grueling three-hour GNCC races lead as many as 2,000 riders through tracks ranging in length from eight to 12 miles. With varied terrain, including hills, woods, mud, dirt, rocks and motocross sections, GNCC events are tests of both survival and speed. The series draws talent from all over the U.S., Europe, Japan, Australia and New Zealand. GNCC Racing is televised weekly on NBCSN and RacerTV.com. For more information, please visit www.gnccracing.com.