CT RACING 400cc BANSHEE
2-stroke power to break the sand barrier
By the staff of Dirt Wheels, photos by Pat Carrigan
CT RACING 400cc BANSHEE
CT Racing's 400cc Banshee kits have been a popular kit for years. CTR originally marketed a 370cc, long-rod kit for the Banshee, but after the 4mm stroker cranks proved dependable, it discontinued the 370cc kit and replaced it with the 400cc kit. They are basically identical kits, but the 400cc kit has a longer stroke. The cylinder bore sizes are the same. The added 4mm of stroke works amazingly on the Banshee.
It adds about 10-rear-wheel horsepower compared to a package running the same port timing, port size and compression. CT typically builds this kit for a recreational rider utilizing stock carbs, but they are clearing 70-rear-wheel horsepower.
For a sleeper drag racing setup, CT has twisted Banshees up to 79-rear-wheel horsepower using stock carbs. The lifeblood of this Banshee is the CT Racing 400cc kit. In this case, customer Brian Hammond chose to try Toomey's T5 exhaust pipes. CT feels the T5 is a good overall dune pipe, but for riders who are looking for more bottom-end power, the Toomey T6 exhaust pipes are phenomenal with the 400cc kit. CT has also seen big horsepower numbers out of Shearer and CPI exhaust pipes.
The Moto Tassinari Delta VForce4 reed cages were slipped on, and CT claims it is absolutely the best-performing cage available for the Banshee. CT owner Allen Knowles is only loyal to a reed system as long as the dyno tells him to be, and he is loyal to the VForce.
WHAT IT TAKES
The CT Racing 400cc kit requires shipping CT your complete Banshee motor. CT splits the cases and makes a full inspection of the gearbox and all the motor's components. CT ports the cylinders, re-chambers the heads and bores the cylinders. The porting is done to match the customer's desired power curve. For the bottom end, CT Racing port-matches the cases.
CT claims the Banshee is the only modern two-stroke that has cases that don't match the cylinders, so case-matching is very beneficial. It provides negligible gains on most two-strokes. There are other details specific to Banshees: the shift star is shaped up to help it shift better, and CT mods the ignition backing plate to add 6 degrees of timing. A 4mm Hot Rods stroker crank is clamped in and the motor is slid back together. CT does offer upgrades, like polishing and painting, along with cool heads, and side-cover upgrades like you'll see on this machine.
CT RACING 400cc BANSHEE
WHO YOU GONNA CALL
Brian Hammond is a CT Racing customer that had been dreaming about a resto-mod package for his 1992 Banshee for many years. The upturn in the economy freed up the money to build his dream quad. That meant a fast recreational machine with great handling characteristics.
Brian wanted a dual-purpose machine that could tackle the dunes in the winter but would be comfortable and capable on dirt for the other half of the year when it's too hot for Glamis or Dumont. CT chose a LoneStar +2 round-housing swingarm to help keep the front end down, but it is not so long that it's clumsy riding on dirt.
Going with the round housing makes chain adjustment a snap. Lone Star +2 and forward 1 A-arms were slid on to offer great handling characteristics. To balance out the added width in the front is a DuraBlue Eliminator axle with a lifetime warranty The axle is a 2+2, meaning it can be run full width or narrowed up 2 inches. To control the added width and length are Elka Legacy shocks.
Elka's Legacy shocks are a very good package for a very good price at just under $1000 for all three shocks. Streamline brake lines were strung around the quad to handle the added length and width, but the stainless steel lines gain you superior braking power. Streamline brake pads were slipped in for added brake control.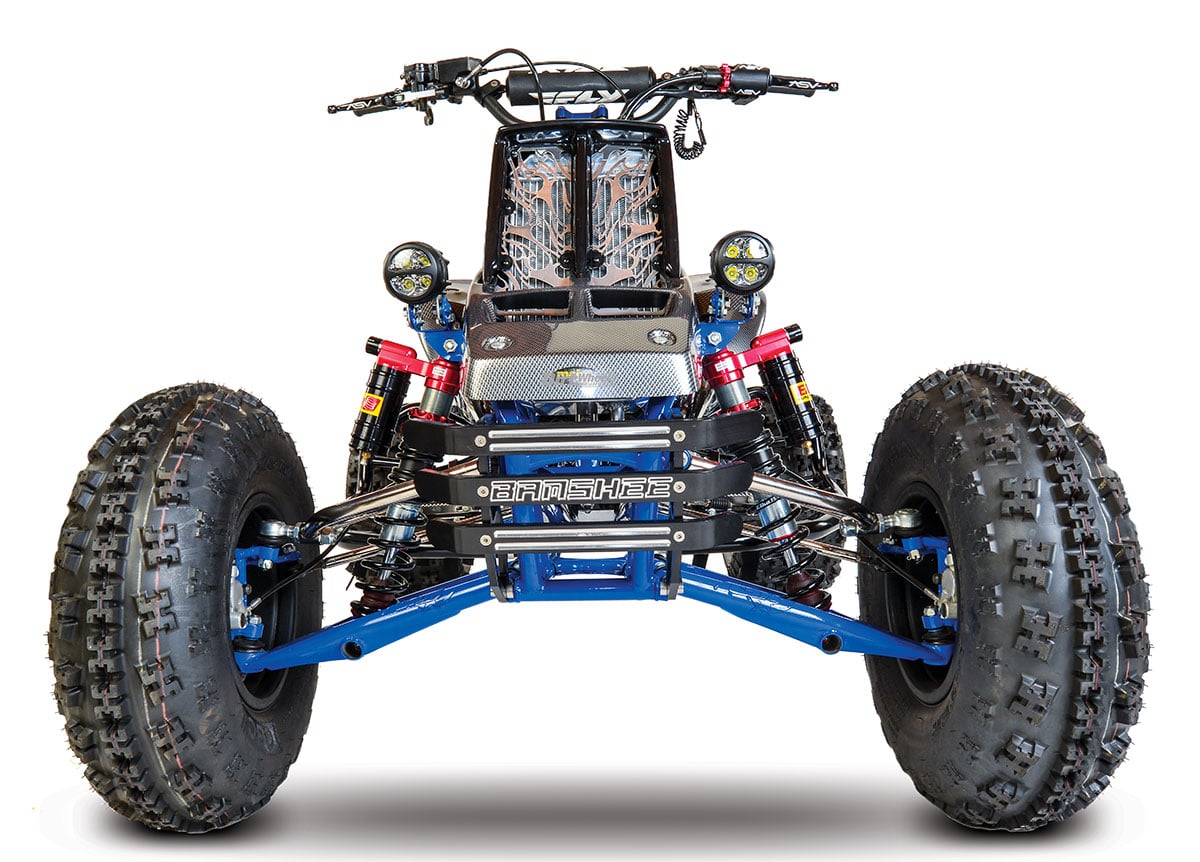 CT RACING 400cc BANSHEE
THE LOOK
To help this quad look cosmetically correct, Maier carbon fiber-look plastic was chosen. The rear is Maier's Raptor style, and the front is their race cut. The tank cover is Maier black. Powdercoating was handled by Central Powder out of Brea, California. CT Racing orders parts for a full build bare, and then has them all powdercoated together. They have had color mismatches getting powdercoated parts from different vendors.
CTR mounted up GBC XC Masters for the dirt in 23×7-10 front and 22×11-9 rear on DWT's Champion-in-a-Box kit. It comes with front and rear wheels, mud plugs, stickers and even a hat! For paddle tires CTR chose Skat-Trak nine-paddle Haulers in 22×11-8, along with Skat-Trak Mohawk 23×7-10 fronts. The sand tires were mounted on black-coated DWT Blue-label series rims.
The Blue Labels are DWT's lightest wheel, and for sand you want to keep rotating mass to a minimum. For the photo shoot we started with the dirt tires, but planned on switching to paddles later in the day. The Pismo sand is so hard compared with Glamis or Dumont that we just left the knobs on because it was a blast to ride. You could slide the Banshee, and there is not much sliding with paddles.
BITS AND PIECES
CTR ran a Ricky Stator floating ground ignition system. The floating ground allows it to charge a battery, and Ricky Stator offers a small battery that we slipped into the back of the airbox. This is the best set up for running LED lights. They picked up a set of 3-inch PLX LED lights from Pilot Automotive. These LEDs put out a lot of light and only draw 20 watts each.
Cosmetically correct parts include a bumper from Pro Tech, a grab bar from now-defunct RIS Designs, and ignition, clutch, gas cap, and water-pump covers from ModQuad.
CT is a big fan of running an air box, so they did that and slip the Pro Design Pro Flo K&N system into the box. If the quad is set up more for trails, a really good system is to run a ProFlo foam filter setup in the box and a K&N Power Lid as a pre-filter.
That is an awesome setup and only cost 1 horsepower, but it will significantly increase engine life. Drive Systems is a great connection to handle all of your gearing needs. They have lots of choices for chain and gearing. Since this quad will be ridden in sand, it is virtually mandatory that an O-ring gearing kit is used; otherwise, you'll blow a chain out in a weekend or two.
CT had the stock stem chromed, went with a Fly handlebar, ASV levers and a Pro Design kill switch for the
controls.
CT RACING 400cc BANSHEE
KICKING SAND
The Banshee ripped! We spent a day ripping the Banshee around Pismo Beach and found that 70 horsepower is a lot of power for a rider. With the T-5 pipes the power is mid-to-top. Heavier riders or riders who just want a smooth power curve should opt for the Toomey T-6 pipes over the high-rpm T-5s. If you are light or you like dragging up the hills, then T-5 pipes are the faster choice.
The tune from CT Racing was spot-on. This one was set up for 100 octane minimum. CT recommends running 108–110 race fuel mixed 50/50 with Super Unleaded for the most economical way to get to 100 octane.
It's no problem to set the Banshee 400cc kit up for pump gas, but you just get a little more bottom with the 100-octane set-up. We jumped it, bashed it and overall just had a blast at Pismo on this Banshee. We never did find the limits of the suspension. It just sucked up everything we put it through.
The choice of swingarm, shocks and A-arms is a nice selection for a reasonable price point  and a good-handling machine. The only change we thought might make it better was dropping the countershaft from a 14-tooth to a 13-tooth for the 22-inch tires.
CONCLUSION
We are happy that there are ATV fans dedicated enough to fully redo these older quads. It is amazing how well CT made a 1992 machine work. It is a rocket, still handles very well and is a total blast in the dunes. Long live two-strokes and Banshees!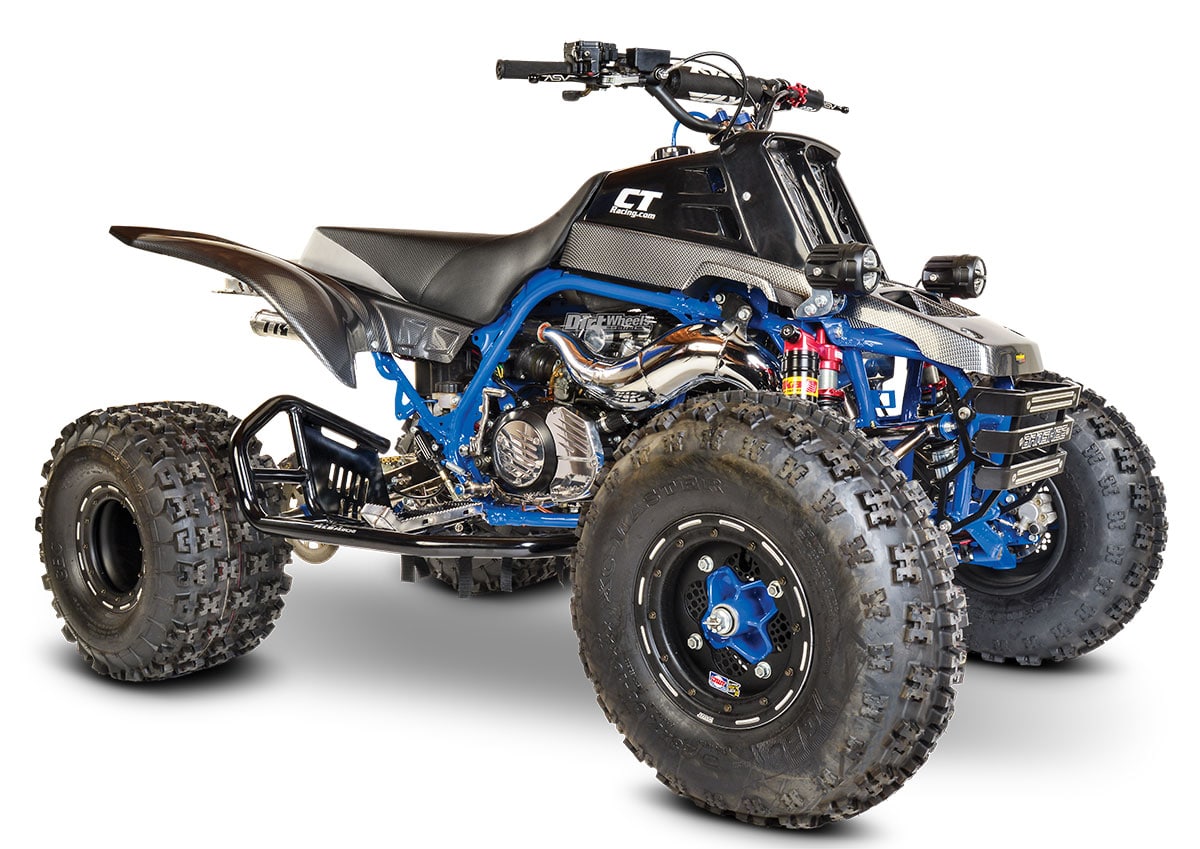 CT RACING 400cc BANSHEE
PART AND SUPPLIES
ASV Inventions: www.asvinventions.com, F-4 lever set $162
CT Racing: www.ctracing.net, (562) 945-2453
400cc long-rod motor kit $1,899
Drive Systems USA: www.drivesystemsusa.com, (714) 379-9041
Gearing kit $189.95
Dura Blue, Inc.: www.durablue.com, (949) 770-5533
Eliminator axle $406
DWT Racing: www.dwtracing.com, (800) Race-Rim
Ultimate beadlock polished front wheel $189 per wheel
Ultimate beadlock polished rear wheel $182 per wheel
Elka Suspension: (800) 557-0552, www.elkasuspension.com, Legacy Series Stage 3 front & rear shock kit $999
Hot Rods: www.hotrodsproducts.com, (515) 402-8100
Complete bottom end kit $620
ModQuad: www.modquad.com Ignition, water pump and clutch cover $400
Maier Mfg.: www.maier-mfg.com, (800) 33-maier
Standard style front fender $257
Rear fender $285
Radiator cover $97
LoneStar Racing: www.lsracing.com, (800) 457-7223
A-arms sport style +2 +1 $599
Swing arm +1 (w/ bearing carrier w& brake stay) $831
Billet front wheel hubs $299
Billet rear wheel hubs $236
Billet axle lock nut $95
Axle $399
Moto Tassinari: (603) 298-6646,www.mototassinari.com 
VForce4 reed valves $258
Pro Design: (714) 534-0620, www.prodesignracing.com
ATV tether kill switch $35
Cool head $230
E-Z drain $35
Power shifter $80
Pro Tech ATV: www.protechatv.com 
Front bumper $200
Pilot Automotive: www.pilotautomotive.com 
Ricky Stator: www.rickystator.com, (760) 787-0094
DC charging system with battery $299
Skat-Trak: www.skat-trak.com
22" 9-paddle rear $215 ea.
Mohawk front $132 ea.
Streamline Brakes: www.streamlinebrakes.com 
Front & rear brake lines $116
Brake line guides $27
Toomey Racing USA: www.toomey.com
T-5 pipes $699
MORE YAMAHA ARTICLES> https://dirtwheelsmag.com/machines/yamaha/
FREE $25 GIFT CARD> https://hi-torque.com/product/dirt-wheels-holiday/
.
.