ATV BUILD: DESERT-RACING BANSHEE
Thousands of miles can't stop this machine — By the staff of Dirt Wheels — 
It may not turn as well as a TRX250R, but with a steady throttle hand and clutch actuation, the power of the machine helps it swing the back end around.
You may recall our September 2016 issue of Dirt Wheels magazine that featured Rachel Bosemer's TRX250R built for desert racing. The man who built that 250R is Rachel's father, Rick Bosemer. Rick has been building his two daughters' quads for many years, dating all the way back to when they both started on a Suzuki LT80. Rick has also been racing his beloved 1992 Yamaha Banshee since the day it rolled off the showroom floor that same year. His Banshee became a full-desert build by 1993 with the help of friends and the know-how from building VW-powered desert buggies in the past.
Rick isn't a big believer in modern four-stroke machines, or any four-strokes for that matter. His philosophy is to build two-strokes correctly, that way they can finish every single race season without a failure. Between him and his two daughters, there is close to 10 AMA quad championships in the family. That's very impressive seeing that these machines are now considered to be vintage. What's even more impressive is that his Yamaha Banshee has finished every single race it has ever entered since 1992. If there are on average 10 races a year and race mileage anywhere from 40 to 100 miles—well, you can do the math. Now that's what we call two-stroke reliability!
However, being a good moto dad means that his quad project came last. Luckily, his daughters' quads are now good to go and are fully built, so that meant he could build his Banshee to its original glory days, but, of course, with some modern-day goodies. He finished it early this season, and we got a chance to take it for a rip.
WHEN ONE CYLINDER ISN'T ENOUGH 
Rick is the type of rider that craves horsepower and believes that two cylinders are better than one. He had legendary Banshee engine guru Teddy Boyko of Boyko Racing handle the engine. Boyko ported the head and adds what he calls "boost ports" to each cylinder that add more power. It's still around a 350cc engine, but over the years it has seen a few over-bores from normal wear. A pair of Vertex pistons keep this ol' girl screaming. And to keep this ripper from popping its top, they added a Pro Design Cool Head that not only looks trick, but flows coolant better to keep the temperature down, which will help create more power. Rick also added a Pro Design EZ Drain coolant drain plate that makes draining the coolant a breeze on the 'Shee.
A full Hinson clutch has been a mainstay on this Banshee for years, and it keeps the traction going in the right direction. Finishing up the bottom end is a Hot Rods crank. Helping fuel it are V-Force four-reed reed valves, and the carbs are tuned by Boyko Racing. Clean air comes from a Uni foam air filter. The final piece of the puzzle was adding a set of FMF Fatty pipes and a Turbinecore 2 silencers.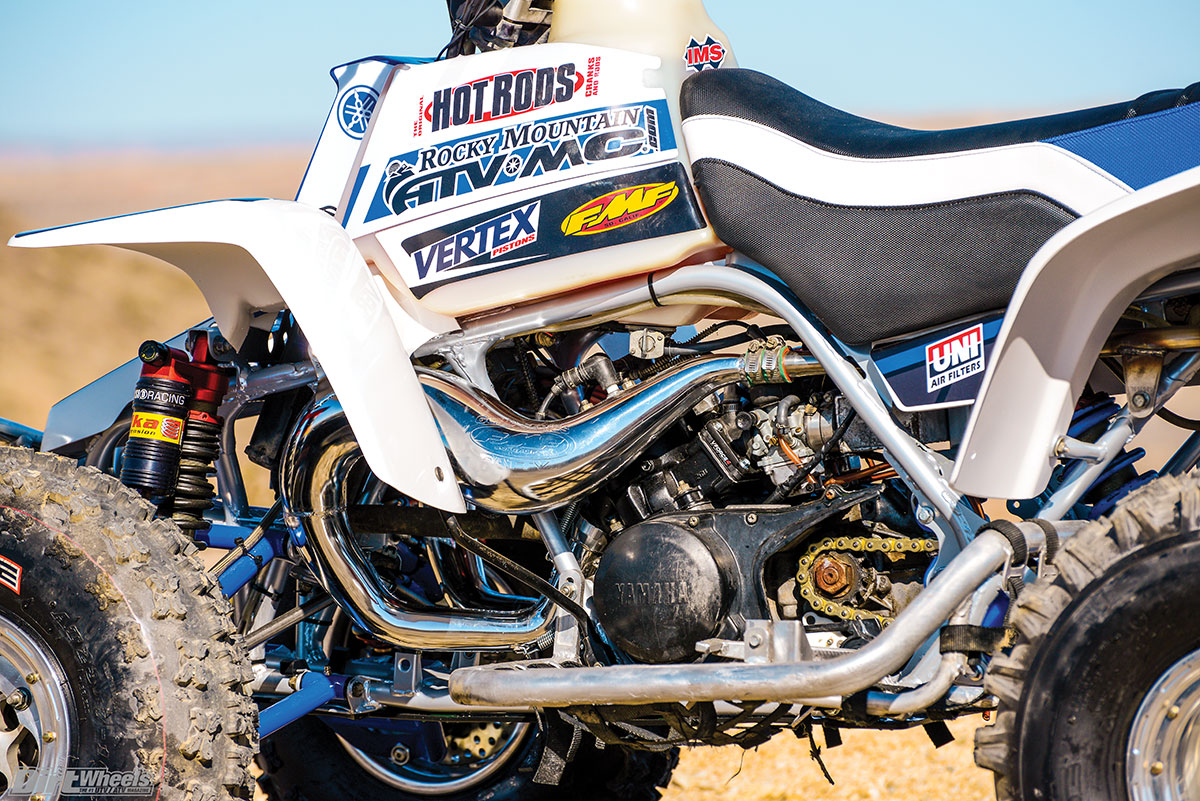 A SHOCKINGLY GOOD SETUP 
Rick's Banshee has an OEM frame from 1992. While the Banshee is a great quad, it didn't necessarily have the suspension traits of the mighty 250R. To rectify this and not break the bank, Rick moved the shock mounts up higher on the frame. That allowed him to run longer-than-stock Elka Stage 4 shocks to a set of Lonestar +2 standard-travel A-arms. In the rear he did much of the same by moving the upper shock mount higher up and using a piece of billet aluminum that mounts to the bottom shock mount and to the +1 Lonestar swingarm, thus making it a no-link Elka Stage 4 rear-suspension setup. All three Elka Stage 4 shocks are tuned by DeRisi Racing. A set of Flexx handlebars, Spider grips and a GPR Version 1 steering stabilizer help with reducing abuse.
UPGRADED EVERYTHING 
Since Rick could go all out this time around, he updated everything, starting with full Maier Manufacturing fenders and Spider Graphix. On the protection side, it has a full-poly-frame skid plate from TM Designs, a PRM no-link swingarm skid plate, Fastway Flak handguards and AC Racing Pro Peg nerf bars. Up front sits an aluminum Tusk bumper, and in the rear is one of Rick's custom aluminum grab bars that has a box incorporated in it to carry a walkie-talkie, space blanket and tools just in case.
Primary Drive sprockets and an X-ring chain were used for the drive. Lonestar billet wheel hubs were used in the front and back, along with an adjustable-width Lonestar Axcaliber axle. This thing has a serious wheel and tire selection. DWT Ultimate beadlocks front and rear are wrapped in CST Pulse tires. Guaranteeing race finishes is Tire Block's flat-prevention system. Rick prefers using CEET desert seat foam to add more height, and this time around he went with a custom Fourwerx ribbed seat cover to keep his behind planted on the seat. Banshees like to eat fuel, so running a 5.6-gallon IMS tank is a must for this desert-bred Banshee.
PIN IT TO WIN IT
We took this Banshee out to the desert for a full test. We were curious how different it would be from the Banshee project we featured in our March 2017 issue. The Banshee started on first kick, which is a great thing for desert racing's dead-engine starts. It sounded great and had great throttle response—oh, and, of course, that signature sound deriving from the twin-cylinder two-stroke! We took off through the desert and found it to be very powerful. Even with the +1 swingarm, it still wanted to lift the front tires off the ground every chance it could.
The power was still smooth. It was easy to roll on the throttle to get it into the powerband, and once you were there, it was rideable power. We noticed that the Banshee was geared low. We clicked off the gears quickly and it wanted more. However, in the desert that Rick races in, the gearing is perfect for the multiple rocky hill-climbs that are thrown his way. We tested it on rocky hills, and it was incredible how you could lug this quad in a low gear or rally up one at a higher pace. The CST tires would chew through the rocks and get you up the hill in a hurry. The Elka shocks worked well in the rocks and rain ruts. It was also very smooth pounding large whoops at high speed and was forgiving to our upper bodies. The Elka and LSR suspension components helped the Banshee track very well in a straight line of whoops. It was awesome to have a no-link setup in the rear and made it more confident blasting through rough patches in the trail where we would usually be a bit more hesitant with a full linkage in the rear. We did have to be a bit cautious with this Banshee in corners with wet dirt, though. The Pulse tires and Tire Blocks create a lot of traction, and if we weren't careful, it wanted to run away with us.
The biggest downfalls are the turning radius and seat height. On slower, tight turns we had to use a lot of body English, throttle and clutch control to get through cleanly, but that's standard on most Banshees. Fast, sweeping corners were simple, but it's always a bit tougher to perform turns well with a tall seat, even for taller riders.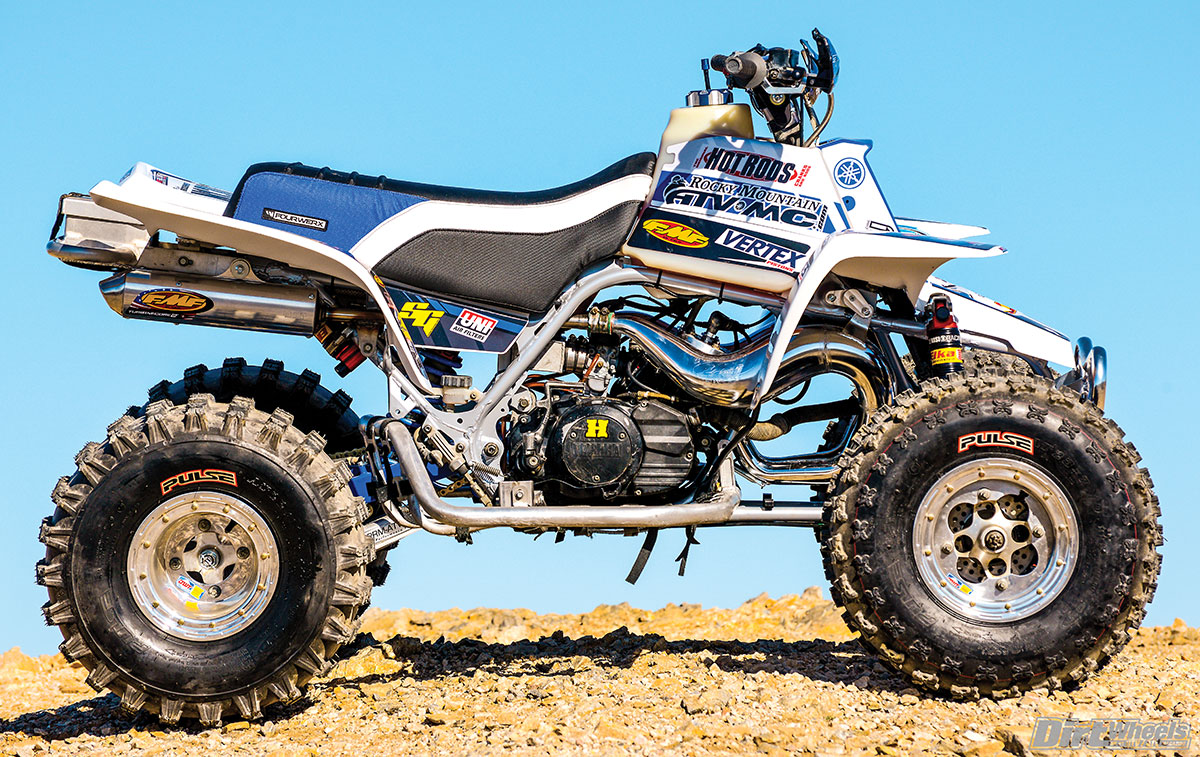 THOUGHTS ON THIS BEAST
This Banshee might be old, but it runs like a teenager hopped-up on Mountain Dew. Obviously, it's a true championship-winning quad, and it gets that from Rick knowing his stuff, along with using parts that he's always trusted to get the job done. From our Banshee rebuild to this desert Banshee, it's like comparing a Mustang to a Ferrari. Its engine is powerful yet smooth enough for Rick, at 65 years old, to be comfortable twisting the throttle at a fast pace. It's incredible how well it works in the rough stuff, and we wouldn't have any problems putting this in a head-to-head desert battle with a built 450. Our bets are that this Banshee would hurt some feelings at race's end. Just remember, there are some people out there who think two-strokes aren't reliable. This Banshee begs to differ.
DESERT BANSHEE PARTS LIST
AC Racing: www.acracing.com, 951-245-4040, Pro Peg nerf bar $290
Boyko Racing: www.boykoracing.com, 949-642-3275, Engine porting $325,
Cylinder boring $65 per side, Carb mods $150 per carb
CST Tires: www.csttires.com , CST Pulse front tire, 23x7x10 $105 per tire,
CST Pulse rear tire 22x11x9 $119 per tire
DWT Racing: www.dwtracing.com, 800-Race-Rim, DWT Ultimate beadlock polished front
wheel $189 per wheel, DWT Ultimate beadlock polished rear wheel $182 per wheel
Elka: www.elkasuspension.com, 800-557-0552, Stage 4 front shocks $1,400,
Stage 4 rear shock $1,000
Fasst Co.: www.fasstco.com, 877-306-1801, Flexx handlebar 14-degree Quad Racer bend $360
Fastway Performance: fastwayperformance.com, 866-466-4762, Flak hand guards $50
FourWerx: www.fwcarbon.com, 262-501-9696, Wave seat cover: $150
GPR: www.gprstabilizer.com, 619-661-0101, V1 steering stabilizer: $525
Hinson Racing: www.hinsonracing.com, 909-946-2942, Complete billet-proof
clutch kit w/ straight gears $1,400
Hot Rods: www.hotrodsproducts.com, 515-402-8100, Complete bottom end
kit $620
IMS: www.imsproducts.com, 800-237-9906, 5.6-gallon natural color gas tank $275
Maier: www.maier-mfg.com, 800-33-maier, Standard style, front fender $257,
Rear fender $285, Radiator cover $97
LSR Racing: lsracing.com, 800-457-7223, A-arms sport style +2 +1 $599,
Swing arm +1 (w/ bearing carrier & brake stay) $831, Billet front wheel hubs $299,
Billet rear wheel hubs $236, Billet axle lock nut $95, Axle $399
Moto Tassinari: www.mototassinari.com, 603-298-6646, V-Force 4 reed valves $258
PRM Products: www.prm-atv.com, 541-665-3805, Swingarm aluminum skid plate $90
Pro Design: www.prodesignracing.com, 714-534-0620, ATV tether kill switch $35,
Cool Head $230, E-Z Drain $35, Power shifter $80
Tire Blocks: www.ridetireblocks.com, 253-973-5111, Tire Blocks for 23x7x10
front tire $135 per tire, Tire Blocks for 22x11x9 rear tire $170 per tire
Rocky Mountain ATV/MC: www.rockymountainatvmc.com, 800-336-5437, Tusk billet
aluminum gas cap $30, Tusk comp front bumper $65, Primary Drive sprockets & X-ring chain
kit $85
Spider Graphix: www.spidergraphix.com, 317-996-5555, Custom graphic kit $265
Spider Grips: www.spidergrips.com, Slim line grips $16.95
TM Designworks: www.tmdesignworks.com, 541-772-4161, Pipe hanger set $60
Plastic frame skid plate $114.95, Slide-N-Guide chain slider kit $129.95
Uni: www.unifilter.com, 714-535-6933, Uni foam air filter $33
Vertex Pistons: www.vertexpistons.com, 515-270-2302, Complete top end piston kit $295