ATV FIRST TEST: 2021 CFMOTO CFORCE 1000 OVERLAND 4X4
Ready for adventure or a second person By the staff of Dirt Wheels
If you don't follow the motorcycle market, you may not understand how much of an impact adventure motorcycles have had on new machine and aftermarket parts sales. Adventure bikes are large machines capable of going long distance and carrying ample gear. That sort of sounds like the definition of a big-bore 4×4 quad, right? CFMoto agreed and saw the potential in making an adventure/overland-specific quad equipped for packing everything you need. Enter the CFMoto CForce 1000 Overland. The 1000cc 4×4 quad platform has been in Europe for a couple of years, but it's new to the U.S. for 2021.
Visually, it is familiar since it shares a rolling chassis and drivetrain architecture with the established CForce 800 XC. CFMoto uses a long-wheelbase two-up touring chassis for both the 800 and 1000. We can't disagree with that choice. The 58-inch wheelbase poses few drawbacks in tight-going, but adds stability at speed and confidence for steep climbs or descents. CFMoto had not firmed up the price at press time, but with the standard quick-release rear luggage, it should be the most expensive of the CFMoto quads. The 800 is $8599, so expect it to top that by a margin. By separating the rear compartment into three separate sections, it is easier to release and carry each case like a small suitcase rather than wrestle with one giant storage box. Each of the lockable boxes has an aluminum plate on top to allow tying down more gear.
WHAT'S IT GOT?
Motivation isn't an issue. The CForce 1000 Overland has a 79-horsepower, 963cc V-twin engine that is smooth enough to control, but with plenty of boost to be exciting. CForce quads use a CVTech CVT, and the performance and engagement were flawless during our time with the machine.
Unique to the Overland model are three quick-detach hard-side travel cases. All load from the top, and they should allow for ample weather-protected gear storage for off-road excursions. Since this is the same machine as a CForce two-up model, you may purchase the rear seat and quick ly swap the storage cases to take a passenger with you. In addition to the storage cases, there are front and rear storage options built into the stock bodywork.
Like all of the CFMoto quads, the Overland is fully equipped, and that includes a 3000-pound-rated winch with a handlebar-mounted control switch. We did mess with the winch by dragging some downed trees, and it worked fine. All of the larger CForce quads have speed-sensitive, variable-assist electronic power steering, so the top-of-the-line 1000 does as well.
As an Overland model, the 1000 comes stock with an integrated large windscreen and effective handguards to protect the rider from cold and wet conditions. We have to say that the windshield was welcome and looks like it belongs on a machine like this.
SUSPENSION
We are accustomed to being excited when we see five-position-adjustable preload collars on 4×4 quad shocks. Instead, the Overland comes with rear trailing arm and front A-arm suspension with fully adjustable YIT piggyback-reservoir shocks. Shock adjustments to compression, rebound and via the threaded preload adjusters are easy to feel, and they make a difference.
PROTECTION SECTION
CFMoto uses automotive paint on the sleek body panels, so they provide ample front and rear protection for it in the form of heavy-duty steel bumpers bolstered with plastic armor. On the sides, almost the whole length of the machine has an unpainted flare that easily protects the painted body parts.
Even though there is no rear seat in standard trim, the dual-level floorboards have two, high-traction, toothed metal footpegs inserted into the floorboard surface. Obviously, the rear set is very handy if you add the optional passenger seat. That passenger seat incorporates a supportive backrest and hand-hold loops on both sides.
The underside is even better covered with an aluminum front bash plate and full-length heavy plastic skid plates. CV boots are likely the most delicate part of the underside of a 4×4 quad. The fronts are protected, hiding between the A-arms and plastic armor. Unlike many 4×4 quads, the rear suspension is a trailing arm. The ends of the trailing arm extends back enough to provide a steel shield between trail junk and the outer CV boots. Drilled aluminum CV guards wrap the entirety of the inboard CV boots. The rear frame tubes extend back into a protective deck that doubles as the 2-inch receptacle-type trailer hitch. Simply insert a 2-inch draw bar. A threaded boss atop the hitch allows you to snug in a bolt to keep the hitch bar from rattling.
A form of protection is found with the cast-aluminum beadlock 14-inch rims and beefy CST Clincher tires. They are 6-ply-rated so are robust by ATV standards. Traction and wear are very good as well.
OTHER STUFF
An easy-to-read, multi-function digital gauge is mounted to the handlebar, even though it is not part of a light pod. It has a variety of functions and is easy to read in daylight. Unlike a lot of 4×4 quads, the CForce 1000 has conventional, motorcycle-style braking with a handlebar lever on the right that's controlling the front brakes and a foot pedal on the right controlling the rear brakes. A gated shifter is on the left side. It has a key lock for security to prevent the unit from shifting.
The CForce 1000 Overland has steel racks with a composite covering to allow a nice load surface and plenty of tie-down points. For nighttime, the CForce has what CFMoto calls Ridevision, which is a high-intensity LED front lighting, as well as dual rear LED lights and various reflectors. A compact plastic panel in the body above the left floorboard pops off without tools, revealing the filler port/dipsticks for the engine and transmission, plus the oil filter.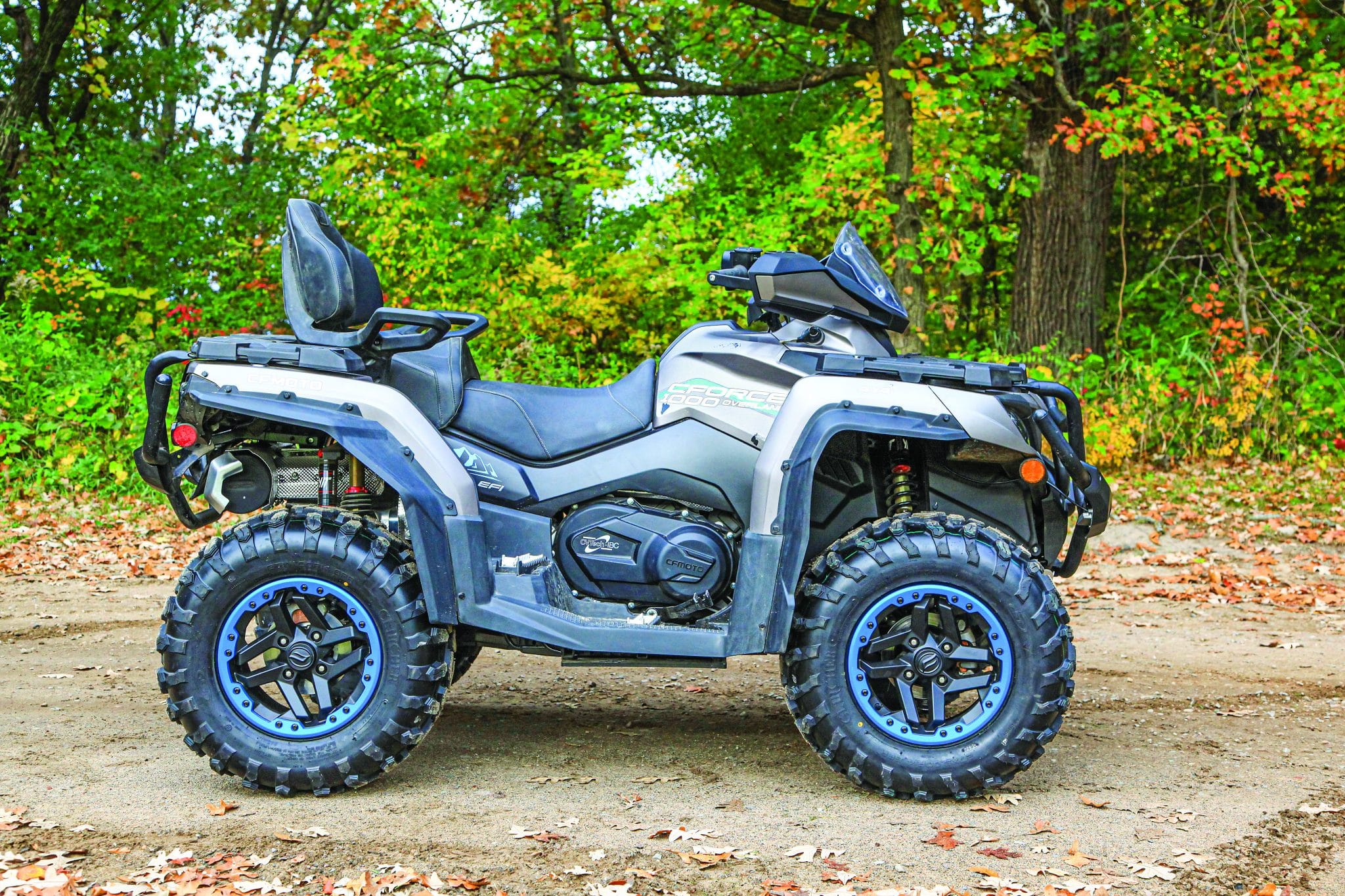 GETTING ON THE TRAIL
Unfortunately, our test was for a single day with no night riding, carrying passengers or towing. Like many CVT 4×4 quads, and especially those with two-cylinder engines, the Overland is wide between your feet and knees, but you easily get used to it. It is more at home with the rider seated, but does allow standing if you want to ride more aggressively. The seat is supportive and comfortable.
Suspension travel numbers are modest, but the ride is comfortable. We removed the prototype storage boxes for our ride and replaced them with the optional rear seat. The passenger accommodations are nice as well. Claimed horsepower is down about 10 ponies from the most aggressive sport 1000 4x4s, but this engine is a great part of the package. It should be up to any task. This engine/trans package is tough enough to power CFMoto UTVs!
We generally approve of the feel and sound of a big V-twin, and this one is no exception. The available riding area had a lot of corners, and many that climbed or dropped at the same time. The CFMoto V-twin is responsive and muscular but easy to control. We found we could stand and steer with the throttle. Despite an all-up wet weight of near 1000 pounds, it builds speed quickly. We ran it pretty hard, and we never had signs that the drive belt was getting hot. We hit the throttle and acceleration is satisfyingly instant.
Engine braking is more than sufficient, and it isn't obtrusive like some brands are. We can't see where any but the most aggressive riders will want more power. We never felt it was lacking. We weren't at all surprised that it was a lot of fun to ride. The engine seems to have the ideal amount of power. It can handle anything you throw at it without requiring a lot of throttle control.
THE LONG WAY
Despite a test loop that was twisty and turning constantly, we were not bothered by the long wheelbase at all. We know from experience with other two-up platforms that we like the long machine for rocks and ledges. The same is true for steep climbs. It doesn't want to lift the front wheels.
We suspect that the Overland won't be looking for long whoop sections, but few 4×4 quads are, and especially not 1000cc twins. For overlanding, camping or adventuring, it has ample suspension and plenty of ride comfort. With a combined rack capacity of 175 pounds, you should be able to carry everything you need for comfort. If you need more, pull a small ATV trailer with more. A small off-road tear-drop or tent trailer should be easily within the Overland towing envelope.
FINAL THOUGHTS
Time will tell whether the overland/adventure crowd will embrace this concept. We think they will, but if they don't, plenty will spring for the passenger seat and be happy two-up trail riding. Even though this will certainly top the CFMoto CForce-line price pyramid, it will certainly remain a genuine bargain in the two-up 1000cc-class machines. It has a high level of fit and finish, great looks, brilliant engine and trans performance, and all-day ride comfort. However you choose to use it, it will reward the owner. For now, it only comes in the silver of our test unit and camo (for a few more dollars), but it looks and works great.
Check out CFMoto's lineup of ATVs and UTVs at www.cfmotousa.com or go to your CFMoto dealer.
2021 CFMOTO CFORCE 1000 OVERLAND SPECIFICATIONS
Engine V-twin, SOHC, liquid-cooled, 4-stroke
Displacement 963cc
Starter Electric 
Fuel system Bosch EFI
Fuel capacity 7.3 gal.
Transmission CVTech automatic
Final drive Shaft
Suspension/wheel travel:
Front Dual A-arms w/ 6.75"
Rear Dual A-arms w/ 7.5"
Brakes:
Front Dual hydraulic discs
Rear Dual hydraulic discs
Tires:
Front 27×9-14 CST Clincher
Rear 27×11-14 CST Clincher
Length/width/height 90.5"/48"/56.7"
Ground clearance 11"
Wheelbase 58"
Curb weight 993 lb.
Rack capacity:
Front 75 lb.
Rear 100 lb.
Towing Capacity 873 lb.
Colors Titanium Grey, True Timber Camo
Price NA