ATV FIRST TEST: 2021 CFMOTO CFORCE 600 4X4
Ready for the major leaguesBy the staff of Dirt Wheels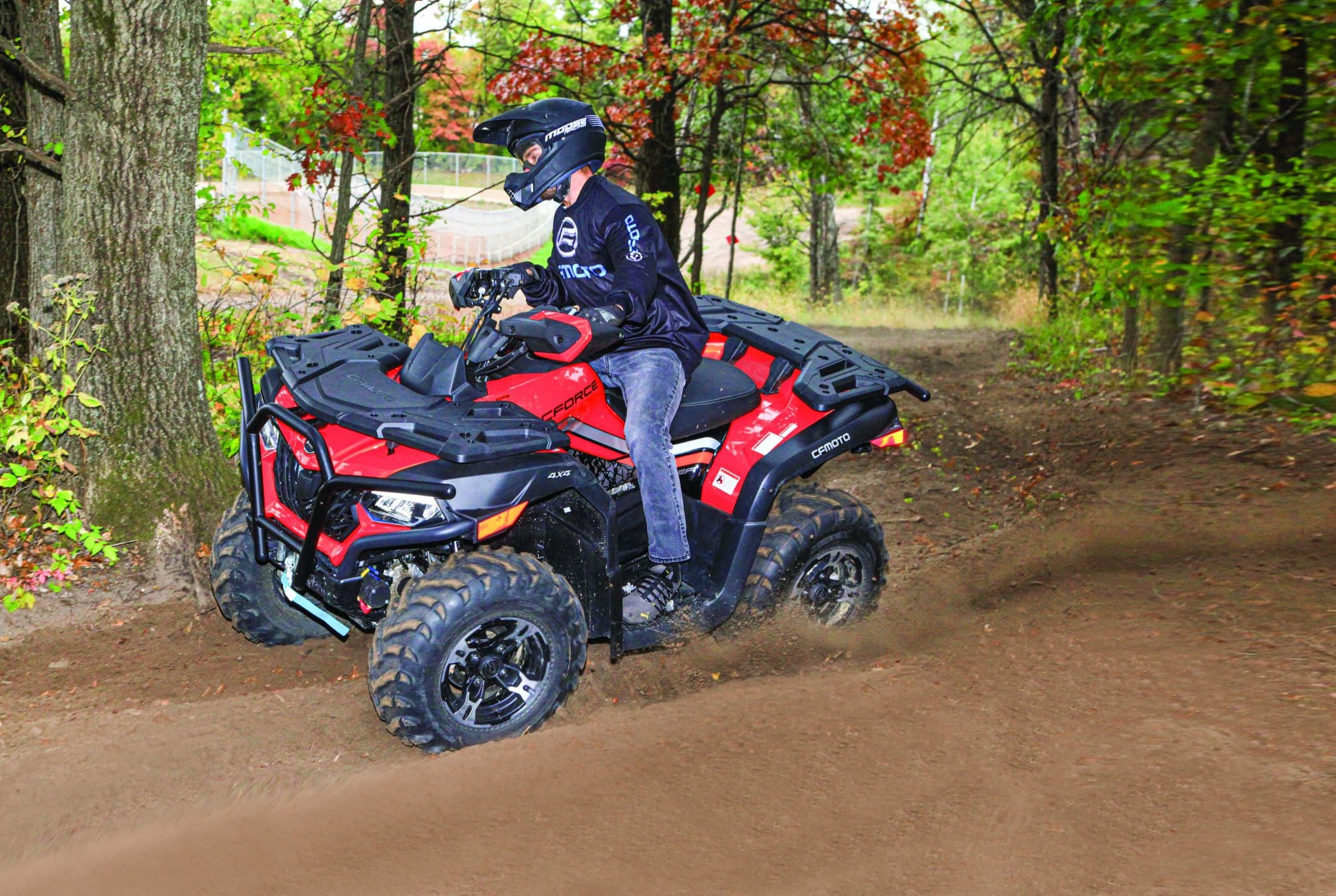 CFMoto remains dedicated to the 4×4 quad market with an extensive lineup that includes a new CForce 600 for the 2021 model year. This company prides itself on quality and value. In the fight to stand toe-to-toe with the big brands, CFMoto only sells the single-seat CForce 600 in one form—fully loaded. Other brands have a bewildering number of trim levels and equipment packages for a single displacement. CFMoto simplifies the showroom and pricing by selling every model with all of the good stuff standard—that means automotive paint, cast-aluminum wheels and more. The CForce 600 was brand new to CFMoto in 2019. It was a brave move stepping up to compete against the endlessly popular Can-Am and Polaris 570s. We found that the CForce is an able contender with a large advantage: it comes loaded for $6090!
A 2021 Polaris Sportsman 570 Premium is $8399, and it has roughly the same equipment level but without the winch or handguards.
WHAT'S NEW
As we mentioned, the CForce 600 was new in 2019, but this is the first opportunity we have had to spend time on it and inspect it closely. Despite the 600 being new in 2019, the bodywork and panels are all new for 2021. Weather-resistant front and rear cargo compartments were integrated into the new body parts, so was an easy-to-read multi-function digital gauge.
It is certainly a great-looking machine available in four attractive colors. CFMoto calls them orange, Titanium Grey, Royal Blue and True Timber Camo. The metallic orange, striking blue and silver shades are rich automotive paint. Camo adds $350 to the price. CFMoto still has a 500, but you could consider that the 600 is an evolution of the 500. The 500 does have a completely different look.
Obviously, the first item of business was to grow the engine to 580cc and 40 horsepower so it could compete directly with the Arctic Cat, Can-Am and Polaris 570 models. It is a single-cylinder, liquid-cooled 4-valve engine with a single overhead cam. Fuel injection is provided by Bosch. Along with the new body parts, the 600 gained an 18-percent-larger radiator and a larger, more powerful cooling fan to match. Cooling is important. It lets the engine keep the power it makes for a longer period of run-time.
Like all of the CFMoto 4×4 quads, the engine moves the power along via a smooth-engaging CVTech transmission. It does have an effective and welcome engine-braking feature.
CFMoto supported the engine with a new, stronger frame that boosted towing capacity to 1000 pounds. Suspension travel increased to 6.3 inches in the front and 8.3 inches in the rear as part of the new frame package. The added travel is thanks to revised A-arm front and rear independent suspension. A Polaris Sportsman 570 with MacPherson-strut front suspension has 8.2inches of front-wheel travel and 9.5 inches of rear-wheel travel. The revised chassis and suspension are claimed to turn 15-percent tighter than the previous model.
WHAT ELSE IS NEW?
To start (or perhaps more accurately stop), there is a new four-wheel hydraulic disc braking system. There is a single handlebar lever on the right side and a foot-brake pedal on the right. Other controls are quite normal and have a nice feel, including the grips. One interesting item: the gated shifter is on the left side, but it has a bump beside it with a plastic cap. It is a lock. You use the ignition key to lock the shifter if you need to leave your machine for a few minutes.
We found the 600 to be comfortable sitting or standing, though it is wide between the floorboards, but that is consistent for all CVT-equipped 4×4 quads. You soon adapt if you are accustomed to narrower sport quads. CFMoto employs variable-rate electronic power steering with revised mapping. The machine senses your speed and varies the steering assist to suit. In operation it was never apparent, and the effort at the bar was always minimal.
THE NICE DETAILS
Instead of plain steel racks, the CForce 600 gets steel racks with a composite covering. The composite makes for ample surface area to support gear, and the tubular steel frame pokes through in enough locations to provide plentiful tie-down points. All CForce 600s get machined, cast-aluminum 12-inch wheels with 25-inch Innova tires. The tires have a 6-ply rating just like the latest Polaris models do for the first time in 2021.
There is also a welded-on 2-inch hitch receiver, but unlike most brands, it comes with a draw bar as well. For most brands only the elite models have LED lighting, but the CForce has what CFMoto calls Ridevision high-intensity LED front lighting, as well as dual rear LED lights and reflectors. All of the lights are protected by standard front and rear bumpers—another feature that is not available on other brands' standard models. A handy winch is part of the front bumper.
One of our favorite features are the standard full-wraparound handguards. They protect your hands from roost, bushes and cold. We never found them to hinder control of the machine. On some 4x4s you need to send out a search party to find maintenance points. Not so on the CForce. A small plastic panel in the body above the left floorboard pops off without tools. It reveals the filler port/dipsticks for the engine and transmission, plus the oil filter. That should make service a breeze.
GETTING ON THE TRAIL
Unfortunately, our test was for a single day. We didn't ride in the dark or attempt to haul cargo, but the racks look heavy duty and are designed well. The lights are bright in the daylight, so they look like they will work fine. Since we had limited time with the CForce, we made a stop when we saw CFMoto quads for rent at Sand Hollow State Park in Utah. They said that the eight CForce quads have been in almost daily use for over a year with customers who "ride them like they stole them." Repairs have been minimal, and the machines have held up well. They still looked great to us.
The riding area that we had available didn't have any real whoops, but did have some rough and chattery sections that looked like they had seen hare-scrambles racing. We were in a rural area of Minnesota, so there was a lot of tight wooded areas interspersed with faster groomed sections.
It wasn't really mountainous, but did have a variety of drops and climbs. In all, it was a good test area. After looking the CForce 600 over carefully while shooting the photos, we weren't at all surprised that it was a lot of fun to ride. The engine, like competing 570 models, seems to have the ideal amount of power. It can handle anything you throw at it without requiring a lot of throttle control.
Acceleration is brisk and has a satisfying rush. It zips quickly from turn-to-turn on tight trails. At the same time there were fat flat turns on packed dirt and some fast, rutted sand turns, and it remained composed at high velocities as well. We found some slippery rocks and logs to play around on and get a feel for the 4WD capability. Again, no disappointments.
THE RIGHT TOOLS
While searching for logs, we used the winch to pull an entire tree out where we could play around on it. Again, no drama. The winch is strong and easy to use. We wondered if the 6-ply tires would be compliant enough to provide a nice ride, but since CFMoto stayed with 12-inch rims, there is plenty of sidewall to add cushion to the ride. We don't have a lot of experience with Innova tires, but they worked fine as well.
Like Polaris and Can-Am, CFMoto has chosen to have a single brake lever on the handlebar. It is mounted on the right side with the thumb throttle like a sport quad. The only rear brake is the right-side foot pedal. Our left hand felt somewhat useless doing nothing, but the brakes worked fine during slow tech riding and at higher speeds. In all cases the quad felt nimble and responsive to rider inputs.
FINAL THOUGHTS
By entering this class, the CForce 600 is up against truly stellar competition, but it is a worthy adversary. It is a little heavier than its major competition with slightly less travel. For a large number of riders, the difference is insignificant. They will see no performance gap. At the same time, there is an obvious price difference. At the dealer, the cost, nice fit and finish, gleaming paint, and the totally loaded standard configuration are going to be a potent sales tool. We are fans of not having to weigh the options we want against what we can spend, or at least what we feel comfortable spending. CFMoto has the value and performance with a quality feel. It deserves its place in the class.
Check out CFMoto's lineup of ATVs and UTVs at www.cfmotousa.com or go to your CFMoto dealer.
2021 CFMOTO CFORCE 600 SPECIFICATIONS
Engine Single-cylinder, SOHC, liquid-cooled, 4-stroke
Displacement 580cc
Starter Electric 
Fuel system Bosch EFI
Fuel capacity 4.6 gal.
Transmission CVTech automatic
Final drive Shaft
Suspension/wheel travel:
Front Dual A-arms w/ 6.3"
Rear Dual A-arms w/ 8.3"
Brakes:
Front Dual hydraulic discs
Rear Dual hydraulic discs
Tires:
Front 25×8-12 Innova Mud Gear Lite
Rear 25×10-12 Innova Mud Gear Lite
Length/width/height 81.1"/46.4"/48"
Ground clearance 10.5"
Wheelbase 50.3"
Curb weight 870 lb.
Rack capacity:
Front 75 lbs.
Rear 150 lbs.
Towing capacity 1000 lbs.
Colors Orange, Titanium Grey, Royal Blue, True Timber Camo
Price $6,090 ($6,449 camo)