ATV FIRST TEST: 2022 POLARIS SPORTSMAN XP 1000 RIDE COMMAND EDITION
Ride Command GPS and 90 horsepower
By the staff of Dirt Wheels Photos by Nick Claire and Karel Kramer
Polaris works hard expanding and adding features to its Ride Command GPS and infotainment system. Ride Command has always been a handy system, but continuing updates have made it a genuine reason to choose a Polaris machine. We have friends that might consider other brands, but they won't give up Ride Command! Now Polaris has adapted Ride Command for 4×4 quads. With impressive packaging, Polaris has made it fit in the instrument pod of Sportsman 4×4 quads. For now, factory Ride Command is limited to two models—the 2022 Polaris Sportsman XP 1000 Ride Command 4×4 and its smaller sibling, the Sportsman 570 Ride Command.
Sales are up for Polaris 4×4 quads, and a sizable percentage of those buyers are new to powersports. Customers who depend on GPS in their autos and are willing to pay for the technology when shopping for OHVs. In 2021 the Polaris Sportsman XP 1000 Ultimate Trail Edition was the best equipped, best optioned and (not surprisingly) most expensive single-seat quad in the line. (We aren't counting the 55-inch-wide Sportsman 1000 S since it technically is not an ATV in many states.) Our XP 1000 Ride Command Edition has all the features of an Ultimate Trail Edition with a 7-inch Ride Command touchscreen display.
We suspect that those tech-savvy new customers are part of the reason why both Ride Command models are sold out from Polaris. Dealers may still have them, and they will be back in greater numbers for 2023. If you can't wait, Ride Command is available as a $1499 option for all 2022-and-forward Sportsman models. Everything required comes as a kit with a single part number to make it easy to buy. Installation is claimed to take around an hour!
ALWAYS UPGRADING
Polaris remains committed to regular visual, mechanical and tech updates for its 4×4 quad line. The current Sportsman XP 1000 rolling chassis and bodywork are recent upgrades, but there are almost yearly improvements, like sealed suspension bushings in 2021 and now Multi-Select electronic power steering (and Ride Command) for 2022. Multi-Select EPS has a choice of three levels of power steering selected from a screen rather than changing automatically with speed.
This Sportsman XP 1000 Ride Command is trail-ready right off the showroom floor. It has fully painted bodywork, a 3500-pound-rated auto-stop winch, bumper, LED lights and 27-inch Duro tires. In addition to being an inch taller than the tires on our last Sportsman 850 test quad, they are an inch wider as well. 
Few Sportsman XP 1000 owners use their machines exclusively for fun, but almost none use them strictly for work. Most have at least two uses for the quad, and in many cases, the second use was plowing snow.
With Ride Command, the Polaris winch (standard on this model) and an optional Polaris snow plow accessory on the Sportsman has Plow mode. Engage reverse and the plow raises, put it in low and it automatically drops the blade. Nice! That Polaris Pro HD 3500-pound winch comes with synthetic rope.
RIDER-INSPIRED UPGRADES
The Sportsman XP 1000 Ride Command was designed using input from Polaris owners. Improvements include upgraded fender-mounted 700-lumen LED headlights and a 1000-lumen handlebar-mounted LED light as part of the Ride Command pod. All three lights have high and low beams. Having the forward throw of the fender-mounted lights combined with the handlebar-mount light's ability to illuminate where the quad is directed makes for a great package. Night riding is safe, easy and fun.
Lightweight, 14-inch cast-aluminum wheels mount wear- and puncture-resistant Duro tires. This combination keeps overall wheel weight low but traction performance up.
Arched A-arms are standard to add ground clearance front and rear. All pivot points utilize the new automotive-style sealed suspension bushings to stop mud and water from contaminating and wearing parts. For armor, an Ultimate Series front bumper and steel skid plates provide front and under-body protection.
You can switch between rear and all-wheel drive with a selector switch above the thumb throttle. On the XP 1000 Ride Command, Polaris Active Descent Control (ADC) is standard as a third option on the 2WD/4X4 switch.
The ADC system uses electromagnetic coils and clutches to feed engine braking to all four wheels. Polaris suggests always switching the 4×4 selector to ADC 4×4 before ascending or descending a hill.
The ADC system will automatically engage when the 4×4 switch is in the ADC position, vehicle speed is under 15 mph, the throttle is closed, and the transmission is in high, low or reverse. ADC automatically disengages if the 4×4 switch is moved out of ADC, vehicle speed exceeds 15 mph, the throttle is opened, or the transmission is shifted to neutral or park.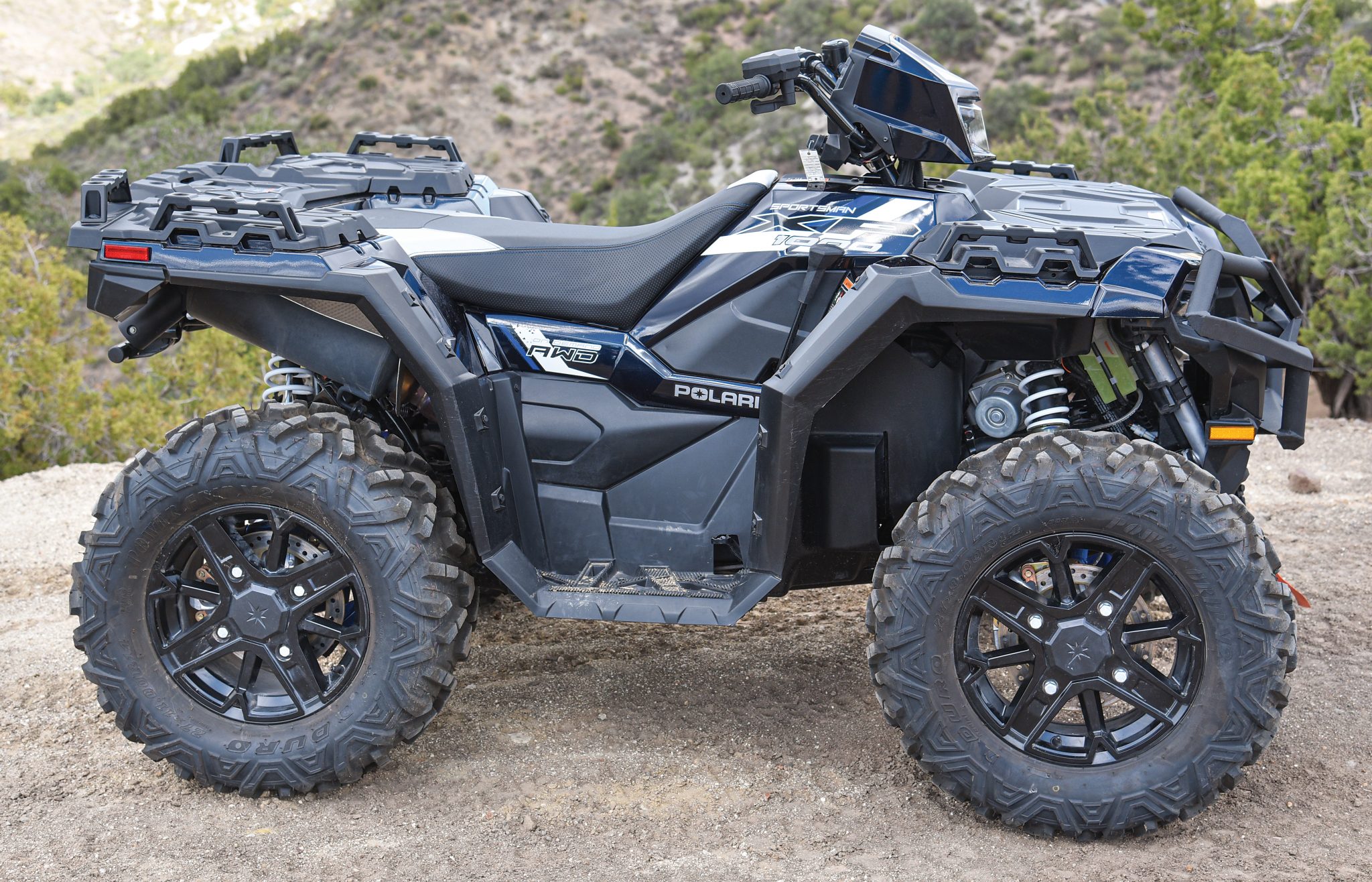 WHAT'S HAPPENING?
Ever since utility and 4×4 quads gained popularity, they have far outsold sport ATVs. At the peak of their popularity the sales numbers were almost beyond belief. Modern 4×4 quads can handle as much or more work than earlier machines, but current models are far more sporty and ready to play. Engine performance, suspension action and total wheel travel truly make these "sport quads." While no Polaris Sportsman 1000 is light, each version offers comfort and convenience. This is one work quad that is seriously fun to play on.
We think we understand why Polaris has seen so many new-to-powersports buyers choose 4×4 quads. Compared to even a small UTV, the purchase price, storage and transport of a 4×4 quad is far less intimidating. Most people currently own an automobile, SUV or truck that could easily tow a small single- or double-quad trailer.
SCREEN TIME
As great as the performance and mechanical sophistication are on this quad, it is Ride Command that separates it from other machines in the class. Unlike UTVs with Ride Command, the Sportsman Ride Command does not have a separate gauge package. The 7-inch Ride Command touchscreen display handles everything. Each of the available display screens packs loads of information. For example, the gauge display screen has a tach, speedo, time, altitude (to the foot!), compass heading, gear indicator, fuel gauge, AWD indicator, voltmeter, coolant temperature and the power setting. On the GPS screen the map display dominates, but the time, compass, power mode and speed are still displayed. The quad's GPS has Group Ride and lets you select a ride leader. It is a snap to connect a smartphone via Bluetooth to get text and call notifications.
Ride Command's GPS is easy to use, and it comes loaded with 750,000 miles of routes. You can plan a route at home, add waypoints, and then download it using a USB cable or airdrop it.
You can also select a group using Group Ride. In Group Ride, each designated machine shows up as a GPS icon. Those without Ride Command may join the group with a smartphone.
The more members in a Group Ride, the farther the reach. Members of the group can send text messages to the entire group. You can see if someone has strayed and send them a text instead of chasing them down!
Ride Command's touchscreen instrument-pod headlight combination is pre-wired for electric grips and clothes. It has a 12-volt accessory socket, battery charge port, USB charger and a PIN-Activated Security System (P.A.S.S.). For 2022 all Sportsman models will have some sort of parking-brake warning.
TECH LOADED
In addition to the fancy electronics, the 1000 Ride Command Edition has an integrated Engine Braking System (EBS). EBS and ADC brake all four wheels to slow the Sportsman down. The system really works, and you can feel the front wheels engage and slow you down. No matter how long you coast, the CVT doesn't release and freewheel. You learn to ease off the throttle to smooth the engine braking. Just chop the throttle and the effect can be more abrupt than you want.
The Sportsman XP 1000 Ride Command also has Ride Control Technology's three-mode throttle. You select between standard, work and performance modes. While we largely ignored this feature on the 570 Ride Command, we used it frequently on the 1000. Work mode is great for control while working or for rough or slippery terrain conditions. Standard mode is also handy but offers major power. Sport is for dunes or mud as far as we are concerned. You can use GPS to set speed-limited areas. If you limit the speed, the thumb throttle acts normal until you hit the selected speed, then it doesn't allow more speed no matter how you press the thumb throttle. You don't have to keep your thumb in one position to maintain the speed you set for work, like plowing or spraying.
A BETTER PLACE
The Sportsman has a smooth ride in chop or rocks while also being able to soak up hits, though the front feels softer than the rear. We were able to straddle or cross ruts, cruise over boulders, and avoid getting hung up, though we did hit the skid plates.
It has an upright rider position that encourages seated riding. You can rely on the plush suspension and cushy seat to keep terrain from abusing you. It is wider between our feet than we like, but you can ride standing when needed. The throttle lever is wide and easy to modulate, but use care when you are in Standard or Sport power mode. The 1000 is seriously powerful. It isn't violent or hard to control but accelerates hard—hard enough for the front wheels to lift. When they do, the Sportsman aims in the direction the rear wheels are pointed.
Polaris has dual hydraulic disc brakes front and rear. All four brakes are controlled by the left handlebar lever, with a right-side rear brake pedal to add more rear-wheel braking. We like the system with the right hand using the throttle and the left hand the brakes. We would like to use less hand effort. You must lift your foot to actuate the rear brake pedal, but it does offer plenty of stopping power.
THE RIGHT RIDE
Even though there are Ride Command features for work-like geo-fencing and Plow mode, we see many of the features aiming this XP 1000 more towards recreation than ever before. Ride Command will enable work, but also help explore new riding areas or find hunting, fishing or camping locations. It also aids communication between other machines with Ride Command.
With three power modes, the muscular 952cc engine is able for work and fun for sport. Without the "work" mode, the power would be too extreme for many work tasks. It generates ample speed and acceleration for any sort of recreation.
There is a nice warranty, options for extended coverage, and maintenance intervals for all common tasks were increased in 2021.
FINAL THOUGHTS
Combining the Sportsman XP 1000 and Ride Command was a brilliant move! It will help new or experienced riders explore with confidence. This is a tech-heavy quad, but all of it is aimed at improving the ride experience. The XP 1000 will tow, haul or haul butt!
Check out Polaris' lineup of ATVs and UTVs at www.polaris.com, or go to your local Polaris dealer.
2022 POLARIS SPORTSMAN XP 1000 RIDE COMMAND EDITION SPECS:
Engine Twin-cylinder, DOHC, liquid-cooled, 4-stroke
Displacement 952cc
Starter Electric 
Fuel system EFI
Fuel capacity 5.25 gal.
Transmission Automatic CVT
Final drive Shaft
Suspension/wheel travel:
Front Sealed arched dual A-arm/9"
Rear Sealed arched dual A-arm IRS/ 10.25"
Brakes:
Front Dual hydraulic discs
Rear Dual hydraulic discs
Tires:
Front 27×9-14 Duro Powergrip
Rear 27×11-14 Duro Powergrip
Length/width/height 83.25"/47.6"/50.75"
Ground clearance 12"
Wheelbase 53"
Dry weight 879 lb.
Rack capacity:
Front 120 lb.
Rear 240 lb.
Towing capacity 1500 lb.
Colors Azure Crystal
Price $16,699