ATV PROJECT: DUNCAN RACING ELIMINATOR BANSHEE
Dream two-stroke dune runner By the staff of Dirt Wheels Photos by Pat Carrigan
Darryl Smith has always been a motorcycle guy, but the rest of his family were Banshee folks. It was only natural that he pick up a 2006 Banshee to join in. Miles and hours of dune fun slinging sand with a twin-cylinder, two-stroke sport quad followed. Unfortunately, an issue with the throttle resulted in a wadded-up quad. Smith's choices were to attempt a resurrection of the original machine or look for a new one.
After consulting with the crew at Duncan Racing, Smith decided to raise the Banshee from its garage graveyard. As so often happens with projects, things took on a life of their own, and eventually the Duncan crew had 200 hours of labor and a prodigious parts list involved.
There is no doubt that the end result is a true four-wheeled beauty beyond any Banshee that we have seen in person. We were actually shocked that Smith was planning on riding it regularly in the dunes! It looks more like something that should be enclosed in glass and used as a unique table in an expensive den.
HOW IT HAPPENS
Once Duncan had determined that the frame could be saved, the engine was trundled off to that side of the shop for extensive work. First, the engine was disassembled, and all of the original parts were cleaned and inspected. Each part was either replaced or refurbished. The engine was equipped with a 403cc Eliminator kit. Remember that the Banshee motor is descended from the Yamaha RD350 street motorcycle. Yamaha also made a very popular RD400. Both the 350 and the 400 used the same-size pistons. The displacement difference is in the stroke, and that is what the Eliminator kit does.
The base of the engine is a billet long-stroke crankshaft that is trued, then welded to prevent twisting. Two-stroke crankshafts are pressed together so the connecting rods can be a single piece. Powerful engines have been known to twist the crankshaft. A bead of weld on each crank pin locks the assembly together.
Before the bottom end is assembled, the cases are powdercoated, and DR modified the shifter for more reliable shifting. A Hinson clutch basket is installed with a DR clutch kit, and then the clutch cover is modified into a quick-change. The case is polished and a billet water-pump impeller goes in. It is topped with a billet water-pump cover. The stock ignition flywheel is modified.
Duncan retains the stock cylinder castings, but everything else making up the top end is radically changed. Before the outer cylinders are polished, along with the Powerheads and clutch cover, by DR's Jimmy Brown, they are ported. The bores are also oversized to ensure a nice sealing surface for the rings, as well as the proper high-performance piston clearance.
Pyramid reed valves and DR pre-jetted Keihin 35mm PJ carburetors replace the stock Mikunis. Those carbs are not stock. They are bored and checked on a flow bench. They also require new Master Flow intake manifolds. On top of the cylinders are Paul Turner Racing billet Powerheads. The front of the cylinders get Paul Turner triple-chromed exhaust pipes and Fat Boy 2 silencers. Duncan Racing owns the Paul Turner Racing brand, including all two-stroke pipes, Fat Boy 2 silencers, port modifications and billet parts. The final parts are K&N Filters with Outwear covers.
CHASSIS TIME
While the engine was making its journey of renewal, the Banshee frame was straightened up and powdercoated to look better than new. Not much of the rest of the rolling chassis was reused. Roll Design parts and expertise played a major "roll" (pardon the pun). It started with LOBO II long-travel front A-arms and a 1-inch-longer chromoly round-housing swingarm with a Roll linkage. These are supported by a Roll Elka Legacy three-piece shock set. Roll also has a remote reservoir mount.
Next up was a new Roll anti-vibe steering stem topped with an anti-vibe handlebar clamp assembly. They aren't suspension parts, but Roll footpegs were added to the frame as well.
Further completing the rear is an RPM Dominator axle. Stock hubs and calipers are used, but they, too, were powdercoated to look better than new. Crown Series steel-braided brake lines connect all the brakes to the various master cylinders.
Polished DWT spun-aluminum rims are wrapped with Skat Trak Mohawk front and 8-paddle Haulers rear paddles.
DETAILS, DETAILS
Even though the Banshee was a roller, there were tons of details between rolling and riding. A Flexx handlebar, controls (including a Work Connection clutch perch) and a twist throttle were added since Smith is a moto two-wheel guy. Maier Mfg. has plastic that really looks great for the Banshee. Duncan started with red for this build. They added a DR Zipp seat. All of the chrome parts went through the process at Pacific Plating.
Banshees are thirsty, so it gained an IMS 4-gallon tank to hold the 110 Sunoco race fuel and Maxima 927 mix. Maxima supplied the coolant and gearbox lube as well. Serious duners love the dark, so Baja Designs was tapped to make sure the Banshee is not scared of the dark. Ricky Stator made sure there is enough power for the lights.
THE RIDE
This Banshee is built for hauling the mail on the big dunes and carving the large bowls. The engine barks and hits hard. As amazing as it seems, Darryl Smith let us get the machine in the sand before he did, and we are grateful. ATV pro Josh Row handled the riding with his usual style. He was able to throw a prodigious amount of sand.
No matter how steep the sand walls were at Dumont Dunes, the Banshee chewed them up with that unmistakable wail of the tuned two-stroke twin. This thing rips! At least, that was our opinion.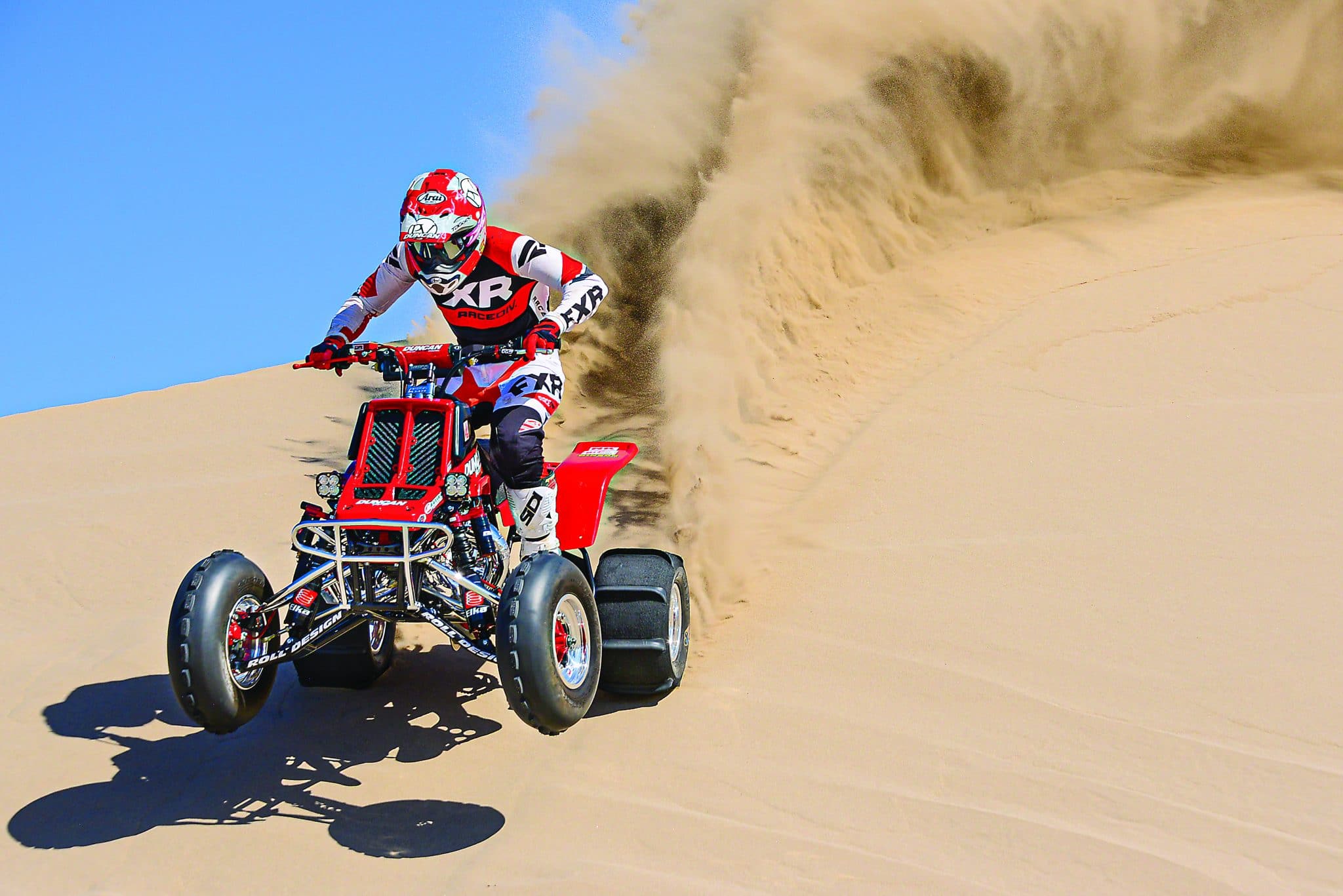 WHAT HE SAYS
What really matters is what Darryl Smith thinks. His dream guided the build with the goal being the ultimate sand duner. Fortunately, Smith felt the wait and the price was worth it: "I can't say enough about the guys at Duncan Racing. I have ridden on two wheels since I was 3 years old. Everyone in our desert group has a Banshee. My brother rides a Banshee, my sister, brother-in-law, dad—the list goes on. I've taken every one of their Banshees for a spin.
"About six years ago I picked one up of my own and rode it for a couple of seasons. I found that I purchased someone else's headache. I was constantly having minor issues with the bike. That's when I walked into Duncan Racing. Loren and Lenny instantly determined my bike had a crack in the Cool Head. They could have sold me a new top end. But, instead, a pair of domes and a new Cool Head, and the bike was back on the road for another season.
"In 2017 I wrecked the Banshee, and I was ready to give up on it. That's when I went back to see the boys at Duncan. Lenny said that he could salvage the bike. That's when we started to roll around the ideas. My dad and I tore down the bike. I gave those guys a blown motor and a semi-bent frame.
"That's when these guys took my ideas and combined them with their knowledge and craft. When we started the build, I wanted to stray away from the blue color scheme. Again, the guys at Duncan helped me pick a perfect color palette. We talked motor, style of riding, budget and lights. These guys helped me every step of the way. And, after almost two years and 200 hours on their end, I ended up with a one-of-a-kind, best-looking and best-handling Banshee in the dunes.
"The thing is super fast, but also so smooth and plush. The suspension is set up perfectly. Duncan has the best customer service! They produce the highest quality bikes. I couldn't be happier with the build. All of my expectations were met. It's rare these days someone actually does what they said they would, but these guys deliver."
CONCLUSION
We love a happy ending. In a true Cinderella story, a Banshee headed for the scrapyard emerges from the cocoon of the Duncan shop a beauty queen with a wicked bite. It has all the power it needs for any dune face and the looks to dazzle in any crowd. We still can't believe that he didn't just park it and look at it!
PARTS LIST
BAJA DESIGNS: (800) 422-5292, www.bajadesigns.com
LED head lights $399
Voltage regulator $59.95
Battery-dimmer assist $69.95
Light switch $69.95
LED hi-output tail light  w/custom S/S mount $99.95
DUNCAN RACING INTERNATIONAL: (619) 258-6306, www.duncanracing.com
Complete engine rrebuild $695 (+ parts)
Eliminator engine kit $3995
Triple-plate pipe chroming $199
Pipe clamps $69
Flywheel mod $95
Super flow carb mods $90 ea.
Shift star mod $50
C33 DR clutch kit $199.95
Billet water pump shaft $79.95
Water pump drain cover $39.95
Adjustable stator cover $99.95
Quick change clutch cover mod $250
Pro Flow air cleaner flange $69
Billet stator cover $350
Billet water pump cover $99.95
Billet dip stick $39.95
Billet shifter $89.95
Block off plates $14.95
Pro top seat cover (custom for DR by ZIP) $199
Frame gusseted, reinforced, sand  blasted and powder coated $799
DR-3000 chrome front bumper $229
Custom heel guards $399
Crown Series steel-braided  rear brake line $39.95
Crown Series steel-braided front brake line $119.95
Aluminum rear grab bar $69.95
CBR radiator $499
Billet radiator grill $115
Custom billet accessories, K/S, gas cap, front master cyl. cover, rear master cylinder reservoir, key plate $350
DWT: 800-RACE-RIM, dwtracing.com
4-piece rolled bead wheelset $599
GPR STABILIZER: www.gprstabilizer.com, (619) 661-0101
Steering stabilizer $549
FASST CO: www.fasstco.com, (877) 306-1801
Flexx handlebar $359.95
HINSON RACING: www.hinsonracing.com, (909) 946-2942
Hinson billet clutch basket w/ cushion kit $285
SUNSTAR SPROCKETS: (937) 704-1462, www.sunstar-braking.com
14T countershaft sprocket $26.95
Steel 40T rear sprocket $45
IMS PRODUCTS: (800) 237-9906, www.imsproducts.com
4.0-gallon tank $279
MAIER MFG.: (800) 33-MAIER, www.maier-mfg.com
Front and rear fenders and radiator cover $599
RICKY STATOR: (760) 787-0094, www.rickystator.com
Hi-output stator $229
RK CHAIN: (760) 732-3161, www.rkexcelamerica.com
O-Ring chain $99
ROLL DESIGN: (760) 731-5920, www.rolldesign.com
LOBO II long travel front A-arms $1595
Elka Legacy shock 3pc set $1299
Anti-vibe steering stem $399
Anti-vibe handlebar clamp assy $99.95
Chromoly +1 round-housing swingarm $995
Remote reservoir mount $99.95
Rear linkage $549
Foot pegs $239
RPM: (928) 771-9363, www.team-rpm.com
Dominator axle $399
SKAT-TRAK: www.skat-trak.com
Front Mohawk and rear 8-paddle Haulers tires $799
Works Connection: , (530) 642-9488
Perch assembly $149.95