ULTIMATE TRAIL MACHINE: INSIDE DUNCAN RACING'S BANSHEE BUILD
Full fun instead of full race 
By the staff of Dirt Wheels
Photos by Pat Carrigan

ULTIMATE TRAIL MACHINE: INSIDE DUNCAN RACING'S BANSHEE BUILD
Yamaha's Banshee was a sales hit for close to two decades. Right from the first, the twin-cylinder two-stroke had massive aftermarket support. Its engine was heavily based on a popular street bike, so there was already a ton of development in making the engine rocket fast. Stock Banshee (good luck finding a stock one) horsepower is in the mid-30s, but just adding pipes and mufflers jumps it to over 50 horses.
While Banshees have been raced successfully in many forms of ATV sport, for the most part they have gravitated to various types of speed contests or sand dunes. Dunes put stress on an engine, but it really isn't that hard on machinery in general, so there are a lot of clean Banshees out there, and there are good reasons for modernizing one.
WHAT WE DON'T SEE
Banshees aren't that common as trail machines, but Tara Frerich wanted a Banshee trail machine enough to have Duncan Racing International (DRI) build her a beauty with off-road trails and play riding in mind. She started with a 2001 Banshee, so it was a later-model example, as 2006 was the final year for sale in the U.S. Production extended until 2012 in some countries.
They say it takes a village to raise a child, and apparently the same is true of raising a Banshee to a whole new level. Duncan Racing worked with a number of trusted companies, including Paul Turner Racing Products. It isn't hard for Duncan to trust Turner. Duncan Racing owns the Paul Turner Racing (PTR) brand, including all two-stroke pipes, Fat Boy 2 silencers, port modifications and billet parts.
It isn't too hard to imagine that a 2001 Banshee might need some engine work. Duncan Racing's National kit for the Banshee engine is comprehensive, and Tara checked that box. The kit includes Paul Turner midrange pipes, Fat Boy 2 silencers, National midrange porting, PTR Powerhead, Pyramid reed valves, MasterFlow intake manifold, DRI pre-jetted Keihin 34mm PJ carburetors, jet kit, K&N filter, Outerwear pre-filter cover, spark plugs, a T-shirt and technical instructions.
BEFORE THAT STARTS: 
You don't throw all those new parts and work at a potentially junk engine. Before the mods start, the engine is completely torn down. All of the original parts are cleaned and inspected. What isn't replaced is refurbished. For engines that get the National kit, the cases and cylinders are powdercoated. A new Yamaha crankshaft is trued and welded. The clutch cover is modified for a quick-change clutch and polished. Inside the clutch cover is a Hinson billet clutch basket with a DRI clutch kit.
To make sure the new parts stay alive, Duncan installs a new billet water-pump impeller and a water-pump drain cover. Before the cases are buttoned up, Duncan performs a shift star mod to allow more reliable shifting, as well as a flywheel mod for smoother running.
DUNCAN RACING BANSHEE
MORE THAN MOTOR
You may think that a lot of work went into the engine, and you would be right. The cases, transmission, crank and cylinders are used, but the heads, reed valves, carbs, pipes, mufflers and more are replaced. Not much remains of the stock engine! You haven't seen anything until you see the chassis! Though the frame is a stocker, it is gusseted, reinforced, sand-blasted and powdercoated before reassembly begins. None of the stock suspension parts, shocks, linkage or A-arms return. The pegs, stem, bar clamp and controls are all replaced. That includes the swingarm, carrier and axle! Almost none of the stock plastic remains, and that includes the fuel tank. No stock wheels, either.
Major builds like this change almost as many parts on a modern race machine. It isn't limited to a vintage machine like the Banshee.
Of course, with a vintage machine, making major changes to the suspension can pay true dividends. Suspension quality and performance can easily surpass brand-new stock machines by a wide margin. With an older machine, weaknesses have been well-documented, and a popular machine like the Banshee has parts available that eliminate the flaws, or at least let the chassis match the performance of the powerful engine.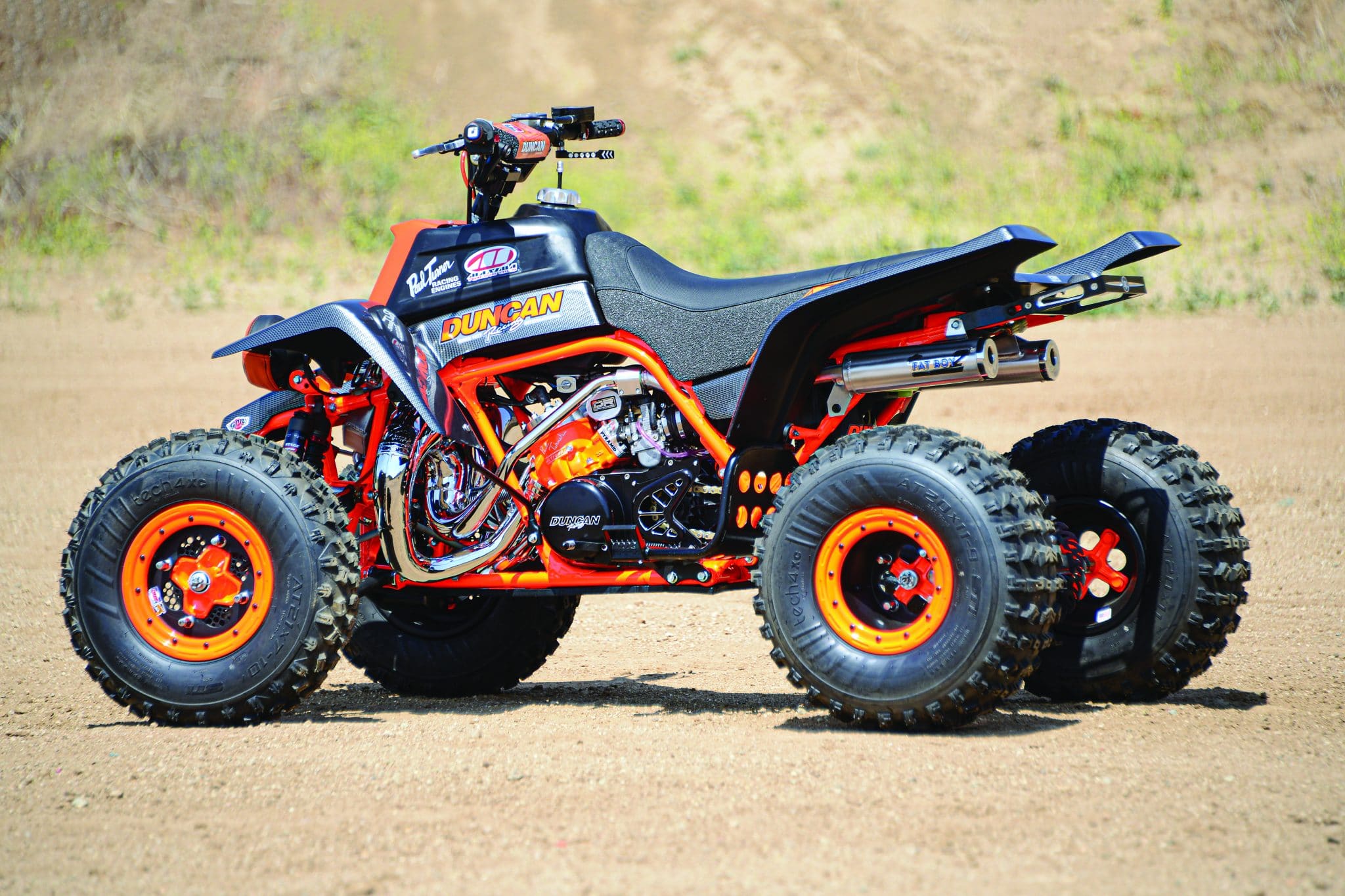 KEEPING IN SUSPENSE
Though not part of the Duncan brand, Roll Design and Duncan have a long history together. Unless a customer insists on another product, Duncan enhances suspension with help from Roll Design and (through Roll) specially tuned Elka shocks.
In Tara's Banshee's case, the  changes include a gull-wing A-arm set, tie-rods, Elka Stage 5 long-travel shocks, and Crown steel-braided brake lines and clamps.
When you think of suspension performance, you may not consider a steering damper or a handlebar, but both can make a giant contribution to suspension performance. GPR makes the stabilizer, and Fasst Co. the Flex handlebar that incorporates elastomers to provide its own suspension.
DUNCAN RACING BANSHEE
SETTING IT APART
Duncan obviously has superb technical and mechanical expertise, but the secret to its stunning project machines is handling the details. Clever use of powdercoating from Powder 1 is found on the frame, engine cases, cylinders, hubs, wheel rings and sprocket hub. The color is mixed with and highlighted by chrome finishes from Pacific Plating, and some extraordinary polishing is done in-house by long-time DRI polisher Jimmy Brown.
Setting this build off further are a billet-aluminum front bumper and rear grab bar. Ultra-clever machining by JDS Customs created the giant tuning fork emblem over the CBR radiator and integrated into the rear brake disc rotor. That rotor is a wild and exotic piece.
Combine everything with painstaking attention to detail and you have a machine to be proud of. The lifeblood of the new engine package comes from Maxima, and the engine requires Sunoco 110-octane fuel to stay happy.
WHAT SHE SAID
Owner Tara Frerich rides the Banshee most weekends, and this is what she had to say about her new dream quad: "I asked Duncan Racing to completely redo the entire 2001 Yamaha Banshee that I purchased. During the build I received weekly updates and pictures of the progress. It was a completed bike in June 2021. I was expecting something amazing, but when the bike came out the delivery truck, I was completely blown away. It was a perfect showroom restoration, and I didn't want to even drive it to get it dirty! They exceeded all of my expectations. There was not one detail missed. If you want something done right and high-grade, then Duncan is where you need to go. They make the process so easy; nothing is rushed, and they listen to every request.
DUNCAN RACING BANSHEE
"One look at my new Banshee and you know you're ready to ride something special. Just starting it up gets your adrenaline going, and then you hit the gas—wow! It is responsive, quick and exhilarating. The Roll/Elka suspension is very plush; much better than stock. The motor sounds are pure ear candy. I love the Fat Boy sound. I am very grateful and thankful to Duncan Racing for turning my vision into a reality." We can understand that reluctance to get it dirty, but, like Tara, we wouldn't be able to leave this bike parked for long, either.
DUNCAN BANSHEE PARTS LIST
CBR PERFORMANCE PRODUCTS: (951) 245-2900, www.cpr-performance.com
Radiator $499
DUNCAN RACING INTERNATIONAL: (619) 258-6306, www.duncanracing.com
Complete engine rebuild $695 (+parts)
DR/PTR National midrange engine kit $2795
Triple-plate pipe chroming $250
Pipe clamps $69
Flywheel mod $105
Super flow carb mods $60 ea.
Shift star mod $50
C33 DR clutch kit $199.95
Billet water pump shaft $79.95
Water pump drain cover $39.95
Adjustable stator cover $99.95
Quick change clutch cover mod $250
Pro Flow air cleaner flange $69
Billet stator cover $350
Billet water pump cover $99.95
Billet dip stick $39.95
Billet shifter $89.95
Block off plates $14.95
Pro top seat cover (custom for DR by Zip) $199
Frame gusseted, reinforced, sand blasted & powder coated $799
Custom heel guards $399
Crown Series steel braided rear brake line $39.95
Crown Series steel braided front brake line $119.95
Aluminum swingarm skid plate w/special mods NA
Custom CRF material glide plate w/special mods $150
Billet radiator grill $115
Custom billet kickstarter, gas cap, master cylinder covers, key plate $350
DWT: 800-race-rim, www.dwtracing.com
Beadlock wheels 10×5 front, 9×8 rear 4-piece set $799
GPR STABILIZER: (619) 661-0101, www.gprstabilizer.com
Steering stabilizer $549
FASST CO: www.fasstco.com, (877) 306-1801
Flexx handlebar $399.95
HINSON RACING: www.hinsonracing.com, (909) 946-2942
Hinson billet clutch basket w/cushion kit $285
IMS PRODUCTS: (800) 237-9906, www.imsproducts.com
4.0-gallon tank $279
JDS CUSTOMS: www.jdscustoms.com
Custom rear tuning fork brake rotor $140 ea.
Tuning fork radiator grill $115
MAIER MFG.: (800) 33-MAIER, www.maier-mfg.com
Front and rear fenders $595
Radiator cover $110
ODI Grips: www.odigrips.com
Custom grips $29.95
PROTECH ATV: (714) 632-1309, www.protechatv.com
Billet front bumper $200
Billet rear grab bar $190
RICKY STATOR: (760) 787-0094, www.rickystator.com
Hi-output stator $229
RK CHAIN: (760) 732-3161, www.rkexcelamerica.com
O-Ring chain $85
ROLL DESIGN: (760) 731-5920, www.rolldesign.com
Roll Lobo II Desert front suspension kit $3495
Elka Legacy shock 3pc set $1299
Anti-vibe steering stem $399
Anti-vibe handlebar clamp assembly $99.95
Chromoly round-housing  swingarm $1295
Remote reservoir mount $99.95
Foot pegs $239
Elka Stage 5 rear shock piggyback $1295
Elka rear linkage $495
RPM: (928) 771-9363, www.team-rpm.com
Dominator axle $399
STI POWERSPORTS: www.stipowersports.com
Tech 4 XC 21x7x10 front tires $65.99 ea.
Tech 4 XC 20x11x9 rear tires $85.99 ea.
SUNSTAR SPROCKETS: (937) 704-1462, www.sunstar-braking.com
15T countershaft sprocket $26.95
Steel 38T rear sprocket $45
WORKS CONNECTION: www.worksconnection.com, (530) 642-9488
Perch assembly $149.95
To subscribe to Dirt Wheels Magazine in print or digital form click here https://hi-torque.com/product/dirt-wheels.