PROJECT OIL MOD BANSHEE
ATV PROJECT: More than just a pretty bike 
When you see some bike builds, don't you say in your head, "Man, that bike should be in a showroom or on display somewhere, not out on the sand, or in the desert"? The bike looks just that good.
Well, you can throw "Oil Mod" into that group. Oil Mod, a 2007 Yamaha YFZ450 with a Banshee motor tucked neatly inside, is the creation and labor of love of Boise, Idaho's, Jesse Walz. It is, indeed, a thing of beauty. But, you won't find it in a showroom or on display anywhere. It's either at the dunes or sitting in Walz's trailer waiting for the next trip to the dunes. Yes, Oil Mod is a beauty, but this project bike is all about performance and it is designed and built to be used, not just looked at.
BUILT, NOT BOUGHT
And, from the sound of it, Walz doesn't coddle Oil Mod at the dunes. He rides it hard. In fact, when asked about his absolute favorite feature about the project bike, he commented, "That it actually works for my riding when wringing its neck like I just stole it."
It seems fitting that Walz is taking so much pleasure in riding Oil Mod. When we said it was a labor of love for him to build the bike, it was actually the polite way of saying it was a test of his patience and, at times, a money vacuum. He explained, "Once you start a build and realize it's going to be harder than you thought and cost way more, it's best to keep pressing forward and just quit counting the dollars. Two years and three times the budget later, Frankenstein is alive. I must have given up 42 times and luckily had 42 epiphanies. In the middle of the night I'd be running back out to the garage in my skivvies to modify the next part and get one step closer to completion."
PROJECT OIL MOD BANSHEE
PROJECT FINISHED: CHECK
Completion did finally come for Walz and his prized project YFZ450 with a 95-horsepower Banshee engine and long-travel suspension. This project bike is dripping with all sorts of mods from a variety of aftermarket companies. There are also a myriad of changes and modifications that took some trial and error to perfect. But, it all came together, and Walz couldn't be happier.
That happiness was long coming, perhaps even back to his younger years for the now 40-year-old. He said, "For the last two decades I would build my idea of a perfect Honda TRX250R and miss the Banshee power, then build a Banshee and miss the 250R handling. I just couldn't find the perfect balance between the two." Then he added, "Unfortunately, I was too stubborn to join the modern four-stroke era—well, for quads at least."
The process of building his dream project bike included more than just buying aftermarket parts and bolting them on, as Walz decided he wanted to be a little more hands on than that. "I started with some metal forging and welding classes, but realized the perfect TIG beads were not going to come soon enough," he said. "I got proficient enough with a MIG to tack things into place, but my now good buddy Casey Hart is a metal savant who made metal do what I could not. He helped get me out of some deep holes that I dug."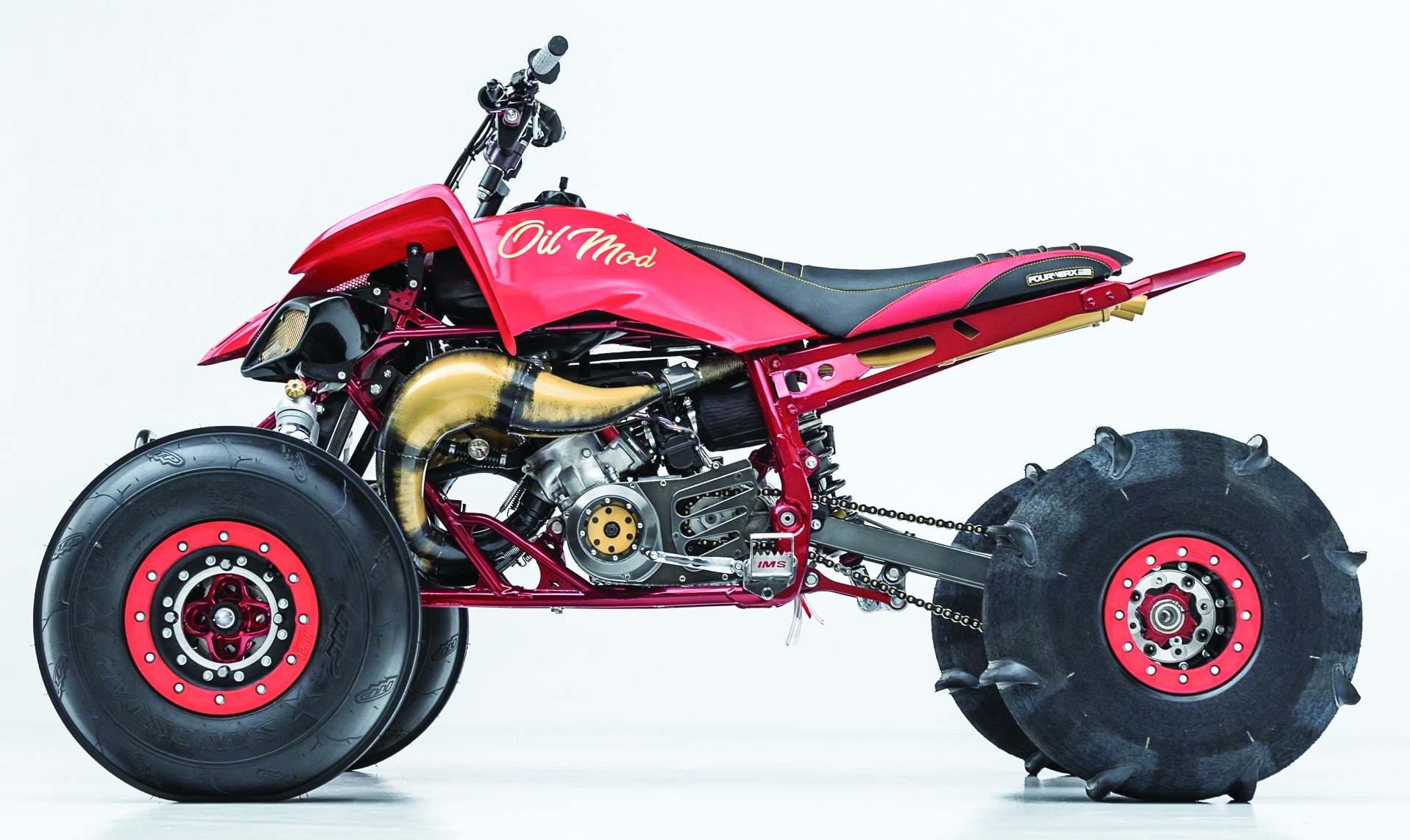 PROJECT OIL MOD BANSHEE
LOTS TO LEARN
A project bike build can be a learning experience for most anyone, even seasoned pros who do it a lot. It was definitely a learning experience for Walz, as he explained: "Everything during the process was action reaction. The original engine design sat too high. While clocking the engine forward I learned the crank-to-countershaft sprocket relationship really changes how the suspension loads."
He went on: "I made the final choice of Pep PB-1 shocks, which were sent out multiple times to different people before I was happy with those. Each change on one end changed other hard parts, so I had to remodify, then make them all work harmoniously together."
Walz said dyno work also became invaluable as Oil Mod came together. "Dyno time also came into play when trying to figure out the exhaust setup," Walz said. "Nate at K a N Powersports in St. Anthony, Idaho, taught me some neat tricks in that department."
PROJECT OIL MOD BANSHEE
DEAD IN MY TRACKS
He added, "Stupid things stopped me dead in my tracks for weeks sometimes. For example, spark plugs interfered with the petcock, and I couldn't seem to weld the oversized plastic tank. A stock-sized tank would not meet my dune-able goal. I then found a guy with a career in welding plastic, and he ultimately gave up. Finally, I found out from the manufacturer that the oversized tank just can't be welded. The cost to have a tank built would have been atrocious, so on my second tank attempt I was able to perfect bending and molding the plastic without cutting it."
Another example of challenges faced while creating his dream project bike? "I could not find room for air filters while keeping my non-negotiable vision of the intake/exhaust tucked tightly in the chassis," Walz said. "I don't believe a snorkel intake setup could feed the high-strung 421cc engine, which also may become a 472cc in the future. I was $500 deep in filters before I found a K&N 3×5-inch filter with 10 degrees on one side and 20 degrees on the other side that would fit with the room of one human hair to spare, but only with an UPP intake [not billet] and certain shocks."
Sometimes when Walz, who works as a real estate agent in Boise, Idaho, turned to outside experts with his project YFZ450/Banshee, he was rebuffed. He remembered, "Reputable, renowned builders either for Banshee engines or YFZ450 suspension just wouldn't help design on something that was so far out of their tried-and-true ways." So, what did he end up doing? "I just kept pressing forward and not sacrificing on my end-product quality goal."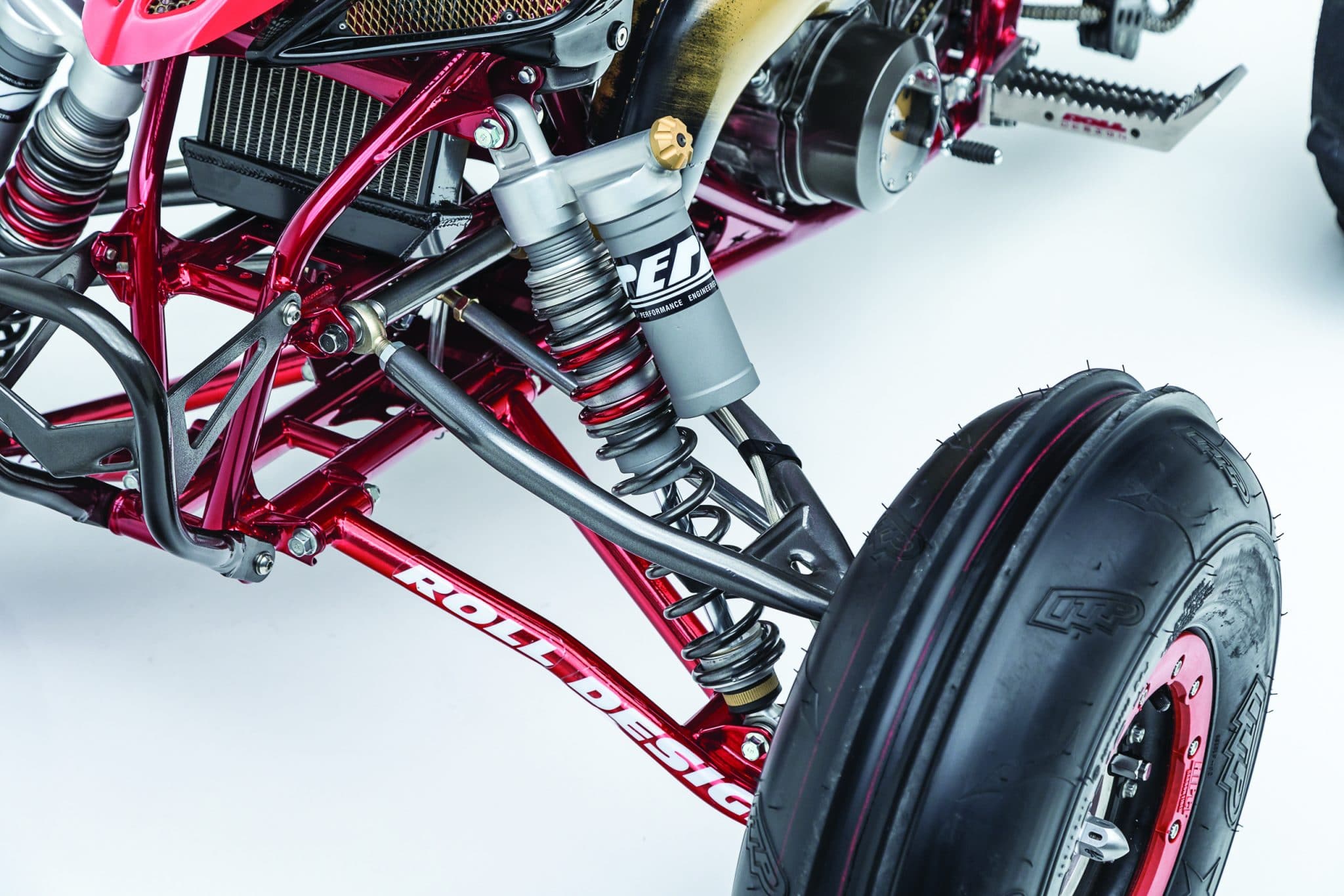 TEST AND REPEAT OFTEN
His "test and often repeat" scenario was used time and again over the two-year bike build. Walz offered plenty of examples of this. One is the original one-off Shearer pipes, which have a pretty good reputation in the bike business. Walz said once he got them, they were "heavily modified again." Or, go back to the IMS fuel tank that he modified by bending and molding the plastic.
No wonder the project stretched from weeks to months to years. "Three months turned to six months, which turned to two years," he said.
So, was Oil Mod really a labor of love? Maybe sometimes. When we posed the question, "If I had to do it over again," he said, "I would not, plain and simple. I never imagined the time and cost to complete the project in what I consider a professional manner." Then he added, "Leave it to the engineers with the fancy computer programs to figure out stress points, physics and geometry that is way outside my pay grade. To the guy that devotes his career to perfecting a specific piece of the machine for the aftermarket world, hats off. Take my money.
"I'm pretty sure every last piece now has a trial and a story. If a part comes off the bike in the future, I may have to put it under my pillow. Heck, those darn front hubs took more hours than I'll ever admit, because I was trying to keep the budget down and not purchase new billet."
PROJECT OIL MOD BANSHEE
BUDGET?
Speaking of budget, do you remember when Walz said, "Just quit counting the dollars." He elaborated, "My pre-build budget was $10,000–$12,000, basically the mind-boggling price of a 450R from the big three and some tires. The $10,000 mark came and went quickly, and I had nothing but a boat anchor. I mentally tallied a part-out and could have taken a small loss at that time. At $20,000 there is no turning back—there is only forward—so it better be perfect in the end. Closer to $30,000 and you really can't use any old parts, so OEM hardware, vapor-blasting and other finishes come into play for every last part.
"For my sanity I had to quit counting dollars at that point. The end goal changed, and I paid handsomely for the knowledge; that's the only way I can justify it. Certainly I could do it again now for less cost."
PROJECT OIL MOD BANSHEE
LEARN AND EARN
Again, wanting to be as hands-on as he could, or dared, Walz even traded labor for work. "I have to give a huge shout-out to Dean at Fast Blast Coatings who let me learn and work off some of my bill in his coating shop."
But, with all the build time and money, Walz is doing his best to get his money's worth out of the bike, spending time at the St. Anthony sand dunes in eastern Idaho. And, it's a pretty good place to show off Oil Mod.
"The St. Anthony Sand Dunes are the best riding in my opinion, due to the height and amount of large, smooth dunes," he said. "But, the Oregon dunes will always be home. I grew up there, and our dune-loving family still lives there. My wife and even mother-in-law ride Banshees, and my dad and brother-in-law ride Rs, and we all meet at the beautiful Oregon dunes. Recently, I have been thinking it would be a fun mission to throw sand at every ridable dune west of the Rockies. Dumont is next on the punch list."
He concluded, "The bike's only purpose in life is to rail through anything the dunes can throw at it. Just a good mix of sand trails, jumps, tree shots, side-hilling and bringing a smile to my face every time I ask it to.
"I am very proud of my final product and can't think of a bike I'd trade for. The only reason I pushed forward was ignorant bliss mixed with stubbornness. I am just thankful I finished this thing, and it met my expectations."
PROJECT OIL MOD BANSHEE
PARTS LIST:
2007 Yamaha YFZ450
Teixeira 38-piece gusset kit
Rear, front, lower engine mounts fabricated, TIG welded
Fabricate, TIG weld rear grab bar
Pit Viper subframe, smoothed and holes filled
All additional tabs removed, holes filled
Suspension
Roll Design +2 +1 long travel A-arms
Lonestar +4 swingarm
LSR carrier
Walsh rear LT link
PEP PB1 LT 19 inches and 19.5 inches
Tuned by SFR, then Baldwin Motorsports
TM Designworks guide/slide/rollers
Engine (Banshee)
Assassin LP 421 (+4 and 68mm)
Rebuilt and tuned by Redline 110 octane
Pro-mod standard transmission
Straight cuts
Lockout
See through covers both sides (Cerakote gold flywheel and clutch lockout)
Dyno-tuned and custom domes from K a N
OEM electrical
Billet impeller
Cool Head
Intake/Exhaust
Pipes originally one-off Shearer but heavily modified
Center exit rear
PWK 33mm x 2
UPP intake
K&N 5-inch pods (10 and 20 degree)
Steering/brakes
Roll +2 stem
Fasst Co Flexx bars
ODI lock on grips
ASV F5 levers
Streamline rotors and steel-braided lines
Billet rear reservoir
Cosmetic
Maier race cut front plastic and headlight delete
"Oil Mod" decals
Fabricated grilles
Other Mods
2007 Raptor radiator (keeps pipes inboard and tight to engine)
Drilled/modified front rotors
Seat pan lowered and bolted to subframe
Wheels/Tires
HiPer Tech 3 carbon wheels
22×8-inch 9-paddle Extreme
ITP Sand Star dual rib front tires
Baldwin hub caps
Goodies
JJ&A rear aluminum play axle
Terry cable
CR250R ¼-turn twist throttle
Aluminum throttle tube with bearing
IMS tank (modified)
Pingel dual
Every bearing/shaft/wearable part replaced
Roll pegs
New OEM hardware for suspension/arms
In-line temp gauge
Color (Prismatic by FBC)
Red is powder Super Chrome base with Gold Dust Red
Black is Super Chrome base w/Black Chrome II
Black Cerakote for carbs and other items w/tight tolerances
Gold pipes done in Cerakote with black patina
To subscribe to Dirt Wheels Magazine in print or digital form click here https://hi-torque.com/product/dirt-wheels.
Article by Lane Lindstrom
Photos: www.bartcepekphotography.com