ATV RACING LEGEND DOUG EICHNER IS SELLING HIS LOBO 250R
Arguably the best custom chassis sport quad ever produced!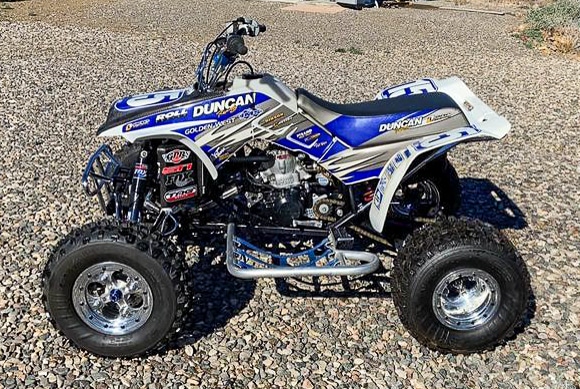 Offered up on Facebook Marketplace, we stumbled across one of the rarest and most highly sought after 250R builds of all time – the Roll Design Lobo. The entire chassis is hand built by Roll Design, and Duncan Racing built the PC2000 Paul Turner Racing engine. But there's more. The seller is ATV Racing legend Doug Eichner.
When we look back at the best ATV racers of all time, Doug Eichner's name is right there with the rest of the front runners. Eichner's racing resume includes multiple championships in multiple disciplines, which include 7-time Pont De Vaux Champion, 8-time Elsinore Grand Prix Champion, a Mickey Thompson Offroad Championship, three GNC Open Pro Championships, two overall SCORE Baja championships, five consecutive WORCS Pro Class championships, two BITD championships…and more!
The price tag of $25,000 might seem like a lot to the uninformed, but it would probably cost you that much or more just to have a Lobo chassis alone built today. This is a very fair price for this 250R. The quad is located in central Arizona. The ad is still up, so we assume it's still available. You can check it out for yourself with this link.