2018 HONDA RINCON 4×4 TEST
— Can it keep up with the rest? By the staff of Dirt Wheels —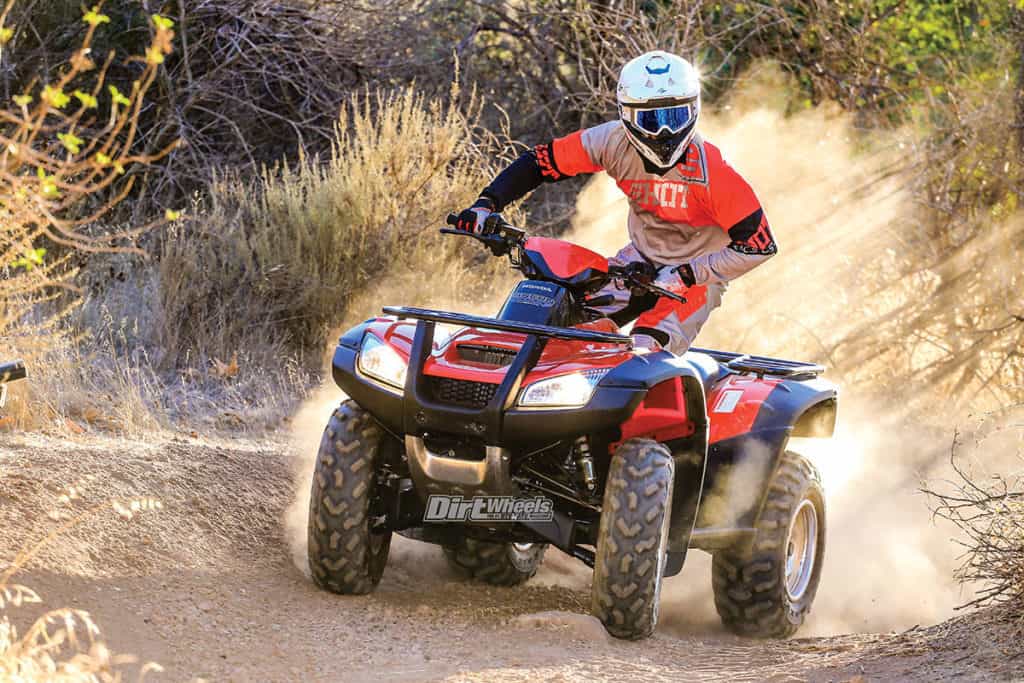 The Rincon has been at the pinnacle of Honda's 4×4 ATV lineup since its introduction as a 2003 model. Through its lifetime there have been minimal changes made to the durable big-bore quad. In 2006 the engine gained a larger cylinder bore that increased displacement from 650 to 675cc and an EFI system. In 2015 the aluminum rear A-arms were swapped out with steel ones, and the front upper aluminum A-arms were also given the boot for steel versions. This added a little bit of extra weight, but only increased the durability and strength of the FourTrax Rincon. Honda seems to hold true to a tradition that if it isn't broke, don't fix it. However, as technology progresses, it could be ready to learn some new tricks.
GET THINGS MOVING
Honda has an engine and transmission system that works well and hasn't been replicated by other companies. The motor is a liquid-cooled, 675cc, single-cylinder four-stroke that is longitudinally mounted. According to Honda, the mounting style increases the engine's efficiency, transferring power to the wheels. Back in 2015 a lot of smog equipment was added to the engine, including an oxygen sensor, a catalytic converter and dual spark plugs in the head.
The transmission holds another Honda-specific innovation for an ATV lineup. Most 4×4 quads utilize an automatic CV-style transmission with a belt, but "Big Red" stuck with the shiftable gearbox; however, it also functions as an automatic. You have the option of shifting the three forward gears through a push-button electronic shifting system, or you can switch the transmission into a fully automatic mode. This can be done through a selector switch on the handlebar that is easy to utilize and adds to the fun of riding the Rincon. On the side, under the handlebars of the big ATV, you will find a forward, neutral and reverse gear selector that is easy to manipulate.
A two- and four-wheel-drive selector switch also resides on the handlebar. The 4×4 system on the Rincon works well and can be changed between modes while piloting the machine. One downside to the Honda Rincon is that there is no available front differential-locking ability. More often than not, it is rare that you will need a front locking diff, but it can help in a tough trail situation. You can find a front diff-lock system on a comparable Kawasaki Brute Force or Suzuki KingQuad, though.
CHOICE CHASSIS
Like the rest of the Rincon, the chassis has remained the same, aside from front and rear A-arm material changes. The front suspension system is a dual-A-arm design that utilizes a non-adjustable shock to provide 6.9 inches of wheel travel. In the past, the upper front arms were made of aluminum, but now they are steel, which we can only assume lowers the cost of manufacturing. The rear of the Honda has a smooth-riding independent suspension system that operates through a dual-A-arm design and allows 8.0 inches of wheel travel.
This healthy suspension system with the help of 25-inch-tall Dunlop tires gives the Rincon a generous ground clearance of 9.1 inches, which aids in traversing big rocks, trees and other trail debris. Another big bonus that the Honda has over other 4×4 quads in its class is that it is the lightest, weighing in at 657 pounds. The next heaviest machine would be Yamaha's Kodiak 700 at 4 pounds heavier. You can feel the difference in weight between other machines in how nimble the Honda feels. There is no available electronic power steering, which we feel it could use. The steering does feel heavy at times, and we wish that Big Red would provide the option, but it isn't a major hindrance in how well the ATV negotiates corners.
The cockpit of the Rincon is one of the more comfortable and spacious ones. The handle bars are tall and have a sweep that helps turn the machine easily in a sitting position. Going from a sitting to standing position is very easy due to the tall seat height and low footpeg height, and the seat is very comfortable to sit on for hours of riding.
One of our biggest compliments to this quad is how useful it is in a working environment. There are steel cargo racks on the front and rear of the machine that can hold a combined weight of 199 pounds. There is a DC outlet on the front plastic by the gas tank for your charging needs and a small storage box on the front fender. We wish that there was a larger cargo box designed into the plastic for storing tools and other trail items. The hauling capacity of the Honda is 850 pounds, but it does not come with a hitch reciever. Now that the nitty-gritty details of the machine are laid out, we can move onto the test!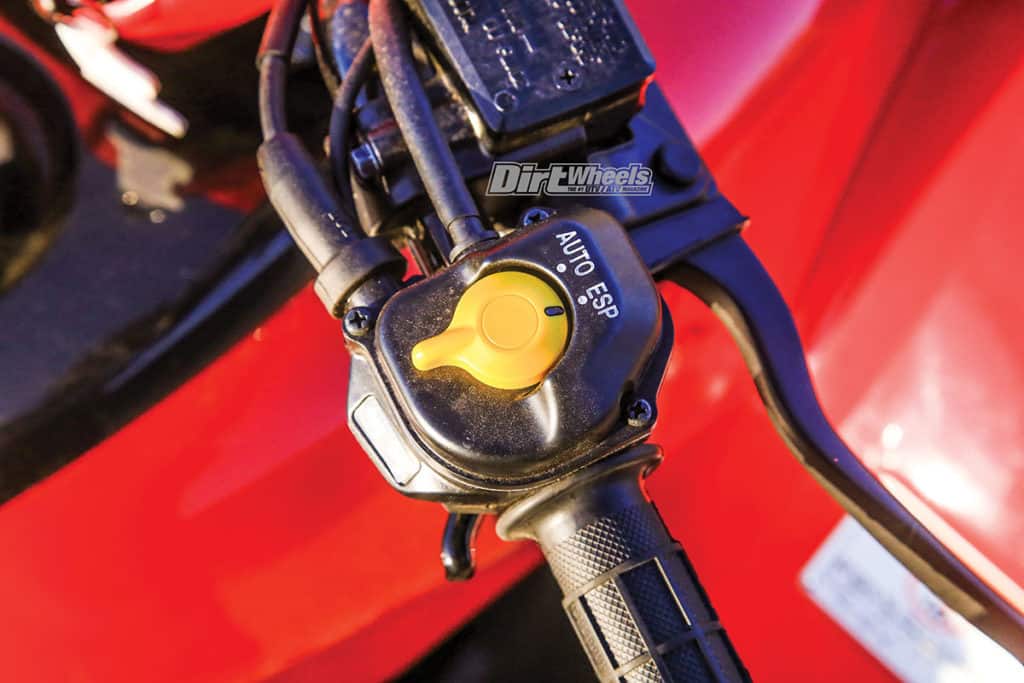 RIDE TIME
The first impressions of swinging a leg over the Rincon is that it has a comfortable riding position. The seat is supple, and the handlebar is at a good height with a turning-worthy sweep. The thumb throttle and brake levers are ergonomic and easy to use. The gear shifter, two- and four-wheel-drive switch and shifting mode switch are easy to reach without removing your hands from the grips.
In the power department, the Rincon goes through its three gears quickly with a decent amount of torque to a top speed of 65 miles per hour. The ability to downshift the transmission provides a strong version of engine braking. The powerplant isn't the sprightliest of its class, but it has plenty of boost to handle workloads and have fun on trails.
The only downside to the transmission is while it is in automatic shifting mode. At times, the computer shifts gears too late and too early at other times. Once you put the trans in manual shift mode, you get away from the occasional shifting surprise, and being able to shift gears brings a level of fun that the other quads in its class don't have.
The braking system on the Honda is operated by separate levers for the fronts and the rear, along with a rear foot-actuated brake pedal. The front brakes are hydraulic disc with a single hydraulic disc brake in the rear. The system slows the machine down quite well, and we enjoy the fact that it doesn't have a single lever that actuates both the front and rear.
Tackling rough terrain is pretty easy on this machine. The suspension is firm and can tackle hard hits, yet we wish Honda would put adjustable shocks on the Rincon. The rear independent suspension provides a supple ride over chop and in rocky or rutted terrain. Cornering is one of the aspects of the Rincon that could use some help. The machine feels tippy in turns due to its tall seat height and narrow track width. The lack of electronic power steering could attribute to how much the handlebars seem to wander at higher speeds, and it would also help with slow-speed crawling and turning. When operating the Honda in 4×4 mode, you don't feel much of any difference in the steering system, and the 4×4 mode works quite well. We would like to see a front differential lock on this machine in the future, though.
FINAL THOUGHTS
Honda is very well known for creating very durable and long-lasting machines for recreation and for work. The Rincon 680 sits firmly in that category, and we appreciate it for that. It is fun to pilot through the trails, and it tackles work on the ranch quite well. With all ATVs there are strong points and weak points, and we feel it might be time to teach this machine some new tricks. Electronic power steering would be a start, along with preload-adjustable shocks and a front locking differential. However, this quad has been on the market for over 10 years without much change, and that means that it performs and sells well! You can pick one up for a starting price of $9399, and it comes in red or Phantom Camo. Go to www.powersports.honda.com to check out Honda's full lineup of ATVs and UTVs.
2018 HONDA RINCON 680 4X4
Engine Single-cylinder, OHV, liquid-cooled, 4-stroke
Bore x stroke 102mm x 82.6mm
Displacement 675cc
Starter Electric w/ recoil back-up
Fuel system 40mm EFI
Fuel capacity 4.4 gal.
Transmission 3-speed automatic or push-button shift
Final drive Shaft
Suspension/wheel travel:
Front Dual A-arms w/ 6.9"
Rear Dual A-arms w/ 8"
Brakes:
Front Dual hydraulic discs
Rear Single hydraulic disc
Tires:
Front 25×8-12
Rear 25×10-12
Length/width/height 83.2"/46.8"/47.5"
Ground clearance 9.1"
Wheelbase 50.8"
Curb weight 657 lb.
Rack capacity:
Front 66 lb.
Rear 133 lb
Colors Red, Phantom Camo
Price $9399