2019 CAN-AM OUTLANDER 650DPS
Testing big changes to a proven 4x4 performer
By the staff of Dirt Wheels
2019 CAN-AM OUTLANDER 650DPS
Can-Am has one of the most extensive lineups of ATVs on the market. We have tested many of their machines over the years, and while a lot of them are great, there was always something off with the handling characteristics. It is safe to say the Canadian manufacturer has figured it out for 2019! Their Outlander and Renegade line of the 650, 850 and 1000R have all received new upgrades for 2019. Our test subject is the popular Outlander 650 DPS. This machine starts at a price of $9299.
PUTTING DOWN PONIES
Can-Am prides themselves in having the highest-performing engines in the ATV industry. The Outlander 1000R engine gained two horsepower over last year, but the 650 remains the same at 62 healthy ponies. The V-twin cylinder engine has a displacement of 649.6cc, and it comes liquid-cooled with an electronic fuel-injection system. There is an electronic engine braking system programmed into the 650's computer that assists in slowing you down.
The four-stroke engine is paired to an automatic continuously variable transmission. This style of transmission is widely used on the majority of production 4×4 ATVs these days. It is easy to maintain and also simple for operators to manage. High and low forward gears are included with neutral, reverse and park on the Can-Am. The gear shifter resting below the right handlebar is gated, and it is easy to manipulate on the Outlander.
The Outlander's four wheels are shaft-driven out of the transmission to a front and rear differential. Can-Am utilizes a 4×4 system on their ATVs that has an auto-locking front diff. They call this system their Visco-Lok QE. We have had past complaints about the similar system in their UTVs, but they fixed them, and we haven't had a complaint about the system on their ATVs in quite a while.
2019 CAN-AM OUTLANDER 650DPS
WHAT'S NEW IN HANDLING
Can-Am's claim to fame for their 2019 Outlander and Renegade model lineup is the improved suspension system. We can tell you that what they did made a major difference in handling in all the right ways. The Outlander gained a wider stance over last year by an inch on each side. They widened the rear torsional trailing arms that now have 9.9 inches of wheel travel. They didn't simply widen the front control arms, though. Can-Am lengthened the A-arms up front, but they also arched them to gain more ground clearance. The 2018 model's arms had 10.2 inches of clearance, and this year they have 11.6 inches. the rear suspension to be Front-wheel travel is up to 9.2 inches.
The machine's track is now 48 inches in width compared to 46 inches for past models. This computes to more stability and an easier, more planted feeling to the steering. The trade-off is that the Outlander isn't quite as quick to turn on tight and slow trails. Most riders may never be able to tell the difference in tight turning, but will easily notice the added stability, control and suspension capability.
They didn't stop there. Can-Am added an all-new sway bar to the front of the machine and added a redesigned rear sway bar with reduced wall thickness. The thinner wall allows it to flex a bit more. That translates to increased stability along with added traction and a supple ride over all terrain.
2019 CAN-AM OUTLANDER 650DPS
BACK TO BASICS
Aside from the suspension changes and the new front grill, other aspects of the Outlander 650 DPS have remained the same except for some cosmetic differences. This year's DPS model is a brilliant orange in color. Understandably, the Outlander is still an up-to-date machine in appearance, so we don't blame them for not restyling it completely.
As fun and sporty as the Outlander 650 is, it remains a workhorse when you need it to be. The towing capacity on this rig is pretty impressive for its class at 1650 pounds. Can-Am utilizes its multifunction LinQ racks on the front and rear of the machine. The front rack can hold up to 100 pounds, while the rear tackles 200 pounds of cargo.
In the rear of the Outlander, you will find a 5.7-gallon storage container. It does sit right next to the exhaust, so be careful of what you put in there. Limit your choices to items that can tolerate some heat. Fuel capacity is a healthy 5.4 gallons, which tops most other brands in its class.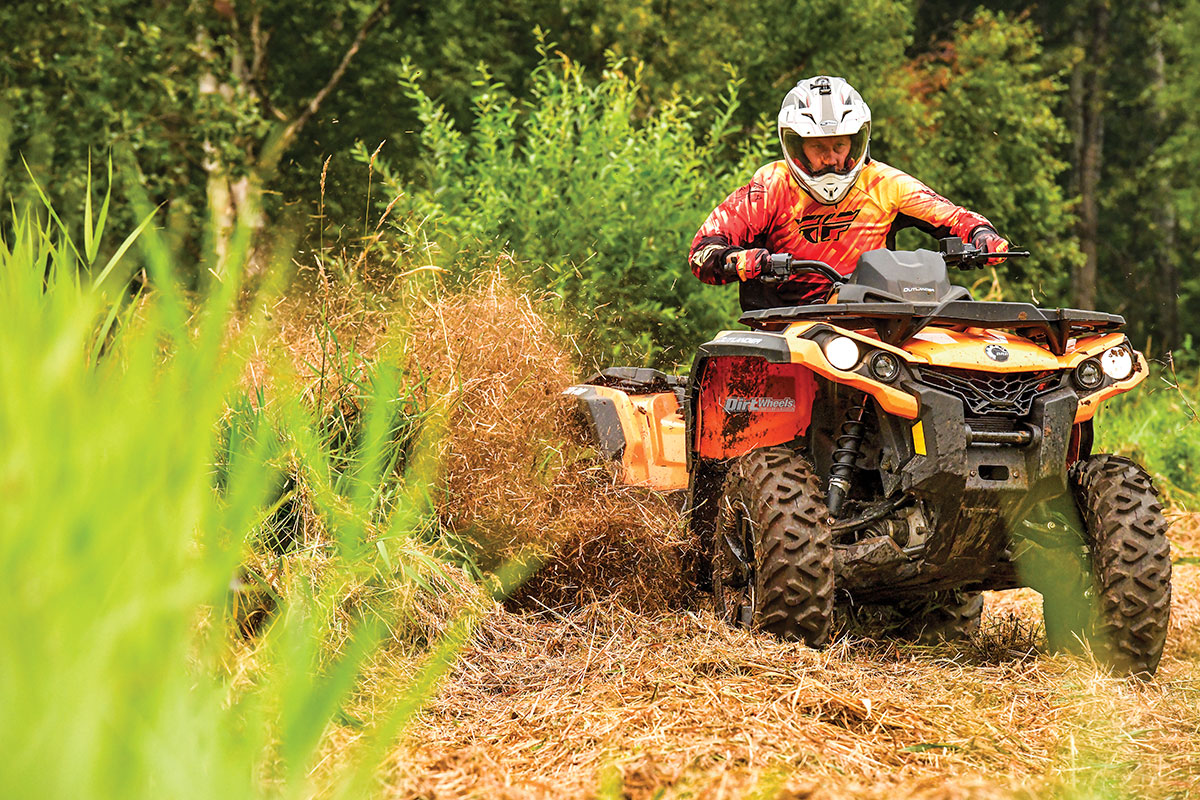 2019 CAN-AM OUTLANDER 650DPS
TESTING IT OUT
One thing we realized with the Can-Am Outlander 650 is that you really don't need any more power than this machine puts out for trail work. Wanting more is a different story, but the company has larger-displacement models for that. There is plenty of low-rpm torque, and it keeps pulling well through the usable rpm range. We never noticed any flat spots in the power, and it remained very manageable in rocky and rough terrain.
On the opposite side of the spectrum, the braking system also works well. We would like to get more feel out of it, though. There is one lever on the handlebar that controls the front and rear brakes, and it requires a firm pull. The brakes react quickly, but they don't feel that precise.
We rode a 2018 model of the Outlander alongside the new 2019 model to more accurately assess the new suspension upgrades. We were blown away with the improvements. The wider stance provided stability and increased our riding speeds without feeling like we were pushing our skill boundaries. The machine was far more calm in the steering compared to last year's model as well. The all-new front sway bar and redesigned rear one complemented the feeling of the wider stance. The ride is plush and comfortable while sitting or standing.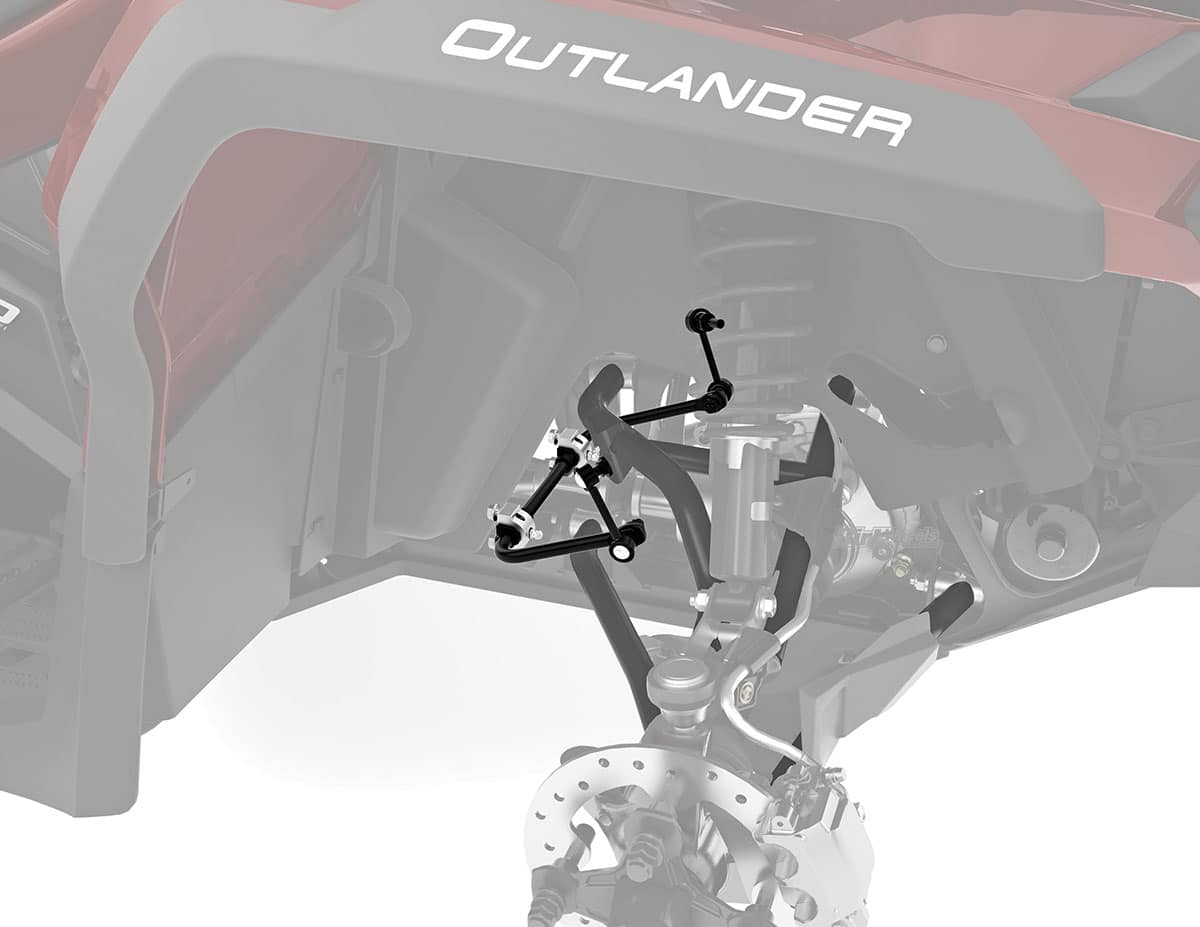 2019 CAN-AM OUTLANDER 650DPS
Can-Am's Dynamic Power Steering offers three settings that provide more or less electronic steering assistance. We felt the EPS wasn't that well-calibrated in the past and blamed it for how the Outlander turned. The new suspension upgrades have helped the machine steer more accurately and thus heightened the EPS feel. In low mode there is a lot of trail transfer to the bars, but when it is set on high, things get much easier to control, and that helps you stay less fatigued over long days of riding.
THAT'S THAT
We are pleased with Can-Am's suspension and steering changes to the Outlander 650. We didn't feel it needed any power adjustments, and we traversed a lot of rough terrain that the 4×4 system had no problem dealing with. The cockpit is roomy with a plush seat and a comfortable riding position. The Outlander is also bred as a workhorse, so you can be assured you get everything you may want or need in this package. Go to www.can-am.brp.com to gather more info on the Outlander lineup and check out the rest of what Can-Am has to offer in the ATV and UTV segments.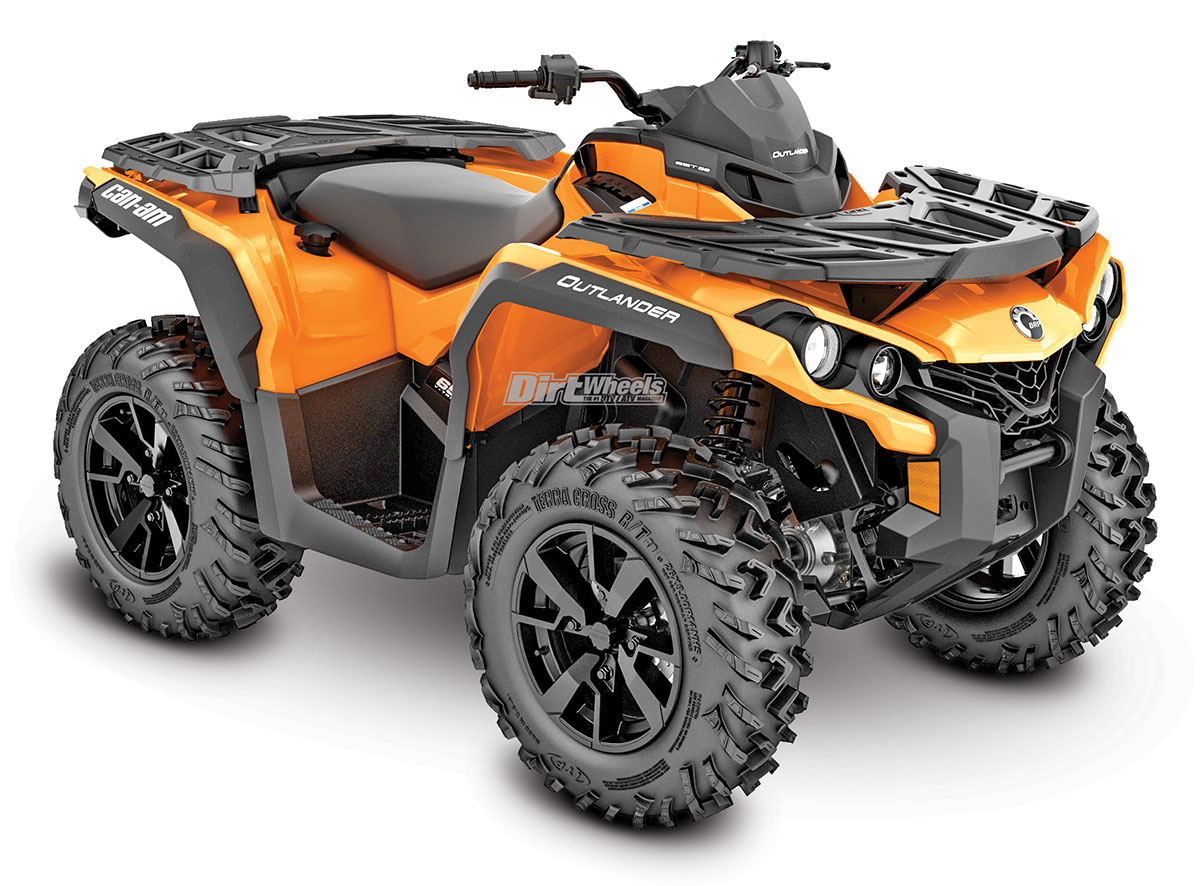 2019 CAN-AM OUTLANDER DPS 650
Engine V-twin, liquid-cooled, 4-stroke
Displacement 649.6cc
Starter Electric 
Fuel system EFI
Fuel capacity 5.4 gal.
Transmission Automatic CVT
Final drive Shaft
Suspension/wheel travel:
Front Dual A-arms w/ 9.2"
Rear Dual A-arms w/ 9.9"
Brakes:
Front Dual hydraulic discs
Rear Dual hydraulic discs
Tires:
Front 26×8-14
Rear 26×10-14
Length/width/height 86"/48"/49.5"
Ground clearance 11"
Wheelbase 51"
Curb weight 749 lb.
Rack capacity:
Front 100 lb.
Rear 200 lb.
Towing capacity 1650 lb.
Colors ..Orange
Price $9299
Contact www.can-am.brp.com or local dealer
MORE CAN-AM ARTICLES YOU'LL LIKE> https://dirtwheelsmag.com/machines/can-am/
$25 GIFT CARD > https://hi-torque.com/product/dirt-wheels-holiday/
.
.
.