ATV TEST: 2022 CAN-AM OUTLANDER X MR 1000R
Made for more than mud By the staff of Dirt Wheels
Dirt Wheels recently tested the Can-Am Renegade X xc 1000R. When we were offered this Can-Am Outlander X mr 1000R, we were worried that it would just be a different style of the same machine. In some ways that is true. The suspension and 91-horsepower V-twin engine package do share a great deal with our Renegade. Despite those similarities, the Outlander is a different machine from the sport- and competition-oriented Renegade. That is especially true of the X mr version. The "mr" in the model designation stands for "mud racer."
Radically rowdy mud-specific tires and a front rack-mounted radiator are some of the giveaways. It is not so apparent that Can-Am starts the X mr build with a Can-Am two-up quad chassis to enhance control in deep water, mud or muddy water.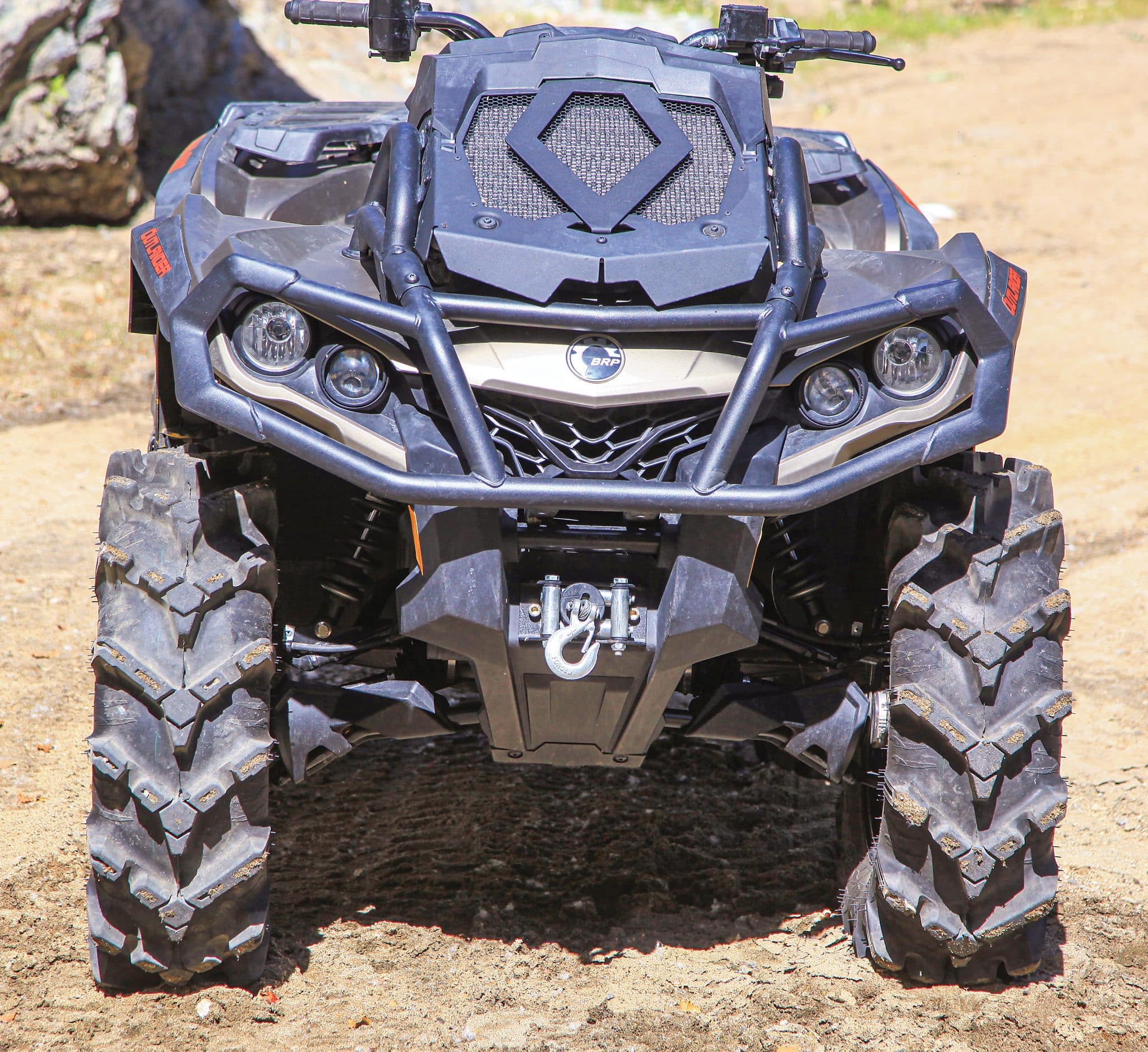 POWER DELIVERY
At 91 horsepower, the Outlander's Rotax 976cc V-twin engine is something of a monster. Thankfully, it has three selectable maps to allow the rider to have the exact power needed for specific tasks. Intelligent Throttle Control (iTC) is a throttle-by-wire system, so throttle response is immediate but smooth. With iTC, you are able to select fuel-injection modes on the fly. It makes sense that the selector switch is right on the throttle housing. You choose from Eco, Normal and Sport modes.
Can-Am's Rotax V-twins of all displacements have an incomparable sound quality. It meets standards, so it isn't loud, but it sounds throaty in a way that few ATV engines do. We did notice that the power felt more controlled than on our Renegade. It didn't take long looking at the X mr specifications to see why the power was tamed. The minimalist Renegade is svelte by big-bore 4×4 quad standards at 710 pounds, but the Outlander X mr 1000R is 1014 pounds. A 300-pound difference should put the X mr at 850cc performance levels. It doesn't feel like that large of a jump, but it does have a significant effect.
Even if the performance (and weight) was identical, the X mr is nearly a foot longer with a 9-inch-longer wheelbase than our Renegade. That alone would make the power easier to control. In addition, our Renegade had 25-inch tires and an Outlander X xc 1000R has 26-inch tires. The X mr tires are a full 30 inches. Until 2022, Can-Am didn't have a UTV with dirt tires larger than 30-inch tires! Larger and heavier tires smooth the power as well.
POWER TO THE PEOPLE
The Rotax V-twin has a satisfying bark at low rpm, despite the fuel-injection mode you select. Eco has the smoothest delivery, and we chose that for any technical sections. Big shocker—normal is the perfect setting for ordinary trail situations, and we spent most of our time in Normal. Sport is a blast, but it can make the machine sudden in tech conditions or when the terrain is slippery.
In Normal or Sport mode, the initial take-off is snappy, and as the rpm rise, you get a satisfying thrown-back-on-the-seat feel. Clutching is smooth, and we didn't feel that the tires made the gearing feel too tall in high or low range. Often, we selected low range and Eco together. If conditions demanded low range, we often wanted the smooth and controlled delivery of Eco at the same time.
A shifter on the side of what would traditionally be the fuel tank selects park, reverse, neutral, high and low. To shift, you must move the shifter left, shift and let it lock back into a detent. It is easy and reliable in action.
The rear differential is always locked, but the front is controlled electronically through the Outlander's computer. Can-Am's Visco-Lok front differential locks when the system senses the rear wheels slipping.
ENGINE AND MECHANICAL BRAKING
Can-Am engineered in engine braking with the CVT. Until you get used to the effect, it can be surprising. In low range it was particularly noticeable. Pick up the pace in high range and you come to appreciate the engine braking. Slowing down any 1000-pound quad takes effort if you are hammering into corners. At an aggressive pace, the engine braking is perfect.
The front brakes are dual hydraulic discs with twin-piston calipers, and the rear brake is a single disc with a twin-piston caliper. A single left-side lever engages all three brakes, but braking power is proportioned towards the front brakes. A foot-operated brake pedal on the right is rear brake only, but it isn't as natural with the floorboards as the hand brake. We primarily used the hand-brake lever, but it takes a significant amount of lever pressure. More braking power with less lever effort would be welcome.
FOUR-WHEEL DRIVE
We found that four-wheel drive was most suitable for 90 percent of our riding. Using 4WD keeps the X mr more planted and always controlled. We are certain that would be 100 percent if we had been able to locate mud to put the X mr through its paces. We went to an area that always has a running stream and ample mud, but this year we discovered some damp sand and a single boggy spot.
That single bog showed us just how capable the X mr is. Our small bog had black, slimy-looking mud with standing water. We wondered if the quad would just sink! With the massive ITP Cryptid mud tires, the Outlander just rocketed out of the bog. The tires didn't even spin enough to throw mud!
As much as we wanted to throw mud around, we ended up riding our normal quad trails. That answered other age-old questions. Is a mud quad good for anything else? The answer is yes. We are sad that we couldn't hit the dunes with the X mr. The mud tires are amazing in the sand we were able to ride in, and it threw prodigious roost! Those radical-looking Cryptid tires look like they would beat you on hard terrain, but they ride shockingly smoothly on firm dirt. We were equally surprised at the grip and control riding in rocks! Naturally, rocks will drastically shorten the life of the Cryptid tires.
IT IS GOOD TO BE LONG
As we have found riding two-up quads, the added wheelbase is a boon on climbs, through rock gardens, and when traversing steps and ledges. With this much power, the X mr will still wheelie, and especially if you hit something that helps the front end get light. Making U-turns on the trail are often three-point affairs, but otherwise the long wheelbase has no negative effect that we noticed in turns.
When we shot the photos, we had two normal 4×4 quads along. While cruising stream beds, scouting for ever-elusive mud we came up to some abrupt ledges and boulder fields. Both normal 4x4s either struggled with the obstacles or the riders chose an easier line. The X mr all but vacuumed up those same obstacles in effortless fashion.
STEERING
Cornering feel was another area where the X mr exceeded expectations. Whether we were carving the sandy portions of the stream bed or on packed fire roads, the Can-Am was happy. It cranked turns on all surfaces with no rumble from the tires and no tendency to break loose suddenly on the packed sections. Looking at the Cryptid tires we would never have suspected the amount of ordinary traction they exhibit on normal quad trails.
Even though the X mr has full-traction rear footrests and a two-up chassis, this is not a two-up quad. The rear footrests are to get the front end light and enhance control in mud or water.
Of course, for deep mud or water you would need to add snorkels for the various intakes. You don't want clean water in the engine or CVT intakes, and muddy water or watery mud would be even worse.
DETAILS, DETAILS
The Renegade comes with four 60W fender-mounted round headlights, in addition to rear tail and brake lights. The lights are effective at night, although we did little night riding. It comes with a powerful winch with a clean control switch right on the handlebar. We couldn't find enough mud to get stupid and get stuck, so we didn't use the winch. We were happy to have it. The main gauge has all the usual meters, along with a clock and 4WD indicator. The "key" is a digitally encoded snap-on plastic piece that clips on tightly instead of being inserted in an ignition switch.
CONCLUSION 
The Outlander X mr 1000R is a big and heavy machine, but it has ample power and suspension action to make the machine a blast. Like our Renegade, the 1000R has the power and equipment to do utility work, but it is better equipped for sport riding, fun or perhaps even competition. We are slaves to the sound of the Rotax V-twin. We love the sound, look and even height of the machine.
At $14,999 it comes ready to make you happy as a swine in poo when you find mud and goo. There is no need to customize anything until you desire to dive deep, then you need snorkels for the intakes. You can check out different price packages and build options at www.can-am.brp.com.
2022 CAN-AM OUTLANDER X MR 1000R SPECS:
Engine 91 horsepower, Rotax V-twin, snorkeled, liquid cooled with relocated radiator
Displacement 976cc
Starter Electric
Fuel system EFI
Fuel capacity 5.4 gal.
Transmission Automatic CVT
Final drive Shaft
Suspension/wheel travel: 
Front Arched double A-arm with front sway bar and Fox 1.5 Podium shocks w/ 9.2"
Rear Torsional Trailing arm Independent (TTI) and Fox 1.5 Podium shocks w/ 9.9"
Brakes:
Front Dual hydraulic discs
Rear Hydraulic disc
Tires:
Front ITP Cryptid 30×9-14"
Rear ITP Cryptid 30×9-14"
Length/width/height 97"/50"/51.5"
Ground clearance 13"
Wheelbase 59"
Curb weight 1,014 lb.
Rack capacity: 
Front N/A
Rear 200 lb.
Towing capacity 1650 lb.
Colors Desert Tan, Liquid Titanium & Magma Red
Price $14,999