ATV TEST: POLARIS SPORTSMAN 570 ULTIMATE TRAIL LIMITED EDITION
An ATV with so much versatility By the staff of Dirt Wheels
Over the years Polaris has managed to combine quality and performance into a performance product. Early models of the Polaris ATVs not only rivaled some of the Japanese manufacturers, but also created new standards implementing new and innovative technical features, such as a MacPherson-strut-style suspension and the widespread use of CVTs in 4×4 quads. Through the years the Sportsman has had its share of updates, including a new chassis design and body look in 2021. With eight different versions of the Sportsman 570 to choose from and a price range of $7249 to $10,899, it is a hard quad to ignore when it comes time to shop.
Our time on the machine was thoroughly enjoyable and had us rethinking what we thought we actually needed for a good time. Our Sportsman 570 had some of our more extreme test riders intrigued out on the trail. That is saying something for a 44-horsepower machine. 
THE LIMITED EDITION BUILD
The Ultimate Trail LE is on the high end of the eight different trim options available in the 570. You get a Polaris-brand winch rated for 2500 pounds, as well as an updated headlight pod, which is larger and has a bigger screen (smaller than the Ride Command screen) than previous editions. It can fit up to three accessory switches for different attachments, like snowplows, lights and other equipment. The pod screen has two trip meters, a tachometer, hour meter, gear indicator, fuel gauge, volt meter, AWD indicator, speedometer, odometer, coolant temperature, high-temp light and a clock.
Suspension on the LE comes with sealed pivot points for the arched dual A-arms with 8.9 inches of travel up front. Only Sportsman 570 models of the higher trim levels get the dual-A-arm front suspension. Basic versions have MacPherson-strut front suspension with somewhat less travel. In the rear is sealed-pivot dual-A-arm independent rear suspension with 9.5 inches of rear-wheel travel. All 570 models have the same rear travel. The LE rides on classy-looking 14-inch cast-aluminum wheels with 26×8-14 Duro Power Grip tires in the front and 26×10-14s in the rear.
Duro gave the Power Grip tires large and aggressive tread blocks for traction and a six-ply rating for toughness. Most 4×4 quads used to use 4-ply tires for weight, but Polaris uses a light 14-inch wheel, so the 26-inch tires are lighter than they would be with the taller sidewalls required to employ a 12-inch wheel. Our machine's tires are wearing great with zero punctures, and traction was excellent across a wide range of terrain.
LIGHTS AND MORE
For visibility at night, you get a single 1100-lumen high-beam light on the pod combined with an LED fender light on each side. The fender lights have a 700-lumen low beam and a 1000-lumen high beam with LED brake lights and taillights. This is a great light combination, combining the illumination from the low forward-looking fender lights with a higher-mounted pod light that shines where the handlebar is pointed.
The molded plastic front rack is rated for 90 pounds and acts as a lid for a 5-gallon front dry-storage compartment. For the LE, a light tubular extension is raised above the front of the rack to prevent items from sliding forward. The base of the compartment unlocks and pulls out to provide easy access to the battery. Battery life is made even easier with a port on the pod itself for charging the battery, which makes life easy. We suggest getting a good float charger and keeping the battery connected whenever you aren't riding the machine.
During the implementation of the new bodywork in 2021, the Sportsman lost the rear storage compartment. Polaris sells a textile storage pouch that mounts in the same area, but it is accessed under the seat. It offers another 2 gallons of storage area. For a loaded model like our LE, the under-seat storage pouch is standard. A large rear molded plastic rack can take up to 180 pounds of whatever you can fit on it. Molded into the plastic deck sides are metal tubing to provide more tie-down options. The rack deck has three circles molded that are a perfect match for the common 5-gallon buckets sold at all home-improvement stores.
Electronic power steering (EPS) is a feature that would be missed if we didn't have it. Luckily, it is standard on this model. Stopping power is provided by single-lever-actuated four-wheel hydraulic discs, as well as a rear foot brake. There is park in the transmission, but the only emergency brake is pulling in and locking the hand brake.
USABLE POWER
At one time the 570 was in a class by itself, and it was generally compared to 750cc machines. Now, though, several brands build a 570 specifically aiming to skim some of Polaris' massive market share. Even though Polaris builds UTVs powered by the 570, the Sportsman 570's 44 horsepower is quite easy to use and appreciate. It has plenty of boost for most 4×4 quad tasks, but you won't be dealing with massive wheelspin. It is easy to see why this model is so popular. It has controllable and usable power. It leaves a little less to think about on the trail, meaning you have enough power to get you up almost any trail, but not so much that it's uncontrollable. You can break the back end loose in corners and ride it aggressively without so much acceleration that it scares you.
It does not hit super hard on the bottom of the powerband, which makes it usable for a wide range of riders. For massive dune climbs it is not a first choice for us, but if there is traction, the Sportsman can climb steep and rough trails.
Features you'd expect like On-Demand all-wheel drive add traction on loose or muddy terrain. When the computer recognizes 20-percent rear-wheel slip, it then engages power to the front wheels. Engine braking is there and useful, but it doesn't throw you forward unexpectedly or anything; instead, it's more subtle. Polaris utilizes what they call Active Descent Control (ADC) to pair with the engine breaking. Essentially, it uses all four wheels to slow down the quad. It works well on downhills or even slowing down on fast straightaways. Without ADC, the On-Demand AWD system would put all engine braking to the rear wheels.
The LE is rated for up to 1350 pounds of towing capacity—more than some UTVs. This tow rating aids the versatility of this quad. The 570 is a liquid cooled, dual-overhead-cam single-cylinder engine with electronic fuel injection and PVT automatic transmission.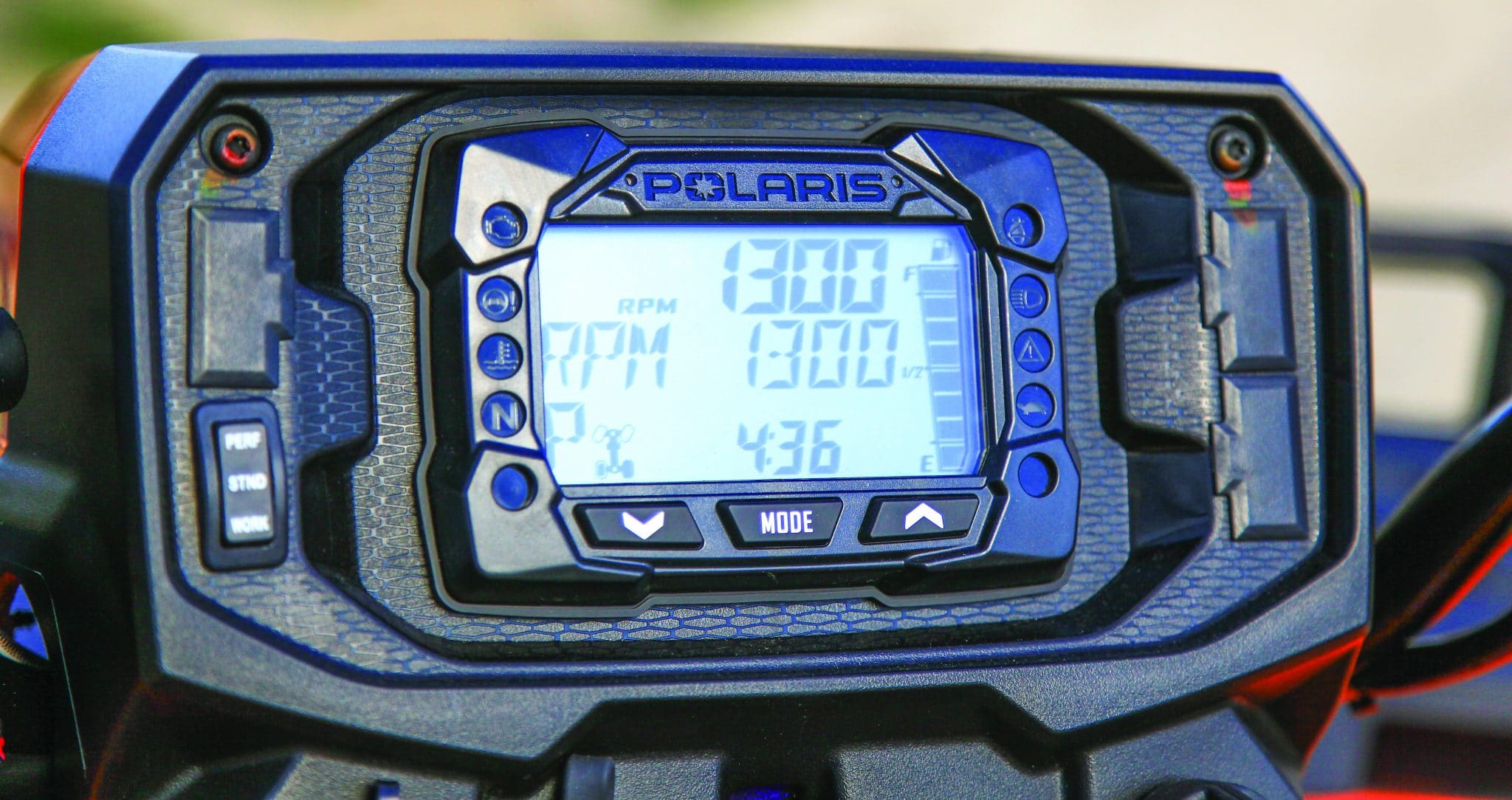 THE RIDE 
Almost more than any quad we've tested, the 570 is balanced. As expected, it has limitations compared to a true race sport quad. However, we are continuously surprised by what it can handle on the trail. Riding through double track with uneven terrain can be a little unsettling if you're not careful. Polaris has given the 570 a lot of suspension articulation, and you feel that when the trail leans one way and then the other. When we got on the power and picked up speed, we noticed the suspension starting to really do its job, but it can take some commitment to get there.
The seat and handlebar position allows for a relaxed feel if you just want to cruise, but doesn't hinder you from getting on your feet if you want to get more aggressive. Plus, the seat is one of the cushier seats we've tested, which is a big deal on long trail rides.
For this class of 4×4 quads, the 570 has excellent suspension travel numbers, and it justifies the numbers with a great job of maintaining comfort on the trails. It handles all sorts of trail irregularities, but isn't a fan of deep whoop sections. We managed to crawl through some big boulder fields with impressive clearance. If we did hit anything, the protection from the full-belly skid plate left us feeling at ease about it.
Braking, although sufficient, had us wishing there was a little more initial bite. The front hand brake takes quite a bit of squeeze before the brakes will lock up. A foot brake actuates only the rear brakes, and it is a little bit easier to lock the rear wheels up if you wanted to. Overall, the brakes are powerful enough in general, but we'd like the same braking power with less hand effort required.
ALL SAID AND DONE
Balance and comfort are key elements that define the Sportsman, and they have for years. The power steering probably isn't a must for everyone, but it made rider input that much more effortless. We thought it had a lot to do with overall comfort and minimizing fatigue on the trail. The thumb throttle was generally easy and smooth, adding to the long ride comfort.
 The Sportsman 570 has continued to be a leader in the market. The power of the 44-horsepower engine is arguably better than having more power in terms of all-day riding. Want more performance? Buy the base model. In addition to being $2400 cheaper it is a 115 pounds lighter! You must sacrifice front-suspension travel and EPS, though. The 570 feels light and maneuvers easily through corners compared to some of the quads in this category. All of that, combined with its ability to be used for a variety of work situations, is an immense value for the money.
Wet, muddy conditions aren't an issue with its wide fenders and generally keep you mud-free. The 570 is a challenger to some larger-displacement machines. It has the dynamic design and technical features to meet larger machines head to head. Towing capacity is exceptional, and the 570 would be up to plowing snow for the whole neighborhood after a winter storm. Handling and power on this machine will allow everyone in the family to enjoy it in a variety of circumstances. No riders under 16, though. When all is said and done, this 570 is a Dirt Wheels-approved bang for your buck at $10,399.
Check out Polaris' lineup of ATVs and UTVs at www.polaris.com or go to your local Polaris dealer.
2021 POLARIS SPORTSMAN 570 ULTIMATE TRAIL SPECIFICATIONS
Engine Single-cylinder, DOHC, liquid-cooled, 4-stroke
Displacement 567cc
Starter Electric
Fuel system EFI
Fuel capacity 4.5 gal.
Transmission Automatic CVT
Final drive Shaft
Suspension/wheel travel:
Front Dual A-arms w/ 8.9"
Rear Dual A-arms w/ 9.5"
Brakes:
Front Dual hydraulic discs
Rear Dual hydraulic discs
Tires:
Front 26×8-14
Rear 26×10-14
Length/width/height 83"/48"/47"
Ground clearance 11.5"
Wheelbase 50.5"
Curb weight 821 lb.
Rack capacity:
Front 90 lb.
Rear 180 lb.
Towing capacity 1350 lb.
Colors Orange Madness 
Price $10,399