2019 GNCC: FLORIDA'S WILD BOAR
Round 1 of the 2019 GNCC won by Yamaha's Walker Fowler
2019 GNCC: FLORIDA'S WILD BOAR
Yesterday marked the start of the 2019 AMSOIL Grand National Cross Country (GNCC) Series presented by Specialized, an AMA National Championship, in Palatka, Florida with the 5th Annual Moose Racing Wild Boar. It was WFR/GBC/Fly Racing/Yamaha's Walker Fowler coming through the finish line first after the two-hour race.
Fowler's strive for five is off to a good start, however, it was M.R. Unlimited/GBC Tires/RJR's Devon Feehan who captured the Wiseco XC1 Pro holeshot award at start of the event. Feehan would shoot off the start to capture the first holeshot of the season, and Fowler would find himself stuck mid-pack throughout lap one. Fowler knew he needed to get out front early and as the XC1 riders made their way through the Florida sand for the second time he did just that coming through timing and scoring in the first place position. Fowler would remain in the number one spot throughout all five laps, earning the first victory of 2019.
Yamaha/AmPro/Action Offroad/GBC's Cole Richardson started off the season strong with a second-place finish. Richardson would come through on lap one in second but would fall back to fourth place by lap three. However, Richardson put his head down and pushed throughout the last two laps, ultimately coming through the finish behind Fowler.
After starting off in the sixth place position, Maxxis/Fly Racing/Ye Olde Cycle Barn's Chris Borich would manage to round out the top three. Borich would have his work cut out for him as he maneuvered through the XC1 pack but would manage to make crucial passes throughout the last lap to put him on the podium. Borich earned one win last season and is looking forward to contesting for his seventh National Championship.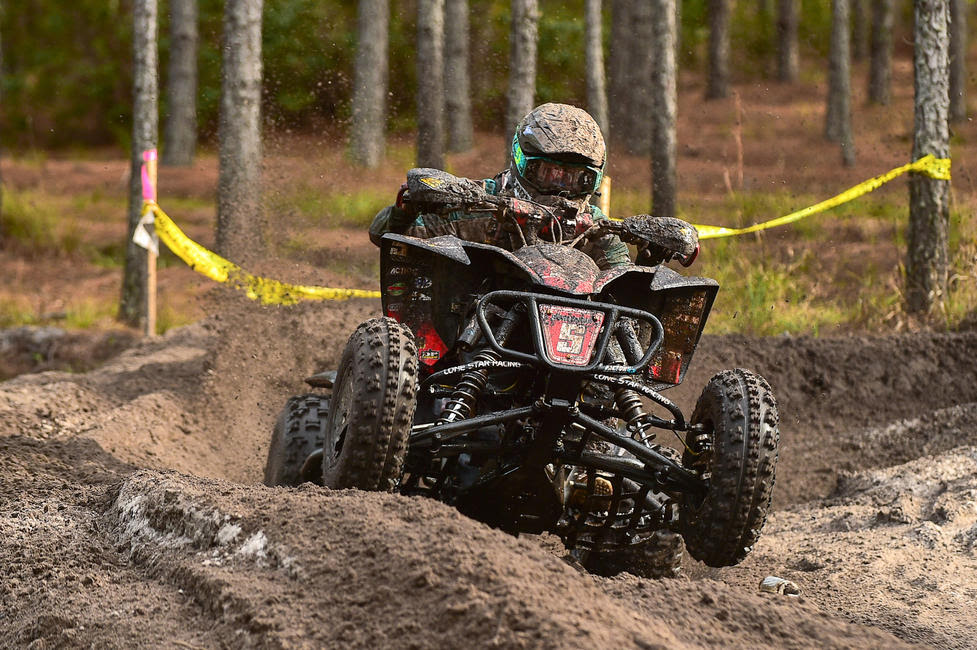 2019 GNCC: FLORIDA'S WILD BOAR
OBOR/Moose Racing/Parts Unlimited/McGill Mafia's Adam McGill came through timing and scoring on lap one in the first place position. After having Fowler take over the lead on lap two, McGill would find himself in the second place position during the next four laps. After an intense battle on the fifth and final lap, McGill would come to the finish line in the fourth place position.
XC1 Pro ATV rookie and Maxxis/Ithaca Recreation Sports/Fly Racing's Hunter Hart had a great debut at the Wild Boar GNCC yesterday, finishing in the fifth-place position. After coming through seventh on the first three laps of the race, Hart would make the necessary passes to find himself with a top-five finish at round one.
Ryland Johnson Racing/GBC Motorsports/Ye Olde Cycle Barn's Westley Wolfe found himself inside the top five early on in the race, and after two hours of racing, Wolfe would finish in the sixth place position. GBC/Fly Racing/HMF/Yamaha's Johnny Gallagher found himself steadily working his way up after a tenth place start to the race. Gallagher would chip away at the positions each lap, ultimately finishing the day in seventh.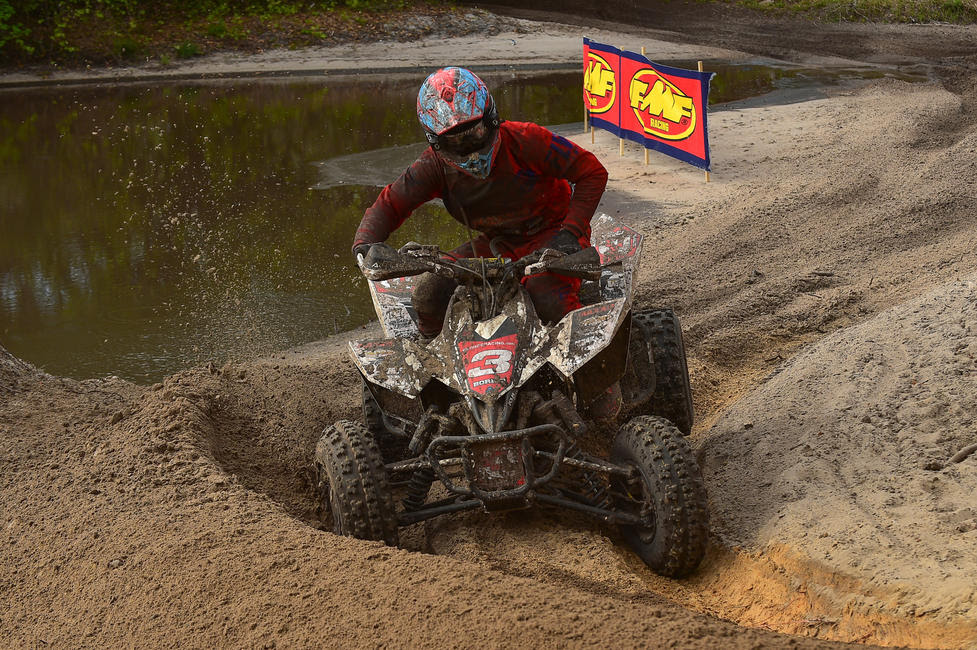 Coming through in the eighth place position was BNR Motorsports/GBC Motorsports/HMF Racing's Joshua Merritt, while holeshot award winner Devon Feehan came through ninth in XC1. Custom Axis/Goldspeed/Houser Racing's Greg Covert would finish out round one 10th in his class, and 13th overall.
Pierce Performance/Maxxis/Waynesburg Yamaha's John Glauda Jr. would pick up right where he left off last season, earning the first XC2 Pro-Am class win of the season. Glauda Jr. would get a great start to the day, coming through timing and scoring in the number one position on the first lap. Glauda Jr. would not look back, as he finished 52 seconds ahead of second place while also finishing eighth overall.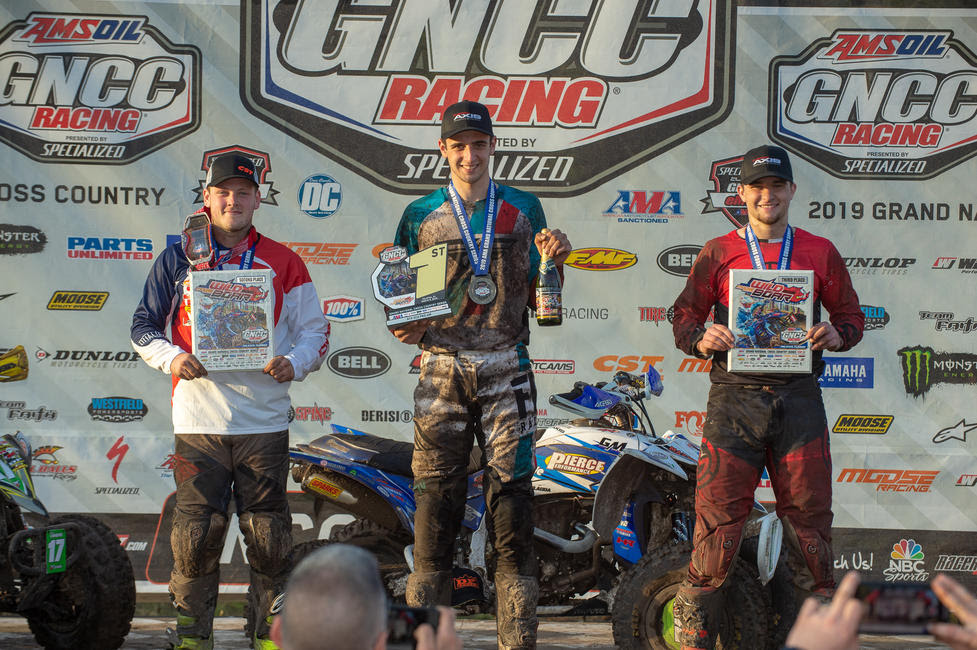 2019 GNCC: FLORIDA'S WILD BOAR
LanMills XC/CST Tires/Moose Racing's Drew Landers and Honda's Ben Kowalewski rounded out the XC2 Pro-Am podium. Landers, who missed the last couple rounds in 2018, came back this season aiming to contest for his class championship. Kowalewski found himself on the podium at the season opener last year, but this year he is hoping to remain there and keep improving.
In the 10 a.m. race it was Can-Am/OBOR Tires/Derisi Racing's Landon Wolfe coming away with the overall win as well as the first 4×4 Pro win of the season. Behind Wolfe, Can-Am/CST Tires/Tire Spine's Dwight Pollard came through second in 4×4 Pro and overall. Third overall would be captured by Michael Relyea racing in the Super Senior (45+) class, while Robert Smith would round of the 4×4 Pro class podium in third.
Action Offroad/Moose Racing/GBC Motorsports' Katelyn Osburn came out swinging in round one, earning the WXC win ahead of Honda's Megan Shepherd. Last season Shepherd would manage to finish on the podium three times, however this year's round one finish of a second place is her best finish since 2016. Ye Olde Cycle Barn/Pierce Performance/Hammer Nutrition's Alicia McCormick made her way through the pack earning the third and final podium position in the WXC class, just 2 seconds ahead of 11-time WXC Champion and GBC Motorsports/Yamaha/Fly Racing's Traci Pickens.
The 8 a.m. youth race kicked off the day with Cooper Stewart taking the overall win and YXC1 Super Mini Sr. (13-15) class win. Parker Henderson and Bryce Husband rounded out the overall and YXC1 class podium. Cooper Stewarts brother, Charlie Stewart would finish seventh overall in the youth race, but take home his YXC2 Super Mini Jr. (12-13) class win. Kaden Lambruno and Connor Walker rounded out the YXC2 top three. Andrea Rodgers finished 10th overall, and earned the first Girls (8-15) class win of the season.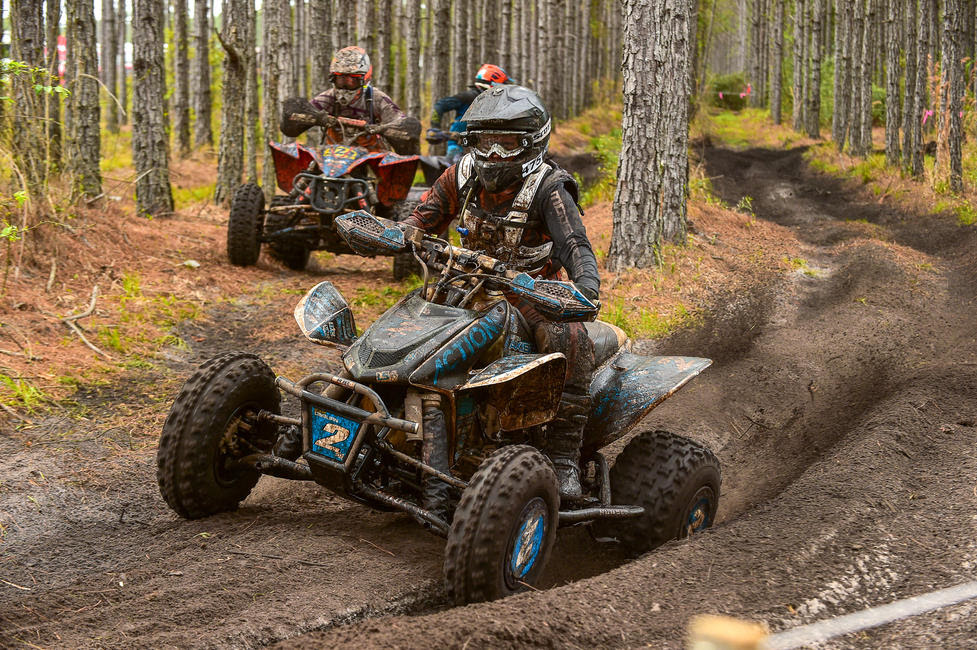 2019 GNCC: FLORIDA'S WILD BOAR
This season the Micro (50cc) racers will have a 12-round series, and yesterday at 9:15 a.m. the micro ATV riders took off. Coming to the checkered flag first was Khyler Davis, followed by Zander Rogers and Ryder McCormick. Rogers would finish first in the 50 Sr. class and McCormick also finished first in his class, while J.P. Pickens Jr. took home the 50 Jr. class win.
In the bike micro racing, it was Maddox Moretz taking the overall win and MXC2 (6-8) class victory. Colby Goodman finished second overall, while also earning the MXC1 (8-9) class win. Brian Poindexter came through third overall, second in his class, followed by Nash person and Sawyer Clayton rounding out the top five bike micro racers.
The 2 p.m. ATV Pro race was broadcast LIVE in its entirety on RacerTV.com and can be viewed as archived video online by visiting the GNCC LIVE page online. A highlight show featuring the event will be aired on the NBC Sports Network on Saturday, May 25 at 1:30 p.m. EST.
The 2019 AMSOIL Grand National Cross Country Series resumes in one week, March 16 and 17, in Washington, Georgia with The Specialized General GNCC. This event will also feature round one of the Specialized Turbo eMTB GNCC National Championship.
For more information on the GNCC series, visit the official website at www.gnccracing.com or call (304) 284-0084. Join the conversation on the series Facebook page, follow us on Twitter and Instagram, and be sure to always hashtag #GNCC.
Moose Racing Wild Boar
Palatka, Florida
Round 1 of 13
Saturday, March 9, 2019
XC1 Pro Event Results:
Walker Fowler (YAM)
Cole Richardson (YAM)
Chris Borich (SUZ)
Adam McGill (HON)
Hunter Hart (YAM)
Westley Wolfe (SUZ)
Johnny Gallagher (YAM)
Joshua Merritt (YAM)
Devon Feehan (HON)
Greg Covert (YAM)
*Overall National Championship Standings:
Walker Fowler (30)
Cole Richardson (25)
Chris Borich (21)
Adam McGill (18)
Hunter Hart (16)
Westley Wolfe (15)
Johnny Gallagher (14)
Joshua Merritt (13)
Devon Feehan (12)
Greg Covert (11)
*Indicates that the Overall National Championship Standings will determine the 2018 National Champion.
XC2 250 Pro-Am Event Results:
John Glauda Jr. (YAM)
Drew Landers (YAM)
Ben Kowalewski (HON)
Matthew Lindle (HON)
Jordon Poplaski (YAM)
Tanner Walker (YAM)
Boedy Lamoreaux (HON)
Pierreyves Deneault (HON)
Ronnie Rusch (YAM)
Lance Kope (HON)
XC2 Pro-Am Series Standings:
John Glauda Jr. (30)
Drew Landers (25)
Ben Kowalewski (21)
Matthew Lindle (18)
Jordon Poplaski (16)
Tanner Walker (15)
Boedy Lamoreaux (14)
Pierreyves Deneault (13)
Ronnie Rusch (12)
Lance Kope (11)
About GNCC Racing
The AMSOIL Grand National Cross Country Series presented by Specialized is America's premier off-road racing series. Founded in 1975, the 13-round championship is produced exclusively by Racer Productions. Cross-country racing is one of the most physically demanding sports in the world. The grueling three-hour GNCC races lead as many as 2,400 riders through tracks ranging in length from eight to 12 miles. With varied terrain, including hills, woods, mud, dirt, rocks, and motocross sections, GNCC events are tests of both survival and speed. The series draws talent from all over the U.S., Central America, South America, Europe, Japan, Australia, and New Zealand. GNCC Racing is televised weekly on NBC Sports and RacerTV.com. For more information, please visit www.gnccracing.com.
To subscribe to Dirt Wheels Magazine in print or digital form click here https://hi-torque.com/product/dirtwheels.