Buy ATV Boots Right: Wading Boots Don't Keep Your Feet Dry
You read that title right. It's a natural assumption. When most of us think of anything with the word wading in it, we think about staying dry, but there is more to wading gear than just staying dry. Learn more about your wading gear so you can make the wisest ATV boots purchase.
There Are Holes in The Sides of My Wading Boots!
Customers are frequently surprised to notice several holes built into the sides of their wading boots. In fact, the soft almost meshy fabric makes ATV wading boots look like a sneaker/hiking boot hybrid. So, what gives? What is it that wading boots do?
The Purpose of ATV Wading Boots
Wading boots for ATV riding are designed to allow water to flow through them strategically rather than collect inside so they don't weigh you down and help you maintain your balance even in water currents. They're intended to take water, be wet, and dry out quickly. This water flow protects you from extra efforts and potential injuries. So the true purpose of wading boots is not to keep your feet dry, but to help you ride and walk in slippery and wet environments like mud and water.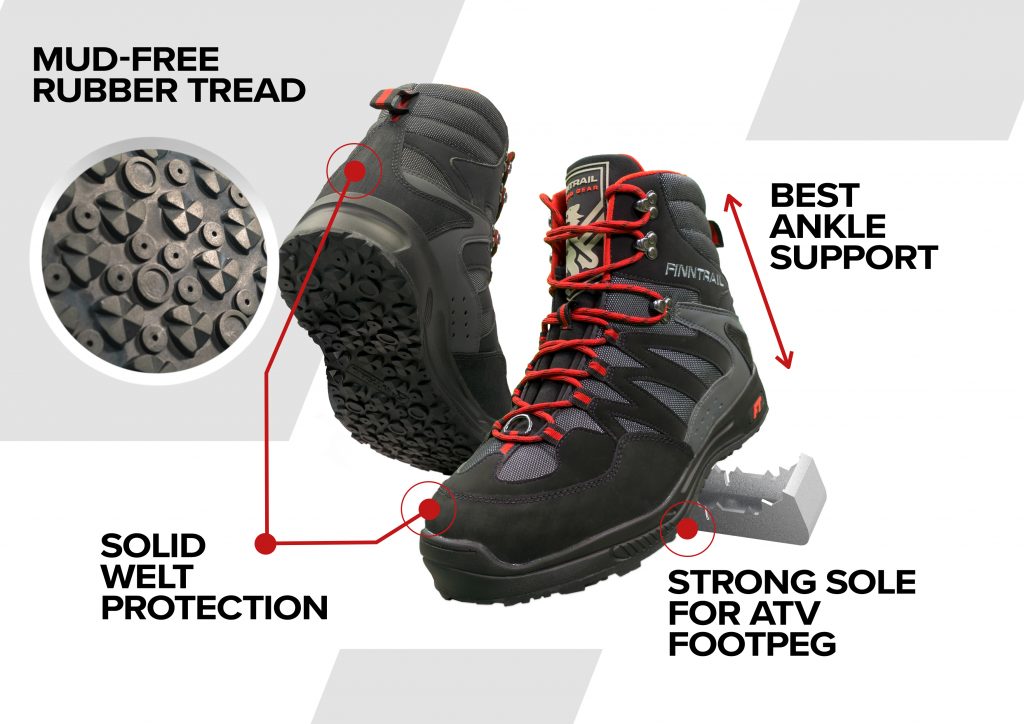 More to Love About ATV Wading Boots
ATV riding gear is ever evolving, and lightweight wading boots for ATV riders are unlike anything else out there. They're specifically designed for the demands you'll face in mud when using your ATV in and around water which are different than conditions that say fishermen face. 
Wading boots are lightweight, so you can wear them for hours of riding without getting tired. With their strong, mud-free tread patterned outsole, they maintain a stable grip on slippery, wet, and uneven surfaces. And FINNTRAIL wading boots offer strong ankle support to prevent injuries and carefully crafted comfort lining and well-padded collars because quad riding boots can't do their job if you can't wear them. 
FINNTRAIL wading boots are also made of extra durable material, including a reinforced upper structure with artificial leather, so you can enjoy them the longest possible time.
How Do I Keep My Feet Dry?
Yes, keeping your feet dry is crucial. Without dry feet, you'll be miserable, you could get blisters, and you could even suffer hypothermia. That's what the neoprene booties that come attached to stockingfoot waders are for. Those are what keep your feet dry. In fact, wading boots and the stockings in stockingfoot waders are designed to work together to form a seal around your ankle to keep water out.
Can I Substitute Hiking Boots for ATV Boots with Stockingfoot Waders?
We get it. It's tempting. You probably already have hiking boots and if wading boots aren't even going to keep your feet dry, why not? Technically, you could wear hiking boots with neoprene booties, but the only time this would serve you well is when walking to and from the location where you'll need your wading boots. Wading boots are designed to be in the water and they're softer than hiking boots that are made for the demands of whatever ground you're walking on, so if you want to protect them by wearing hiking boots when your wading boots aren't necessary, feel free.
If you try to wear hiking boots instead of wading boots in the water, you may get okay traction but there are two big problems. The boots won't line up correctly with your stockingfoot waders and provide the seal that keeps water from coming into the seam of your sock and waders, so your feet and calves will get wet anyway. They also won't protect you from being swept off your feet by physics like wading boots with their built-in holes will do, and no waders will keep you dry if you go swimming. Hiking boots also weigh more than wading boots, making them cumbersome to wear in the water.
The Best Quad Riding Set up to Stay Dry
Choose stockingfoot waders with built-in neoprene booties and pair them with well-fitting wading boots. Well-fitting boots will fit snugly to your foot, but not so tightly that you can't get your finger between your foot and boot, and they'll line up with stitching at the top of the bootie that forms a little pocket for the boot. 
The best starting place for sizing all ATV riding boots is to measure your foot length correctly and go to the manufacturer's sizing chart. Then try on any wading boots to make sure they're comfortable on your feet. You can achieve a perfect fit. That's part of the beauty of stockingfoot waders, you can find the ideal fit for your body with your waders and pair that with the ideal fit for your feet with your wading boots.
*All photos are obtained from the manufacturer's web resources.