The modern three-wheeler you can buy today By the staff of Dirt Wheels
The restoration and collection craze of vintage three-wheelers is at an all-time high these days. However, have you ever wondered what a modern-day three-wheeler would be like? A four-stroke engine, fuel-injection, new tires and new suspension can all make a 2020 Honda ATC so much better than they used to be. Unfortunately, Honda got out of the three-wheeled game in 1987. However, BVC trikes saw the demand for three-wheelers using modern technology and has you covered no matter what brand or color you are into.
We recently had an opportunity to throw a leg over a brand-new BVC trike built using 2020 components from a Honda CRF450 dirt bike and a Honda TRX450R quad. The finished product was not only a head-turner and conversation starter, it was a blast to ride. The trike started life as a 2020 Honda CRF450 dirt bike. Most of the donor bike is used in the project. Customers can choose a variety of ways for BVC to complete the project, or they can buy a $2700–$3300 kit to complete it themselves. In this case, the customer Dale Quarton had just a few requests. He wanted a tall seat and the thumb throttle; from there, he let the experts at BVC handle the rest. As for the rest, the back half of the trike gets a custom subframe to accept the quad seat and to hang the electronics off of, and a swingarm that accepts Honda TRX components. They went with a Tusk axle, DWT wheels and 20-inch tall CST tires. The drivetrain and brakes were all Honda components.
SLIDE WAYS
We have to admit throwing a leg over a three-wheel is odd to us. However, having modern components at your hands and between your legs was unique. From the push of the electric starter, we were excited. No one of our staff could even remember a three-wheeler with an electric-start option. Listening to the four-stroke roar was also fun. This BVC HONDA CRF450 was equipped with large footpegs from Wicked Metal Designs. The footing was solid, and both the shifter and brake pedal were lined up perfectly. The seating position felt correct, even though the seat was wide like a quad while the tank area was narrower like a dirt bike. Throttle roll-on was much tamer than we remember a 250R being. We could lug this machine around to get used to it. After a bit we squeezed the Urmosi throttle more and more. The motor was crisp and gave us more than we needed. The rear tires seemed to slide if we wanted them to. Wheelies were almost an afterthought. The trike didn't want to wheelie uncontrollably. The balance was so good, you could lean forward and hammer the throttle without the front wheel coming up. But, if you wanted, sit back and tug on the bars and pull the front tire high. We only rode the trike around a little bit to see what it's like. We'd like to get more seat time on some trails or deep in the bowls of Glamis. If you go to Glamis, you may see many of the hundreds of trikes or trike kits BVC has sold in recent years ripping up the sand. You can bet those riders will have a huge smile on their faces, because we sure did.
ABOUT BVC
BVC Trikes has been building these wild creations for over 15 years. Recently, they moved their shop from upstate New York to the Phoenix, Arizona, area. The move not only gets them closer to customers in the dunes, but many of their vendors are out west, too, so shipping parts or completed machines is a quicker process for everyone. You can expect to see the guys hitting Glamis on the big weekends showing off their latest builds, or at events like the WORCS races supporting their pro rider, David Haagsma. BVC not only sell trike conversions like this one between $15,000–$20,000, but they also build and sell custom big-wheeled dirt bikes as well. As soon as the next one of those projects is finished, we will try it out, too. If you can't wait that long, give them a call at (888) 282-3699 or visit their online store at www.bvcoffroad.com.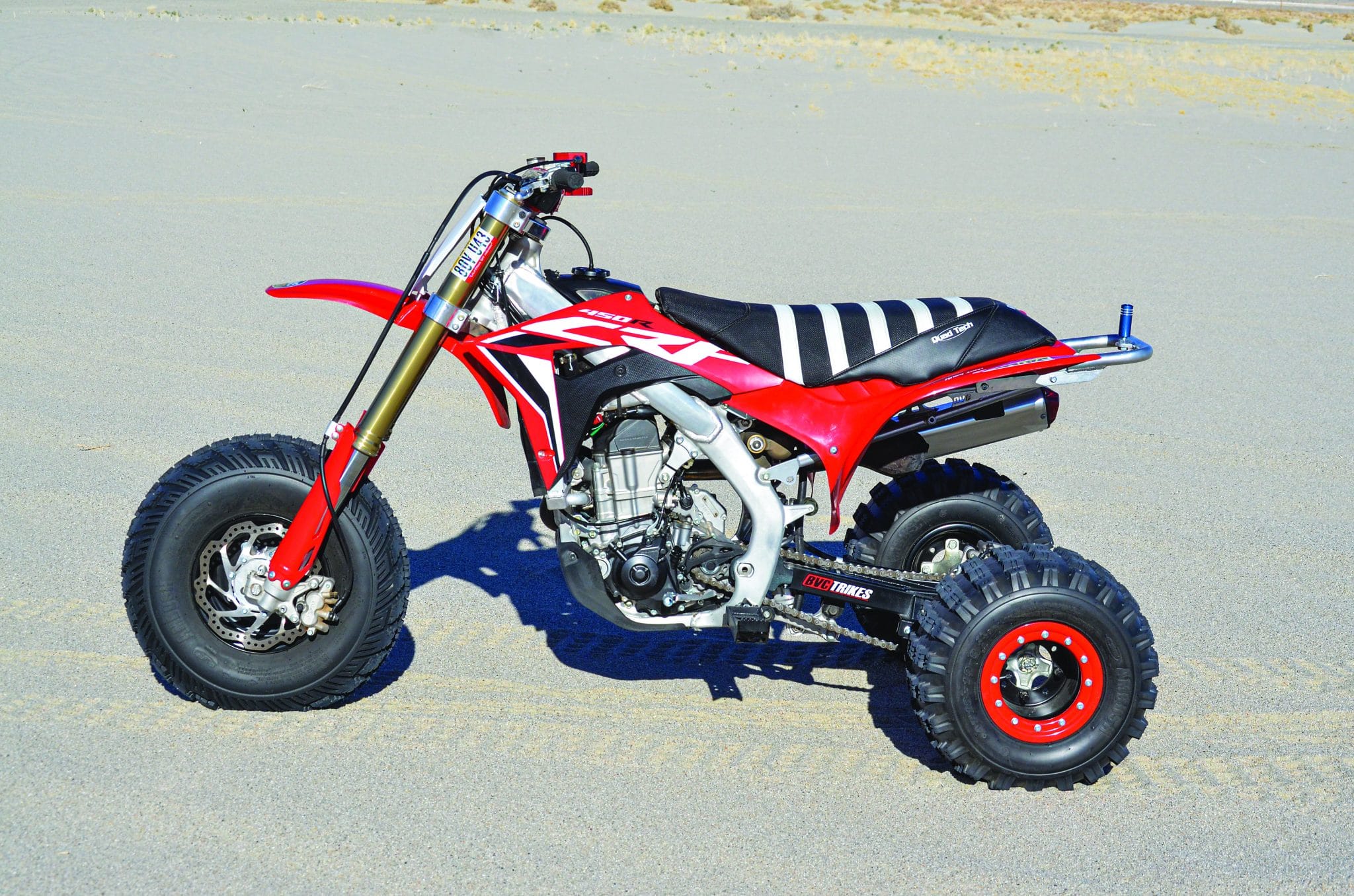 BVC HONDA CRF450 SPECS
RIDER/SPONSORS
Bike owner Dale Quarton
Bike builder BVC Trikes
MACHINE
Quad 2020 BVC 450R
Frame/mods None
Big-bore/piston 2020 CRF450R
Head mods None
Ignition/timing Stock
Crankshaft Stock
Carburetor & mods Fuel-injected
Airbox/filter/oil BVC open filter 
system
Exhaust (muffler) Selvy's/
Kenny Roberts custom
DRIVE SYSTEM
Clutch basket/plates/springs All 
stock CRF450R
Inner hub/plate All Stock CRF450R
Chain All stock CRF450R
FRONT END
Front shocks/wheel travel Stock 
CRF 450R forks
REAR END
Swingarm length BVC custom 18.5"
Rear axle/width/carrier Tusk +2"
Rear shock/wheel travel Stock 
CRF450R
TIRES/WHEELS/HUBS
Tires: f/r 23×7-10/20×11-8 CST
Wheels: f/r DWT/DWT
Hubs: f/r Custom BVC/OEM TRX450
BRAKES
OEM TRX450R rear brake setup and CRF450R front setup
HANDLEBARS/CONTROLS
Handlebars/bend Renthal Fatbar 
low bend
Throttle Urmosi billet
Clutch lever OEM CRF450
Cables OEM CRF450
MISCELLANEOUS
Footpegs Wicked Metal Designs
Skid plates OEM CRF450
Seat Quad Tech
Tank OEM CRF450
Body plastic TRX450R rear plastics, 
CRF shrouds, 200X front fender
Powdercoating None