GEAR GRINDER: CECCO RACING POLARIS SCRAMBLER 850/1000 BILLET THROTTLE LEVER
A great fix for a plastic lever By the staff of Dirt Wheels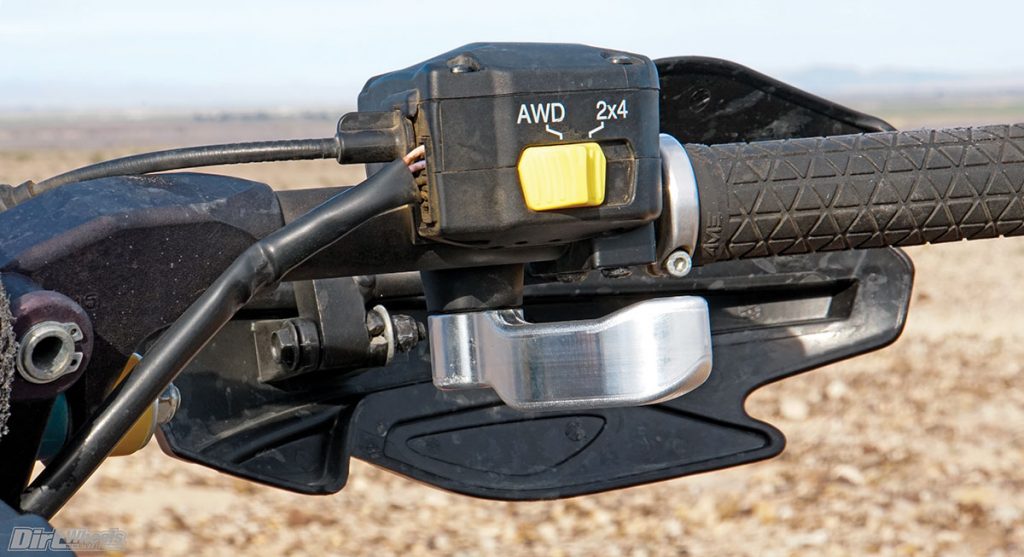 We are currently in the age of plastic. There are many day-to-day products that we use that are made completely out of this cheap and durable material. Our beloved ATVs and UTVs have oodles of plastic adorning them. For some of those parts, like body parts or airboxes, plastic is perfect, but it might not be for other uses. Like anything, plastic does have a breaking point, and some plastics are stronger than others, but aluminum and other metals are usually stronger.
We noticed that our Polaris Scrambler XP 1000 has a plastic throttle lever. It works well, but what happens if we accidentally broke it? That would leave us high and dry out in the boonies, and that's not a good place to be.
BILLET 
Rick Cecco, owner of Cecco Racing, also saw the need of a stronger throttle lever. Rick has been racing ATVs in the woods for many years and has seen massive success from it. That success also gave him a lot of knowledge when it came to building his own parts to make his 4×4 quads better and stronger to handle the two-hour-plus races. He builds parts like steering-stem braces for Can-Am Renegades, bolt-on frame braces and billet throttle levers.
The Cecco billet throttle lever is built to match the stock unit in size and dimensions, but obviously, it's much stronger than the OEM plastic lever. It's made from CNC 6061-T6 aircraft-grade billet aluminum and has a lifetime warranty against breaking or bending. The other great thing about Cecco's billet lever is that it fits many Polaris quads—2009–2017 Sportsman XP 550/570/850/1000 and the 2013–2017 Scrambler XP 850/1000 models.
FIT AND FINISH
Installing the Cecco lever was quick and easy. With four screws removed from the throttle-housing cap and one screw from the lever, the stock lever was out and the new billet lever was installed in minutes. We already felt more at ease with the Cecco lever installed, and it felt comfortable on the thumb. The Polaris Scrambler XP 1000 does have a tough throttle to push in, and it felt like the billet lever smoothed that out a bit.
BUILT IT BETTER 
We give the Cecco Racing billet throttle lever a 10 out of 10. We do wish it was a bit longer for more leverage, but it's been an amazing edition to our beloved Scrambler XP 1000. With the abuse that we put it through, we don't know how long the stock plastic lever would've lasted. The Cecco Racing billet throttle lever retails for $75 and is available through their website at www.cecco-racing.myshopify.com.