DUNCAN RACING HONDA 250R
CUSTOM BUILD: Simply a showpiece 
By the staff of Dirt Wheels
DUNCAN RACING HONDA 250R. After only four years in production (1986–1989), the Honda Fourtrax 250R became the most popular sport ATV of its time, and they sold tens of thousands of them easily. In the 1990s and early 2000s, many were transformed into masterpieces like what you see here. It was a time without current production machines to build and compete with, but that didn't stop hungry racers from using the best, and at that time, it was hands down the best 250R two-stroke.
Today, modern four-strokes have evolved, and most production rules have been lifted so racing a new YFZ450R or even a Honda TRX450R from 2014 still makes sense for the track. However, that doesn't mean the trick two-strokes are not still being built. In fact, Duncan Racing recently completed an absolute showpiece for a customer in Europe. Before it was boxed up and loaded on a plane, headed to its new owner, we rolled it into our studio for all to drool over.
DUNCAN RACING HONDA 250R
PARTS LIST
Main contributors: Roll Design
Special thanks: OMF, Paul Turner Racing, Hinson, RK Chain, Maxima, 
Machine: 2018 Duncan Racing/Roll Design 340cc Lobo ATV
Quad weight: 350 lb.
Chassis: Roll Design Lobo MX Assy
MOTOR
Motor (type and origin): 2-stroke Honda TRX 250R base Equipped with Duncan Racing PC 2000 340cc power valve, Nikasil-plated cylinder)
Bore/stroke: 77.50/72.00
Displacement: 340cc
Porting: PC 2000 midrange
Head/head mods: PC 2000 head
Ignition/ignition timing: OEM TRX 250/billet adjustable timing BRG holder
Spark plug/spark plug gap: NGK BR9EVX .028"
Reed cage: Pyramid Reed Valve
Carburetor type and size/carb modifications: Keihin 39 w/DR Super Flow
Airbox material and brand/air filter brand/air filter oil: OEM Box, K&N filter
Pipe/silencer: Paul Turner Eliminator pipe & Fat Boy silencer
Radiator origin/material: CBR
Fuel/fuel octane: VP C12
2-stroke oil/2-stroke oil ratio: Maxima 927 32-1
Engine oil: Maxima MTL Endurance
DUNCAN RACING HONDA 250R
DRIVE SYSTEM
Clutch basket/plates/springs: Hinson basket/ DR C12 clutch kit
Transmission/tranny oil: Yukon HD Trans Gears, Maxima MTL 
Chain/chain lube: RK 520 O-Ring Chain/ Maxima Chain Wax
Sprocket brand f/r: Sunstar
Gearing f/r: 15t C/S front & 38t rear
FRONT END
A-arms: Roll Design Lobo
Spindles/hubs: TRX450R
Front end overall width: 50" w/ tires
Front shock brand: Elka Stage 5 *Shocks customized by Roll Design
Steering stem: Roll Design
DUNCAN RACING HONDA 250R
REAR END
Swingarm brand and material/swingarm length: Roll Swing arm
Rear axle/rear axle width/axle carrier: Dominator axle/Millennium carrier/ 49" wide
Rear shock brand: Elka  
TIRES/WHEELS/HUBS
Tire brand f/r: Maxxis Tires
Wheel brand f/r: OMF custom Beadlock
Rear hubs brand and material: OEM R. Hubs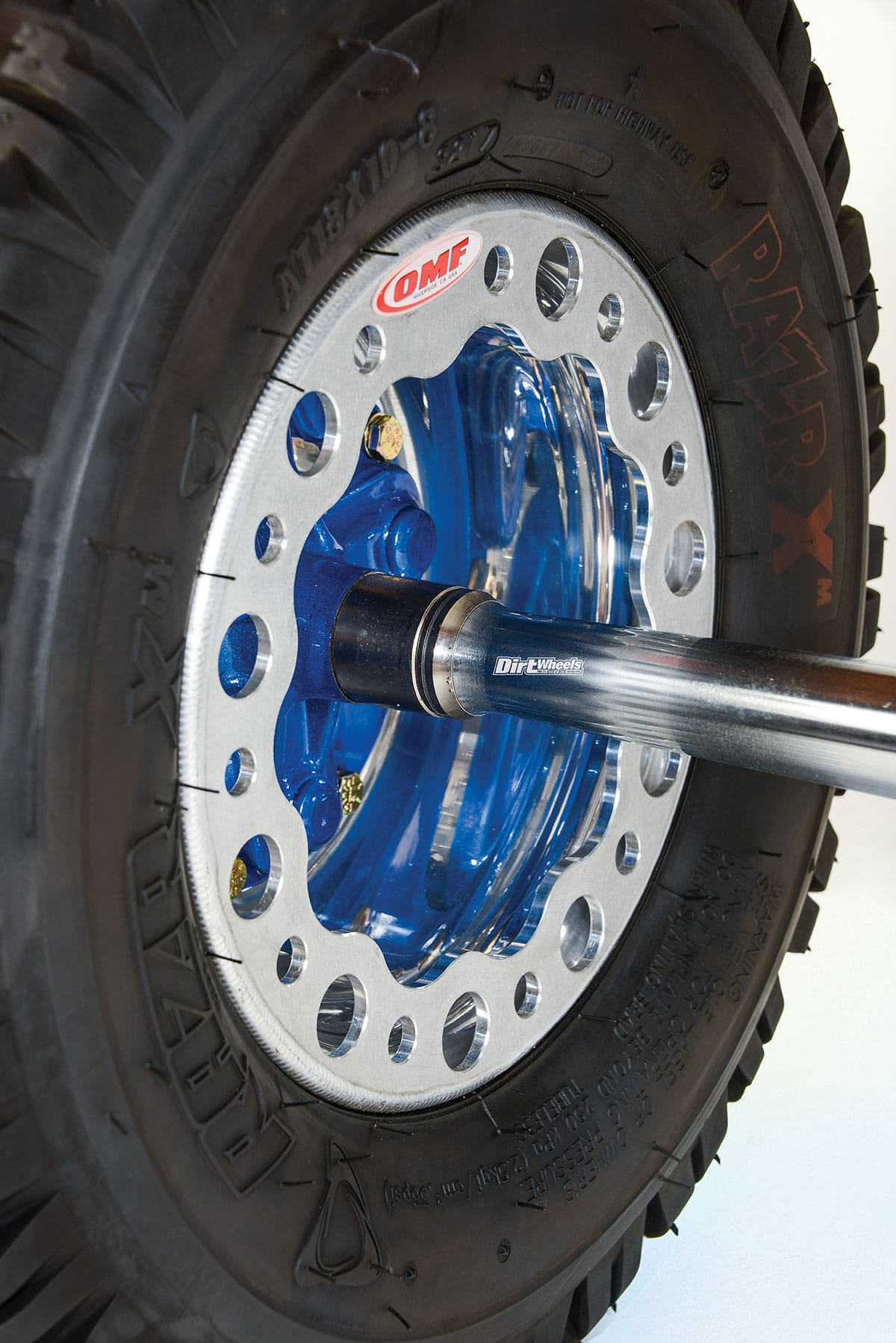 BRAKES
Brake calipers f/r: TRX 450R
Pads f/r: OEM
Rotors f/r (diameter and brand): Galfer
Brake lines: Crown Series steel braided
Brake fluid: Maxima 550
DUNCAN RACING HONDA 250R
HANDLEBARS/CONTROLS
Handlebars brand and bend: Pro Taper
Throttle Type: Billet
Clutch perch: Works Connection
Cut-off switch: Pro Design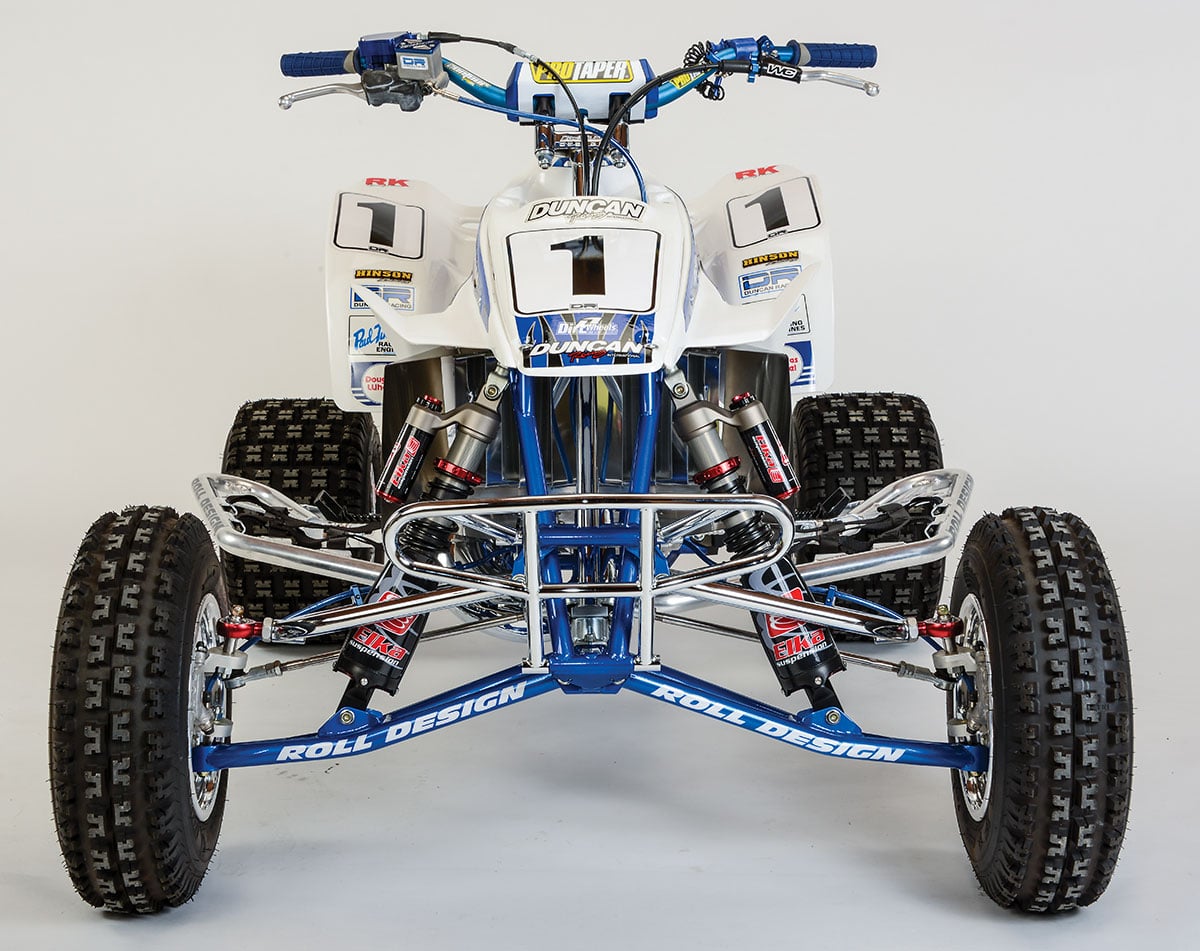 DETAILS
DUNCAN RACING HONDA 250R
Nerf bars/front bumper: Custom Roll aluminum nerfs, DR Chrome F. bumper.
Skid plates brand/skid plate location: N/A
Fuel tank material/fuel capacity: IMS tank/stock capacity
Seat cover: DR/Pro Top by Zip
Body material and brand: Maier OEM style plastic/white f. nosepiece/tank cover
Footpegs: Roll Design S/S
DUNCAN RACING HONDA 250R
OTHER SPECIAL SETUPS, PRODUCTS AND MODS
Polished components: Complete engine
Chromed components: Steering stem, subframe, upper A-arms, Powdercoated components. Frame, swingarm, lower A-Arms, r. brake pedal
Other special mods/setups: DR quick-change clutch cover mod, DR billet shift lever, DR "race team" graphics kit, DR dual O-ring steel exhaust flange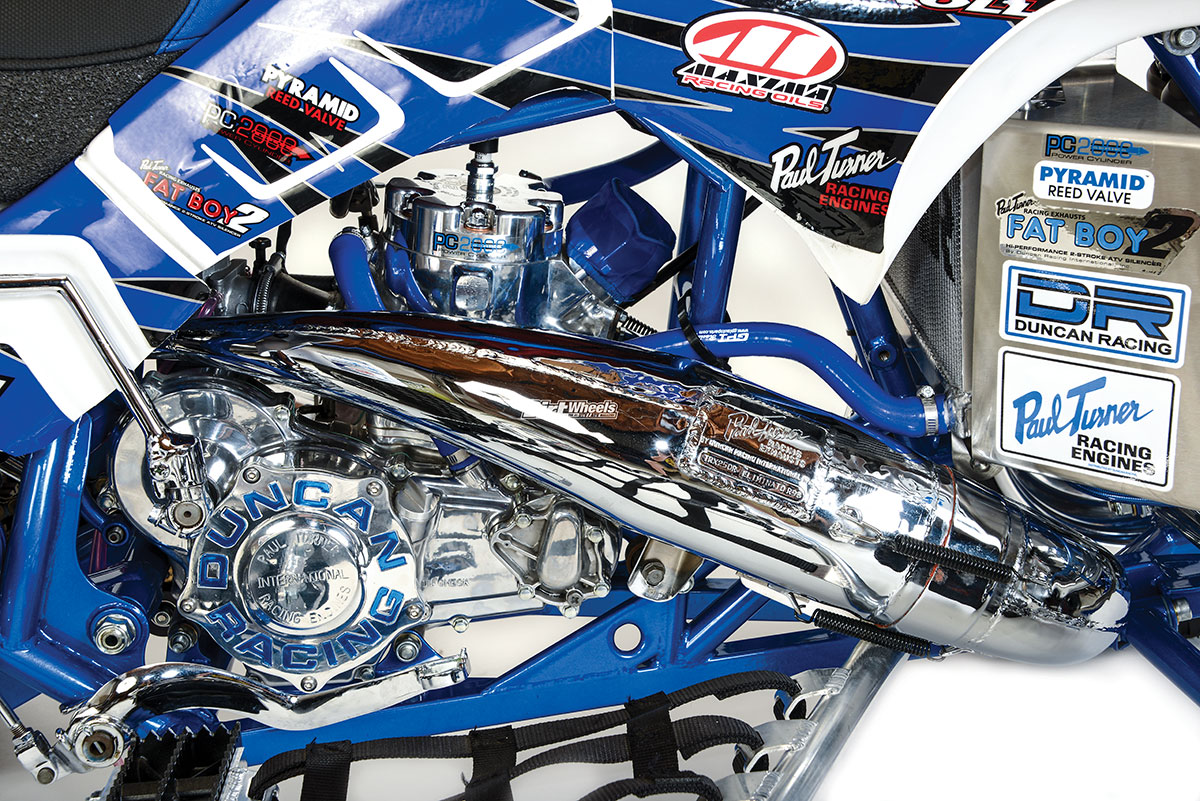 DUNCAN RACING HONDA 250R
CONTACTS:
Duncan Racing International, Inc.
9380 Bond Ave, Suite B
El Cajon, CA 92021
Voicemail: (619) 258-6306
Fax: (619) 258-6309
To subscribe to Dirt Wheels Magazine in print or digital form click here https://hi-torque.com/product/dirtwheels.