CVT BELT BUYER'S GUIDE
HERE ARE THE BEST BELTS FOR YOUR RIDE
— For a wide number of the most popular and best-selling ATVs and UTVs, the heart of the power delivery system is the CVT belt. There are a few extreme ATV riders who are hard on the CVT belts, but time and mileage are the most common reasons to change an ATV's CVT belt. UTVs are heavier, so they are harder on CVT belts, whether they are high-horsepower sport models or not. No matter what your CVT-motivated machine is, it will need a new belt sooner or later. We based our belt guide on the Polaris RZR XP 1000 model. It is a highly popular machine, and it has a lot of power. Certainly, it is a model that is very popular with belt vendors. We included pricing and information for the stock Polaris belt, but that information can pretty much stand in for all OEM belts.
All prices are for belts specified for a RZR XP 1000. All of these companies sell belts for ATVs and UTVs, and even though we concentrated on the high-end models, each company has guides that will help you select the correct belt. Some companies have a bewildering number of belt models, but as soon as you look for a specific application, there will usually not be more than one or two belts for your specific machine.
POLARIS
www.polaris.com
$184.99
No company gives away the secret of who manufactures parts for them. Some performance shops believe that Mitsubishi manufactures the stock Polaris belt. Polaris does claim the stock replacement belt with Kevlar cord is built to the tightest tolerances of any belt and that it doubles the life span of aftermarket belts. The stock belt is almost universally praised for its longevity, but it is more expensive than even the most high-end aftermarket belts.
CARLISLE
www.ultimaxbelts.com
$112.95
The Timken Company (www.timken .com) engineers, manufactures and markets bearings, gear drives, belts, chain and related products, and offers a spectrum of powertrain rebuild and repair services. As part of the Timken group, Carlisle makes a variety of belts and other rubber transportation products, and it makes a wide variety of belt styles for ATVs and UTVs. When you look up the applications for a specific model, there are only one or two that apply. We concentrated on the Ultimax ATV belt, which is designed to deliver maximum performance and dependability. With specially formulated rubber compounds and an extra-strong aramid cord, the Ultimax ATV/UTV belts have a two-year warranty that guarantees against defects in material and workmanship.
DAYCO
www.daycoproducts.com
$81.99
Dayco makes the XTX belt for extreme torque applications, HPX for high performance and extreme use, and the HP it calls a "high-performance outdoor-activity" belt. We concentrated on the Dayco XTX ATV and UTV belts engineered for machines powered by 800cc-andabove engines. Dayco claims the XTX is engineered with specially formulated, high-temperature polychloroprene with the highest level of aramid fiber reinforcement available. Its design features deeper cogs on top and rounded cogs on the bottom for ultimate flexibility and longer belt life. Dayco private-labels belts for other brands.
EPI
www.epiperformance.com
$134.95
EPI has developed CVT performance clutch kits for 20 years, and they consider the belt an important part of the kit. EPI introduced its first Severe Duty line of belts in 2007. They test to design a clutch kit and belt combination that will operate at an acceptable temperature while providing the most aggressive upshift and backshift possible. Quality control, close tolerances and the design make the Severe Duty belt ready for high horsepower, heavy loads and aggressive riding styles. A one-year limited warranty is provided.
GATES
www.gates.com
$134.95
Gates is a big name in belts in general, and the company does a lot of testing as it designs the top-tier belts it makes. Gates makes a variety of belts, but for the RZR XP 1000, it has the G-Force and G-Force C12. Both are solid belts with an aggressive top-cog design. The G-Force C12 claims to be "the first belt of its kind, with a carbon tensile cord for exceptional strength, flexibility, durability and performance in the most demanding off-road conditions." The G-Force uses the same construction, but with aramid tensile cords. A one-year limited warranty is provided.
HIGH LIFTER
www.highlifter.com
$115.95
High Lifter has the 3GX (3rd Generation Xtreme) for machines with engines that are 800cc or larger. This belt features high-temperature neoprene made with the highest level of aramid fiber loading available. High Lifter does not manufacture belts, but it has the 3GX made to its specs and sells Dayco belts for its Pro Series. The Pro Series is constructed with P-aramid cord reinforcement and engineered, fiber-loaded, neoprene compounding. The 3GX has a one-year limited warranty.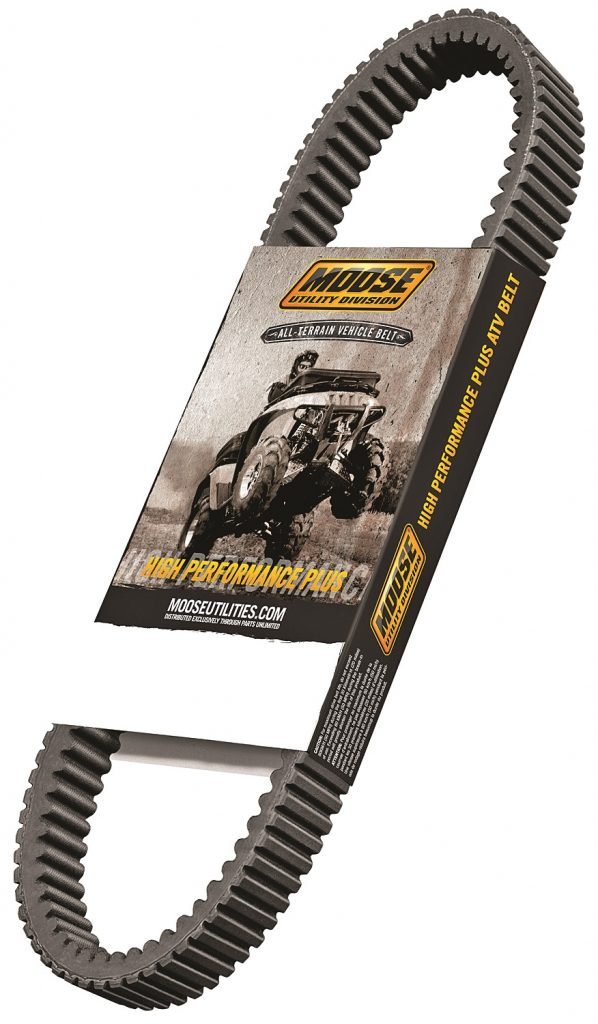 MOOSE
www.mooseutilities.com
$109.95
Moose has the ATV/UTV High Performance Plus belt for machines with engines 800cc and larger. It has specially formulated, high-temperature neoprene, with the highest level of aramid fiber loading available. The design features deeper cogs on top and rounded cogs on the bottom for flexibility and a longer belt life. Moose's ATV/UTV high-performance drive belt is "made with extra-strong P-aramid cord reinforcement and engineered, fiber-loaded, neoprene compounding designed to dominate any type of terrain."
QUADBOSS
www.quadboss.com
$132.95
QuadBoss has three ranges of belts, starting with the SEL belt for machines under 500cc, the Pro belt for machines 650cc and smaller, and the TQX for machines up to 1000cc. The TQX uses high-strength, low-stretch aramid cords and specially formulated compression compounds engineered for high-horsepower, large-displacement engines. The TQX is claimed to deliver the increased strength and durability needed to ensure long-lasting performance for today's high-powered machines and aggressive riders and drivers. The belts are made in the USA and have a one-year limited warranty.