EVENT: COOL NEW STUFF YOU SHOULD KNOW ABOUT
Checking out the AIMExpo By the staff of Dirt Wheels
Despite being get-out-and-ride guys, our staff has other duties that don't require getting dirty. Attending trade shows is one of those duties. Trade shows can be bad when there is nothing new to look at, or they can be great if there are interesting products to see. We attended the Motorcycle Industry Council's American International Motorcycle Expo (AIMExpo) in Orlando, and it was a good one. We found a variety of interesting products from companies that we were familiar with and also ones we had never heard of. Here are just some of the cool things we saw.
FLOE CARGO MAX XRT TRAILERS
One of the most impressive products we saw at the AIMExpo was the Floe Cargo Max XRT trailer line. These U.S.-made aluminum and plastic trailers never need paint, and they should last a good, long time. While they are designed for ATV and UTV transport, all four different sizes are easily pulled by most 4×4 quads and UTVs, since the lightest is 290 pounds ready to roll, and the heaviest is a mere 570 pounds. The unique haulers come in 8 feet with a cargo box 57 inches wide, and in 9.5-, 11- and 13-feet cargo areas that are 73 inches wide. The smallest model has an 1800-pound cargo capacity, and the three larger units are all rated to carry 2200 pounds. The trailers have ramp gates, and you can choose whether to use the bed teeter-totters to make loading easy.
With weights this low, there are very few vehicles that cannot tow these. The smallest is $1,659, and the three larger units range from $2,695 to $2,995. Each trailer features multiple tie-down points. Unlike other equipment or utility trailers, these trailers have a multitude of effective work uses. For more information, go to www.flowintl.com.
VEMAR HELMETS TAKU OFF-ROAD HELMET
Motonation was showing off the new Vemar Taku off-road helmet at the MIC AIMExpo. This new choice from Vemar is sure to be a hit. The helmet is loaded with features, has crisp European styling and is remarkably light at 1300 grams (2.8 pounds). With graphics like this the helmet is $129, but in solid colors it runs a mere $99! That is a great price for a light, comfortable and stylish helmet. It isn't up on the Motonation website (www.motonation.com) yet, but it should be soon.
CYLINDER WORKS FOUR-STROKE HEADS
Chalk this one up to not good news for ATV riders yet. Cylinder Works announced it is developing complete cylinder heads for popular models. It started with several editions of Honda CRF250R and KX250F heads. The bare heads are cheaper than stock heads, and they come ready to assemble with better valve seat material than stock. As it adds other models to the line, there will most likely be options for the TRX450R and the YFZ450. Keep an eye on Dirt Wheels and Cylinder-Works.com for other developments and applications.
KYMCO MONGOOSE 270 
One of the few sport quads we saw displayed at the AIMExpo was this slick-looking Kymco Mongoose 270. This liquid-cooled machine has a CVT transmission with a reverse gear. Kymco sells a utility model with the same motor package, but the $3899 Mongoose is almost 100 pounds lighter! The Mongoose has 5.7 inches of front suspension travel on a dual-A-arm setup with 6.5 inches of rear-wheel travel. With the sporty look and feel combining with the ease of the CVT, the Mongoose should be a good seller for riders looking to get into the sport.
TWO-STROKES ARE ALIVE
We got all excited when we saw these trick two-stroke and CVT parts on display in the Italian section of the AIMExpo. Unfortunately, the high-performance cylinder, trick heads and highly modified CVT transmission parts are intended for hot-rod Vespa scooters!
NO RAMP TRAILERS
In this case "No Ramp" is both the name of this trailer company and a description of the product. The initial design of the No Ramp trailer was to make loading heavy equipment easier and safer. But, the owner of the company has an off-road background, and he wanted to bring the same features to the off-road market. The trailers are built with a strong base, and electric-powered hydraulic rams rotate the axles to drop the deck right on the ground for loading. The lowering mechanicals are based on proven dump-trailer technology for reliability. In addition to making loading a snap, you can place a block of wood under the rear of the trailer and change a flat tire without a jack. For motorsports, No Ramp recommends the $3999 RS-9 trailer for carrying a single two-seat UTV or quad. It weighs just over 1000 pounds unladed, and it can safely carry 1050 pounds. A new $7999 LS-20 has an 18-foot deck and weighs only 2500 pounds empty. It easily carries two two-seat UTVs. These trailers are also hard to steal. Lower the deck to the ground, lock it up and it cannot easily be moved. Contact (574) 206-1331 or
www.noramp.com.
SUPERATV
SuperATV had a nice booth at the MIC AIMExpo with one of the lifted monster machines the company is so famous for on display. What caught our eye was a see-through Gear Driven Performance portal gear lift that makes it possible for SuperATV to build those monster, lifted machines with super-tall tires. Bolt the GDP gear lift to the suspension, and the axle attaches to the top. Power transfers through the gears to the new hub location. These units lift the machine either 4 or 6 inches. The 4-inch model offers a 30-percent gear reduction, and the 6-inch allows a 45-percent gear reduction. SuperATV has a wide range of suspension components that offer increased lift, better performance, superior clearance or long travel. Contact (812) 574-7777 or www.superatv.com.
SIDI GAVIA GORE-TEX BOOT
Technically, the waterproof and flexible Gavia is Sidi's value-priced Gore-Tex road boot, but the company has been touting it for UTV driving as well. AmPro Racing's UTV team will be running the Gavia while racing the GNCC series. Equipped with the world-famous Gore-Tex breathable and waterproof membrane, the Gavia adds a waterproof yet breathable barrier between the elements and the driver's feet. Sidi's new full-grain microfiber material is used for the upper's construction, and there are elastic panels to aid fit and comfort for this zip-on boot. The non-slip soles should be welcome when driving a UTV.
RIVAL POWERSPORTS SKID PLATES
The quality and detail of Rival aluminum skid plates caught our eye at the AIMExpo in Florida. Rival was founded in Ekaterinburg, Russia, but now has a branch in the U.S. (www.rival-usa.com). Rival's laser-cut aluminum skid plates and other accessories look like they fit extremely well. The aluminum is also powdercoated for durability. We took a look at some pricing in the U.S., and ATV skid plates start at $329, but most are closer to $400, and a Polaris 800 Crew skid plate kit runs for $889. The skids use the original mounting spots, and there are strategically placed holes for routine maintenance. Unlike some brands, Rival has a pretty complete catalog for CFMoto models.
MILLENNIUM TECHNOLOGIES BILLET RZR 1000 CYLINDERS
Want more power from your RZR XP 1000 without the hassle of a turbo? Millennium Technologies has three big-bore kits for the 1000 that deliver a displacement between 1042cc and 1109cc that can supply over a 20-percent increase in power over stock. MT is working on this billet cylinder for the bore kits. For more information, watch Millenniun-Tech.net for final specs and pricing.
MASSIMO WARRIOR 700
Massimo is a Garland, Texas-based company selling UTVs and ATVs. It claims that the machines are built in Texas from globally sourced components, but most of the models have a striking resemblance to Hisun machinery. That is, all except for the $12,995 steel-bodied Warrior 700. The steel body has the look of a military vehicle, and this machine is loaded with heavy-duty folding tie-down points. This is a three-seater with three bucket seats rather than the expected bench. With 34 horsepower and a curb weight pushing 2000 pounds, performance should be modest, but it was attracting a ton of attention at the show. See www.massimomotors.com.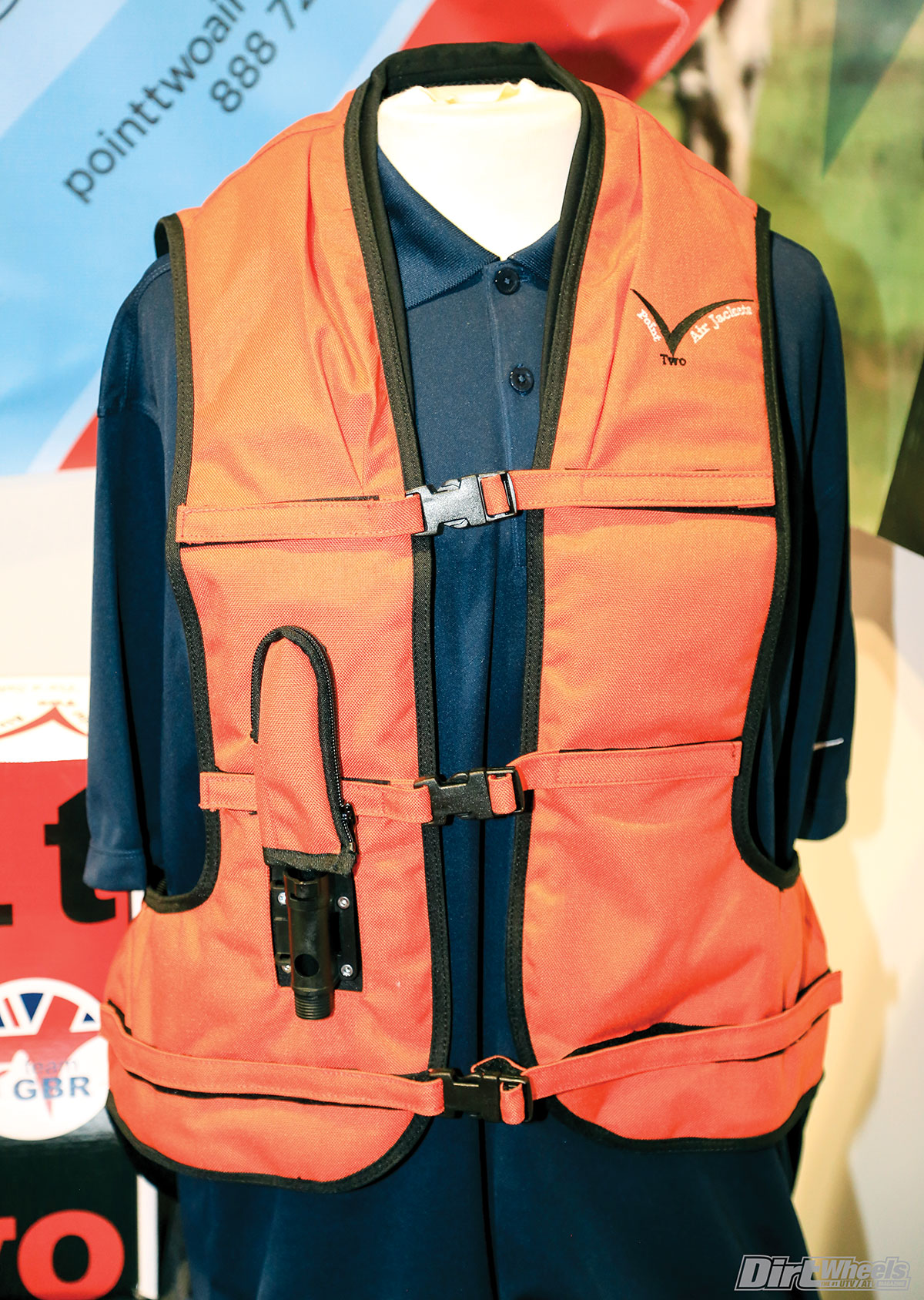 POINT TWO AIR VESTS
Point Two Air Vests has been in the vest business since 2009, but the company is relatively new to the U.S. The vest doesn't look too extraordinary when it is on. And, in fact, the hi-vis models look pretty much like the visibility safety vests that you see construction workers wearing. The truth is, the flexible and lightweight polyester shell hides the inner workings that allow the vest to inflate in .080 seconds so that you have protective air bags covering your spine and both sides of your chest in the event of a fall. A lanyard connects the vest to your bike, and in the event of a crash, a large CO2 cartridge inflates the air bags. Once the bags have been deployed, fold them back in, thread in a new CO2 cartridge and the vest is good to go again. If you are safety-conscious—and we all should be—contact Point Two at (888) 729-4442 or www.pointtwoairvests.com.
MOTION PRO
Motion Pro is our favorite supplier of specialized tools, and the company has some slick new products that will serve serious ATV or UTV enthusiasts well. Other new products are a suspension vise and a completely redesigned case-splitting tool. If you do your own work, you need to take a look at the extensive Motion Pro catalog or peruse the www.motionpro.com site.
GBC GROUND BUSTER III
It was nice to see companies producing new products for sport ATVs. GBC displayed a new sport quad race tire called the Ground Buster III. We are looking forward to trying these tires that were designed working with GNCC ATV pro riders. The Ground Buster III features a non-directional X-knob tread pattern. Its hefty sidewall lugs provide cornering traction and control for intermediate-to-hard terrain. It is available soon as a six-ply-rated tire for riders running air, and as a lighter two-ply version intended for use with flat-prevention systems like Tire Balls or Tire Blocks. Keep an eye on GBCMotorsports.com, or check with your dealer for availability and pricing.