TESTING ARGO'S XPLORER QUAD
How does the new quad competitor rate?
By the staff of Dirt Wheels
— Earlier we provided you with a first look on the all-new 2018 Argo Xplorer quad range. It's nice to see another company known for making great machines add quads to their lineup. As we stated in the first look on the Xplorer 4×4 quad lineup, this was an unprecedented move from Argo and the biggest news since their creation 50 years ago.
They introduced their Xplorer 4x4s as a price-point option for consumers. The best move they made was making them price-comparable with machines that had smaller engine sizes than that of the Xplorers. For instance, the Xplorer XR 500, which retails for $5999, is priced to compete with the 400–450cc machines of other companies like the Polaris Sportsman 450, which retails for $6299. Their Xplorer XRT 1000 SE two-up model retails for $12,699, which is comparable to the Can-Am Outlander 850 two-up model at $12,799.
These new machines from Argo are designed in Taiwan by the TGB company. TGB puts the Xplorer engines and chassis through intense testing. They have a full chassis dyno that basically tries to rattle it to pieces for days on end while the engine dyno testing puts close to 200 hours on the engines at full throttle. They claim that they do this with few, if any, failures. That's quite a feat, and it says a lot about this company from Taiwan.
The brainiacs at Argo also put their twist on these machines by making the ergonomics better—things as major as the cargo rack size to small items like grab handles on the two-up versions. All of this in the name of making an unforgettable ride for their riders. It all sounds good to us. Now, let's get down to the nitty-gritty.
XPLORER XR 500/XRT 500, XPLORER XR 500 EPS/XRT 500 EPS, XPLORER XR 500 LE/XRT 500 LE
Engine Liquid-cooled, 4-stroke single cylinder
Displacement 503cc
Fuel system EFI
Fuel capacity 4.2 gal.
Starting system Electric
Transmission V-belt CVT automatic Drive system 4WD/diff-lock
Suspension/wheel travel:
Front Dual A-arm/9.1"
Rear Dual A-arm IRS/10.4"
Tires:
Front Innova 25×8-12 (LE Innova 26×8-14)
Rear Innova 25×10-12 (LE Innova 26×10-14)
Brakes: 
Front/rear Single handlebar lever four-wheel hydraulic disc with hydraulic foot brake
Wheelbase (XR 500) 50.4",  (XRT 500) 57.1"
Seat height 36.1"
Front rack capacity 99 lb.
Rear rack capacity 165 lb.
Length/width/height (XR 500) 84.8"/48.6"/49.2"; (XRT 500) 92.9"/48.6"/49.2"
Ground clearance 13.2"
Towing capacity 1300 lb.
Colors Green, red
MSRP XR 500, $5999; XRT 500, $6999; XR 500 EPS, $6899; XRT 500 EPS, $7899; XR 500 LE, $7399; XRT 500 LE, $8399
FIRST RIDE: XPLORER 500 MODELS 
The Xplorer XR 500 (one-up) and the Xplorer XRT 500 (two-up) models are for the rider with a budget. They don't come with electronic power steering or the aluminum wheels that the higher-end models have. Also, the base models come with 25-inch tires. The XR 500 EPS and XRT 500 EPS models get an upgraded electronic power steering, but that's as far as the upgrades go. The XR 500, XR 500 EPS, XRT 500 and XRT 500 EPS come in either green, red or silver.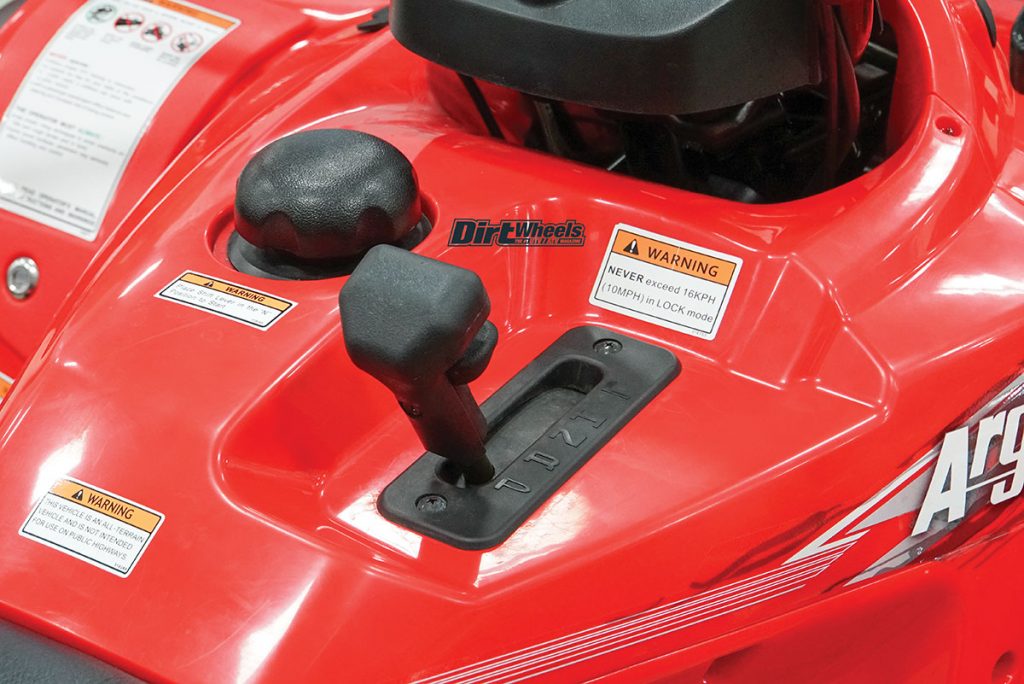 However, the XR 500 LE ($7399) and the XRT 500 LE ($8399) offer premium upgrades. The LEs have a handlebar-mounted headlight, 14-inch aluminum wheels, 26-inch tires, a front brush guard, and color options of orange and silver.
The engine power coming out of the 503cc single-cylinder engine is decent. It doesn't have the low-end power that the Polaris Sportsman 450 has, but it does run hard at high rpm. The dual exhaust silencers not only look cool on the 500s, but they keep the sound down as well. The CV automatic transmission is smooth, and the engine braking kept the machine from locking up the rear tires on descents. The seats were comfortable and the ergonomics of the machine put us in a good riding position. On the XRT models, the rear seat felt more comfortable than the driver's seat, and the hand grab bars were in a comfortable position.
Not having power steering on the base models was not ideal, especially if we had it in four-wheel drive with the front locker engaged. It would wander when it would grab traction from either side of the machine, so we had to muscle through it. The EPS models worked much better. The three-way-adjustable power steering was simple to cycle through, and it really helped this machine in tight corners and while using four-wheel drive with diff-lock. We preferred the maximum setting on the power steering. The four-wheel drive and diff-lock work great on the Xplorer 4x4s and is selectable by a handlebar-mounted switch.
We noticed that we could feel the engine temperature through the plastics on the one-up XR 500 base model, but we didn't notice it on any other Xplorer model. The same preload-adjustable shocks came on every model. Each machine rode surprisingly well through rough sections of trail. The long-wheelbase XRT models provided the most comfortable ride, while the XR models were very nimble and could turn quickly and precisely. Notably, the ground clearance is massive on these machines at 13 inches, so we didn't have a problem hitting rocks or roots while traversing the terrain. The wheel travel is another notable feature, with 9 inches in the front and 10 inches in the rear. We did feel that the shocks were a bit too soft as we bottomed out in deep ruts and dug out sections of the trail. Adding more preload could have helped.
Creature comforts on the quads were great. They offer two locking storage compartments on each front fender and an accessory outlet to charge your phone or other techie items. We enjoyed the gear selector being next to the gas cap, and it was simple to select between low, high, neutral, reverse and park. The brakes were impressive on these quads. The handlebar-mounted hydraulic brake lever has aggressive stopping power that locked up all four wheels, and so did the foot pedal brake.
The lower dual projector-beam headlights provided stellar lighting, and they're not featured on many quads. The LE models had the additional handlebar headlight. That was a welcome feature when turning the handlebar and having the additional light to guide the way. We didn't have the chance to tow anything with any of the machines, but it was good to see the 2-inch hitch like you would see on a truck. Each Xplorer 4×4 quad has that hitch standard, and it comes with an anti-vibration locking bolt that allows close to zero movement when in use. The heavy-duty steel racks can haul a combined weight of 265 pounds, so hauling our gear was easy enough.
XPLORER XRT 1000 LE
Now for Argo's flagship 4×4 quad, the Xplorer XRT1000 LE. It offers many of the same great options and features from the 500 LE models, but has the bonus of the 997cc, electronically fuel-injected, twin-cylinder, liquid-cooled engine. The 1000 LE is a two-up machine only at this time. Argo's XRT 1000 LE comes in orange, silver or black.
When it came time to test the 1000, the engine performance surprised us with how much low-end torque it had. For comparison, the power felt like riding the Polaris Sportsman 1000 but with a smoother feel. On top-speed runs, we managed to reach 73 mph before we ran out of road, but we did have more power on tap. Instead of having dual exhaust silencers, it has a large single silencer out the back of the machine. It has a very throaty tone coming from the twin-cylinder engine, but it's quiet enough to take hunting. Like its smaller brethren, it also uses a CV automatic belt transmission with engine braking standard. It worked well to slow this behemoth down while on descents. The 1000cc Xplorer offers a different rear differential than the Xplorer 500s. It comes with a turf mode that you can select on the handlebar dash pod. The turf mode was a great option on grassy fields that we didn't want to tear up.
We like the improved ergonomics of the larger 1000 machine compared to the 500 models. The sides of the machine felt perfect for us to grip with our legs, and the handlebar was in a great position for longer rides. The XRT 1000 offers the same 14-inch aluminum wheels and 26-inch tires as the LE 500 models. They have the same tread pattern as a Maxxis Bighorn, so they have plenty of traction for this high-horsepower engine. It also offers the same EPS as the smaller-displacement quads, and it works just as well on the bigger machine. The saddle on the 1000 is more comfortable than the 500, but the passenger seat had the same comfort as the 500. For some reason the bigger machine has less wheel travel at 8.7 inches in the front and 9.3 inches in the rear. It also has less ground clearance at 11 inches. Even with less travel, the OEM preload-adjustable shocks worked great on this quad. We felt that it rode better than the smaller Argos, as the 1000 remains plush but could handle bigger hits. It features the same 2-inch towing package and 1300-pound capacity, but like the 500s, we didn't get to tow anything.
ARGO IS ALL IN
Argo built some pretty bulletproof 4×4 quads, and it's great to see that they added many models for 2018. They are very capable machines and are priced right to start taking some market share. The Xplorer XRT 1000 LE was our favorite machine, and it would work best for us out in the SoCal desert. But, the Xplorer 500 lineup would work better in the tight, wooded areas of the East Coast.
It's tough to see many companies putting new-quad production on the back burner, but the company that produced the first all-terrain machine is going to keep adding a new segment to their lineup for the next five years. After riding their new ATVs, we're excited to see what they have in store next. We're hoping for a one-up Xplorer XR 1000 LE and, of course, some UTVs!
XPLORER XRT 1000 LE 
Engine Liquid-cooled, 4-stroke twin cylinder
Displacement 997cc
Fuel system EFI
Fuel capacity 4.2 gal.
Starting system Electric
Transmission V-belt CVT automatic
Drive system Shaft
Suspension/wheel travel:
Front Dual A-arm/8.7"
Rear Dual A-arm IRS/9.3"
Tires:
Front Innova 26×8-14
Rear Innova 26×10-14
Brakes:
Front/rear Single handlebar lever, four-wheel hydraulic disc with hydraulic foot brake
Wheelbase 56.9"
Seat height 36.8"
Front rack capacity 99 lb.
Rear rack capacity 165 lb.
Length/width/height 91.7"/47.2"/50.8"
Ground clearance 11.6"
Towing capacity 1300 lb.
Colors Orange, silver, black
MSRP $12,699