FIRST LOOK: 2021 ARCTIC CAT LINEUP
More models &  more customization kits
2021 ARCTIC CATS: FIRST LOOK
By the staff of Dirt Wheels
2021 ARCTIC CATS: FIRST LOOK
Specialized Vehicles (www.arcticcat.com.) has announced a complete 2021 line of handsome quads, nicely equipped utility/recreational UTVs, and the rowdy and ready Wildcat XX for sport UTV enthusiasts.
Unlike some brands with a million esoterically named models, Arctic Cat has simplified its product lineup. At most, there are two different models for each displacement. For the quads, that means the normal machine and an SE version. For the Prowler UTVs, some models have a Ranch Edition.
2021 ARCTIC CATS: FIRST LOOK
In the quad department is the Alterra line. It starts with a 2WD youth-sized 90 and a 2WD utility 300. This machine is built for all riders 16 years old and above. It has a liquid-cooled, 270cc engine.
The mid-sized Alterra 450 returns to the line for 2020. The only major technical change is a more durable transmission. The Alterra 450 features on-the-fly, 2WD/4WD, dual-A-arm front, and rear suspension. It also comes with a 2-inch receiver hitch.
All motivated by a liquid-cooled, single-cylinder, 443cc EFI engine. According to Arctic Cat, "The 400–500cc segment is the heart of the ATV market, and the Alterra 450 offers Arctic Cat enthusiasts an option in this category."
2021 ARCTIC CATS: FIRST LOOK
All of the 450cc-and-smaller ATVs come with electric power steering. Next up, is the 570 EPS—a recent model for Arctic Cat to compete with the Polaris 570.
The 570 is the only quad with a second SE edition. It has cast-aluminum wheels, over-molded, front and rear racks, an HD front bumper. It also comes with a front tow hook, and a 3000-pound Warn winch.
Unlike the smaller-displacement ATVs, the 570 only comes with EPS! Judging by the spec sheet, the 570 shares more in common with the Alterra 700, than with the 450. The 700 is also equipped with EPS,  the wheelbase and overall length are also the same. Both are single-cylinder engines, and the quads look identical.
There is also an Alterra TRX 700 EPS. It has a 6-inch-longer wheelbase, which allows it to make room for carrying two people. All Arctic Cat ATVs are backed by a 12-month warranty.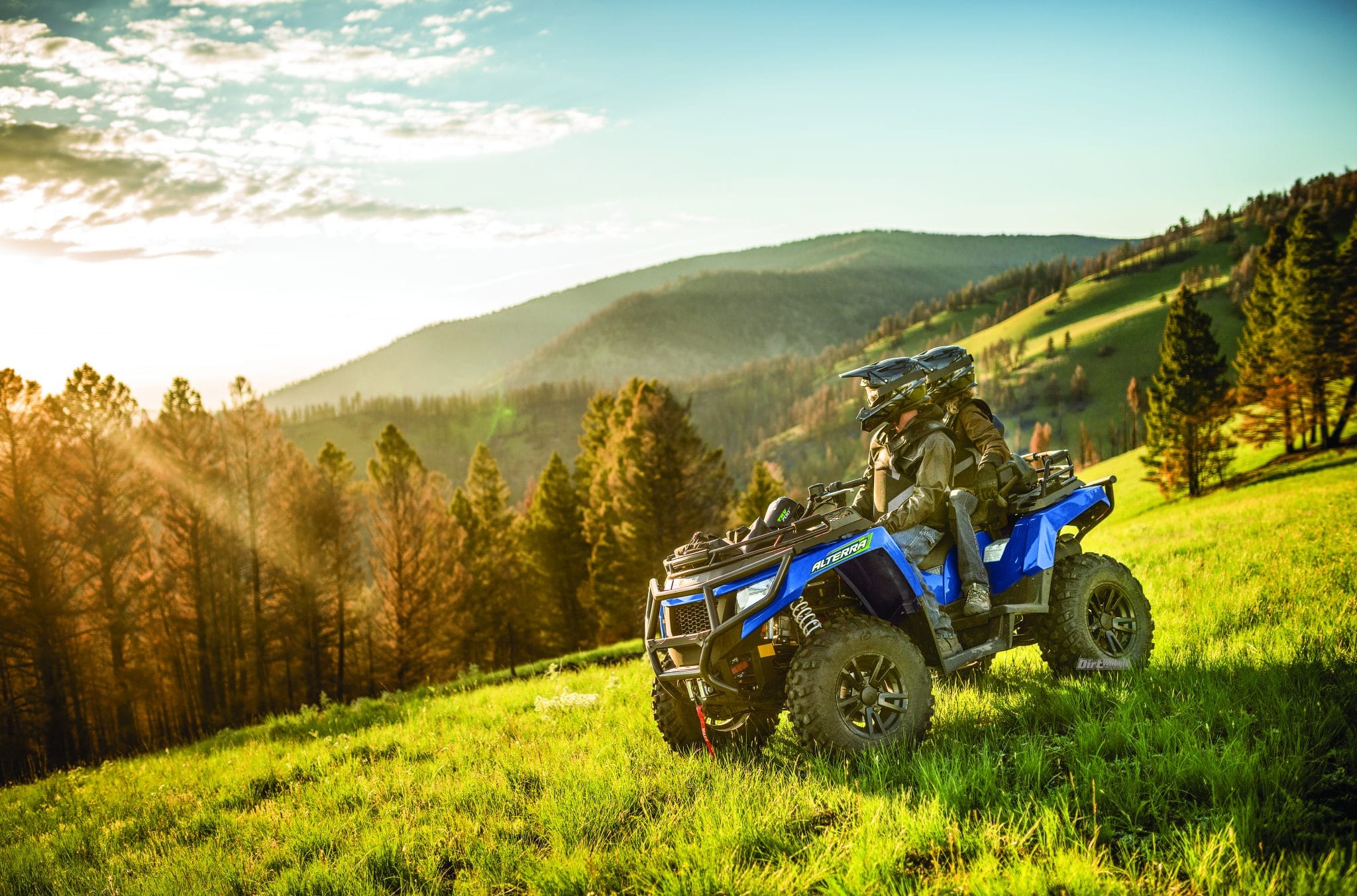 2021 ARCTIC CATS: FIRST LOOK
SAY HELLO TO STEERING WHEELS
Then there are the UTVs in the 2021 Arctic Cat Lineup.  Starting with the Prowler 500. It now comes in two color choices, but there is only a single model without power steering. It looks like it shares an engine with the Alterra 450 4×4 quad.
Formerly, Arctic Cat had two accessory packages, the 500 Prowler now has four. The first is the Adventure kit. It includes a hardtop, windshield, rear-view mirror, and a rear cab panel.
Next up is the Enforcer kit. The package consists of a winch mount, winch kit, front bumper, and rear bumper. The Protection Plus kit features a hard door kit, a hardtop, windshield, rear-view mirror, and rear panel. Finally, there is the Winter kit, with a winch mount, winch kit, push frame, and mount kit, plus a 66-inch steel plow blade.
2021 ARCTIC CATS: FIRST LOOK
Arctic Cat also has the Prowler Pro, with a smooth and quiet, 812cc three-cylinder engine. The Pro and the Pro Crew both have inch-larger tires than the normal crew. They also have a rear bumper. On the Pro and Pro Ranch models, they have three accessory packages,. These include Adventure, Protection Plus, and Winter kits.
The vehicles come standard, with a premium front bumper, 4500-pound winch, poly roof, aluminum wheels, and electronic power steering. The Prowler lineup is backed by an 18-month warranty.
Look out high-performance segment, Arctic Cat now has the 130-horsepower Wildcat XX.  It has 18 inches of front and rear travel, 14 inches of ground clearance,  and a class-leading 300-pound bed capacity. Another perk is the premium Fox 2.5 Podium QS3 shocks, with bottom-out control.
For additional customization, Trail, Backcountry and Excursion Kits are also available. The Wildcat XX is backed by a six-month warranty.
For more information, visit a local Arctic Cat dealer or go to www.arcticcat.com.
To subscribe to Dirt Wheels Magazine in print or digital form click here https://hi-torque.com/product/dirtwheels.