CAN-AM MAVERICK TRAIL
Testing a great UTV for narrow trails
By the staff of Dirt Wheels
CAN-AM MAVERICK TRAIL
When the announcement came that Can-Am had a new, secret sport machine coming for 2018, we couldn't imagine which direction the Canadian giant could be going. With the Maverick X3s, Can-Am had the widest, longest-travel and, for 2018, the most powerful production UTVs made. The plan wasn't to top the X3, but to push the Maverick family in another direction with an X3-inspired, 50-inch, legal trail machine. Four total Maverick Trail vehicles make up the Trail line: Maverick Trail 800, Trail DPS 800, Trail 1000 and, our favorite, the Maverick Trail DPS 1000. The white ones are base models with steel wheels, net doors and no DPS power steering. Can-Am Red (a very orange red), Sunburst Yellow and Mossy Oak Break-Up Country Camo are DPS models.
We don't have many 50-inch trails, so Can-Am took us to the stunning Bear River Lodge (BRL) on Highway 150 in Christmas Meadows near Kamas, Utah. BRL has cabin, ATV, UTV and snowmobile rentals located just above the Bear River and has legal trail access to ATV and UTV trails. Of particular note for this intro was the 50-inch-only designated Wolverine loop, though the 60-inch trails and even 4×4 roads and trails were also great.
CAN-AM MAVERICK TRAIL
GOING NARROW
Can-Am started with an advanced, light and rigid steel. The ROHVA-compliant cage is made of "profiled" 1.85-inch steel tubing. "Profiled" means that the cage tubes are specifically shaped to allow windshields and doors to flush-mount with the cage. That means that the Trail can have a fully closed cab.
With the X3s, Can-Am learned the benefits of a longer wheelbase on ride comfort. A class-leading 90.6-inch wheelbase is 11.6 inches longer than its closest two-seat 50-inch competitor. Added to the chassis is a trail-designed Torsional Trailing A-arm-Terrain (TTA-T) rear suspension. The preload-adjustable Sachs rear shocks curiously angle a little rearward at the top, and they attach to the lower A-arms for 10.5 inches of travel, while the front shocks attach to the upper A-arm for 10 inches. Despite having roughly the same travel as other 50-inch models, the Maverick Trail's combination feels like it has longer travel than other 50-inch models.
The shocks feature a 36mm bore, 15mm shock shaft and a huge 57.1mm (over 2-inch) shock body. Unlike other sport machines that have far more travel than ground clearance, the Maverick Trail has 10 inches of ground clearance, roughly equivalent to the travel. Off-road, 10 inches of clearance isn't huge, so the underside has full-body, injection-molded skid plates.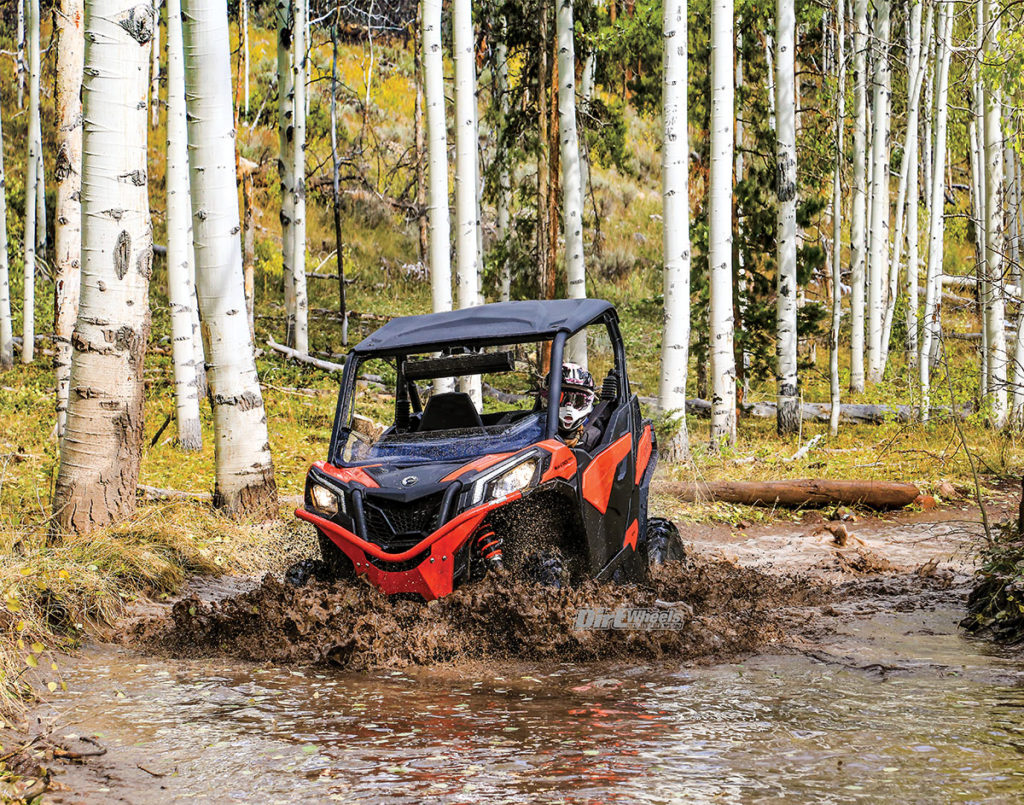 CAN-AM MAVERICK TRAIL
PUTTING IT TOGETHER
The wheelbase allows for a roomy cockpit and pleasant ergonomics, as well as the improved ride. Low seating—again, made possible by the wheelbase—still allows for ample legroom. We certainly had room for a 6-foot-2 driver, though at 50 inches, driver compartment width is compromised. We drove with both the net doors and the HMW (High-Molecular Weight) plastic doors found on the Maverick Trail 1000 and Maverick Trail DPS 1000 vehicles only. The relatively tall half doors add debris and weather protection, but larger drivers may feel their left arm is restricted when steering.
With all this talk of suspension and other chassis numbers, you might think there is no news in the engine bay, but that would wrong. The Maverick X3 three-cylinder engine has been grabbing headlines, but the traditional Rotax V-twin engines are more than viable. The Maverick Trail vehicles are built with either a 75-horsepower 976cc Rotax or a 51-horsepower 800cc V-twin. Before the test we wondered if the 1000cc engine might be a bit much for a 50-inch Trail model, but that wasn't the case. For sure the 800 has almost built-in throttle control (at least at 9000 feet elevation and above), but the 1000 was never difficult to control, even on mud, snow or ice. We suspect that part of the long wheelbase was to get the necessarily longer V-twin engines in a good location for handling and to minimize heat, vibration and sound in the cab. Both engines include engine braking. Can-Am equipped the Trail models with a large radiator, but 25 to 50 degrees didn't stress the cooling system.
The engines are paired with a stout Quick Response System T (QRS-T) CV transmission, and we couldn't fault the engagement of the CVT for either technical or spirited driving. Low range is plenty low without being so low it feels useless. In high range we were able to handle tight, rocky trails, and on the flat we saw 70 mph indicated. We ran out of room before it stopped accelerating. The built-in Hill Descent Control engine braking came in smoothly and wasn't annoyingly aggressive.
CAN-AM MAVERICK TRAIL
EASY HANDLING AND CAPABILITIES
The base Maverick Trail vehicles come standard with selectable 2WD/4WD with Visco-Lok—Can-Am's answer to an auto-locking front differential. Maverick Trail DPS vehicles have the same features, plus 4WD with Visco-Lok QE auto-locking front differential, selectable 2×4 open rear differential for tight turning and turf protection, 2×4 lockable rear for improved 2WD traction, 4×4 open rear for more maneuverability in rugged terrain and 4×4 locked rear for traction. The Visco-Lok Quick Engagement (QE) allows quicker engagement for the front differential.
MORE GOOD THINGS
Maverick Trail DPS models feature single-mode Dynamic Power Steering (DPS) that aids steering effort and feel at slow speed, but automatically offers less help at higher speeds. The iTC throttle-by-wire system works to produce smooth throttle delivery even if your foot is bouncing around. The Maverick Trail DPS models have selectable Sport and Eco modes. Sport offers fast throttle response, and Eco mode allows a more filtered, smoother power delivery. The Maverick Trail base model has only a single mode. We played with Eco mode in the snow and ice, and it was smoother, but the trail was so easy to control, we went back to sport mode and left it.
Carlisle ACT HD radial 26-inch six-ply tires mount on steel or aluminum 12-inch wheels. The fronts are 8 inches wide and the rears are 9, but the machine tracked like it was on rails in mud, snow and ice. Plus, we never saw a single flat tire on the rocky trails. The only time we felt them slip was on wet or muddy rocks.
The top-loading glove box is large enough, and we actually used it for gloves! The smallish fixed bed has no tailgate, but it does have eight LinQ quick-attach locations, four anchor hooks and integrated drain holes, as well as 300 pounds of capacity. If you need to carry more, the Trail will tow 1500 pounds.
CREATURE COMFORTS
One of our favorite things about Can-Am UTVs is the attention to creature comforts inside the machine. The comfortable, supportive seats have a quality sport car-like feel with a low seating position. We ran the seat all the way back, but there is 5 inches of fore and aft adjustment. Both the seat cushion and seat back snap out for cleaning. We used that feature to set the iced-over seats in the sun to thaw! Add the tilt wheel and you have a very comfortable machine. The gauge package is attached to the steering column, so adjusting the wheel does not affect your vision to the gauges. Large guys with wide shoulders will have more room with the net doors, but we liked the closed feeling with the hard doors. If you remove the passenger seat, there are two LinQ quick-attach locations to attach gear like coolers and such.
Thankfully, none of the machines we tested were completely stock. All had at least a roof and a partial windshield. At speed you can actually use your hand to feel that the airflow is routed up to helmet level. Some machines had mirrors, bumpers and sound systems. Others had additional lights. If you do want to add electrical aftermarket or Can-Am's own PAC accessories, each Maverick Trail includes an integrated PAC-ready wiring harness mated to the on-board 650-watt magneto. The Trails are also four-point harness-ready.
FAVORITE TECH
Another impressive facet—the first 1800 miles of driving is intended to be maintenance-free; no break-in maintenance is required. Unlike many new machines, all of the suspension pivots have grease fittings. Can-Am claims that the airbox, radiator, oil, CVT, engine, battery and other essential maintenance components were easy to reach, but we had no need to check. We can assure you that the machines clean up well and easily after mud whomping.
CAN-AM MAVERICK TRAIL
FINAL THOUGHTS
The Can-Am Maverick Trail family of side-by-side vehicles comes well equipped starting at $10,999, but that is without DPS. We'd spend the extra money for power steering and the 1000's power. Can-Am has nearly 100 accessories, and of those we used, we liked the basic roof, windshield and mirrors the best. We didn't get into the car and notice that anything was truly missing that should have been standard. The performance is excellent in all respects. The suspension feels better than the numbers would lead you to believe, and threading true 50-inch trails is a blast. When the going was more open, the Trail was just as happy.
This is a good-looking, comfortable machine, and despite the weather and the beating dished out, none of the machines so much as hiccuped. That says a lot. Add in the ease of ownership with the service intervals and the Maverick Trail is a winner more than worthy of the Maverick name.
CAN-AM MAVERICK TRAIL 800/1000
Engine Rotax liquid-cooled V-twin four-stroke
Displacement 800cc/976cc
Transmission Quick Response System T (QRS-T) CV transmission
Final drive Shaft
Fuel system EFI
Fuel capacity 10 gal.
Length/width/height 118″/50″/69″
Ground clearance .10″
Wheelbase .90.6″
Estimated dry weight 1,314 lb./1,349 lb.
Suspension/wheel travel:
Front Double A-arm with sway bar/10″
Rear TTA-T with sway bar/10.5″
Tires:
Front 26×8-12 Carlisle ACT
Rear 26×9-12 Carlisle ACT
Brakes:
Front Dual 220mm ventilated disc brakes w/ hydraulic twin-piston calipers
Rear Dual 220mm vented hydraulic disc w/ dual-piston calipers
Bed capacity 300 lb.
Towing 1500 lb
Colors White, Can-Am Red, Sunburst Yellow, Mossy Oak Break-Up Country Camo
Price Starting at $10,999
 To subscribe to Dirt Wheels Magazine in print or digital form click here https://hi-torque.com/product/dirt-wheels.  
Contact www.can-amoffroad.com