GNC MX CHAMPS FROM 1997
Shane Hitt takes his first championship
GNC MX CHAMPS : DW Dec. 1997
Story & photos from our December issue in 1997 by John Arens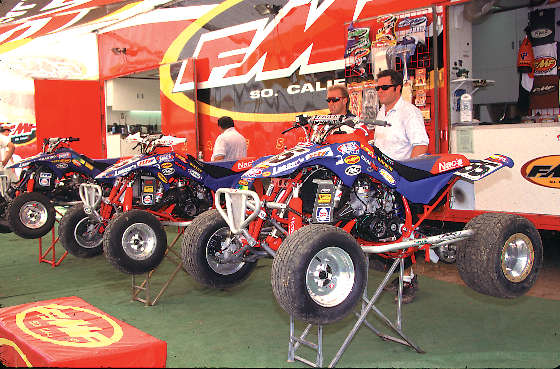 Shane Hitt Wins 1st Championship
So, Shane, now that you are the 250 Pro champion, are you looking forward to that big #1 on your quad?"
"Well, I don't know.  I'm getting kind of used to that #2, and I just might keep it on there!" quipped Shane Hitt after clinching his first-ever national championship. https://dirtwheelsmag.com/project-honda-fourtrax-trx-600/
Shane won five races this year—four TTs and 1 motocross at Mt. Mor­ris. In fact, usually, the cham­pionship comes down to a dog-eat-dog final moto between the leaders, but '97 was the first time in the se­ries' history that the championship has been wrapped up before the fi­nal mo­to­cross.
Hitt has always been a fantastic TT rider and has been in contention for the championship in years gone by, but it just never happened until '97. Ironically, after last season's disappointing defeat, he wasn't sure if he would even ride this year. Like his friend and competitor Donny Banks, Shane had always been close, but a dev­astating break would go against him and cost him the title.
Fortunately for him, he made one more effort, and this season proved to be his best. Shane began the year with a TT win at Birch Creek, backed it up with several more, and grabbed his first-ever motocross win, while title competitors Doug Gust and Tim Farr became bogged down and found themselves playing catch-up to the very quick competition. Coming in­to the Loretta Lynn's finals weekend, Shane needed two strong finishes to take the title, but after the TT, the year was his.
TT ACTION
GNC CHAMPIONS
This year's TT course at Loretta's was the best ever, and some competitors were heard to say they found it ea­sier to pass on than Ashtabula—high compliments for a controversial course, and high praise for Dave Coombs' endless efforts to provide the best racecourse he possibly can.
As the 250 Pro class settled into the fi­nal moto race, all eyes of the huge number of fans on hand were on the lead­ers. It was Hitt who jumped into the lead of the race and series points, and Tim Farr, the only man with a chance to take it away from him, was just behind. Lap after lap, Far probed at Hitt, trying every line possible for a pass, until with only a few laps to go, Farr suddenly was slowing and reached down under the tank.
He rolled to a stop within a lap as his motor suffered a fatal flaw with a torn-off intake boot and a dangling carb. The normally quiet and re­served Farr now showed the disappointment and despair anyone would feel as he yanked off his goggles and gloves and just stood and stared at his machine, no doubt contemplating the consequences, just as the fans and Shane Hitt's pit crew did the same. The title now was Hitt's, and as he crossed the finish line his crew began the celebration.
MOTOCROSS MADNESS
With the title now in Hitt's camp, several riders had something yet to prove in the motocross, and nothing to lose. Many of the top riders were long overdue for a win, one of them be­ing Doug Gust. Gust had been an ear­ly favorite this season, and had done very well, but not as well as Farr and Hitt. However, they were now on his territory.
HITT & MISS…
As the first moto settled in, Gust found his way to the front, as usual, and Rodney Gentry, the smoothest rid­er on the circuit, followed him around the course in second. With on­ly half a lap to go, however, Gust rolled to a stop in front of the "Ten Com­mandments" whoop section.
GNC MX CHAMPS
Doug Gust's  https://dirtwheelsmag.com/how-to-ride-doug-gusts-go-fast-secrets/  and his NAC's crew would not comment. It appeared and sound­ed to many that Gust had simply run out of fuel. After all, the class had been given several hot pre-race laps instead of the usual one, and now the dejected Gust simply held his head high, knowing he had done his job, and watched Mr. Gentry take the win.
Moto two would be a real barn-burner, as several riders were in the hunt for the win, and once again Gust would find his way into the lead, this time ahead of Travis Spa­der. Travis is one of the few riders who can challenge Gust, and for a few laps, the young medical student gave chase, his signature shirt flapping in the wind.
For several laps Travis was within striking distance; however; his second-place position would give him the overall win. After all, he had won plenty of motos already this season, and until Ashtabula, he had grabbed ev­ery holeshot, led every moto, and won every race in the 250 Supermod class.
GNC CHAMPIONS
To top it off, at Ashtabula Spader hopped on a 250X and won the 4-Stroke Pro/Am class. With that in mind, Travis settled into second as Gust ran away from the pack and ea­sily won the moto. At the checkered flag, with the combined moto scores, it was Spader with the win, Farr second, and Gentry third.
OPEN PRO/AM
Keith Marx must have nightmares about leading at the white flag with Doug Eichner    https://dirtwheelsmag.com/hot-rod-banshees-mx-tt-quads/  right behind him. After all, on­ly one year ago Marx was aboard a big-bore LRD Honda, out front and seem­ingly on his way to a hard-earned win in the Open Pro/Am class, when along came Eichner on his Duncan Racing/Alba Yamaha Ban­shee to snatch the win.
This year it was again Marx with the lead for most of the race, this time aboard a very potent LRD Banshee, and just as the white flag popped out, so did the demons. Once again Marx would need an exorcism to remove Eichner from his rear number plate.
As the duo rounded the curving whoop section, Marx took the middle line and Eichner saw his opportunity. As Marx made his way through the dif­ficult section, Eichner performed a "double or nothing" jump to get by the fellow Banshee pilot, and al­though the two collided in midair with Eichner's wheel landing on Marx's nerf bar, Eichner managed to come out the better of the two, and now in the lead with little more than half a lap to go.
At that point, Eichner found the stops on the Banshee throttle and was not about to let a hard-earned pass slip away. When asked about his second-place finish, Max was up­beat about his ride, offering the following: "I led five laps on a stock frame. That's not too bad for this class. Next year, though, I'm going to be working with my sponsor [Lone Star] on a different chassis setup, which will help me out and get the weight down a little so we aren't giving up so much."
There have you have it, readers. A new champion for '97, and hundreds of renewed hopes for '98. We hope to see you there as well!
GNC CHAMPIONS
TRIVIA | BEHIND-THE-SCENES NEWS
l So what goes on at Loretta's besides the motocross and TT races? If the fan­tastic racing on the track wasn't enough action for a weekend, how about this?
GNC MX ChampsGNC MX Champs
• This year, with the help of Quad Promo Inc., amateur races were treat­­ed to contingencies and product giveaways from the following companies: Douglas Wheel, Fox, Oury Grip, Graves Motorsport, Answer, Works Performance, Outerwears, Hoot­ers, and Scott Goggles. A big thanks to all these companies for their support!
• Ever been curious about how much horsepower your racer puts out? This year Trinity Racing brought its factory dyno to Loretta's, and racers were given a chance to have their mo­tor tested by the dyno, and given a computer analysis of their ma­chine, complete with printed test da­ta. Jeff Seegot's Trinity Racing Honda motor was the highest 250 at 51 hp!
• Friday night's TT awards program was followed by a new film premiere: the video ¡Quatro Locos! made its debut at Loretta's, and was well received. This film included awe­some shots of some of the top pros at play, and some hilarious dune an­tics. Afterwards, and thanks to the ef­forts of the film's producer, Wes Mill­er, his purple velvet pants, and the video sponsors, the crowd was treated to giveaways from the video group.
• FMF sent the factory semi to Lo­ret­ta's to support its man, Doug Gust, and the NAC's team. To say the least, it was impressive, and mechanic Ter­ry Varner and crew did their best to support Doug, but it was not to be in '97. However, they want to be back in '98, and they have quite a few new products they were displaying.
• Gary Denton held his second an­nual kids fishing tournament, and a horde of youngsters were ready and waiting for him. It nearly became too much for the elderly Mr. Denton to han­dle, but as usual, all turned out well for him and the kids, and a good time was had by all. Good job, Gary!
• Hooters sent three beauties out on Friday night for the TT awards, and, to say the least, they were extremely popular with the crowd! A big tip of the visor to Hooters, and Linda Livingston of Quad Promo for arranging the autograph session and awards ceremony! In fact, Open Pro/Am rider and Japanese champion Isoa Aoki summed it up best in broken English. When asked what he thought of the Hoot­ers girls presenting him with his award, Isoa replied, "I like!"
• The Duncan team had another of its autograph sessions, and fans of all ages were very happy to get the au­to­graphs of the team riders. Very classy and professional.
With the racing, swimming, fishing, camping, and an endless number of things to do, we can't think of a better ATV vacation on the planet, and we can't wait until '98! l
We didn't want to relive these moments without say congratulations to the 2020 champs too.
To subscribe to Dirt Wheels Magazine in print or digital form click here https://hi-torque.com/product/dirtwheels.