HIGH PERFORMANCE SPORT TEST: 2009 KAWASAKI KFX 450; We compare it to the factory racer
Kawasaki's high performance KFX450R will remain unchanged for 2009. Still, the green machine is a very solid ATV, which features a lightweight aluminum chassis, and a peppy 449cc electronic fuel injected powerplant.
Should Kawasaki have made improvements to the 2008 model? Check out our first ride test of the 2009 KFX450R, as well as a look at Josh Creamer's 2008 Monster Energy race machine. Creamer's ride is the highlight of several year's worth of hardcore testing, so if changes are needed for his machine, shouldn't some changes be made to the stock KFX450R? Unfortunately not for this year, but who knows what time will bring to the KFX450R?
POWER DEPARTMENT
The 2009 KFX450R is packed with the same peppy 449cc, liquid-cooled, four-valve, DOHC mill. It is not the fastest, or most explosive 450, but it is smooth and very fun to ride. Fuel is fed through a 32-bit digital fuel injection system, with a 42mm Keihin throttle body. This system is great for the rider who lives in higher altitudes and colder climates.
The motor has good bottom end pull, and is smooth all the way through the power ranges. We had a lot of fun on the tight and technical test track we rode. It is a high revving powerplant that is good for the track and great for the trail.
Turning the stock KFX450R's powerplant into a fire-breathing hot rod for the likes of a Josh Creamer is easier than you would think. A complete Pro Circuit Ti-4 Exhaust system was matched with a Pro Circuit piston and headwork. Pro Circuit also designed a special air box/intake to give new life to the motor mods, and an oil cooler to maintain its life. The titanium valves and asymmetrical high-acceleration cams found in the stock KFX450R are also run in Creamer's machine.
The transmission of the KFX450R is a good one. The five-speed (one-down, four-up) manual transmission is set up with a thumb-activated reverse gear found below first. Creamer's racer had the reverse gear removed, to save weight, and it is highly unlikely a reverse gear is needed for MX use. For those of you on the local trails, or looking to race GNCC or GP events, reverse would be very beneficial. To beef up the stock clutch components for racing, Hinson supplied the Factory KFX450R with a clutch basket, inner hub and pressure plates and cool clutch cover.
SUSPENSION & MORE
The stock KFX450R features a solid double A-arm setup with rebound-and compression-adjustable piggyback shocks. They offer 8.5 inches of wheel travel for the front end.
Creamer's machine saw a switch from the stock front end to a long travel Roll Design A-Arm setup, with Fox Evol Float shocks. Last year, Creamer rode with Elka suspension, but made the switch to Fox just after the 2008 race season. Fox helped the Suzuki factory team take their LT-R450 to the 2008 championship, with Dustin Wimmer at the reins.
The stock steering stem was also replaced with a 1/2-inch  taller Roll Design steering stem. This stem makes the KFX450R seem less crunched, and easier to control. The stock Renthal handlebars are excellent, and were used by Creamer. Sunline hand guards, and an aluminum clutch perch, were also equipped on the racer version.
An Elka steering stabilizer still graces the front of the KFX450R racer, and according to Kawasaki staff, will remain for the 2009 race season. A stabilizer is a key ingredient to a good-handling race machine. You will not see a racer at the track without one. Which leads us to ask, why hasn't an OEM offered a steering damper on theirs?
Out back on the 2009 KFX450R is a standard swingarm with a single piggyback reservoir shock. This shock offers up ten inches of wheel travel for the rear. Creamer's machine is one of the few factory racers to use the stock swingarm. That shows that the overall quality is right for the stock unit. He did however, switch the stock rear shock out for a Fox Podium X.
The subframe was shortened to Creamer's specs. Our test riders fit right in with Creamer's size and weight, so the adjustment worked well. You can purchase this setup through Kawasaki accessories.
Kawasaki's stock KFX450R rides on 21×7-10 Dunlop fronts, and 20×10-9 Dunlop rears, wrapped around spun aluminum wheels. These tires offer great traction in most terrains, and hooked up great on our test track.
The factory race team tossed out the all-terrain type tires and replaced them with more MX track friendly ITP Quadcross front and rear treads.
These ITP meats were popped on Rear Douglas Beadlocks and front Yellow Label Wheels.
Braking on the KFX450R is achieved through a 200mm rotor with single-piston caliper in the rear, dual 163mm discs, with two-piston calipers, up front. These brakes offer strong, consistent stopping performance that is good for all types of terrain. There is an integrated rear parking brake that is easily engaged and released while wearing gloves. When engaged, the parking brake lever also prevents the clutch lever from being actuated.
The stock lines were changed on Creamer's ATV to Streamline's stainless steel brake lines. They were installed using their trick-looking billet clamps. We were surprised to see that Creamer's front master cylinder was replaced with a larger Braking front master cylinder. The stock brakes work just fine, but Creamer's will throw you over the bars if you aren't careful.

The Pro Circuit mods made the KFX450R very explosive. The stocker was already peppy, but the motor mods, and full T-4 exhaust and airbox mod turned it into a full-on racer.
OTHER COOL FEATURES
The KFX450R features a detachable front headlight assembly, which is easily removed for racing. An optional kick-start system can be installed to save on weight, but the quad we  rode did not have it.
A two-tone seat features a smooth top surface, and slip-resistant sides. Creamer replaced his with the same style seat from QuadTech. This was not based on performance, but on looks alone. The carbon fiber shock guards, hood and underhood were also replaced.
Two-piece "lapped" front and rear fenders can be replaced separately in the event they are damaged. Plus, this year, they are available in the same green  (or red) as the rest of the machine. We weren't impressed with the black units from last year.
The stock aluminum bumpers were replaced on Creamers KXF DG with a front bumper, rear DG bumper, and large DG footpeg-equipped nerf bars with heel guards. The stock plastic skidplate was also removed in favor of a lightweight, yet strong, Fundamental Industries carbon fiber skid plate.

2009 KAWASAKI KFX450R

FINAL THOUGHTS?
To transform the stock KFX450R, or other narrow machines, into a top contender in motocross, you would have to throw down at least the cost of another stocker. This is readily apparent, after taking a look at Kawasaki's pro race machine.
The 2009 KFX450R is a very fun sport ATV. We are big fans of its smooth ride through all the power ranges. It's EFI makes for a very responsive, snappy power hit. The stock KFX feels cramped at first, but after riding it for a while it is less apparent. Creamer's version was equipped with a 1/2-inch taller steering stem,  which helped greatly in this area. The suspension rides great on the trail, and can compete with any other race 450's in that respect. If you are planning on racing, you might want to immediately look into a longer-travel suspension. Roll Designs offers a great setup, proven with Creamer's results, but other aftermarket suspension sets are also widely available.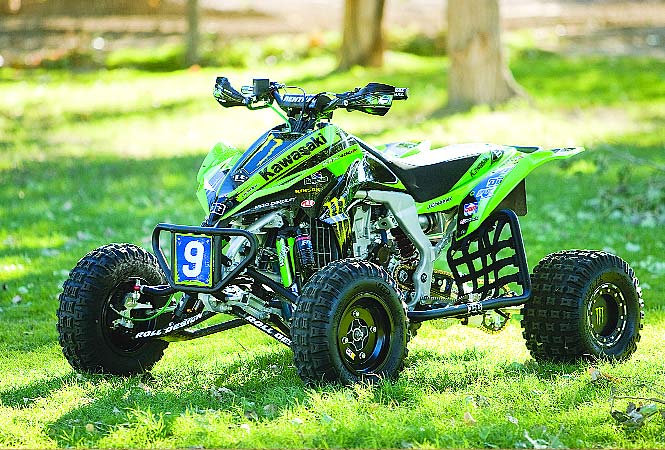 MONSTER ENERGY KAWASAKI KFX450R SPECS