The most decked-out Rancher around By the staff of Dirt Wheels
Honda may have strayed away from the sport quads that we have come to know and love, but they remain strong on the 4×4 quad front. The Japanese manufacturer stands tall alongside its competitors year after year—and for good reason. Honda creates great machines that oftentimes outlast their rivals.
The Honda Rancher line provides options that most consumers want at a price they can afford. We tested the Rancher with the works. That includes 4×4 independent rear suspension, electronic power steering and an automatic dual clutch transmission, all starting at $7999.
PUTTING OUT POWER
The Honda Rancher sports a peppy, 420cc, single-cylinder engine that is liquid-cooled and electronically fuel injected. While it might not be a rocket in the power department, the Rancher can get you moving down the trail pretty quickly. We tested the Rancher with an automatic, five-speed DCT that has reverse. There are two drive modes with this model: electronic shifting through a thumb-operated button shifter or auto mode, which will take care of the shifting for you. Aggressive riding isn't everyone's forte, but sometimes shifting is fun, so having the option to shift is a plus.
The 4×4 system on the Rancher is easily operated by a hand lever on the left side of the machine. You can switch between two- and four-wheel drive. The Rancher lineup does not have a fully locking front differential, but the 4×4 system works well.
SUSPENSION AND STEERING
This Rancher comes with EPS. The machine is on the lighter side at 686 pounds, and the steering makes the machine feel like it's 400 pounds. Suspension in the front is a dual-A-arm design with 7.3 inches of wheel travel. The lower-level model of the Rancher has a swingarm rear suspension, but this model has IRS with 8.5 inches of wheel travel.
Honda utilizes Maxxis tires on this machine to gain good traction. The fronts are 24×8-12, and the rears are 24×10-11 mounted on steel-stamped wheels. The tires also help the front hydraulic brakes and rear hydraulic brake slow the machine down via two handle levers and a foot-controlled rear brake.
GETTING THE JOB DONE
Honda's Rancher is meant for work, yet it's also playful. This machine can tow up to 848 pounds. If you need to lug equipment around on the racks, you can carry stuff on the front and  on the rear. If there are obstacles or you have to trek through mud, the Rancher has a ground clearance of 9.2 inches. Fuel capacity is a gracious 3.9 gallons. There is a cargo box in the rear of the machine as well.
THE TEST
Our first thoughts on driving the Honda Rancher were about the transmission. It is fun to be able to switch gears and, when descending or climbing hills, having the machine stay in your gear of choice is beneficial; however, we don't like how strong the engine deceleration can be when going downhill. The machine also doesn't switch gears exactly when we want it to during aggressive riding in auto mode. For general trail use and work, the system is great, but if you want to ride fast, this may not be the right fit for you.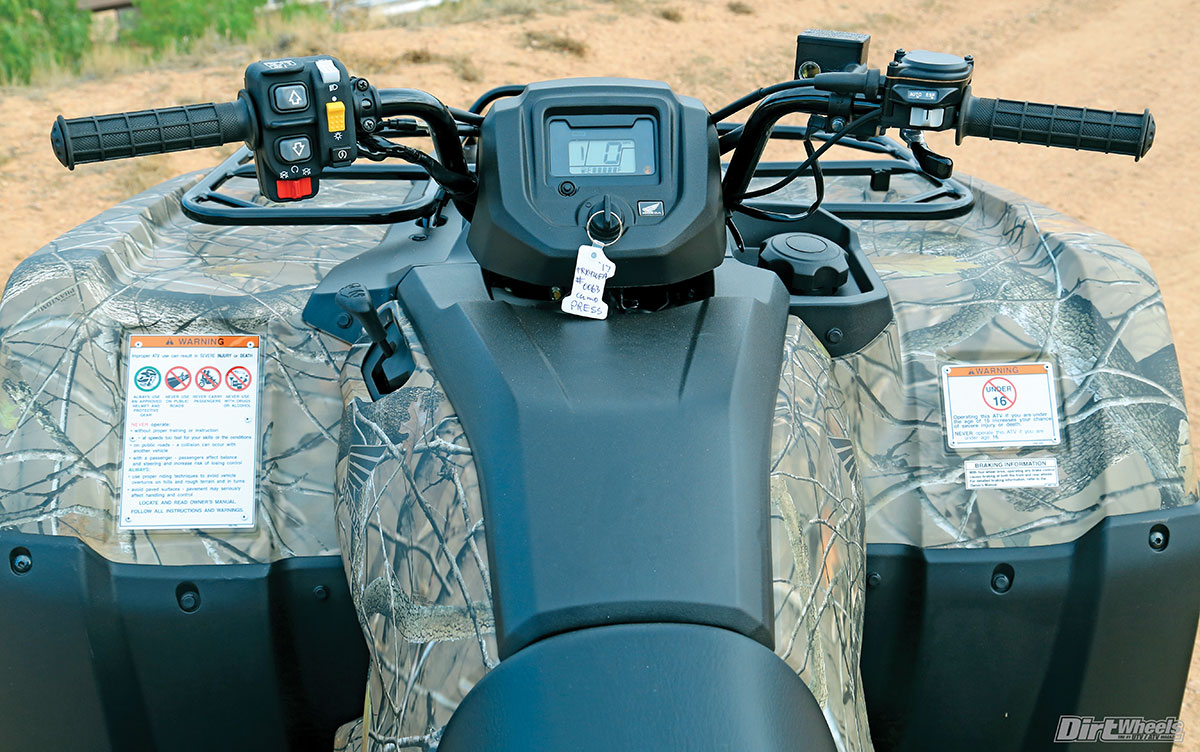 EPS makes the Rancher easy to drive and helps your arms last longer on epic rides. The suspension is soft and plush at low-to-medium speeds, but it needs to be stiffened up for higher-speed riding. Fortunately, the shocks have preload adjustability.
The Honda Rancher offers a comfortable riding position and a plush seat. The handlebars are more suited for a sit-down riding style but remain comfortable if you need to stand up over rough terrain.
FINAL THOUGHTS
Honda makes great utility quads that know how to have fun as well. The Rancher line has a model for everyone—from the base two-wheel-drive model that costs $5299 all the way to the Phantom Camo edition that we tested for $8,449. You can go to www.powersports.honda.com to check out Honda's full lineup of ATVs, motorcycles, UTVs and more. You can also go to your nearest Honda dealer to see them in person!
HONDA RANCHER 4X4 AUTO DCT IRS EPS
Engine Liquid-cooled, OHV, 4-valve, 4-stroke
Displacement 420cc
Fuel system 33mm EFI
Fuel capacity 3.9 gal.
Starting system Electric
Transmission Auto 5-speed w/ reverse
Final drive Shaft
Suspension/wheel travel:
Front Double A-arm/7.3"
Rear Double A-arm/8.5"
Tires:
Front 24×8-12
Rear 24×10-11
Brakes:
Front 190mm dual hydraulic disc
Rear 170mm hydraulic disc
Wheelbase 50.9"
Length/width/height 84.6"/47.4"/46.8"
Ground clearance 9.2"
Towing capacity 848 lb.
Curb weight 686 lb.
Colors Phantom Camo, black
MSRP $7,999–$8,449