PN: EMP-13307
Fits: 2016-2017 General 1000 and 1000-4
If you want a fixed windshield see EMP P/N: 13083 if you want a Laminated Glass Windshield see EMP P/N: 13328
Made from MR10 Hard Coated Polycarbonate.
Virtually unbreakeable under normal use (unlike cheaper acrylic competitors use).
Adjusts to three position; Flipped Up/Open, Closed, and Vented.
Can easily be removed without any tools on warm days.
Installs in about an hour or less.
Works with factory top and doors.
Made In Cleveland Ohio.
Now, you can have the best of all windshields. This windshield adjusts to three different positions; Full open when driving less than 5 MPH, Fully Closed on cold days or Vented on hot days. It can even easily be removed without any tools if desired. Works with Factory Top and Doors but pictured with EMP Top P/N: 13289.
Click here for more details:
http://extrememetalproducts.com/i-23887088-polaris-general-flip-up-windshield.html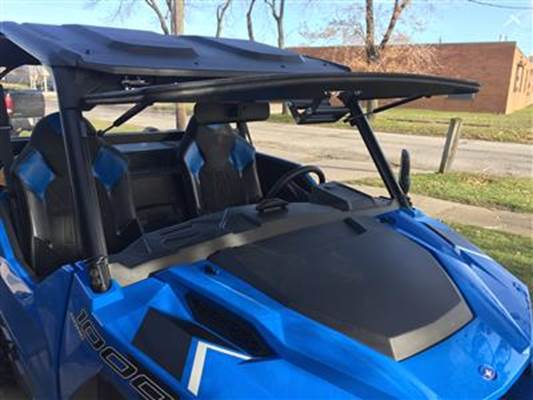 MSRP: $374.99
Dealers: Log-In for pricing.
Shipping Information
Weight: 25.0 lbs.
Package Dimensions: W41.0000" x H26.0000" x L3.0000"
Shipping Note: This item ships in its own box.