If you have ever noticed on the highway or in a campground one of those pick-up campers that you can eat, sleep and live in, chances are it might have been a Lance Camper. Lance has been in the camper business for 50 years. It wasn't until 2009 when Lance started selling pull-behind travel trailers, and now they are welcoming two toy hauler models to the product line. The smaller of the two is a 22-foot unit that starts at $45,812 and the top-of-the-line model is the $48,959, 26-foot unit that we tested. Those prices are very competitive with other similar products out there. What you get for that investment is a lot more than we expected. The 2612 model we spent a few days in could be lived in if needed. In fact, at a lot of events we do live in an older toy hauler we have had around for sometime. The Lance, however, doesn't make you feel like you are roughing it. For starters, the unit can sleep seven close friends comfortably. In the rear cargo area, there are two queen-sized beds that retract from the ceiling, and when not in use, the bottom bunk doubles as a couch during the day. One other person can have his own bed in the living area, and a couple could have complete privacy staying in the master bedroom. That bedroom has its own entrance to the single Jack & Jill-style bath with a sink, full shower, toilet and storage.
Speaking of storage, there is room for everything from helmets to dirty boots, laundry to clean linens, and a house full of dishes and food. We lived in the unit for three days and never even had to use half of the cupboard space. A three-burner stove and a separate oven and microwave can help prepare any meals. The 6 cubic-foot fridge/freezer is compact, but has plenty of room to store at least a week's worth of cold food for a family.
A propane/electric house heater and water heater come standard, as well as a rooftop AC unit. While on the road (or well off of it), they can be powered by the on-board 4-kilowatt generator. For propane power (heaters, fridge and stove), three 20-pound tanks are mounted out of the way up front on the trailer tongue. This trailer weighs 6,950 pounds dry, so a good full-sized truck is needed to haul it down the road. We recommend a 3/4-ton or larger diesel for sure. The 22-footer is only 600 pounds lighter, so it needs a big truck too.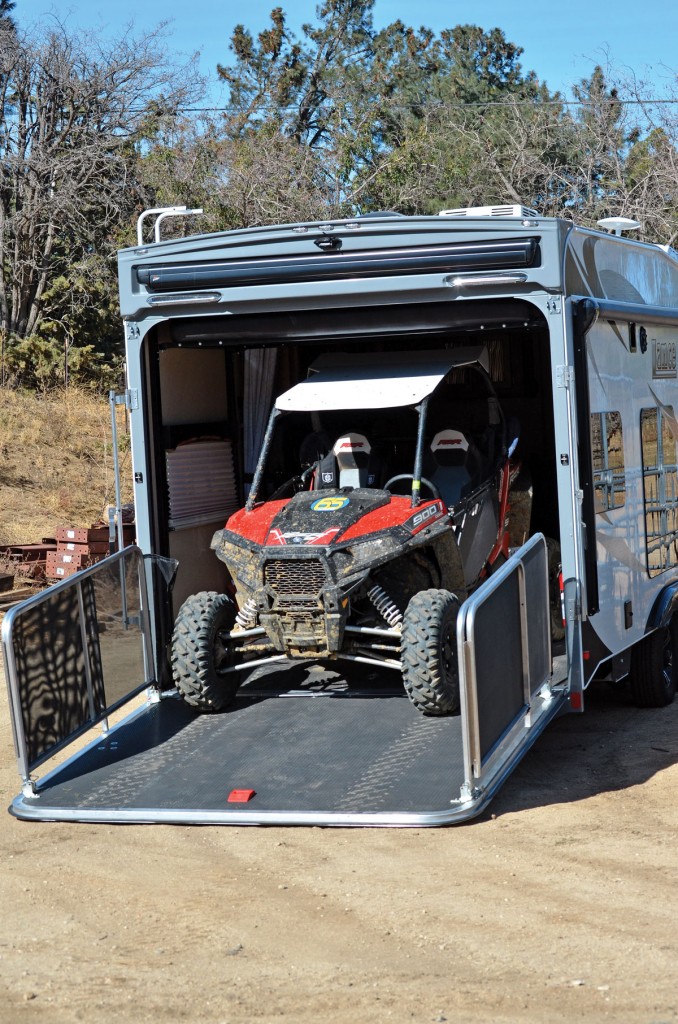 TOY BOX
At the business end of this toy box, it can hold a few smaller toys or one big four-seat UTV. The cargo area measures a full 12 feet 2 inches long and 98 inches wide inside. With both bunk beds lifted up and stowed away, the walk-in (or drive-in) height is over 74 inches, so most machines should clear, except if you have a tall, light bar. The lower bunk can be removed if needed. The fiberglass ramp doors are a full 7 feet long so the entrance is not too steep. Another cool feature about this Lance trailer is that the door can be cabled up flat and turned into a patio or observation deck. The entire roof can be walked on, too, and a side-access ladder will help you up. Along with a full side awning, there is a rear one as well, and both operate with a push of a button, so there is no hassle getting them setup or put away. Inside the cargo area there a ton of tie-down points on the floor, so tying down machines is never an issue. Under the trailer, a 40-gallon fuel tank will allow you to fill up the hauler and not have you transporting fuel cans in the living area. A propane barbecue/lantern connection simplifies things even more. You don't actually need a lantern with this rig. It has lighting, including LED lights in the awning and above the cabinets. There is storage under the trailer too. For everything from dirty riding gear and outdoor rugs to tools and spare parts, you can keep them out of the elements, tucked away and out of sight. Speaking of keeping things protected, the Toy Lock, which is a 15-foot braided steel cable, lets you padlock all of your toys to the trailer if needed. An indoor/outdoor sound system has speakers mounted on the upper part of the coach, so they are not blaring right at you when sitting in a chair next to it. It's small things like this that set the Lance product apart from other units we have tested.
CONCLUSION
The list of options you can add to any Lance trailer or camper is incredible and includes a central vacuum, solar battery chargers, 32-inch LCD TV and a satellite dish. Those options and more make the Lance Toy Hauler a treat to use even if we spend most of our time out of it. But if you are looking for a luxurious trailer that can haul all of your toys out to your favorite ride area, the Lance should be considered— it's that good. To find a Lance dealer, log on to www.lancecamper.com, or call them directly at (661) 949-3322 and tell them Dirt Wheels sent ya.