Way before I started racing competitively, I remember flipping through old Dirt Wheels magazines when I was a kid and looking at all of the cool race stories from my heroes like Doug Gust, Shane Hitt, Keith Little and Gary Denton among other greats. This was back when you had to win or have the most combined points in the AMAPro Motocross and AMA TT series if you wanted the coveted GNC championship.
Motocross piqued my interest, but so did TT. I couldn't wait to try both when I was able to. However, once I got into motocross racing, my hopes were dashed, as the TT racing scene had died on the West Coast. I slowed down on racing motocross and focused on desert racing, which I am still doing today, but my interest for TT racing never stopped. Luckily, one of my good buddies, the legendary Daryl Rath, invited me out to finally give TT racing a shot aboard his son's Honda TRX450R, and here are my thoughts on it all.
PRACTICE MAKES PERFECT; THAT IS, IF YOU GET TO PRACTICE
Being that I had never done this type of racing before, Daryl offered a session in his TT riding school. However, when I arrived in Hutchinson, Minnesota, it had been pouring rain, and Daryl was working hard on putting on a great race for the Midwest Extreme Dirt Track series at the local fairgrounds. It poured just as hard the next day, so much so that it flooded most of the town of Hutchinson. Friday rolled around, and the Rath Racing crew got the course in better condition with the help of some dozers. Saturday the clouds broke and the course looked awesome! A bunch of racers had shown up to race for a chance to win trophies and great prizes from the series' sponsors.
I still had zero time on a TT quad, but I received a few pointers from Daryl and other riders. I was told not to use as much body English when I corner, but that was going to be hard for me. Daryl also told me to sit more centered in the seat on the starts.
THE START
The first turn was insane. The entire class was going close to 60 mph into the first corner. Pro racer Ben Bettis told me, "With the track being as dusty as it is, you will spin out." So, from that point on it was my goal to not spin out! The start is a standard red and green light like you would see on a roadway intersection. The green light came on, and I spun the rear tires and got left in last place. I remembered what Daryl told me, and I started to pick people off one by one.
The handling of the quad was amazing! It would take corners like an F1 car. A lot of that handling had to do with the Rath Racing sway bar and front-end components. It never lost traction with those big Hoosier tires out back chewing up the blue-groove dirt. You really don't need much body English to get these quads to turn. In fact, it would have thrown my body around too much, and I would most likely have spun out like a top.
Luckily, there were a few sections where I was able to get around the competition, so I grabbed third place. Our heat race was only five laps, equating to six minutes or less. My desert races typically range from an hour to over three hours, so I was wanting more! The highlights were that I had not spun out, and I had an absolute blast.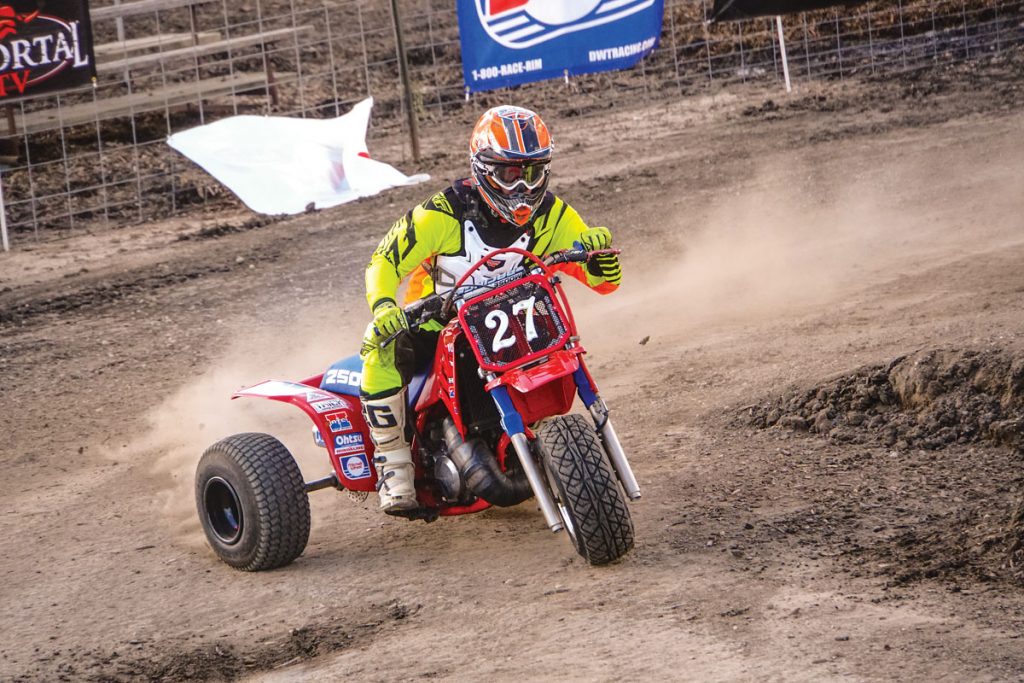 MAIN EVENT
It's pretty standard to run the main events in the dark under powerful lights. Even with the lights, though, there were still some dark sections, and the track had deteriorated with some acceleration bumps, braking bumps and holes. It was our turn to roll. Daryl came over and lifted up the rear end so I could get the tires heated up on the hardpack dirt. I was seated perfectly for a good start, but yet again I had a bad start. I learned from the heat race that smooth is always the fastest way around the track. I focused on smooth clutch actuation and easing into the throttle to get everything out of the TRX450R that I could.
You could easily oversteer, so keeping the front end going in the correct direction was crucial. I was pressuring the second-place rider by taking every different line to overtake him, but some of them weren't working. I had to be patient. Towards the end of the sixth lap, I made the pass stick and started charging towards first. I made a mistake in a corner that set me back a second or two, but quickly regained my charge. The white flag flew on the seventh lap, which confused me, because I thought we were getting 10 laps. I was only a half-turn away from first place, but he held on for the win. I wanted those two extra laps, but that's how racing goes. It was satisfying to do well on my first try racing TT. I'll never forget that weekend of great racing with new friends.
THOUGHTS ON TT (TOURIST TROPHY) RACING
I think anyone who loves to race quads should try racing TT at least once. Even if you're a spectator, you'll find that TT racing is extremely exciting. The people who make up these great series, including the promoters and sponsors, really make you feel like family. Everyone shows up as competitors, but when it all comes down to it, every one of us would have jumped in to help a fellow racer that was in need.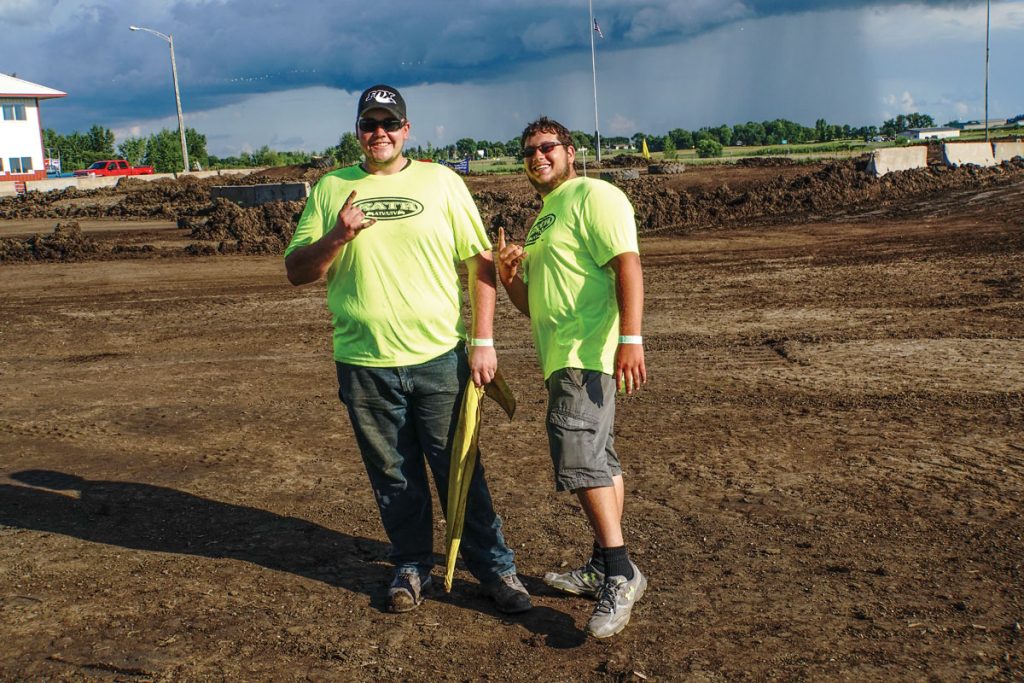 They have classes for just about everyone—anyone from the PeeWee classes all the way up to the pros. Other great classes include three-wheelers, pit bikes and UTVs. TT racing is very competitive, and if you've never done it before, it's something completely new and exciting. I would love to get back out to the East Coast to rip around a Daryl Rath TT course again!