It's not small, it's "fun size" By Casey Kramer and the staff of Dirt Wheels
Polaris has rapidly added to the Ace line of single-seat UTVs, but now, with the release of the youth-oriented Ace 150, it is making a point that it is a single-seat ATV with a full-cab frame. Regardless of the wrangle over its definition, the Ace 150 could be the perfect ride for your 10–16-year-old. So, if you have a 10-year-old looking to transition from their battery-powered Barbie Jeep to something with a big-kid engine, look hard at the Ace 150. Although the Ace 150 has the same basic profile as most UTVs, the only thing "side by side" is your legs. It is technically considered an ATV by Polaris, most likely because it is basically a small quad with a roll cage. However, this Ace with its 65-inch wheelbase has some pretty awesome standard features, including electronic fuel injection, tilt steering, LED running lights, a safety whip, net doors, and they even throw in a slick, light and comfortable Polaris youth helmet.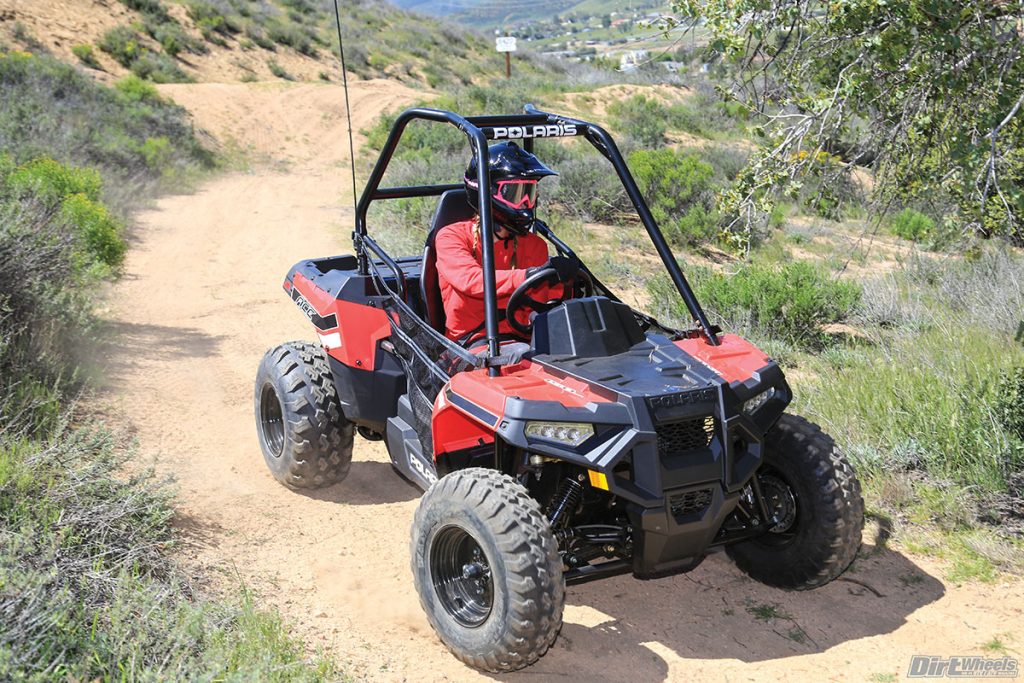 ENGINE BAY
Under the rear deck is a relatively basic, 149cc, air- and oil-cooled motor that drives the rear wheels via a chain. You can definitely tell that this machine is only 2WD, but it can easily be used to your advantage. Power is delivered via a CVT that has a simple forward, neutral and reverse (F/N/R) transmission. Despite the tech features, the tiny motor is moving close to 600 pounds of machine and one fun-sized passenger, so performance is leisurely.
Because the Ace's CVT only includes F/N/R, you need to engage the hand-actuated brake lever on the right-hand side below the gated shifter when parking. Trying to drive with the parking brake on is certainly a struggle, so be sure to release it before you take off. To let off, simply press the brake pedal and release the lever from its gate. The parking brake holds the machine extremely well when needed.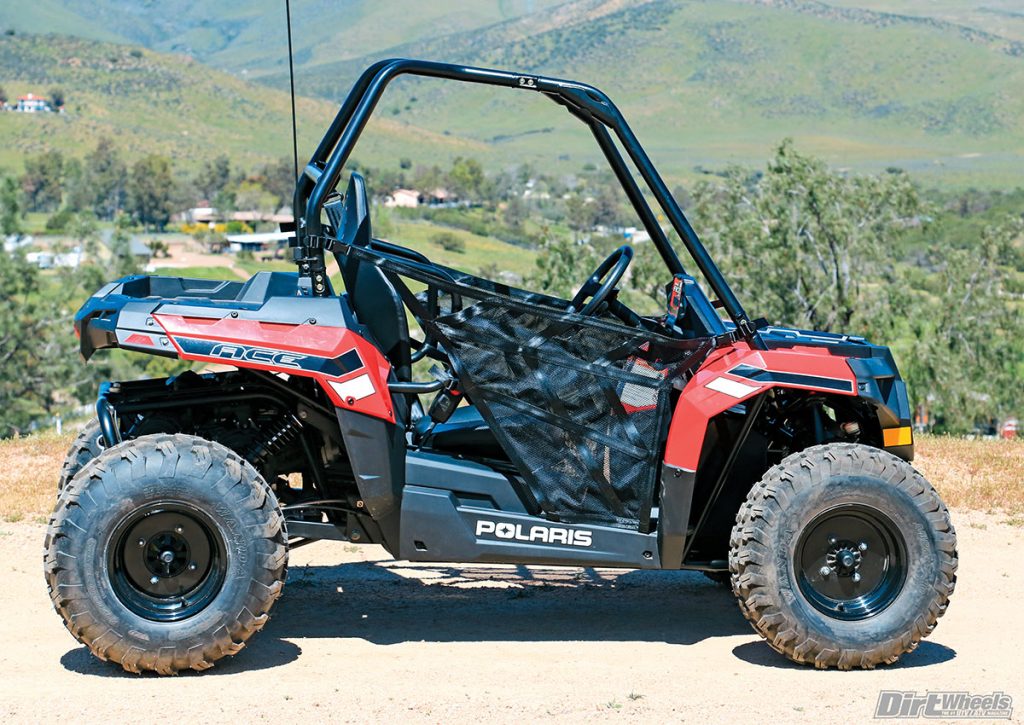 SPEED CONTROL
Although there is no engine braking, the four-wheel hydraulic disc brakes are smooth with plenty of power for the weight and size of the machine. With no speed indicator on the dash, it is easy for kids to feel like they are flying, while parents can rest easy knowing their little racer is safely under 30 mph. Thanks to the fuse-box speed restrictor, you can control the range of speed based on your rider's age, experience and comfort level. You simply move a fuse to one of four slots to set the speed limit. This new feature starts at a setting as slow as 10 mph and has a top-speed setting of a whopping 29 mph, making this machine perfect for beginning riders. At the same time, it allows the car to easily grow with them, especially with the 5.7 inches of seat-slider adjustability.
You will want to shy away from steep grades or deep sand. However, on easy hills, hardpack or dirt trails, this little Ace powers through just fine.  With the steering and pedals being somewhat stiff, along with no access to extreme speeds, the 150 is great for learning technical turns, small trails and doesn't get squirrely like other UTVs.
We tested the Ace on each of the available speed settings and noticed quite a difference each time. Even on the initial start of the vehicle and backing out of our service space, the engine harmonics alone were noticeably different with each step up or down. At the lowest setting, our test loop was somewhat boring but still doable at such a low speed. We even had trouble getting the Ace up loading ramps into a pickup truck. Once we bumped up to the 15- and 22-mph settings, it increased capability and was plenty of fun. All I could think was how jealous my 10-year-old self would be of this fun, little machine. At the final stage with a top speed of 29 mph, we found that it was plenty fast. It pushes the front on slippery surfaces since it is only two-wheel drive. Polaris made the brakes sensitive enough for a small 10-year-old to use the brakes, but older riders found that the brakes locked up easily.
STYLE POINTS
The fit and finish of the machine are sporty and clean with durable graphics, Indy Red and black plastics, stamped-steel wheels, and easy-access net doors. The dash is straightforward with only an easy-to-read gear indicator. No extra controls are needed to engage any of the standard features.
The durable padded seat is comfortable and supportive with a basic seat belt and a surprising amount of legroom. Being 5-foot-7 and only weighing in at a buck ten, I found the Ace to be just the right size, but 6-foot editor Collin Duffy was also able to fit somewhat comfortably as well. Although the featured bed box is small, it is practical for holding a tool bag or extra gear if need be. The A-arm front suspension with 5.1 inches of travel, 6.0 inches of travel with the dual-shock rear swingarm and 22-inch tires made for a pretty smooth ride. Although you won't have enough power to hammer through the rough, that may be a good thing. The rear swingarm is a unit that includes the engine and drivetrain. It all moves through the full travel, so there is a lot of unsprung weight for two shocks to deal with.
TRAIL TIME
While the small overall size, limited engine displacement and performance can restrict the type of trails you can tackle, the Ace 150 easily fits in practically any truck bed. We had it in a long bed with the tailgate closed and room to spare. As long as the terrain wasn't too steep or rough, this should be a fine choice for recreation that is easy to transport.
A very small and lightweight trailer would haul this machine in the event that no truck is available. The next step up in Ace vehicles is a 500, but that is not approved for youth.
It would be nice to have a bit more suspension travel, but the Ace 150 travel numbers are not far off the Ace 500 and 570 models. More travel would raise the center of gravity, and as narrow as it is, that could hurt the sure-footedness. As you would expect for such a small machine, it is super easy to maneuver with a tight-turning radius and nimble steering.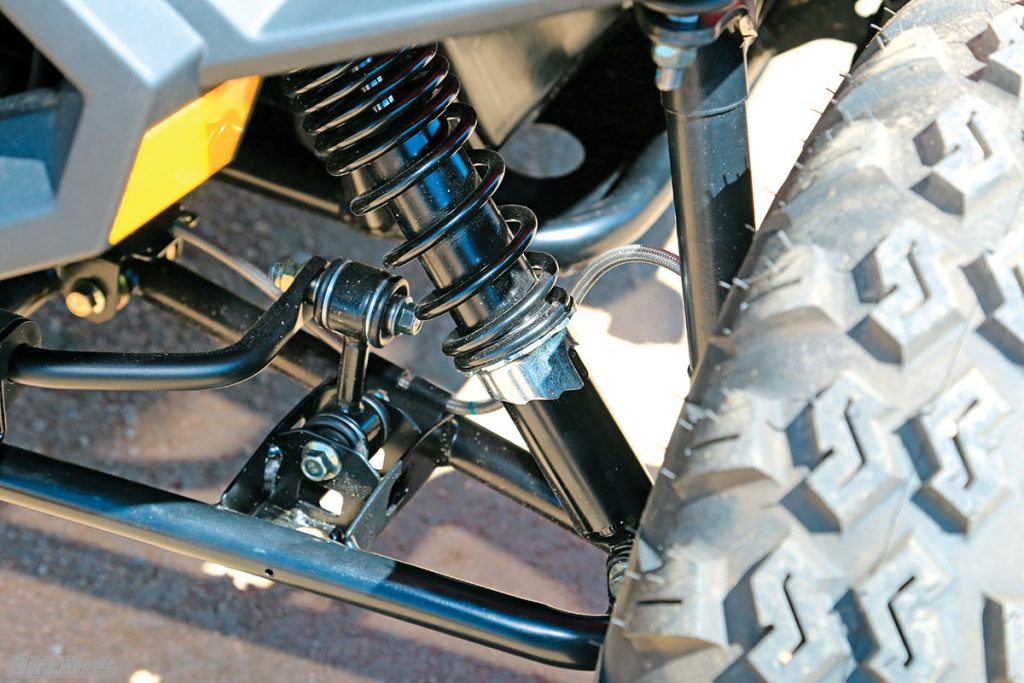 CONCLUSION
With a base price of just under four grand, this new Ace is a smart choice. We'd like to call it the pit bike of UTVs. Finally, there is a machine that grows with the rider, has the suspension and performance of a youth quad, but has important safety features that parents crave, like the cage, seat belt and net doors. So, unless your tyke is a spitfire daredevil who craves serious hill-climbs and dangerous terrain, then the Ace 150 is a winner.
 POLARIS ACE 150 SPECS
Engine 149cc OHV four-stroke single
Fuel system EFI
Fuel capacity 2.5 gal.
Starting system Electric
Final drive Chain
Suspension/wheel travel:
  Front Single A-arm/5.1"
  Rear Swingarm, dual shocks/6"
Tires:
  Front 22 x 7–10 radial Wanda
Rear 22 x 10-10 radial Wanda
Brakes:
  Front Dual hydraulic disc
  Rear Single hydraulic disc
Wheelbase 65.0"
Ground clearance 9.0"
Cargo capacity 50 lb.
Towing capacity N/A
Curb weight 572 lb.
Color Indy Red
MSRP $3799