–Putting fun in work, and working fun hard —
By the staff of Dirt Wheels.
The new-for-2016 Polaris General was a hit with all sorts of UTV enthusiasts. Its clever combination of sport performance and suspension combine with enough utility to justify it for work, and that turned out to be a tasty recipe. We like to say the General is a RZR for the guy who must convince his wife he is buying a tool and not a toy. For 2017 Polaris took the same great meal and super-sized it 32 inches to a four-seat crew cab. With ample attention paid to passenger comfort for all four seats and fully dialed suspension from Walker Evans, this is not just a new General but a vastly improved one.
PLAYFUL WORK POWER
As nice as new features are, there was much about the General that was laudable. The 100-horsepower, 999cc, parallel-twin engine is back, and it has plenty of play and work ability. That engine makes the General 4 the most powerful recreational utility in production with a claimed class-best 0–40-mph time. But, power isn't just about acceleration. The power is partially responsible for the 1,280-pound total payload, in addition to the 1500-pound towing capacity. It delivers broad torque throughout its rpm range with 65 foot-pounds of torque to haul, pull and play.
It doesn't matter whether you are doing work, carrying gear to camp or hunt, or just having fun on the trail, there is ample performance here. Throttle response is smooth, so the General remains easy to drive and control in all cases. At the same time, when you put your foot in it and keep it there, the acceleration is brisk and the speed builds in a hurry. In spite of the lively performance, fuel economy is good and very good compared to Polaris Turbo models.
When it is hot outside, powerful CVT-driven machines put a lot of load on the CVT belt. Despite that, our 2016 General is on the original belt, and we have had no belt issues with the General 4. It is a heavier machine, which should put more load on the belt, but so far no issues.
DRIVETRAIN AND SUSPENSION
Most UTV owners stay in AWD at all times in trail situations. In AWD the General automatically reverts to 2WD when AWD isn't needed. As soon as the rear tires slip, all four wheels engage. While AWD is great for most work and play, a new VersaTrac Turf Mode switch unlocks the rear differential for easier, tighter turns that won't tear up grass or leave black marks on your driveway. We found ourselves using the Turf Mode quite often. In addition to the robust AWD system, the General has a generous amount of wheel travel for a recreational utility machine at just over 12 inches in the front and just over 13 inches in the rear. Damping is handled ably by Walker Evans 2.0 shocks without external reservoirs. The shocks are preload adjustable. Simply adding to the wheelbase makes the ride smoother in the rough, but the new Walker Evans shocks are extra plush for a machine with this amount of travel. The ride is smooth, it handles G-outs nicely and the ride feels safely level without much body roll in turns.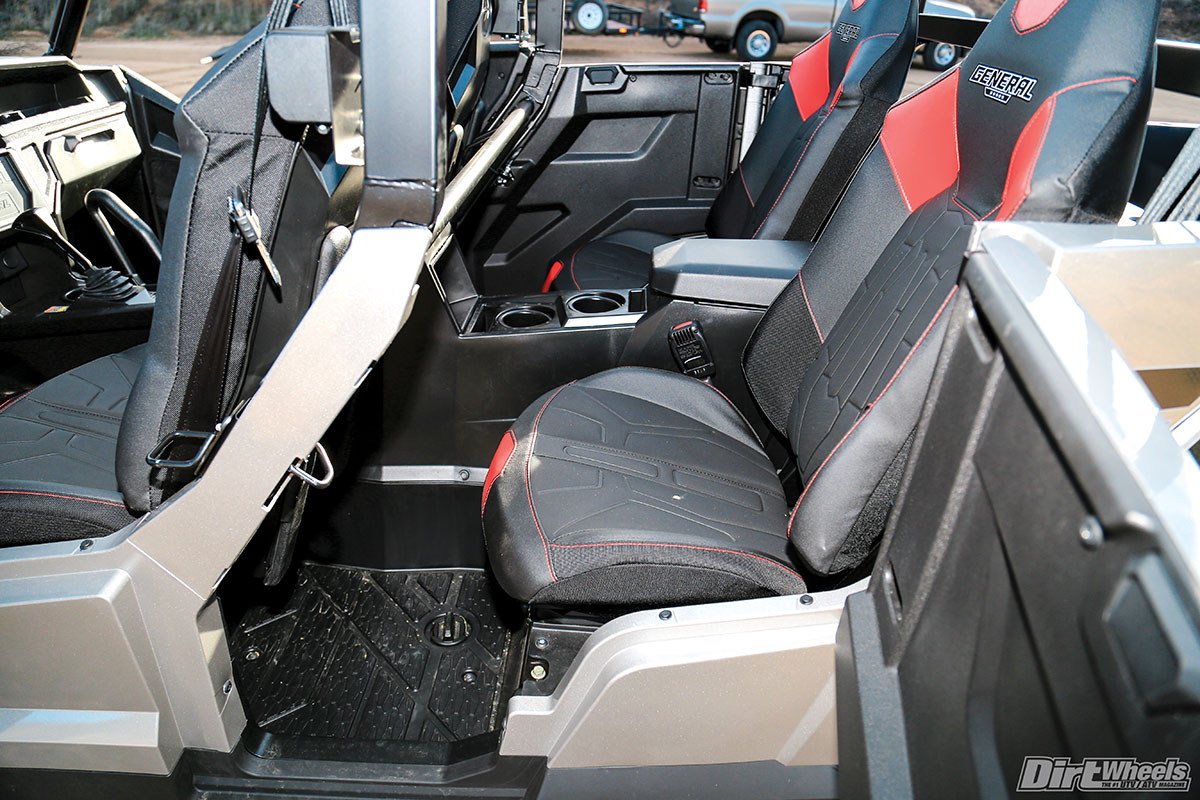 ROOM FOR FOUR
One change that was vital for a crew cab was a 32-inch increase in wheelbase. All of those inches were added to the all-new cockpit designed to balance work and play. Redesigned cut-and-sew premium bucket seats, customizable instrumentation and easy cab access aid the all-day comfort. The General 4 doesn't make the rear-row riders an afterthought. The rear is claimed to offer the most elbow- and knee-room available for rear passengers. The driver's seat is adjustable.
There are convenience items like storage compartments and cup holders front and rear. We also like the fact that the General has fully molded interior door panels, center consoles front and rear to act as elbow rests and secure passenger hand-holds. In the front the passenger has a near-vertical hand-hold on each side. In the rear there is a full bar that runs completely across the car. All of these features work with the tall doors to make the General a comfortable and secure-feeling machine to spend time in. We had stints as driver, passenger and even rode in the rear seats with four genuine adults aboard, so we can verify that the new cab appointments and seats are nice. We had riders over 6 feet tall in the rear seats comfortably as well.
The all-new digital instrumentation cluster moves with the tilt-adjustable steering wheel for visibility. The combination of the digital and analog gauge indicates vehicle speed, engine rpm and standard trip information. The center digital gauge can be set up to just the way you want it, and even features an auto-adjusting backlight that can switch from red to blue. A 4500-pound-rated Warn winch is standard on the General.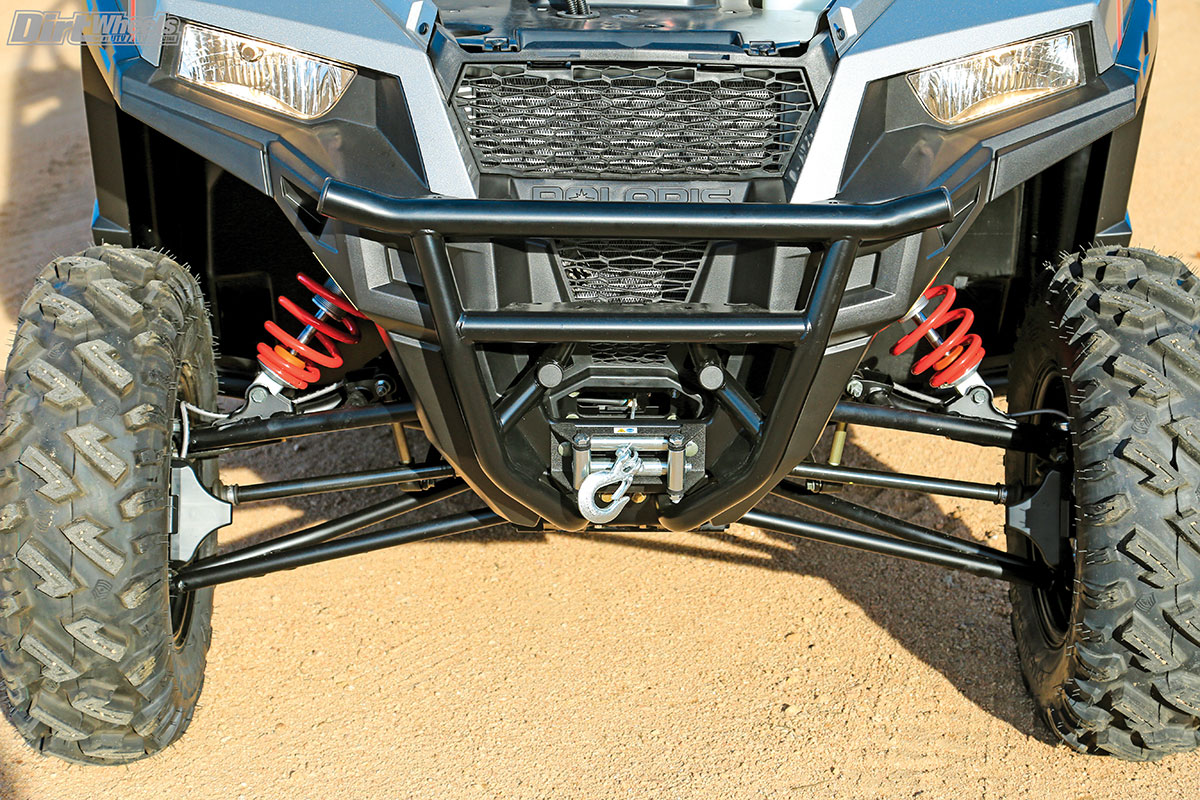 THE TEST
We had the pleasure spending time in the General 4 near Great Falls, Montana, and then on our local trails. At both venues the General is the commanding officer of comfort. Some of that comfort is thanks to the posh interior and a seating arrangement that keeps you in a little more upright SUV- or truck-like seated position.
It is obvious from the suspension tuning that the General is aimed at the sport end of the spectrum. At slow-crawling speeds there are other sporty utility machines that have more supple action. As the speeds pick up, the General comes into its own and starts to really work. It feels calm and collected with a pace where those soft models are getting frantic.
G-outs, cross ruts and water bars are nothing for the General. It seems able to absorb nearly any single obstacle that the RZR lineup with 16/18 inches of travel will. But, the RZR's added travel (and 29-inch tires) takes more of the bite from the hit. It also has a body roll inherent with that travel that would be a problem carrying or towing the weight that the General shrugs off.
During all of our driving the handling was stable with minimal body roll. The steering is accurate as well. We found that the longer wheelbase is an advantage more often than it is a hindrance. For example, the middle of the machine will drag crossing a single sharp bump, but most of the ones we touched the skid plates on are man-made. Some were berms built up by other machines, while others were man-made jumps added to trails. On the positive side, the longer machine is calm in the bumps, and while rock crawling or handling other technical trail obstacles, the long car tends to bridge between obstacles more often than it drags bottom.
When you are making quick transitions, you do feel the longer machine, but we felt it most when sharp turns had a wall-like edge on the inside of the turn. We felt the rear wheels contact the inner edge and rub along while turning.
CONCLUSION
On some of the tight trails we drove, there is a long feel to the machine, but we can see a majority of buyers choosing the four-seater. The most basic General two-seater is $16,299, and the General 4 is $20,999, but that base two-seater has sealed shocks with preload adjustment only. If you upgrade to a two-seater with fully adjustable Fox shocks, the price difference is $20,299 to $20,999. Add the better ride and versatility of the four-seater and it is an attractive package.
2017 POLARIS GENERAL 4 1000 EPS
Engine 4-stroke, DOHC twin cylinder
Displacement 999cc
Bore x stroke 93 mm x 73.5 mm
Fuel system Electronic fuel injection
Fuel capacity 9.5 gal.
Starting system Electric
Final drive shaft
Suspension/travel:
Front Independent double A-arm/12.25″ (31cm)
Rear Independent double A-arm/13.25″ (33.7cm)
Tires:
Front 27×9-14 GBC Dirt Commander
Rear 27×11-14 GBC Dirt Commander
Wheels Black cast aluminum
Brakes 4-wheel hydraulic disc w/dual-bore front calipers
Wheelbase 113″
Length/width/height 150.2″/62.5″/75″
Ground clearance 12″
Payload capacity 1280 lb.
Towing capacity 1500 lb.
Dry weight 1,857 lbs.
Color Silver Pearl
MSRP $20,999